Best NYC Locations, Cheap, Budget, Closest
The best New York Marathon hotels book up very quickly, as our 5 borough marathon shows off over 50,000 runners to over 2 million spectators, many of whom are visiting NYC. Whether you want to see the start, middle or end of the race, which is always held the first Sunday in November, "there's a hotel for that." The NYC Marathon kicks off in Staten Island and continues through Brooklyn, Queens, the Bronx and finishes in Manhattan in Central Park, next to Tavern on the Green.
Even though the NY Marathon takes place in November (Sunday, November 3, 2019), participants and their fans begin making hotel reservations in January, when registration and the draw take place. The next draw is February 27, 2019, with registration open January 14–February 14, 2019.
Runners will generally take the Staten Island Ferry or the Bus to Staten Island for the start. The 1 train will let you out in the same terminal (Whitehall Terminal/ South Ferry) and the 4/5 trains to Bowling Green will leave you 3 blocks away. If you are a registered runner, the Marathon website offers you all the best ways and times to Fort Wadsworth.
Hotels Closest to Staten Island Ferry
For those running who just want to wake up and be on the Ferry, these are the closest hotels allowing you to walk a few blocks and hop right on for the scenic 30 minute ride right past the Statue of Liberty.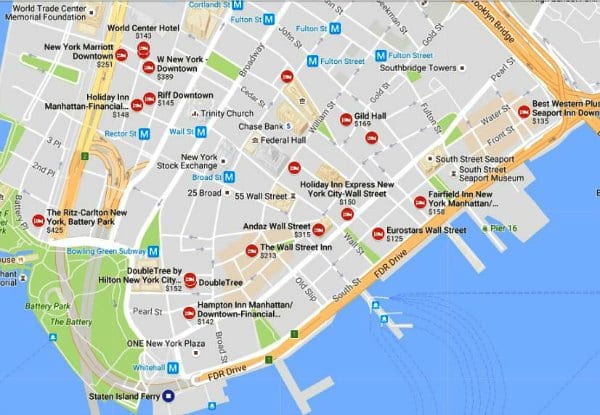 Top of Best New York Marathon Hotels
New York Marathon Hotels Manhattan
Crowne Plaza Times Square – "I went to run in the NYC Marathon and the atmosphere was amazing with runners from all over the globe everywhere we went!"
DoubleTree Suites by Hilton – "I took my family to New York to run the 2011 New York Marathon. We booked two rooms which were adjoining and they were large luxurious and very comfortable."
The Bryant Park Hotel – "We had a fabulous stay!! What an amazing location. First, the concierge decorated the room, as I requested, as this was my husband's first time running the NYC Marathon. It was done so well! We were in a Terrace Room which was spectacular."
the Quin – "I stayed here…as I was running the NYC marathon and wanted a hotel in walking distance of the finish line. Best choice ever!"
Hampton Inn Manhattan – Times Square North – "The bed was comfortable, and I appreciated the in room fridge. The black out shades were awesome, and the room is definitely larger than most hotel rooms in Manhattan. It was also very convenient for the marathon"
Hilton Garden Inn Times Square – "I stay here during every NYC Marathon and will return next year…can't wait!"
New York City Marathon Hotel Reviews – feedback from 100s of runners and spectators on their hotels
New York Hilton Midtown – Marathon Official Headquarter Hotel, if you wish to be at the hub of pre-race activities, and serves as the marathon's professional athlete center.
Sheraton New York Times Square – Marathon Official Headquarter Hotel if you wish to be at the hub of pre-race activities.
Top of Best New York Marathon Hotels
Hotels Near the Starting Line Bus Pickup in Manhattan
Midtown East Hotels (add in 2019)
Top of Best New York Marathon Hotels
New York Marathon Hotels Near Finish Line (for Runners)
For runners who want their hotel to be a few blocks from the finish line, without having to jump on a subway, these are your best bets. These are different hotels than those which provide a spectator view of the race, although they are all about 20 minute walk to the last mile.
Hotel Beacon – "We chose the Hotel Beacon because it was close to the finish line of the marathon. Nice and clean boutique hotel. Helpful and friendly staff." (2130 Broadway @ 75th)
NYLO NYC – "Really close to the New York Marathon finish, and perfect location to get anywhere in the city." (2178 Broadway @77th)
Hotel Belleclaire – "Located just a short walk away from the finish line, Hotel Belleclaire is one of the most convenient and comfortable NYC Marathon hotels." (250 W 77th)
The Milburn Hotel – "the New York City Marathon and the finish line is about ten blocks away from the hotel." (242 W 76th)
La Quinta Inn & Suites – "For anyone that's running in the NYC Marathon, this hotel is near the West 72 St exit of Central Park. After crossing the finish line, I walked right to the hotel." (31 W 71st Street)
Inn New York City – 266 W 71st Street
Mandarin Oriental – 80 Columbus Circle
6 Columbus – A SIXTY Hotel – 308 W 58th Street
Hudson Hotel – 358 W 58th
1 Hotel Central Park – 1414 6th Avenue
Phillips Club – 155 West 66th Street
The exit for runners is around 73rd & Central Park West (to find it on a map, look up Tavern on the Green or Strawberry Fields in Central Park). The official family reunion area, organized alphabetically, runs along Central Park West from West 60th – 66th Streets. We also recommend you reserve a postrace meal, as the local restaurants get very crowded.
Top of Best New York Marathon Hotels
New York Marathon Hotels Near Finish Line (for Spectators)
Want to watch the last mile and cheer on your favorite runners? Then, you'll want to be along Central Park South or Columbus Circle. Top choices include:
Central Park NY Hotels
These are NYC Insider hand picked hotels that are not just "near" Central Park, as most NYC hotels claim to be…but on the Park itself, either Central Park South, Central Park West or Fifth Ave. Many other hotels are nearby, or within a few blocks, but these are the closest, and all offer Park views from select rooms.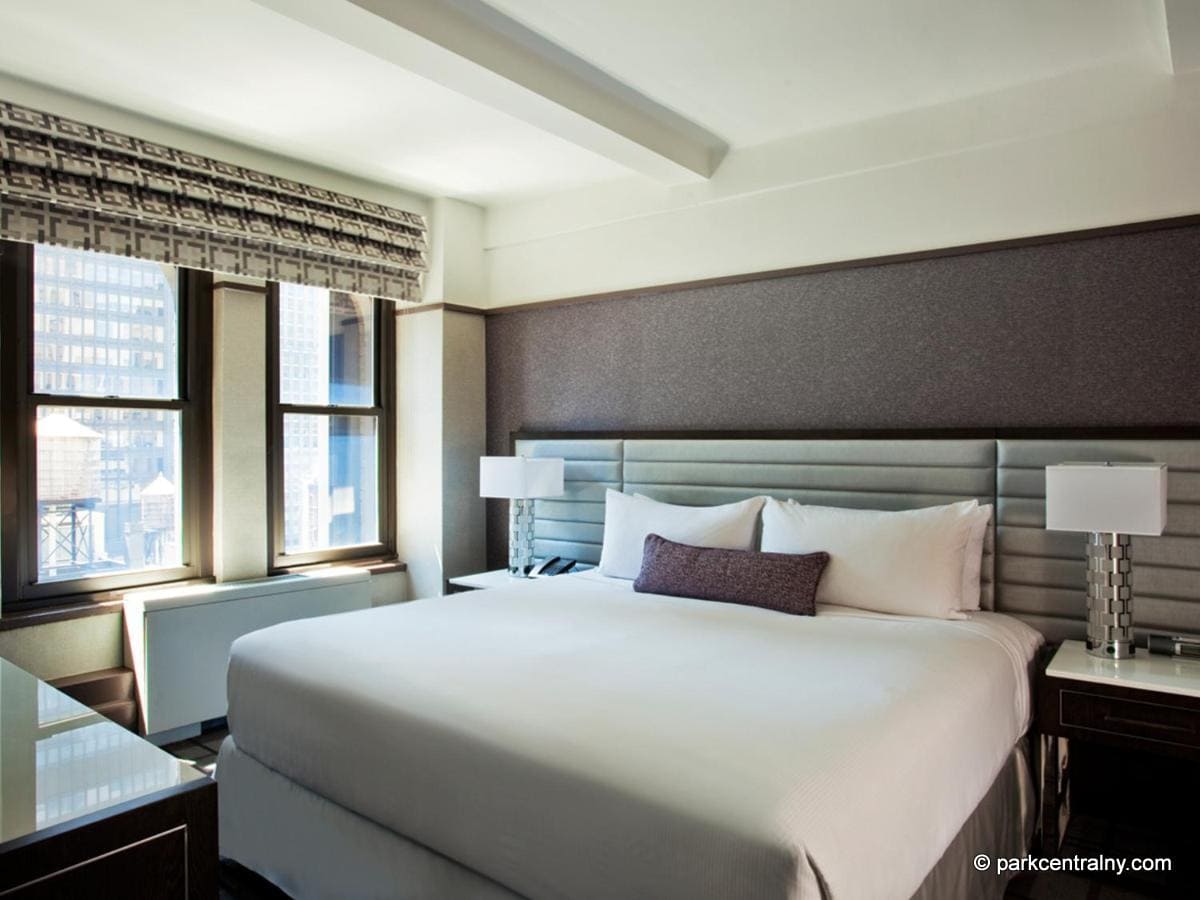 Some of our top value picks near Central Park include:
See the Insider Guide for dozens more Central Park NY Hotels and download our free Central Park map at Central Park NY Guide
Top of Best New York Marathon Hotels
Brooklyn Marathon Hotels
Hotel Le Bleu – "There's a small balcony view of lower Manhattan and we got to enjoy New York's 45th Annual Marathon as runners past on street below." and "I stayed here with my family the weekend of the NYC Marathon (which I ran). Perfect location- kids watched me run by the hotel which is right on the marathon course (mile 7)"
Top of Best New York Marathon Hotels
Discount NYC Hotels
Discount NYC Hotels – These are my hand picked hotels that start at $25 per night. They are not always listed on generic hotel travel websites or they may be listed as 'specialty lodging,' and therefore hard to find.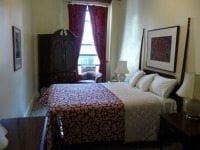 While you may have to compromise to stay in one these hotels, like a shared bathroom, or no television, you cannot beat the prices for these locations.

Top of Best New York Marathon Hotels
More Info New York Marathon
www.tcsnycmarathon.org – offical marathon site
Marathon week includes shorter races for adults and kids, a marathon eve dinner and a three day expo at the Javits Convention Center.
How to Save on Hotels in New York City
Check out all our tips and dozens of promo codes to help save on NYC Hotels. Whether you are visiting NYC on a budget, or just looking to save a little on luxury, we share all our insight on How to Save on Hotels in New York City.
Best Value Hotels
Enter Dates, Check 'Value Deal' Box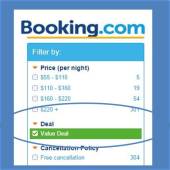 Trip Advisor NYC
Straight to All NYC Deals Page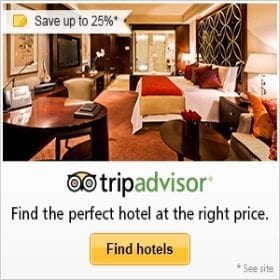 NYC Insider Guide
Hotel Tips Promo Coupon Codes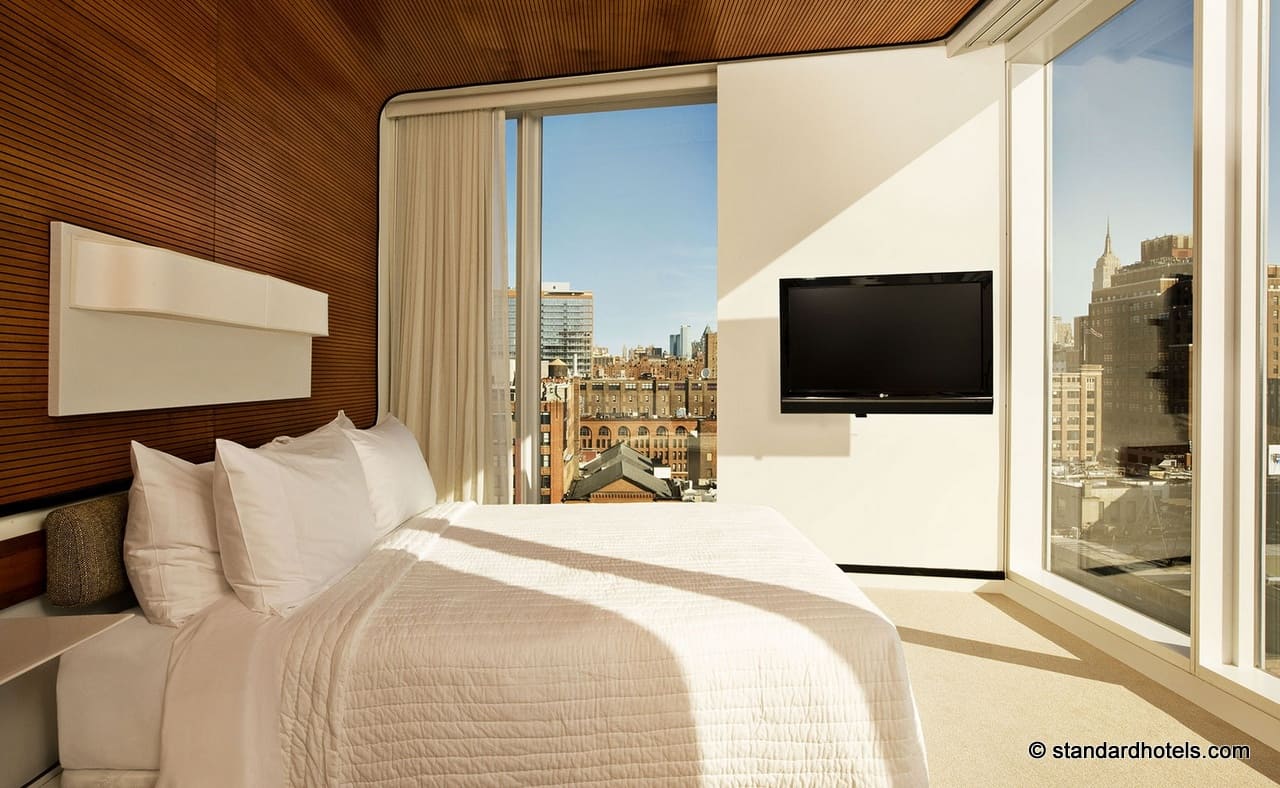 Top of Best New York Marathon Hotels
Follow NYC Insider Guide: