Safe and Fun NYC Things to Do
Open in NYC: 9-11 Memorial, The Highline, Top of the Rock, Empire State Building, Edge, The Bronx Zoo, Liberty Island, in-person Sample Sales. MoMA, The Met, Natural History, Madame Tussauds and much more.
Summer, Winter, French, Malaysian, Japan
Restaurant Week New York City is one of my favorite times of the year and now, since the event has been so successful, newer versions are starting to crop up everywhere, including ethnic Restaurant Weeks, like Japanese, Chinatown, Malyasian, French, Belgian and also neighborhood-specific restaurant weeks. A three-course dinner at the best restaurants in New York for $42? Sign me up!
Restaurant Week New York City allows us to eat at NYC's best restaurants twice a year for bargain prices. Every Winter (Jan/Feb) and Summer (July/Aug), some of our best restaurants offer prix-fixe meals for $26 (two-course lunch) and $42 (three-course dinner).
Restaurant Week New York City Summer and Winter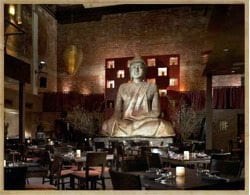 Tao Restaurant, Midtown, NYC
I love a good bargain almost as much as I love good food and Restaurant Week allows everyone to enjoy a great meal at a great price in NYC. It almost feels like you're stealing…only you're not.
Throughout the city, over 350 restaurants participate in "Restaurant Week" offering prix-fixe meals for $26 (two-course lunch) and $42 (three-course dinner).
Top of Restaurant Week New York City
Online Restaurant Week Reservations at Open Table

The Modern NYC – Beef Tenderloin
Restaurant Week is a great opportunity to try out a restaurant that may normally be out of your budget, or test some new restaurants with a little less financial risk.
Reservations generally open anywhere from 1 to 4 weeks before Rest Week begins. One of the best ways to get easy, online reservations is through OpenTable.
Top of Restaurant Week New York City
Restaurant Week New York City Insider Tips
The three-course, prix-fixe meals for $29 (lunch) and $42 (dinner) do not include beverages, tip or tax.
Most restaurants do not participate during the weekends, so don't expect a Saturday night prime time table during RW.
Review the menu in advance, as there are fewer choices on the RW menu than normal. If you have eating restrictions, you may be limited.
Monday to Wednesday reservations tend to be easier to get than those for Thursday and Friday.
When making a reservation, be sure to mention you are booking for Restaurant Week.
When being seated, ask for the Restaurant Week menu if it is not offered.
Tip the server based on the usual price of the meal, not the Restaurant Week price, especially if you've had good service. Remember, the server is (or should be) doing their job exactly as they normally do when meals are full priced.
More Restaurant Weeks in NYC
French Restaurant Week – July 8 – 21, 2019
Created in 2011, French Restaurant Week, highlights French Cuisine and Chefs to coincide with Bastille celebrations. In honor of the year the French Revolution began, each of the 12+ participating French restaurants offers a special promotion at $17.89 (Special Offer at $17.89 ; $35.78 and/or $178.90) during French Restaurant Week (Bastille Week). 
More Info: frenchrestaurantweek.com
How to Save on NYC Restaurants and Food
There are so many easy ways to save on New York City restaurants and food and you just need to know where to look. Of course, you can't save everywhere, and sometimes you have to wait for a deal, but about half the time I eat out in NYC, at quality restaurants, it is easy to save a few bucks without sacrificing quality.
Read More: How to Save on New York City Restaurants and Food
Top of Restaurant Week New York City
NYC Restaurants Half Off All the Time? You Bet!!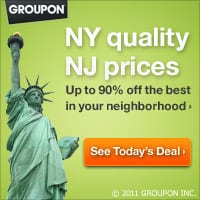 30% Off Your Bill Including Alcohol
EVERY DAY, dozens of top NYC Restaurants offer half off deals. The sooner you sign up (FREE) for the best NYC Deal Lists, the sooner you start saving! Eat at New York Restaurants half off or more at the Top NYC Deal Sites
Top of Restaurant Week New York City
Prior Restaurant Weeks in NYC
Brooklyn Restaurant Week – October 20-30, 2014
More Info: www.dineinbk.com
NYC Cocktail Week – July 13-17, 2015
Celebrate summer in NYC with $4 specialty drinks and appetizers at some of the best bars in NYC.
More Info: nycocktailweek.com
Chinatown Restaurant Week – March 14-30, 2014
Multi-course, prix-fixe meals will be offered for $18.88 per person at participating Chinatown restaurants such as, Golden Unicorn, Nom Wah Tea Parlor, HK Wonton Garden, Pho Grand, Red Egg, Shanghai Gourmet, and many others. Peking Duck House will offer the special at lunch only.
More Info: www.chinatownrestaurantweek.com
Italian Restaurant Week – June 26-July 6, 2013
Celebrate New York City's first ever Italian Restaurant Week, Italian Dine Out. The 11-day event, will offer special discounted lunch and dinner prices at 23 of New York City's most authentic Italian restaurants! Sponsored by the Italian Trade Commission as part of the Year of Italian Culture in the US, the Italian Dine Out offers diners special 3-course menus for lunch and dinner.
More Info: www.italianmade.com
Belgian Restaurant Week – July 21-28, 2013
This is your chance to enjoy yummy multi-course meals, indulge in mussel mania, savor scrumptious waffles and enjoy some of the world's finest brews. The Belgian restaurants in NY bring you delightful cuisine and great brews during a week long celebration of Belgian gastronomy and culinary innovation.
More Info: www.belgianrestaurantweeknyc.com
Dine Out for Japan Restaurant Week – March 7-11, 2012
When eating out at one of over 35 participating tri-state area restaurants during March 7 – 11, 2012, you will support Japan Tohoku earthquake and tsunami relief efforts. These participating restaurants, including Ippudo NY, Kyotofu, Hatsuhana, and Sushiden, will donate a portion of their Dine Out for Japan sales to the Japan relief fund. 

More Info: bimi.asia/dineoutforjapan/index.php
Martini Week – March 15-30, 2012
Martini Week is a two-week-long celebration of America's proudest invention, held at 23 bars and restaurants across town, who'll each be offering their own inventive takes for no-brainer prices. Choose from venues such as Ava Lounge, Beaumarchais, Catch, Abe & Arthur's, Sons of Essex, Bounce Sporting Club, Aspen Social, Revel, Rayuela, and more!

Lousiana Shrimp Week – June 27 – July 1, 2012
Delight in signature dishes throughout the city featuring the naturally sweet flavor of premium Louisiana Shrimp. 
More Info: www.freshfromthedock.com
Malaysian Restaurant Week – June 18-24, 2012
Malaysian restaurants will offer an exclusive $20.12 three-course prix fixe menu, while Asian-influenced restaurants will feature a special limited-time-only menu inspired by the country's signature flavors. Participating restaurants include Fatty Crab, Fatty 'Cue, Michelin-starred Laut, Nyonya, Penang, Spice Market and Social Eatz in Manhattan. 
More Info: www.malaysiakitchennyc.com
Restaurant Week NYC Insider Recommendations
The Modern, Café Boulud, Le Cirque, Colicchio & Sons, Nobu, Telepan, Mesa Grill, Tribeca Grill, Shun Lee, Bobby Van's Steakhouse, Ed's Chowder House, Delmonico's Steakhouse, Frankie & Johnnie's Steakhouse, Le Colonial, Petrossian, Les Halles downtown, Water's Edge Restaurant, One If By Land, Two If By Sea.
Best NYC Restaurants by Neighborhood
NYC Insider Printable Guides

NYC Printable Map Guide Book

BONUS NYC Maps

NYC Travel Guide
More Info: NYC Printable Maps | Customer Reviews | Free Mini Guide
Manhattan Neighborhood Map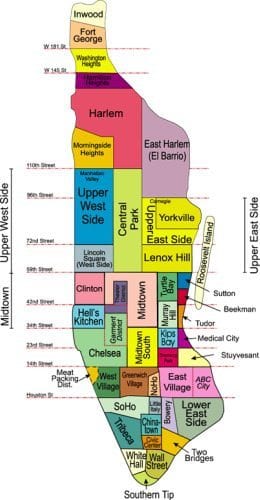 Top of Restaurant Week New York City