Skyline Views, Cocktails, Lounge Decks, Pools
New York City Hotel Rooftops and Restaurants provide some of the best skyline views in the whole City. Most locals would rather head to a rooftop for the glittering views than to the top of a famous attraction any time.
NYC Hotel Rooftops offer everything: cocktails and food, views, pools, cabanas, sundecks and retractable roofs, making many of them ideal to visit all year round. Some NYC Rooftops are even open only to hotel guests, so if you want a spectacular skyline view and maybe a private party built in to your NYC stay, check out one of our best Hotel Rooftops.
New York City Hotel Rooftops
Some of our top NYC Hotel Rooftops include:
Keep reading for dozens more New York City Hotel Rooftops and check out this comprehensive guide to Rooftop Bars in NYC.
NYC Hotel Rooftops with Great City Views
Mr Purple @ Hotel Indigo Lower East Side
We all know the Gerber Group rarely misses a beat when planning one of their world-renowned hip hotels, always a hot spot for jet setters. The Hotel Indigo Lower East Side, with their 15th floor rooftop and heated pool is no exception. Mr. Purple was designed to showcase panoramic views of NYC's skyline while you socialize with NYC's inner circles indulging in craft cocktails, locally-sourced food and fresh cold-pressed juices. If you want to stay in one of NYC's best neighborhoods and snap a slew of insta-worthy photos, Hotel Indigo is where you go.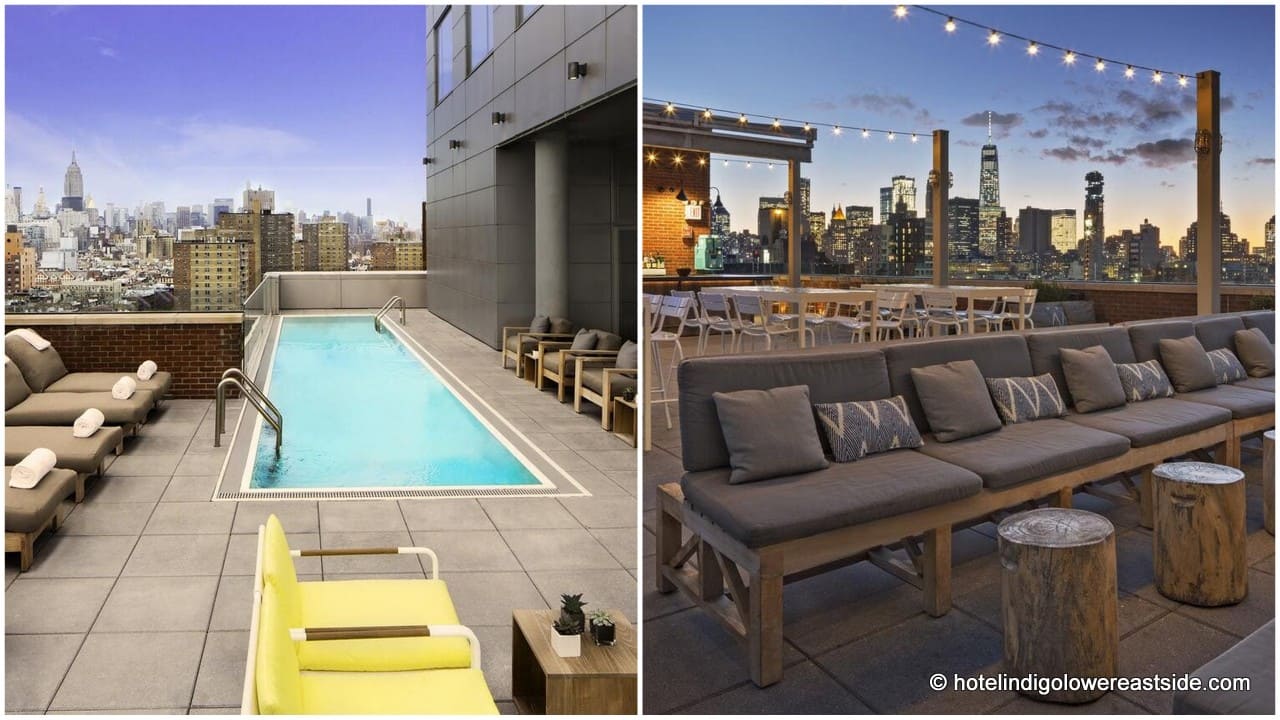 Aliz Hotel Times Square
Aliz Hotel Times Square – Aliz, a new independent boutique hotel brand, opened it's first NYC hotel in late 2018. The guest rooms feature luxury bedding, high-tech audio & visual room systems, free wifi and Keurig® coffee machines. The hotel has a fitness center, business center, pet-friendly accommodations and is home to Manhattan's highest open-air rooftop bar, with 2 floors of unparalleled views of the city. Dear Irving on Hudson is located on the 40th and 41st floor of the hotel
Back to Top of New York City Hotel Rooftops
citizenM New York Bowery
citizenM New York Bowery is a 300-room sister hotel to the citizenM New York Times Square, very popular and known for it's super-efficient and modern rooms as well as it's concept of 'affordable luxury for the people'. All rooms are fitted with a desk, wall-to-wall windows, flat-screen TV, rain showers and small refrigerators. The hotel offers the expansive cloudM rooftop bar, outdoor terrace, and spectacular 360-degree views of New York. Guests rave about the comfy beds as well as the bar and cafe area.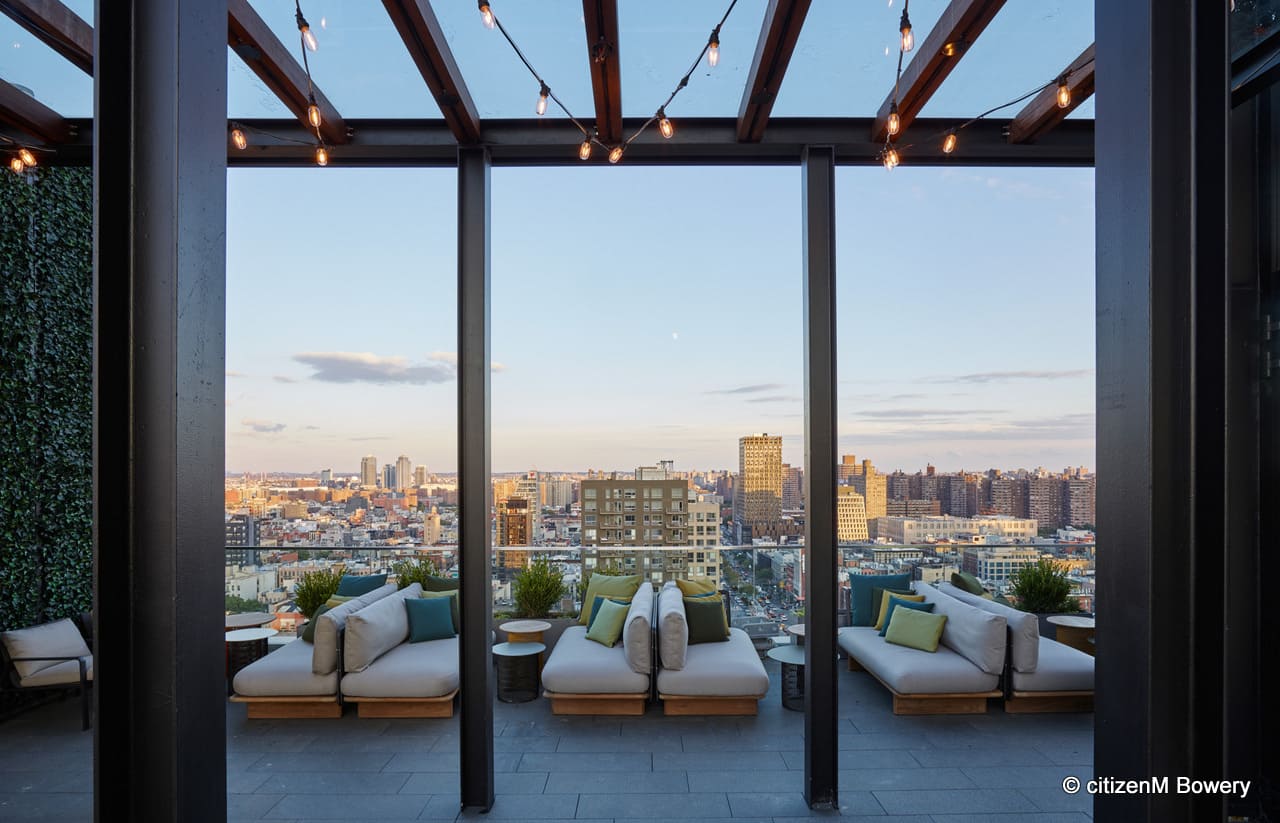 Roosevelt Hotel NYC
Opened in 1924 and named after President Theodore Roosevelt, the Roosevelt Hotel NYC New York offers a 1920s ambience that includes original Tiffany crystal chandeliers, gilt trim, coffered ceilings, and wrought-iron balconies overlooking the lobby. Modern amenities include shops inside the hotel, a fitness center, multiple dining options, including their amazing Mad46 Rooftop, a local favorite! They have over 1,025 guest rooms, including 38 suites. The hotel is three blocks from Rockefeller Center, the Chrysler Building, Grand Central Terminal and numerous Broadway theaters.
PHD Terrace at Dream Hotel
Located on the Penthouse of the Dream Hotel, PHD Terrace offers indoor and outdoor panoramic views from the Hudson River to Times Square. Part Riviera, part Rome with inflections of South Beach, the decor sets the tone for contemporary elegance. Under the sun, experience the chilled out vibe and signature rooftop cocktails.
Bookmarks Rooftop Lounge at the Library Hotel
Every evening, the 14th Floor, featuring the Writer's Den and Poetry Garden and terrace transforms into Bookmarks Lounge, an intimate rooftop bar offering literary inspired cocktails, such as 'the Hemingway,' with city views. With both an outdoor terrace and two indoor greenhouses, this is a great spot to view all of Midtown from above.
Empire Hotel Rooftop
This 12th Floor rooftop lounge features 3,000 square feet of indoor and outdoor space and private chaise lounge–equipped cabanas. Three separate terraces offer views of Lincoln Center, Central Park, and Broadway & Columbus Avenues.
Mykonos Blue at Hotel Hayden
The roof on the 20th floor of the Hayden Hotel (Formerly RoofBar or Glass Bar @ Hotel Indigo) has awesome views of the Manhattan skyline, along with creative drinks and lots of hummus and tzatziki. The hotel consistently gets rave reviews and is always a safe bet to book.
127 West 28th Street – Chelsea
Formerly RoofBar or Glass @ Hotel Indigo
Hotel Gansevoort – Meatpacking and Park Avenue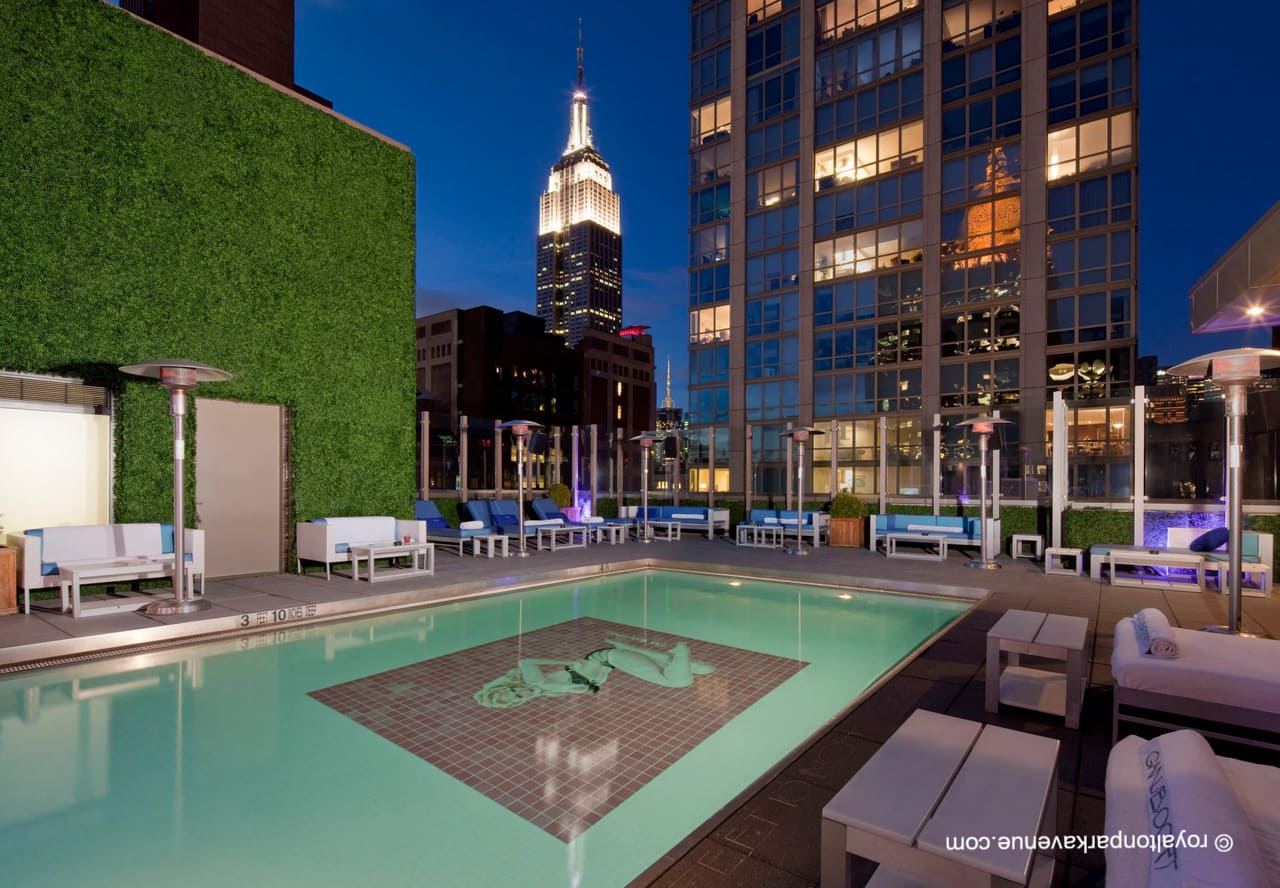 Both the Hotel Gansevoort Meatpacking and Royalton Park Avenue (formerly, the Gansevoort Park Avenue, photo), have some of the most stunning views from their indoor/outdoor rooftops in New York City, and each has a pool.
See Also: Meatpacking District and Gramercy Park.
Le Bain at Standard Hotel
Le Bain is a penthouse discothèque and rooftop bar featuring world-famous DJs, a state of the art sound system and superlative-inspiring views. During the summer, there's a plunge pool on the dance floor and a crêperie on a "grass" covered rooftop. Don't forget to check out the lower-level room with floor-to-ceiling windows and a Jacuzzi. Please be advised: admission is determined at entrance, and not guaranteed to hotel guests.
Press Lounge at Ink 48
Ink48 Hotel is home to MY FAVORITE NYC Rooftop! Located on the 16th floor atop Ink48, PRESS Lounge presents spectacular views, glowing 70-foot-long reflecting pool, and light fare in a casual setting. Enjoy unobstructed Manhattan and Hudson River views, expertly crafted cocktails and tasty nibbles in style. PRESS features a glass-enclosed lounge (hello, winter!), and a spacious deck with outdoor seating, food and drinks.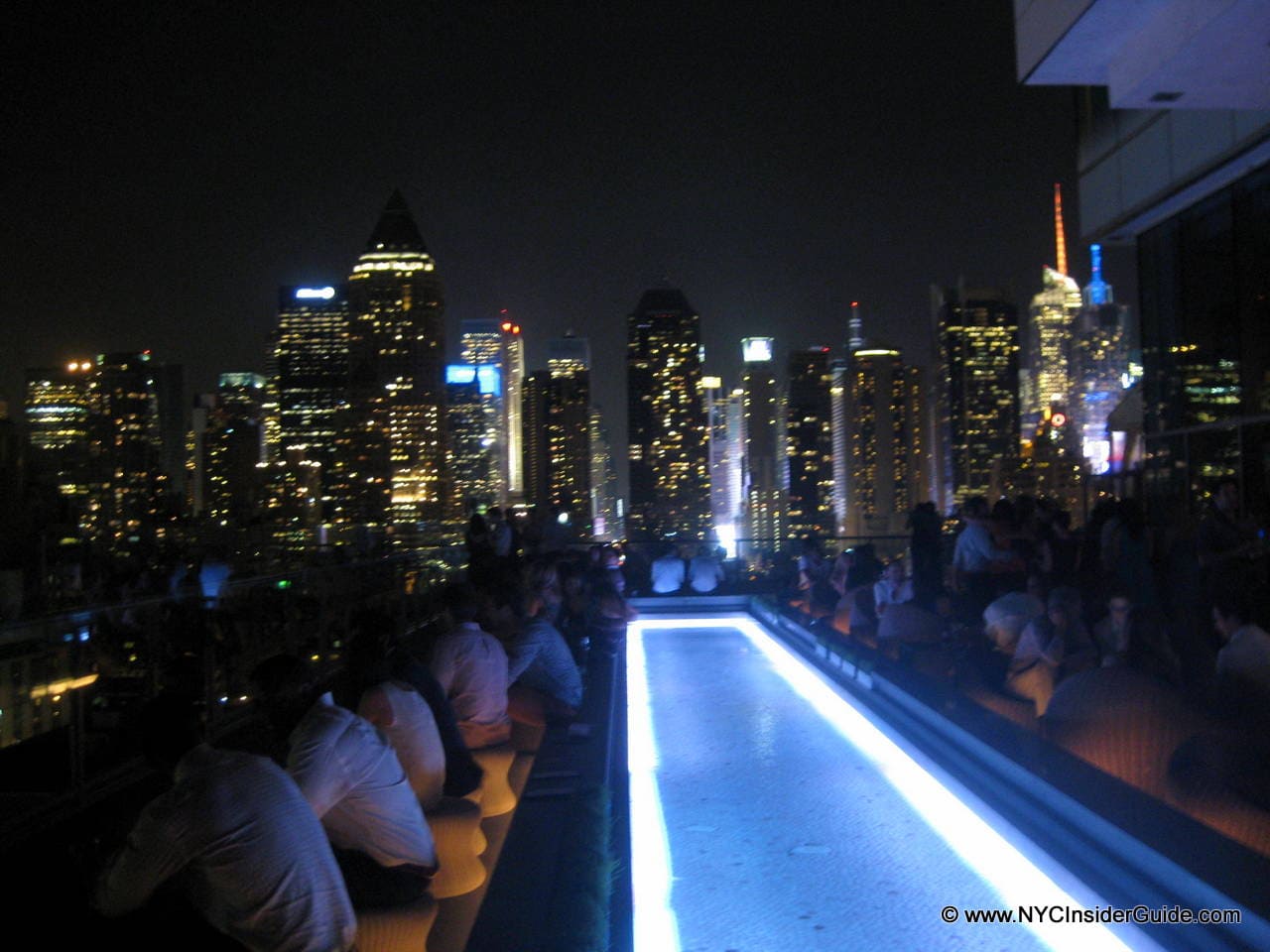 The Rooftop Lounge at Pod 39
A Mexican themed rooftop lounge, serving tacos, cocktails and specialty tequilas. Take the glass enclosed elevator to the 17th Floor, where the 2 floor rooftop, with panoramic city views, terra cotta, brick columns, ivy and small tables await. the Pod 39 Hotel is one of NYC's best hotel deals, targeting the "Hip and Thrifty" market. Seasonal (outdoors only), opens March 12, 2017.
The Sky Room at Fairfield Inn & Suites
Boasting 360 degree views of Manhattan and the Hudson River from 'the city's highest rooftop lounge', Sky Room occupies the 33rd and 34th Floor of the newly constructed Fairfield Inn and Suites by Marriott Times Square. The bi-level lounge transports guests to a high energy oasis atop 40th Street and offers five distinct spaces.
330 W. 40th St (8th & 9th Aves) – Times Square
Direct Website: marriott.com
Back to Top of New York City Hotel Rooftops
Sky Terrace at The Hudson Hotel
Located on the 15th floor, a few blocks from Central Park, Sky Terrace is a large private landscaped terrace with sweeping city and Hudson River views – all for the exclusive enjoyment of hotel guests. It is the ideal spot for soaking up the sun and enjoying a quiet drink while admiring the breathtaking panorama below. Sky Terrace is exclusively for hotel guests or by invitation only.
356 W 58th St, (8th & 9th Aves) – Midtown West
Reward program: Morgans Hotel Group
Direct Website: hudsonhotel.com
Back to Top of New York City Hotel Rooftops
Top of the Strand @ Marriott Vacation Club Pulse
Top of the Strand, set like a jewel on the 21st floor, is a Midtown Manhattan spectacular urban oasis. A retractable glass roof over the intimate rooftop lounge shows off the Skyline and Empire State Building year round. With a friendly atmosphere, dazzling views, cabana rentals, well-made drinks and tasty light fare, Pulse is one of New York City's favorite rooftop bars.
33 W 37th St (Fifth and Sixth Aves) – Midtown West
Back to Top of New York City Hotel Rooftops
More NYC Hotel Rooftops
Jimmy at the James Tribeca
The Ides at Wythe Hotel (Williamsburg)
The Roof at Viceroy Central Park
The Lodge at Gallow Green at The McKittrick Hotel
Magic Hour at Moxy Times Square
Back to Top of New York City Hotel Rooftops
NYC Restaurants with Amazing Views
Bar SixtyFive at the Rainbow Room
Manhatta Restaurant
The Skylark
Bar Gonzo
Versa NYC (right by Penn Station)
Back to Top of New York City Hotel Rooftops
Jacuzzi Hotels NYC in Room
Jacuzzi Hotels NYC in room offer travelers a wonderful way to relax and connect after a long day of walking around NYC. Our top picks for in room jacuzzi spa tubs include:
See More: Jacuzzi Hotels NYC in Room
Back to Top of New York City Hotel Rooftops
Where to Stay during Summer in New York City
Summer is the perfect time to check into one of our hotels with free bicycles, an awesome roofdeck or a pool. Take advantage of the many free perks offered by NYC hotels to help you get the best city views, relax at the end of a long sightseeing day, explore more of NYC and dive into the nooks and crannies of New York City you can't see any other way!
Back to Top of New York City Hotel Rooftops
More New York City Hotel Deals
Best Hotels for NYC Events & Holidays
NYC events and holidays bring in massive amounts of visitors, all of which want prime views and access to the July 4th fireworks, Macy's Thanksgiving Parade, New Year's Eve fireworks, Marathon finish line and more. Here are our top hotel picks for NYC's most popular annual events.
NYC Hotels by Type
NYC offers hotels of every type you can imagine. Boutique hotels with cool features like pools, rooftops and gyms, to suite hotels which are more comfortable for families or those who want more apartment-type lodging, to cheap budget hotels with bunk beds, check out our top choices appealing to all budgets and tastes.
NYC Hotels by Amenity
Turn your NYC stay into your home away from home with our amazing hotel amenities. Get an in-room jacuzzi tub to soothe after a long day of sightseeing, check into a hotel with an amazing rooftop to watch our skyline twinkle at you while sipping a cocktail and dive into the nooks and crannies of Central Park with a free bike. We've hand picked all the best of the best - the places where New Yorkers check into for a stay-cation.
New York City Hotel Map
Top of New York City Hotel Deals
NYC Hotels By Attraction - I Want To Be Near...
Back to Top of New York City Hotel Deals
How to Save on Hotels in New York City
Check out all our tips and dozens of promo codes to help save on NYC Hotels. Whether you are visiting NYC on a budget, or just looking to save a little on luxury, we share all our insight on How to Save on Hotels in New York City.
Top of New York City Hotel Deals
NYC Hotel Deals By Neighborhood
Manhattan Neighborhood Map
Back to Top of New York City Hotel Rooftops
New York City Hotel Rooftops Quick Links
Click for current rates and reviews or keep reading for more hotel details.
Back to Top of New York City Hotel Rooftops
Best New York City Hotel Rooftops