Safe and Fun NYC Things to Do
Open in NYC: 9-11 Memorial, The Highline, Top of the Rock, Empire State Building, Edge, The Bronx Zoo, Liberty Island, in-person Sample Sales. MoMA, The Met, Natural History, Madame Tussauds and much more.
Our Harlem neighborhood guide will show you the wonderful cultural, food, music and historic value of this landmark area, which has long, strong and proud NYC roots. The Harlem Renaissance of the 1920s began the golden age of African-American culture, literature, music, artists, theater and art, which continues to strengthen today. Harlem has always been a destination spot for those in the know, but has recently really put itself on the international map and become a must-see area of NYC. If you want to eat authentic soul food, hear mind-blowing jazz and gospel and clothing shop with Alicia Keys and Jay-Z, then Harlem needs to be added to your bucket list!
Things to Do and See in Harlem
Apollo Theater
The Apollo Theater, named for the Greek god of music, has launched dozens of famous careers and played a vital role in a time when African-Americans were not allowed to perform elsewhere. Jimi Hendrix, Michael Jackson, James Brown, Ella Fitzgerald, Dionne Warwick, Lauryn Hill and so many others got their start at The Apollo. Amateur Night is every Wednesday @ 7:30pm 1-hour tours are provided almost daily by reservation only. More Info: Apollo Theater, 253 W 125th St.
Striver's Row
When you see famous photos of Harlem and are looking at rows of gorgeous brownstones, you are most likely seeing Striver's Row. The St. Nicholas Historic District, aka "Striver's Row" is a historically and architecurally signifant area of NYC, and home to many accomplished African-Americans over the years. It spans Frederick Douglass Boulevard to Adam Clayton Powell Boulevard, 138th-139th Streets.
Harlem Gospel Experience Tour
Harlem Gospel Experience Tour – 9am every Sunday, this tour takes you to all the local historic and cultural spots, and ends at a local gospel church where you may stay for the lively worship service (dress appropriately).
More Things to Do in Harlem
National Jazz Museum, Abyssinian Baptist Church, the Schomburg Center for Research in Black Culture, Hotel Teresa
Top of Harlem Neighborhood Guide
Harlem Neighborhood Guide Sightseeing Passes
Top of Harlem Neighborhood Guide
Harlem Restaurants
Soul and comfort food line the streets of Harlem, with popular restaurants having lines out the door and months-long reservation lists. Restaurant Row runs along Frederick Douglass Blvd (an extension of 8th Avenue) from 110th to 125th Street.
Top spots loved by true NYC foodies include Red Rooster, Sylvia's (Cheesy grits, chicken and waffles and sweet tea), Amy Ruth's (soul food), Billie's Black, Miss Mamie's Spoonbread Too, Melba's, Vinatería (upscale Italian and Spanish wine bar), The Cecil and Lido.
More Harlem Restaurants
Top of Harlem Neighborhood Guide
Harlem Shopping
Harlem Haberdashery
Think the late Notorious B.I.G. in elaborate leather ensembles, Grammy award-winners Alicia Keys and Jay-Z's "Empire State of Mind", or David Beckham's "Welcome to the U.S." Adidas promotion campaign. Harlem Haberdashery's signature collection has been seen on everyone from award-winning restaurateur Marcus Samuelsson, to New York Giants' Victor Cruz to New York Yankees' CC Sabathia.
The family behind these iconic looks welcomes you to their gorgeous retail store where you can shop like a celebrity even if you are not one! More Info: Harlem Haberdashery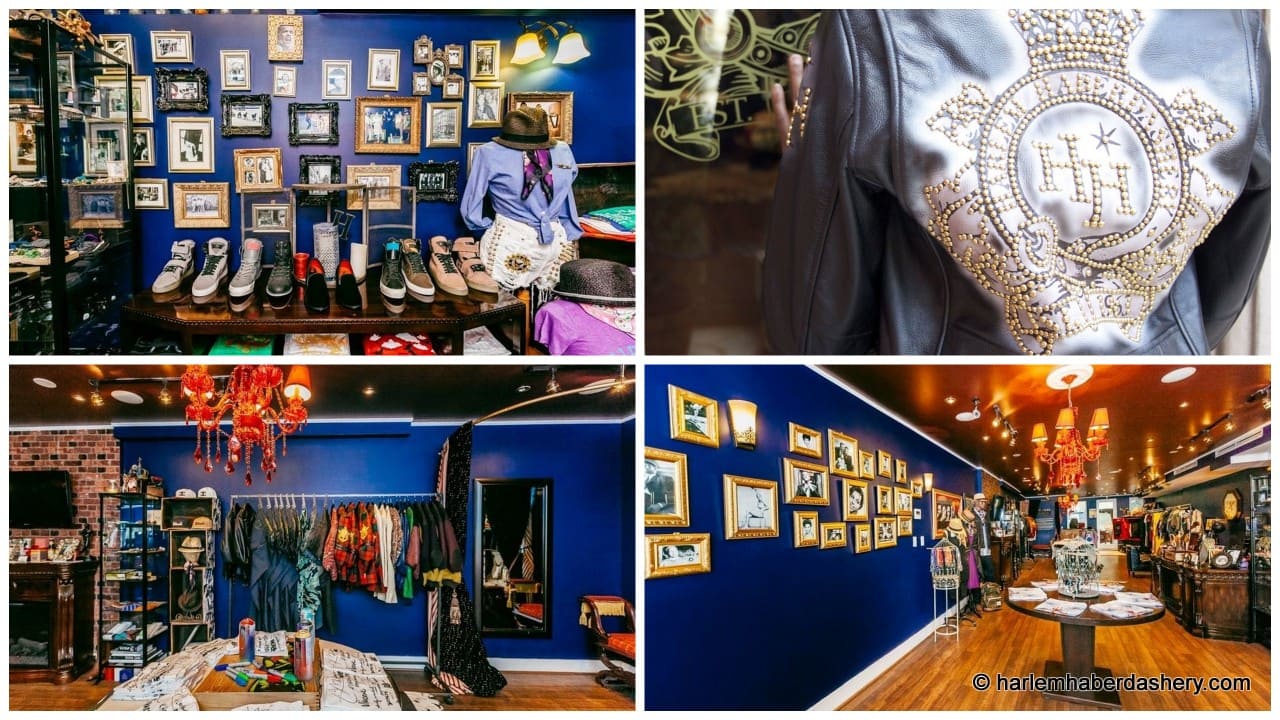 Top of Harlem Neighborhood Guide
Harlem Hotels
Harlem is one of the most affordable places to stay in Manhattan, offers easy subway access downtown and has more B&B and apartment style rooms than most other areas, As Harlem is known for their brownstones and not high rises. it allows many landlords to offer vacation rentals that are completely legal, unlike it's downtown high-rise counterparts.
Harlem YMCA (Hostel)
The Harlem YMCA is one of the the best value hotels in NYC. For those with minimal requirements, who are happy to stay in bunk beds and share bathrooms, then you cannot beat the prices, which start under $100 per night. Believe it or not, the Harlem YMCA includes a full-service fitness center, swimming pool, steam room, sauna, free wifi (common areas) and gets fantastic reviews online from our budget-conscious visitors. All guests must be 13 years of age or older.
Aloft Harlem Hotel
Aloft Harlem is a fresh, fun, forward-thinking accomodation with urban-influenced design, accessible technology, and a social scene that's always abuzz. Sip a drink, read the paper, or work on your laptop in the re:mix(SM) lounge or w xyz(SM) bar, where lighting and music change throughout the day to set the perfect mood.
The Harlem Pearl (Lofts, Vacation Rentals)
Harlem Pearl is perfect for the convenience to express subways and very cool restaurants/night clubs (Sylvia's, Corner Social, Red Rooster). The apartments offer a variety of bed and sofa configurations and reviewers note the cleanliness of the rooms and friendliness of the staff. If you want to stay like a proper NYer, then a brownstone apartment is the way to go.
Jazz on the Park Hostel
Jazz on the Park is likely the most famous hostel in NYC and consistently gets rave reviews, especially relative to the value they deliver. Jazz Hostel offers both dormitories and private rooms, all with shared bathrooms. However, the reason they have such loyal customers is their community, offering a funky coffee bar, weekly pub crawls and summer BBQs. Note: stairs only.
Top of Harlem Neighborhood Guide
Harlem Subways
A/C, 1/2/3, B/Q Subways
General Address: 360 W 125th St, New York, NY 10027
Top of Harlem Neighborhood Guide
Harlem Maps
Central Harlem is roughly bound by Frederick Douglass Boulevard, St. Nicholas Avenue, and Morningside Park on the west; the Harlem River and 155th Street on the north; Fifth Avenue on the east; and Central Park North on the south.
Lin Manuel-Miranda's famous Broadway show, In the Heights, takes place in Washington Heights, the neighborhood that starts just north of Harlem, beginning at 155th Street.
West Harlem is composed of Morningside Heights, Manhattanville, Hamilton Heights and Sugar Hill, while East Harlem is also known as Spanish Harlem or El Barrio.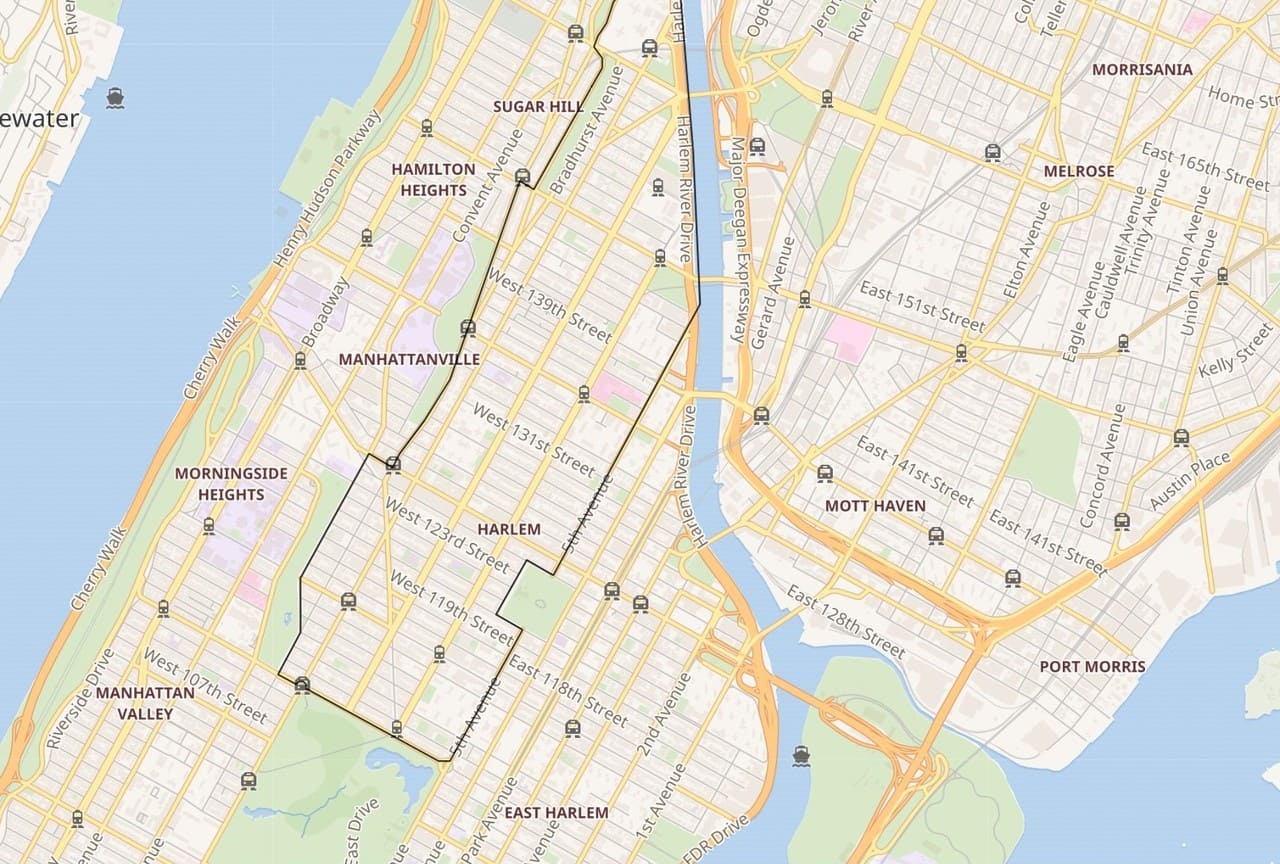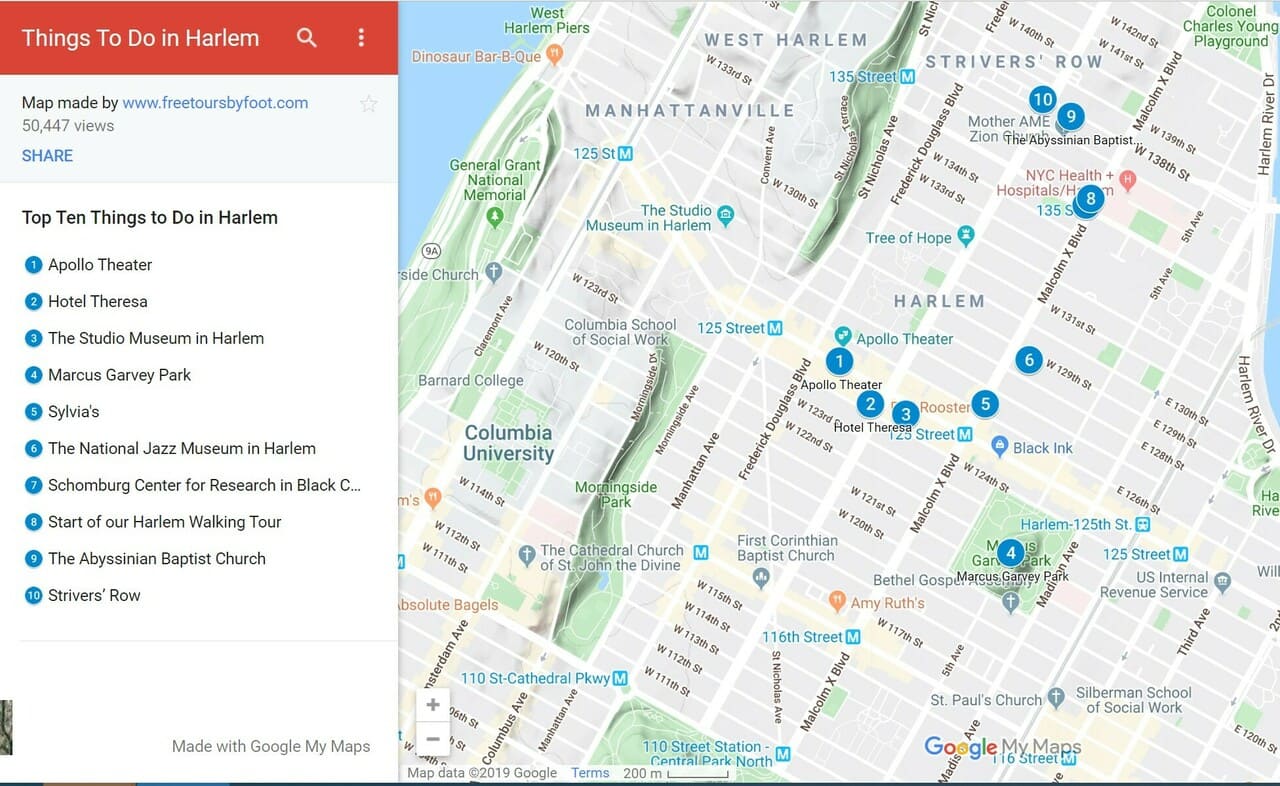 Map provided by Free Harlem Walking Tours
NYC Insider Print Map and Guide to Manhattan
NYC Insider Printable Guides

NYC Printable Map Guide Book

BONUS NYC Maps

NYC Travel Guide
More Info: NYC Printable Maps | Customer Reviews | Free Mini Guide
Manhattan Neighborhood Map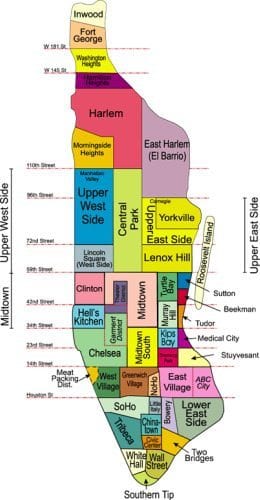 Top of Harlem Neighborhood Guide
Share YOUR favorite travel tip, story or photo