Safe and Fun NYC Things to Do
Open in NYC: 9-11 Memorial, The Highline, Top of the Rock, Empire State Building, Edge, The Bronx Zoo, Liberty Island, in-person Sample Sales. MoMA, The Met, Natural History, Madame Tussauds and much more.
NYC Neighborhood Guides
Chinatown NYC is a small, but very densely packed area of shops and restaurants. It is best to just walk around, enjoy the culture, pick up some souvenirs, and most definitely, eat some delicious and cheap Chinese food.
Things to Do
Museum of Chinese in America (MOCA) – 215 Center St at Grand, $15 adult, free children under 5. Museum stays open late and admission is free on Thursdays.
Mahayana Buddhist Temple (133 Canal St)
Chinese New Year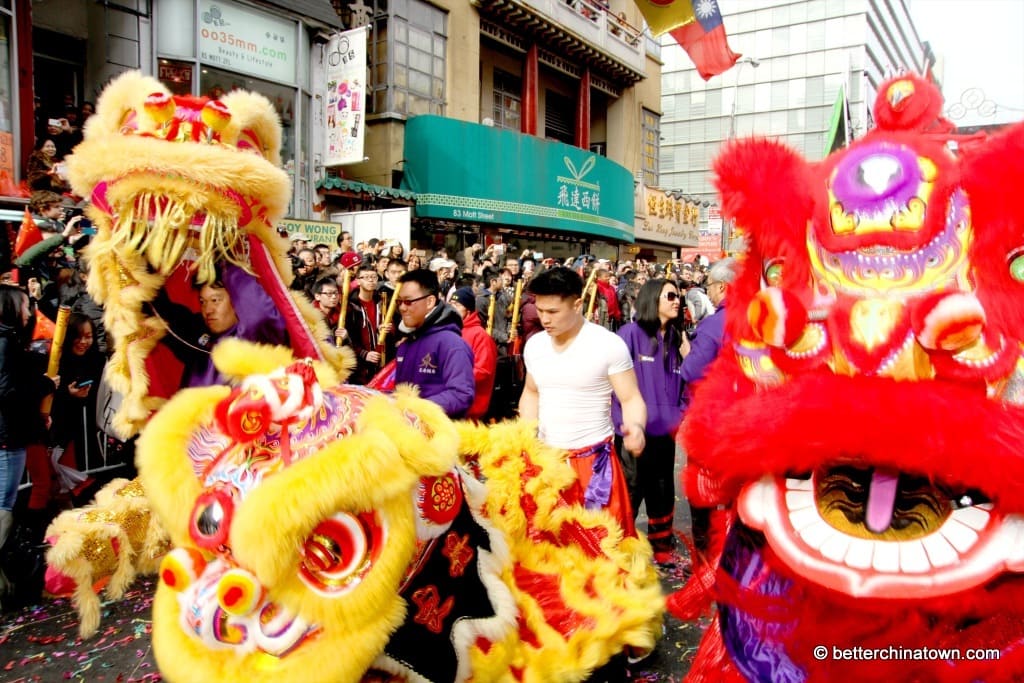 Photo ©Better Chinatown Society
New York City celebrates the Chinese New Year with a Firecracker Ceremony, Cultural Festival and a New Year Parade followed by another Festival. Kids and adults alike love seein all the floats, costumes, eating the authentic food, getting their faces painted and much more. Check either the January or February Events Calendars for more details on this year's Chinese New Year.
Ahoy New York Chinatown and Little Italy Food Fest Tours
Ahoy New York Food Tours takes locals and visitors alike on a cultural walk of Chinatown and Little Italy. Taste delicious foods, while learning about the culture and history of these unique New York City neighborhoods.
All NYC Insider Guide visitors receive 20% off tours with our special discount code at Ahoy New York Chinatown and Little Italy Food Fest Tours!
Klughaus Art Gallery
Klughaus Gallery works primarily with artists that have roots in graffiti and street culture and exhibits a variety of reasonably-priced contemporary art works.
47 Monroe Street
New York, NY 10002
www.klughaus.net
Thursdays and Fridays from 1-7pm
Saturdays and Sundays from 12-6pm
Chinatown NYC Recommended Restaurants
Peking Duck House (22 Mott St, Mosco/Pell St) – one of the area's "nicer" restaurants and the Peking Duck, of course, is great.
Chinatown Ice Cream Factory (65 Bayard St) – exotic flavors such as zen butter, lychee and Chinese almond cookie.
Wo Hop (17 Mott St, Mosco & Chatham Sq) – old school Cantonese, cheap, a favorite of NYPD and FDNY, as well as anyone hungry at 4am
Food Sing 88 (2 E Broadway) – freshest noodles, and fun to watch them being made, they look like silly string
Dim Sum Go Go (5 E Broadway) – fresh, made-to-order Dim Sum
Golden Unicorn (18 E Broadway) – Dim Sum served cart-style
Joe's Shanghai (9 Pell St) – legendary for their soup dumplings and dim sum
Heaven (11 Doyers St, Bowery/Chatham Sq) – Vietnamese, known best for their spring rolls.
Pho Grand (277C Grand St), Vietnamese, Pho is noodle soup made with rice noodles and thinly sliced rare beef.
Fried Dumpling – 106 Mosco St., 5 Dumplings for $1.00
Coming Soon: Guide to Flushing, Queens (NYC's better Chinatown).
Chinatown NYC Shopping
Check out the local markets, with ducks and pigs hanging in the windows, Chinese herbs, lucky bamboo, lots of knick-knacks.
Ten Ren (75 Mott St) – one of our largest and most exotic tea selections
Pell Street – known as "Hair Alley," dozens of hair salons and barber shops, cheapest in the City.
Note – fake designer goods not covered intentionally. They are illegal, believed to support terrorism and child labor, and most definitely not fashionable.
Chinatown Hotels
Hotel 50 Bowery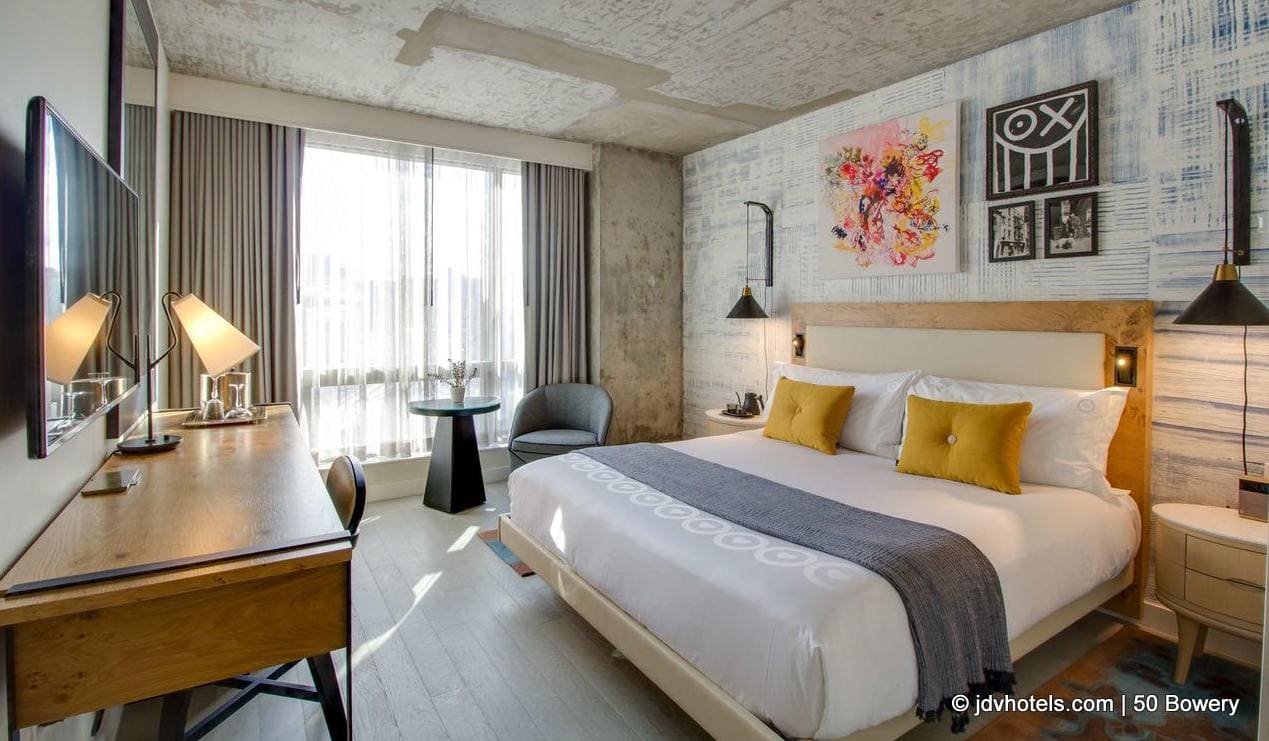 Discount Rates: 50 Bowery
50 Bowery, NY, NY 10013
50 Bowery – new in 2017. This 229-room boutique hotel offers incredible views of the Empire State Building, Chrysler Building and the World Trade Center from many of their rooms, as well as for all guests from their 21st floor Rooftop, The Crown. Situated right in the heart of Chinatown, Little Italy and the Lower East Side, 50 Bowery puts you within 5-10 minutes of at least 400 restaurants (I'm underestimating) from every ethnicity and for every price range you can imagine. Within the hotel, you'll find luxury linens, flat screen TVs, complimentary WiFi and most pets are welcomed!
Back to Top of Chinatown NYC
Nearby Hotels: Lower East Side, SoHo
Subways
6 to Canal Street
General Address: 60 Saint James Place, NY, NY 10038
Chinatown NYC Printable Map

Chinatown NYC Map
(Download Full Size By Sharing Above)
See the full NYC Insider Print Guide
NYC Insider Print Map and Guide to Manhattan
NYC Insider Printable Guides

NYC Printable Map Guide Book

BONUS NYC Maps

NYC Travel Guide
More Info: NYC Printable Maps | Customer Reviews | Free Mini Guide
Manhattan Neighborhood Map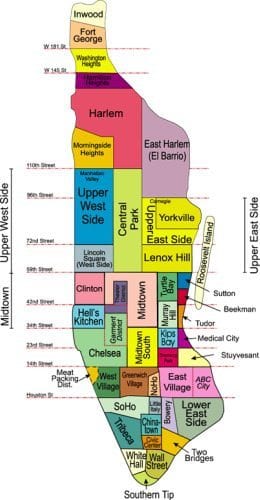 Top of Chinatown NYC
Share YOUR favorite travel tip, story or photo