Empire State Building, Diamond District, Intrepid, MSG
Things to Do
Empire State Building (350 5th Ave, 33nd/34rd) – $34 Adult, $27 ages 6-12, under 12 free.  Go early to avoid the lines, or get an Express Pass ($60). There are 3 lines to get in:  1) security line, mandatory for all, 2) ticket line, unless you have pre-purchased tickets. 3) Elevators to the Observatory. Express Pass holders get priority at all three lines. While I've heard the Skyride is a tourist trap, I have never personally experienced it.
Intrepid Sea, Air and Space Museum (Pier 86, 166 W 46th St at 12th Ave) – centered on the aircraft carrier Intrepid (CVS-11), and features a range of interactive exhibits and events about heroism.  Educational, planes, war and a view of the Hudson River.
Madison Square Garden/ Penn Station(7th Ave, 31st/33rd) – catch the Rangers (hockey), Knicks (basketball) or concert in the main arena or a show at the Theater at Madison Square Garden. The MSG All-Access Tour, lets you visit team locker rooms, learn how the basketball court turns into an ice-rink, meet a Knicks City Dancer, and classic history, such as where Joe Frazier took on Muhammad Ali for the first time.
MoMA – technically, the Museum of Modern Art is in Midtown West, but it is grouped with it the attractions in Midtown East.
Rockefeller Center and Top of the Rock
See Also: Times Square
Top of Midtown West New York City
NYC Discount Passes and Tours in Midtown West
Top of Midtown West New York City
Midtown West Recommended Restaurants
Cognac (55th, Bway) – Have a cocktail while sitting outside, people watching. Same owners as Serafina.
Molyvos  (7th Ave, 55th/ 56th) – excellent Greek, small plates, near Central Park.
Carnegie Deli right across the street.
Le Bernardin (155 W 51st, 7th  Ave) – French/Seafood. One of the city's top restaurants, many swear it's their all time favorite meal. Service, food and décor is impeccable. Also great for lunch (prix-fixe: 3 course lunch, $66; 4 course dinner, $109)
Meske (468 W 47th , 10th Ave) – Ethiopian. Inexpensive, interesting, and if you've never eaten by using spongy bread to pick up your food (no utensils), it's fun and a must-try. Most spicy and many vegetarian friendly.
Restaurant Row (46th  St, 8th/9th Aves) – 30 restaurants on one block, most "touristy," all for Broadway theatre crowd, serving prix-fixe specials.
Esca (402 W 43rd  St., 9th Ave) Italian /seafood. Another Batali gourmet winner.
41 and X (622 10th Ave, 44th St) – Nouveau American (mac n cheese, fried chicken, ribs), less touristy than other theater restaurants, outdoor bamboo garden.
Rosa's Pizza (in Penn Station) – believe it or not, some say this is their favorite pizza in NYC. And the cheapest beer anywhere.
Koreatown – 32nd St, 5th/Broadway – most any restaurant is a great choice, and right next to the Empire State Building.
Press Lounge at the Ink 48 Hotel – HANDS DOWN one of THE best views of Manhattan. A fabulous hotel rooftop with a 70-foot-long reflecting pool and killer panoramic skyline views, with comfortable sofas.
Top of Midtown West New York City
Midtown West Shopping
Macy's (151 W 34th St, 7th Ave)– Herald Square – many people love the landmark, Macy's, founder of the most famous Thanksgiving Day Parade and backdrop of "Miracle on 34th Street." The store is huge (2 city blocks, 9 Floors). Crowded, very congested area, little else around it, lacking sales staff and probably little merchandise you can't find at home or online.
More about New York City Shopping
Top of Midtown West New York City
Midtown West Hotels
Luxury | Suite | Boutique | Cheap | Romantic
Hotels Near Penn Station, NYC
Staying near Penn Station / Madison Square Garden is a great idea when staying late for the Rangers, Knicks or your favorite concert, arrive or leave early via Amtrak or LIRR or just want to stay in a very affordable area of Manhattan steps from the Empire State Building, Macy's and no more than a 15 minute subway ride anywhere in Manhattan. Some of our top picks near Penn Station include:
See More: Hotels Near Penn Station, NYC
Hotels Near NYC Javits Center
Coming to town for the Boat Show, Comic Con, Motorcycle Show, NYT Travel Show, BroadwayCon, International Toy Fair, Restaurant and Food, The Auto Show, Chocolate Show or any one of dozens of fashion, technology or other industry shows? If your goal is to work hard, play harder, you'll definitely want to stay as close to the Javits Center as possible. Here are our top picks for Hotels Near NYC Javits Center.
Four Points Manhattan Midtown West – Opened in 2017 and located in the heart of Hudson Yards, walking distance to the Javits Center, High Line and Chelsea Market. Comfortable rooms are spacious with complimentary Wi-Fi, massive rain showers and cloud-like beds. Hotel includes Hudson Bar Room and fitness center.
Luxury Hotels in Midtown NYC
Any luxury hotel in Midtown NYC provides you with our top of the line accommodations while placing you in the heart of all the action. From decadent dining to killer skyline views to the world's best spas, these luxury hotels put you in the premier location in the heart of the best city in the world.
See More: Exclusive Luxury Hotels in Midtown NYC
See More: NYC Luxury Hotels, Central Park Hotels
Back to Top of Midtown East
NYC Boutique Hotels – Midtown West
StayPineapple Midtown NYC Hotel
StayPineapple, An Artful Hotel, Midtown New York – new in 2019, StayPineapple markets their hotels to the "young, young at heart, savvy and the seeker of different and great." StayPineapple offers afternoon delights, like cupcakes and coffee, big fluffy towels, robes, slippers, cozy over-stuffed duvets and beds about which guests rave. With rooms as low as $120 per night, StayPineapple is super dog-friendly and uses hipster room names like Starlet Queen and Fashionista King.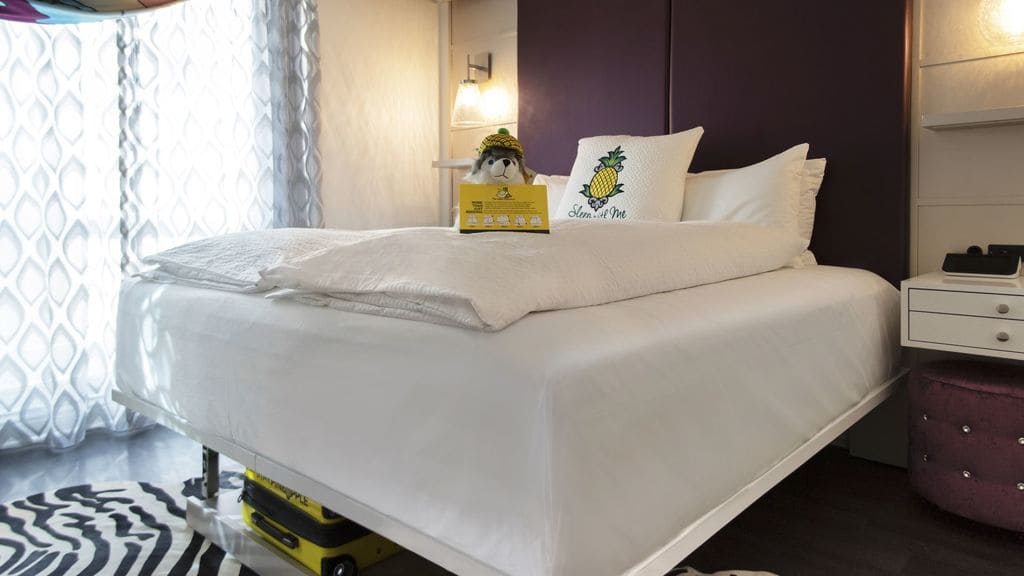 Citadines Connect Fifth Avenue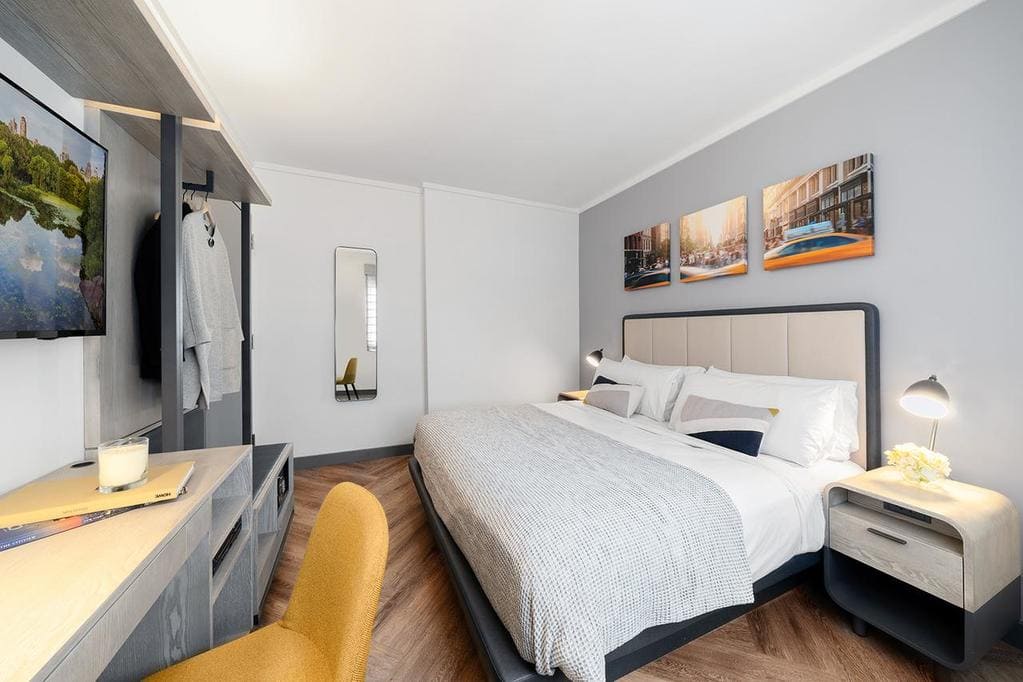 Citadines Connect Fifth Avenue New York, formerly known as Hotel Central Fifth Avenue New York, offers guestrooms featuring a sophisticated design that combines modern comfort with functionality. Guests enjoy the light "Breakfast to Go in a bag," comfortable beds, large room sizes, and being close to all the tourist action in Midtown. The front desk attendants, known as "Connectors," offer insider tips, local hotspots, eatery favorites and off the beaten track recommendations.
Royalton New York
Royalton is a super hip hotel right off Times Square appealing to a sophisticated crowd. The majority of rooms have 5 foot soaking tubs and fireplaces and the lobby is sleek and cozy with a huge bronze fireplace and leather sofas. 44, the restaurant, has been a trendy NYC hotspot for years.
Hudson Hotel New York City
Discount Rates: Hudson Hotel
356 W 58th St, Between 8th & 9th Aves
The Hudson Hotel has a beautiful private park, like a mini Central Park, with full cocktail bar, chaises, floor cushions and ivy on the walls. The outdoor patio is heated in the winter and the hotel is a bit further West than the other main hotels in this area, but much quieter.
See More: New York City Boutique Hotels
Top of Midtown West, More New York City Hotel Deals
Spacious Suite Hotels in Midtown NYC
Many NYC visitors love staying in Midtown, putting them within a mile of Rockefeller Center, Bryant Park, Grand Central, Empire State Building, Broadway, Times Square and tons of restaurants and shopping. One could easily spend 2-3 days in Midtown alone and only see a fraction of all there is to offer. Some of our top spacious and family-friendly Midtown Suite Hotels include:
See More: Spacious Suite Hotels in Midtown NYC
Back to Top of Midtown West
Cheap Budget Hotels Midtown West
Finding cheap hotels in Midtown West NYC is less difficult than you may think, as this is one of the best value spots in Manhattan. You'll be right near the Empire State Building, Garment District, Times Square, Chelsea and Hell's Kitchen, all while possibly paying less than $100 per night for a clean and fairly spacious room. So, if you have reasonable expectations and can't wait to stay in the very center of Manhattan, these are the best value deals in Midtown West NYC.
See More: Cheap Budget Hotels Midtown West
Back to Top of Midtown West
Romantic New York City Hotel Deals – Midtown West
The London NYC
Sophisticated urban luxury in the heart of midtown Manhattan, the award-winning London NYC sets a new standard for New York luxury hotels. Named to several "Best Of" and "Top 10 lists", you'll find detailed design, attentive service and the acclaimed Gordon Ramsay restaurant.
The Modern Romance Package includes: *En suite couples massage and Signature Gordon Ramsay Martini, *Assorted canapés, and *Assortment of aromatherapy bath salts. Other packages include Broadway & Bites and Bed and Breakfast.
Top of Midtown West, More New York City Hotel Deals
More Midtown West Hotels
Subways
1, 2, 3 along Broadway and 7th Ave
A, C, E along 8th Avenue
N, R, Q to Penn Station or Times Square
7 or Shuttle (S) from the east side (Grand Central) to Times Square
General Address: 151 W 34th, NY, NY 10001
Midtown West Printable Map

Midtown West NYC Map
(Download Full Size By Sharing Above)
NYC Insider Print Map and Guide to Manhattan
Top of Midtown West NYC
Share YOUR favorite travel tip, story or photo
Follow NYC Insider Guide: