Empire State Building, Diamond District, Intrepid, MSG
Midtown West is a huge tourist area with great neighborhoods like NYC's famous Diamond District, Hell's Kitchen and Koreatown. Hell's Kitchen, within midtown, is the most western section and and an "up-and-coming" residential area of New York City with new shops and restaurants opening often. Koreatown, just a block from the Empire State Building, is known for their restaurants and karaoke bars and clubs.
View of Midtown West NYC
Things to Do
Empire State Building (350 5th Ave, 33nd/34rd) – $34 Adult, $27 ages 6-12, under 12 free.  Go early to avoid the lines, or get an Express Pass ($60). There are 3 lines to get in:  1) security line, mandatory for all, 2) ticket line, unless you have pre-purchased tickets. 3) Elevators to the Observatory. Express Pass holders get priority at all three lines. While I've heard the Skyride is a tourist trap, I have never personally experienced it.
Intrepid Sea, Air and Space Museum (Pier 86, 166 W 46th St at 12th Ave) – centered on the aircraft carrier Intrepid (CVS-11), and features a range of interactive exhibits and events about heroism.  Educational, planes, war and a view of the Hudson River.
Madison Square Garden/ Penn Station(7th Ave, 31st/33rd) – catch the Rangers (hockey), Knicks (basketball) or concert in the main arena or a show at the Theater at Madison Square Garden. The MSG All-Access Tour, lets you visit team locker rooms, learn how the basketball court turns into an ice-rink, meet a Knicks City Dancer, and classic history, such as where Joe Frazier took on Muhammad Ali for the first time.
MoMA – technically, the Museum of Modern Art is in Midtown West, but it is grouped with it the attractions in Midtown East.
Rockefeller Center and Top of the Rock
See Also: Times Square
Top of Midtown West New York City
NYC Discount Passes and Tours in Midtown West
NY Explorer Pass
Choose Your Attractions
Circle Line Sightseeing Cruises
Empire State Building
Madison Square Garden, All Access Tour
Intrepid Sea, Air & Space Museum
New York Pass
Included Free and Discounted
Circle Line Sightseeing Cruises
Empire State Building and New York Skyride
Intrepid Sea, Air & Space Museum
Madison Square Garden, All Access Tour
Museum of Modern Art (MoMA)
Top of Midtown West New York City
Midtown West Recommended Restaurants
Cognac (55th, Bway) – Have a cocktail while sitting outside, people watching. Same owners as Serafina.
Molyvos  (7th Ave, 55th/ 56th) – excellent Greek, small plates, near Central Park.
Carnegie Deli right across the street.
Le Bernardin (155 W 51st, 7th  Ave) – French/Seafood. One of the city's top restaurants, many swear it's their all time favorite meal. Service, food and décor is impeccable. Also great for lunch (prix-fixe: 3 course lunch, $66; 4 course dinner, $109)
Meske (468 W 47th , 10th Ave) – Ethiopian. Inexpensive, interesting, and if you've never eaten by using spongy bread to pick up your food (no utensils), it's fun and a must-try. Most spicy and many vegetarian friendly.
Restaurant Row (46th  St, 8th/9th Aves) – 30 restaurants on one block, most "touristy," all for Broadway theatre crowd, serving prix-fixe specials.
Esca (402 W 43rd  St., 9th Ave) Italian /seafood. Another Batali gourmet winner.
41 and X (622 10th Ave, 44th St) – Nouveau American (mac n cheese, fried chicken, ribs), less touristy than other theater restaurants, outdoor bamboo garden.
Rosa's Pizza (in Penn Station) – believe it or not, some say this is their favorite pizza in NYC. And the cheapest beer anywhere.
Koreatown – 32nd St, 5th/Broadway – most any restaurant is a great choice, and right next to the Empire State Building.
Press Lounge at the Ink 48 Hotel – HANDS DOWN one of THE best views of Manhattan. A fabulous hotel rooftop with a 70-foot-long reflecting pool and killer panoramic skyline views, with comfortable sofas.
Top of Midtown West New York City
Midtown West Shopping
Lord and Taylor (424 5th Ave, 38th/39th) – classic NY department store with elegant and stylish merchandise, great dress selection for all ages. Best suited for the over-40 crowd (it was my Grandmother's favorite back in the day!)
Macy's (151 W 34th St, 7th Ave)– Herald Square – many people love the landmark, Macy's, founder of the most famous Thanksgiving Day Parade and backdrop of "Miracle on 34th Street." The store is huge (2 city blocks, 9 Floors). Crowded, very congested area, little else around it, lacking sales staff and probably little merchandise you can't find at home or online.
More about New York City Shopping
Top of Midtown West New York City
Midtown West Hotels
Luxury | Suite | Boutique | Cheap | Romantic
Hotels Near Penn Station, NYC
Staying near Penn Station / Madison Square Garden is a great idea when staying late for the Rangers, Knicks or your favorite concert, arrive or leave early via Amtrak or LIRR or just want to stay in a very affordable area of Manhattan steps from the Empire State Building, Macy's and no more than a 15 minute subway ride anywhere in Manhattan. Some of our top picks near Penn Station include:
See More: Hotels Near Penn Station, NYC
Hotels Near NYC Javits Center
Coming to town for the Boat Show, Comic Con, Motorcycle Show, NYT Travel Show, BroadwayCon, International Toy Fair, Restaurant and Food, The Auto Show, Chocolate Show or any one of dozens of fashion, technology or other industry shows? If your goal is to work hard, play harder, you'll definitely want to stay as close to the Javits Center as possible. Here are our top picks for Hotels Near NYC Javits Center.
Ink48 Hotel - about 10 blocks from Javits Center, right next to the Intrepid Museum and my ALL time favorite rooftop! (photo)
Magnuson Convention Center Hotel - the closest hotel to the JC, less than a block away. Small, clean rooms, geared towards convention exhibitors and attendees.
Renaissance New York Midtown Hotel - new "digitally enhanced" hotel in Garment District, 15 min walk to JC, modern, though modest.
Luxury Hotels in Midtown NYC
Any luxury hotel in Midtown NYC provides you with our top of the line accommodations while placing you in the heart of all the action. From decadent dining to killer skyline views to the world's best spas, these luxury hotels put you in the premier location in the heart of the best city in the world.
See More: Exclusive Luxury Hotels in Midtown NYC
See More: NYC Luxury Hotels, Central Park Hotels
Back to Top of Midtown East
NYC Boutique Hotels – Midtown West
Hudson Hotel New York City

Beautiful private park, like a mini Central Park, with full cocktail bar, chaises, floor cushions, ivy on the walls. Heated in the winter. A bit further West than the other main hotels in this area and quieter.
356 W 58th St, Between 8th & 9th Aves
Compare Rates: Hudson Hotel
See More: New York City Boutique Hotels
Royalton Hotel – One of the few sophisticated hotels within minutes of Rock Center, Broadway, Times Square
Top of Midtown West, More New York City Hotel Deals
Spacious Suite Hotels in Midtown NYC
Many NYC visitors love staying in Midtown, putting them within a mile of Rockefeller Center, Bryant Park, Grand Central, Empire State Building, Broadway, Times Square and tons of restaurants and shopping. One could easily spend 2-3 days in Midtown alone and only see a fraction of all there is to offer. Some of our top spacious and family-friendly Midtown Suite Hotels include: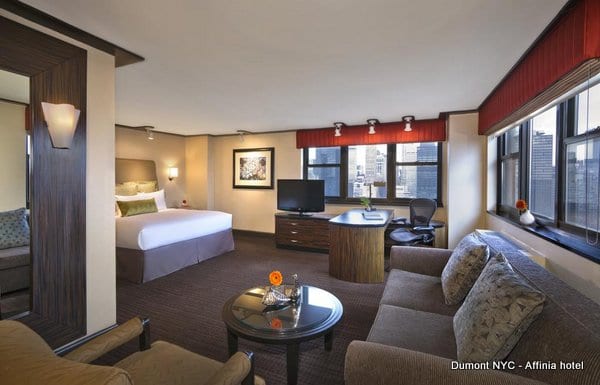 See More: Spacious Suite Hotels in Midtown NYC
Back to Top of Midtown West
Cheap Budget Hotels – Midtown West
New York Manhattan Hotel

This hotel was recommended by a NY childhood friend, Pat Tighe, now an attorney in Florida who travels back here frequently for business. It has clean rooms, complimentary breakfast, free wireless internet and is just steps from the Empire State Building.
Sister Hotels:
More Cheap Budget Hotels:
Best Western Convention Center Hotel  522 West 38th Street, New York City, NY 10018 (Midtown West)
The Evelyn 7 E 27th Street, New York City, NY 10016
Salisbury Hotel – Rooms are particularly large because the hotel was designed to be a residential hotel. Guests can enjoy small kitchenettes with fridges, tea and coffee making facilities, microwaves, and sinks.
Holiday Inn Midtown New York City 440 West 57th Street, from $76
Hotel Wolcott 4 West 31st Street, from $113
Top of Midtown West NYC, More New York City Hotel Deals
Romantic New York City Hotel Deals – Midtown West
The London NYC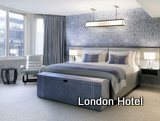 Sophisticated urban luxury in the heart of midtown Manhattan, the award-winning London NYC sets a new standard for New York luxury hotels. Named to several "Best Of" and "Top 10 lists", you'll find detailed design, attentive service and the acclaimed Gordon Ramsay restaurant.
Compare Rates: London Hotel
The Modern Romance Package is a great romantic New York City Hotel Deal. Surround yourself with all the ingredients for a classic and sophisticated evening while enjoying luxurious suite accommodations at The London.
Modern Romance Package Includes: *En suite couples massage and Signature Gordon Ramsay Martini, *Assorted canapés, and *Assortment of aromatherapy bath salts.
Top of Midtown West, More New York City Hotel Deals
More Midtown West Hotels
Midtown West Hotels
Click for current rates and reviews or keep reading for more details
Subways
1, 2, 3 along Broadway and 7th Ave
A, C, E along 8th Avenue
N, R, Q to Penn Station or Times Square
7 or Shuttle (S) from the east side (Grand Central) to Times Square
General Address: 151 W 34th, NY, NY 10001
Midtown West Printable Map

Midtown West NYC Map
(Download Full Size By Sharing Above)
NYC Insider Print Map and Guide to Manhattan
Download over 100 pages of NYC maps, information and recommendations in less than 5 minutes! Our NYC Insider Printable Map Guide Book includes organized, easy to follow, color coded guides to NYC, detailed maps of every neighborhood, weekly chart of Free Museum Days and Times and free weekly neighborhood tours, Best of NYC Categories and lists by ALL native New Yorkers and much more.
The New York City Travel Guide is your NYC PRE VACATION Guide, sort of like, "New York City 101." This book is an overview of NYC to help you PLAN your trip so you make the absolute MOST of your time and money here. Think of this book as the guide to answer all the most commonly asked questions and avoid the most common NYC Vacation and Trip Planning mistakes.
The NYC Map Printable Bonus Guide is a 14 page downloadable Bonus Guide, compiled of the best free, downloadable local neighborhood maps with stores and shops block by block put together by our local NYC neighborhood associations; all formatted and ready for you to print.
Top of Midtown West NYC
Share YOUR favorite travel tip, story or photo