Flatiron, NoMad, Gramercy
Union Square (my hood!), the Flatiron District and NoMad (North of Madison Square Park) all have a mix of residence and business tenants. Additionally, colleges such as NYU, The New School and FIT dominate the area, making it very fun and lively. It is one of the best dining and nightlife areas in Manhattan, with something for every palate and budget and offers fabulous hotels of all kinds. Gramercy is a very wealthy and residential area, with deliberately little commerce, as well as the famous Gramercy Park, where only the elite few have the elusive key.
Each of these neighborhoods is tiny in size, but jam-packed with so much to do, so please see our separate guides for the Greenwich Village & NoHo and East Village.
---
Things to Do Union Square, Flatiron, NoMad
Flatiron Building (175 5th Ave, 22nd/23rd) –  beautiful building and icon that has appeared in countless movie and television productions and on more postcards than perhaps any other modern building.
Flatiron District (175 5th Ave, 22nd/23rd) – Flatiron/23rd Street Partnership offers free walking tours every Sunday, 11am. Meet at the SW corner of Madison Square Park, 23rd/Bway.
Madison Square Park  (23rd to 26th St, 5th Ave and Madison) – some believe this was where baseball was born. Check out the reflecting pool, fountain, playground, and use the free outdoor Wi-Fi. Grab a snack at Shake Shack, frozen custard, shakes, Shack burgers, Chicago hot dogs, 'shroom burgers, and more.
Union Square Park (14th to 17th St, Park Ave S) – right in the middle of the City, lots of history and statues, a new expanded 15,000-square-foot playground opened 2009, free Wi-Fi outdoors, and surrounded by hundreds of shops and restaurants. Free tours every Sat at 2pm, meet in front of Lincoln Statue along 16th Street transverse.
Union Square Greenmarket (@17th & Broadway, Union Square Park) – Regional farmers, fishermen & bakers, the seasonal bounty is unparalleled, with hundreds of varieties to choose from. Fresh fruits & vegetables, heritage meats, farmstead cheeses, artisan breads, jams, pickles, flowers, plants, wine, ciders, maple syrup & much more; tastings & cooking demos by the hottest local chefs. M/W/F/Sa, 8-6. Winter Hours: December-June, 10-4
Eataly (200 5th Ave, Flatiron) – all things Italian. Markets, shops counters, bars and mini-restaurants on the ground floor. The 14th floor rooftop, SERRA by Birreria changes with the seasons, always offering a fun, themed atmosphere and a rustic menu reflective of the Italian countryside.
Free Walking Tour – Every Saturday at 2pm. Meet in front of the Lincoln Statue in Union Square Park's South Plaza. Please check the schedule in advance: Union Square Walking Tour
---
Greenwich Village NYC Tours
---
New York in One Day Guided Sightseeing Tour
This best-selling 6 hour New York in One Day Guided Sightseeing Tour departs daily from Times Square. You'll pass by most major attractions, landmarks and neighborhoods on bus, but the stops include: Strawberry Fields (Central Park), Madison Square Park, 9/11 Memorial and the Fulton Market for lunch. After lunch, you'll hop on the Staten Island Ferry with your tour guide to see Lady Liberty & Ellis Island from the water, before bussing back to Times Square.
---
More NYC One Day Tours
Top of Union Square, NoMad, Flatiron Guide
---
Union Square, NoMad, Flatiron Sightseeing Passes
NY Sightseeing Pass, New York Pass, NY Explorer Pass, CityPASS Compared
See All: NYC Attractions Pass Comparison Chart
Top of Union Square, NoMad, Flatiron Guide
---
Union Square, NoMad, Flatiron NYC Restaurants
Top Ten NYC Restaurants, all three delicious "high end" American food, expensive and worth every penny.
Union Square Café (101 E 19th St)
Gotham Bar and Grill (12 E 12th St, University and 5th Ave)
Gramercy Tavern (42 E 20th, Park Ave/ Bway)
Casa Mono (125 E 17th St, Irving Place)  – Tapas, a local favorite, small intimate restaurant, reservations highly recommended. Their sister wine bar, Bar Jamon, next door is always packed as well with great service.
Max Brenners – Imagine if the Willy Wonka Chocolate Factory had a cafe in it's lobby…try the King Of Chocolate's Crispy Mac & Cheese and learn all about the "The Legend of the King of Chocolate"
S'MAC Sarita's Macaroni & Cheese – All about Mac and Cheese. Casual, great for kids and students. (345 East 12th, 1st /2nd Aves)
Pete's Tavern (129 E 18th, Irving Place) – opened in 1864, classic NYC Tavern with history, burgers and beer. Featured in dozens of TV Shows and Movies and where O. Henry wrote the Gift of The Magi.
Maoz Vegetarian (38 U Sq E, 16th/17th) – easy, cheap falafel, great for grab and go lunch, especially to sit in Union Sq. Park
Basta Pasta (37 W 17th, 5th/6th Aves) – one of the most "hidden" restaurants and interesting menus. Italian/Japanese combination made and presented by sushi chefs.
Shuko (47 E 12th St) – upscale, intimate, Japanese omakase-only experience with daily tasting menus. Reservations a must.
AbcV (38 E 19th St) – From the people behind ABC Kitchen and ABC Cocina, A Jean-Georges Restaurant. Plant based, non GMO, sustainable, artisanal and organic whenever possible. Locally and globally from small & family farms. abcV's goal is to inspire a cultural shift towards plant based intelligence, through creativity and deliciousness.
Additional Restaurants – Boqueria (tapas), Rosa Mexicano
Shake Shack (Madison & 23rd St) – in the park, great burgers, fries and shakes
230 Fifth (230 5th Ave, 27th St)  – huge restaurant and nightclub on a rooftop with palm trees, cozy seating, heat lamps and 360 views of NYC at night.
McSwiggans Bar
McSwiggans is a no-frills Irish Pub in Gramercy Park and bordering Kips Bay, Stuy Town, and Murray Hill. Serving up cold beer and cocktails since the 1980's McSwiggans is an homage to the classic NYC bars once replete in Gramercy Park and throughout Manhattan. Complete with jukebox, 2 dart boards, pool table, cheap drinks, and great specials McSwiggans will transport you back in time for an old-fashion good time that will bring you back for more.
393 2nd Avenue (btw 22nd and 23rd St), New York, NY 10010
Top of Union Square, NoMad, Flatiron Guide
---
Union Square, NoMad, Flatiron Neighborhood Guide Shopping
Union Square – DSW Shoes, Nordstrom Rack, American Eagle, LuLuLemon, Barnes and Noble, Sephora, Paragon Sports
5th Ave b/w 15th and 23rd St  – Tons of shopping including: BCBG, Banana Republic, J. Crew, H&M, Gap, Zara, Club Monaco, Coach, Anthropologie, Kenneth Cole and much more.
Harry Potter Wizarding World – Opened June 2021. (935 Broadway @ 22nd St, next to Flatiron Building) – Houses the largest collection of Harry Potter and Fantastic Beasts products in the world under one roof, where you can buy your wand at the wand ship and much more.
---
Union Square Holiday Market
The outdoor Union Square Holiday Market is filled with thousands of unique gifts created by local craftsmen and artists. Artwork, accessories, home goods, jewelry, candles, bags and so much more will keep you checking off your holiday shopping lists. November/December every year: Guide to Holiday Markets in NYC
Top of Union Square, NoMad, Flatiron Guide
---
Union Square, NoMad, Flatiron, Gramercy Hotels
Hotel AKA NoMad
Opened May 2023, Hotel AKA NoMad (formerly The Roger) was designed by renowned architect and designer Piero Lissoni. The accommodations range from comfortable guest rooms to expansive suites, each exuding a serene, residential ambiance. Opening soon are the wine bar, Technogym fitness center and an exclusive outdoor terrace with TV/Movie screen.
---
Virgin Hotels New York City
Opened early 2023, Virgin Hotels New York City features a seasonal rooftop swimming pool, fitness center, garden and terrace. The hotel has 460 "Chambers," suites and penthouses, meeting spaces and plenty of restaurants and bars, including the brand's flagship space, Commons Club, as well as the restaurant Everdene. A select few Chambers offer unparalleled views of the Empire State Building, New Year's Eve Ball Drop and/or Macy's Thanksgiving Day Parade.
---
The Ned NoMad
From the people behind SoHo House, opened Summer 2022, the The Ned NoMad is NYC's newest Hotel and Membership Club and includes Ned's Club, a members' club that gives access to spaces including a rooftop terrace, as well as 167 bedrooms with a nod to 1920's glamour. Features include Cecconi's, a modern-day classic Italian restaurant; Little Ned, a 1920's style bar with New American cuisine featuring time-honored staples and classic cocktails; a members-only club area featuring various cocktail bars, sitting areas and dining rooms, such as "The Library,""The Atrium Stage," a rooftop bar and terrace, "The Magic Room" and "The Dining Room."
1170 Broadway (@ 28th St), NoMad
---
SpringHill Suites New York Midtown Manhattan/Park Avenue
Opened late 2022, the SpringHill Suites New York Midtown Manhattan/Park Avenue is designed for family stays and has "double double rooms," free fitnes center, free breakfast, microwaves and mini-fridges.
111 E 24 St @ Park Ave, NoMad
---
Best Western Premier Empire State Hotel
Opened in late 2021, the Best Western Premier Empire State Hotel is a very affordable no-frills hotel addition in Nomad, just 4 minutes from the Empire State Building and a short walk to Madison Square Park, the Flatiron Building and Eataly.
16 East 30th St (Madison/5th Ave), Nomad
---
Pestana Park Avenue
Opened in 2020, Pestana Park Avenue, owned by a Portuguese hotel group with over 100 other hotels worldwide, is a 28 story hotel in Murray Hill, with décor intended to recreate a Portuguese home.  There are only 3-4 rooms per floor, large windows and select rooms offer balconies with Empire State Building views.
23 East 39th Street, Murray Hill
---
W Hotel Union Square NYC
Opulent. Bohemian. And everywhere in between. Bridging the gap between old and new, New York's famous landmark Guardian Life Building has undergone renovations and reemerged as the stylish W Hotel Union Square. The 1911 Guardian Life building – designed in the Beaux-Arts style – is a magnificent granite and limestone structure with all the exquisite details inherent in traditional European architecture.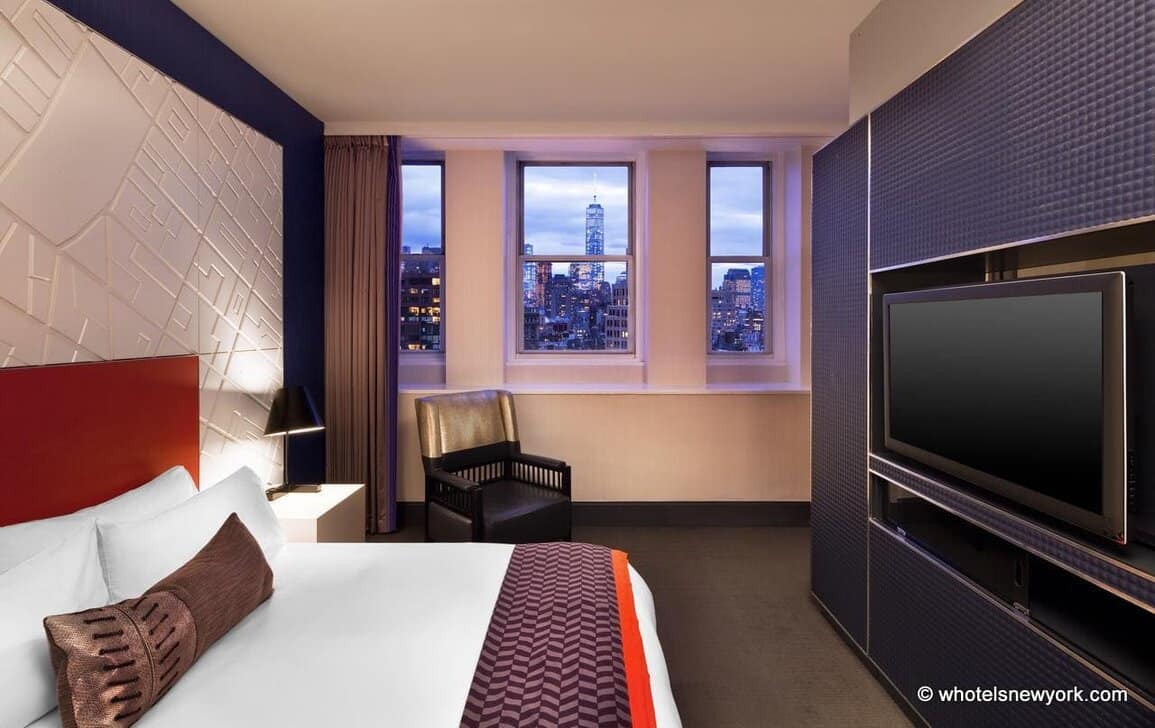 ---
Hyatt Union Square New York
The Hyatt Union Square, only a few years new and in my neighborhood – so you know it's a great location. With their free bicycles, cool lobby bar and (coming soon) rooftop deck and bar, you can't go wrong at the Hyatt.
While you most certainly won't want to bike in Union Square, the easiest path is to take Broadway 4 blocks south (in the bike lane), make a right on 9th Street, and follow it west all the way to the Hudson River. From there, the city is at your feet and you can bike South for views of the World Trade Center and Statue of Liberty, plus great places to eat along the way. Bike north and grab yourself a lunch at the Pier 1 Cafe or head into Central Park and explore 843 acres of lush greenery.
Back to Top of Union Square NoMad Hotels
---
Royalton Park Avenue
The Royalton Park Avenue, has one of the BEST indoor/outdoor rooftops in New York City, along with a great cocktail lounge and club. Check out their romatantic Mr. + Mrs. G package which includes perks like one dozen roses, deluxe accommodations, champagne, spa treatments and more!
Back to Top of Union Square NoMad Hotels
---
Freehand Hotel Flatiron
Freehand Hotel, opened December 2017, offers 358 rooms ranging from suites to bunk beds, starting at $199, including one room type specifically geared toward three people. Dining includes the ground-floor restaurant, Simon & the Whale, and the rooftop cocktail bar, Broken Shaker. Reviewers say, "Cool vibes that felt almost mediterranean and nautical." and "As a very frequent traveler, I would 100% recommend this hotel."
Back to Top of Union Square NoMad Hotels
---
MADE Hotel
MADE Hotel – new in 2017, MADE describes themselves as a "boutique hotel with a global soul". Rooms with Frette linens and towels, floor to ceiling windows mostly with great views, and all the little luxuries you may want during your stay away from home. MADE offers some amazing new spaces including the new communal coffee shop 'Paper', the intimate lobby bar and the newest rooftop bar, "Good Behavior," along with a second floor patio open only to hotel guests.
Discount Rates: MADE Hotel
29th & Broadway (Near Empire State Building, Madison Square Garden, short walk to the Highline)
Back to Top of Union Square NoMad Hotels
---
The Paul Hotel
The Paul Hotel, with 122 rooms, features a sun terrace, rooftop patio, fitness center and on-site restaurant. Room selection varies from the ultimate King Terrace suite with views of the Empire State Building, to budget-friendly bunk bed rooms. They offer lots of specials for the Javits Center, Metroplitan Pavillion and even people named Paul or Paula! Centrally located off Broadway just North of Madison Square Park, The Paul is in the middle of everything great and exciting about Manhattan.
Discount Rates: Paul Hotel
32 W 29th St, New York, 10001
---
Studios Midtown Manhattan
Studios Midtown Manhattan, located in NoMad, right on the edge of Koreatown and Midtown West, is a super affordable vacation rental option, with rave reviews online. If you are willing to bunk up, or share a room with 4-6 people, then you can't beat the value offered at these studios.
---
The James New York NoMad
Opened in June 2017, James New York NoMad (formerly the Carlton Hotel) is a 344-room luxury boutique hotel with complimentary WiFi, luxury amenties, and – rumor has it – a free wine happy hour. Soon to open, the hot restaurant, Scarpetta, relocating from the Meatpacking District.
Back to Top of Union Square NoMad Hotels
---
The New York EDITION
The New York EDITION – "The vibe of the hotel seemed romantic – the lights were low and all of the included amenities (soap, shampoo, lotion) included a custom Edition scent that was deep and slightly musky." and "If you want a low key, romantic, sophisticated hotel this is it."
Back to Top of Union Square NoMad Hotels
---
Ace Hotel
Boutique, hip, trendy and a definite NYC destination spot. Locals visit often for Ace Hotel for The Breslin (restaurant), John Dory Oyster Bar, Stumptown Coffee Roasters and live music in the hotel lobby. If you can't tell they are a super hipster hotel smack in the heart of Manhattan, perhaps their own description as a "hotbed of startups, freelancers and people who just want to kick it," or the fact they offer bunk beds, mini rooms and loft style rooms will convince you.
Discount Rates: Ace Hotel
20 W 29th, 5th Ave/Bway
Sister Hotel: Sister City, Bowery
Back to Top of Union Square NoMad Hotels
---
Seafarers & International House
A Lutheran mission for seafarers and sojourners. "Our 84-room guesthouse is located at the corner of East 15th Street and Irving Place in Manhattan. The mission has come full circle to serve seafarers and asylum seekers, drawing upon a long tradition of hospitality and service among the Swedish and German peoples, extending to people of all nationalities, cultures and faiths. From: $90
See More: Discount NYC Hotels
---
More Union Square, Gramercy, Murray Hill Hotels
Innside New York Nomad – 132 West 27th Street
Inn at Irving Place
Hotel 17 (super cheap!)
225 East 17th Street, New York City, NY 10003 – Extended Stay Only, Over 30 days minimum. Shared Baths.
The MAve 
62 Madison Ave (27th Street), NY, NY 10016, from $159
The Evelyn – 7 E 27th Street, New York City, NY 10016
Top of Union Square, NoMad, Flatiron Guide
---
Subways
N/R/Q/W (Broadway Line)
4/5/6 (Park Ave S/ Lexington Line) to Union Square
General Address: 4 Irving Place, NY, NY 10003
Top of Union Square, NoMad, Flatiron Guide
---
Union Square, NoMad, Flatiron Printable Map

Union Square, NYC Map
(Download Full Size By Sharing Above)
---
NYC Insider Printable Guides
"The guides are exactly what we were looking for to help us navigate NYC and the highlights of each area.
THANK YOU for taking the time to put this together."
"Amazing, Melissa. This is my second copy! Congratulations for this always excellent guide. I have been living in this area for 18 years, but I still leave the guide as a treat when people come to visit me by their bed. So comprehensive!"
---
NYC Neighborhood Guides
Harlem
Our Harlem neighborhood guide will show you the wonderful cultural, food, music and historic value of this landmark area, which has long, strong and proud NYC roots. The Harlem Renaissance of the 1920s began the golden age of African-American culture, literature, music, artists, theater and art, which continues to strengthen today. If you want to eat authentic soul food, hear mind-blowing jazz and gospel and clothing shop with Alicia Keys and Jay-Z, then Harlem is on your bucket list!
---
Upper West Side
The Upper West Side is a residential neighborhood filled with young professionals and families. It is a great place to stay if you are looking to avoid the heavy crowds of Midtown, explore Central Park, The Museum of Natural History, the Beacon Theatre, Lincoln Center, the West Side Highway and still be about 20 minutes from most of Manhattan.
---
Central Park
Central Park offers 843 gorgeous acres to explore and 100s of things to do, which is why we consider it an unofficial neighborhood. Central Park draws 38 million visits a year and is home to the Central Park Film Festival, SummerStage, Shakespeare in the Park, Ice Skating, Central Park Zoo, Bow Bridge, biking, playgrounds, the Carousel and much more.
Explore: Central Park Guide
To Do: Central Park Zoo, Carousel, TV and Movie Sites, Ice Skating, Loeb Boathouse
---
Times Square & Broadway
Times Square New York and the Theater District are some of New York City's most popular tourist attractions. Of course, Broadway, also known as the Great White Way, is most definitely for locals as well. Spend a bit of time here and make sure to see the lights at night, the Hershey's and M&M Stores, as well as catch a great Broadway Show.
---
Midtown West, Koreatown, Hell's Kitchen
Midtown West is a huge tourist area with great neighborhoods like NYC's famous Diamond District, Hell's Kitchen and Koreatown. Hell's Kitchen, is the most western section and an "up-and-coming" residential area of New York City with new shops and restaurants opening often. Koreatown, just a block from the Empire State Building, is known for their restaurants and karaoke bars and clubs.
---
Garment District / Fashion Center
The Garment District, also called the Fashion District or Fashion Center, is home to many of the world's most famous fashion designers and showrooms. The area is an amazing resource for fabrics, beads and trims, however, unless you are trade, don't expect to walk in off the street to designer showrooms. The best way to possibly get access to private showrooms is through a private tour or a NYC Sample Sale.
---
Chelsea & Hudson Yards
Chelsea NY is known for art galleries, nightlife and gay-friendly culture. It is a lively, vibrant neighborhood with some of New York City's top restaurants, clubs, art and things to do outdoors and along the Hudson River. While Chelsea boundaries are West 14th-34th Streets, from 7th Ave to the Hudson River, the new Hudson Yards occupies it's most North and West streets, West 30th to 34th Streets between 10th and 12th Avenues.
Explore: Chelsea & Hudson Yards Guide
To Do: The Highline, Art Galleries, Chelsea Market, Chelsea Piers, Little Island, Edge, The Vessel, The Shops at Hudson Yards
---
Meatpacking District
The Meatpacking District, also known as the Gansevoort Market, is only a few blocks, so you cannot get lost, but it is packed with upscale restaurants, night clubs and designer shopping. Like many NY neighborhoods, the MP District retains it's historical architecture, as it is lined with cobblestone streets and old warehouses, but, today, these same buildings house very modern shopping and dining. The heart of the Meatpacking District is Little West 12th Street.
---
Greenwich Village & NoHo
Our Greenwich Village NYC Guide provides insight into one of NYC's most cherished neighborhoods. The Village is full of history, celebrity, politics, landmarks and so much more. The NYU campus, Washington Square Park, gorgeous brownstones and cobble stone streets, amazing restaurants, tons of trees and much more make this area a local favorite.
---
West Village
The West Village is filled with tree-lined streets, beautiful old brownstones and hundreds of shops, restaurants and cafés. It is truly a quintessential NYC neighborhood, inhabited by locals and celebrities who can afford to live anywhere they choose. If you're a Friends or Sex and the City fan, then you are already quite familiar with the West Village...now it's time to come experience it!
---
SoHo
SoHo (SOuth of HOuston - pronounced How-ston) is another NYC neighborhood filled with the best shopping and restaurants. Traditionally known as a haven for artists and their lofts, it has become more upscale over the years and a much sought-after place for New Yorkers to live.
Explore: SoHo Guide
To Do: New York Fire Museum, Shopping, Art Galleries, Brunch & Restaurants, Broken Kilometer & Earth Room
---
Tribeca & The Battery
Tribeca Tribeca (TRI-angle BE-low CA-nal) NYC, is home of the namesake Film Festival, Robert De Niro's pet project, created to promote commerce downtown after 9/11. He also owns several hotels and restaurants in the area and is spotted quite frequently. Tribeca was also the home of JFK Jr and Caroline Bessette Kennedy before their tragic death in 1999 and is filled with old warehouses, now converted into lofts, beautiful views of the Hudson River and Statue of Liberty along the West Side Highway, excellent restaurants, families, parks and NYC history.
Explore: Tribeca & The Battery
To Do: Hudson River Park and River Promenade, Statue of Liberty Views, Upscale & Casual Dining
---
Financial District and Wall Street
The Financial District (FiDi), at the southern tip of NYC, is one of NYC's most bustling business and tourist areas, from Monday to Friday and is near dead on the weekends. Sights include the 9-11 Memorial & Museum, Wall Street, One World Observatory, The American Stock Exchange, the Charging Bull, the Fearless Girl and views of the Statue of Liberty.
---
Upper East Side NYC
The Upper East Side is an upscale, residential neighborhood and home to Museum Mile, some uber-upscale shopping and Gracie Mansion. The homes on Fifth Avenue, along Central Park, are some of the most exclusive in all of Manhattan. You've likely seen the Upper East Side on Gossip Girl, Sex and the City, The Real Housewives of New York, I Love Lucy, Breakfast at Tiffany's and dozens of other times on your screens.
---
Midtown East
Midtown East is a huge tourist, commercial and residential area. Around 5th Ave, the neighborhood is home to many tourist attractions, such as St. Patrick's Cathedral, Rockefeller Center, Top of the Rock and Radio City Music Hall. Bryant Park, the New York Public Library and Grand Central Station are close together just south. Moving towards 3rd Ave and further east, the area is more residential, and generally, the restaurants are better and more affordable, with the UN being the only attraction in that part of the neighborhood.
---
Union Square, Flatiron, NoMad, Gramercy
Union Square (my hood!), the Flatiron District and NoMad all have a mix of residence and business tenants. Additionally, colleges such as NYU, The New School and FIT dominate the area, making it very fun and lively. It is one of the best dining and nightlife areas in Manhattan, with something for every palate and budget and offers fabulous hotels of all kinds.
To Do: Flatiron Building, Madison Square Park, Eataly, Union Square Park & Greenmarket, Harry Potter Wizarding World
---
East Village
While originally part of the Lower East Side, an immigrant neighborhood, the East Village, has separated itself and become home to some of the City's best restaurants, shops and nightlife. It is full of character, diversity, fine dining, shops and live music, and includes a subsection named "Alphabet City." East Village culture ranges from tattoo parlors and "dive bars" to some of New York City's nicest hip and trendy hotels.
Explore: East Village
To Do: Blue Man Group & Stomp, St. Mark's Place, Nightlife, Speakeasies, Curry Lane
---
Lower East Side NYC
Traditionally, the Lower East Side was a working class immigrant neighborhood (think "Gangs of New York"). Today it is a wonderfully ethnic and diverse neighborhood and serves as a shopping, dining and nightlife destination for many NYC locals. Even with all its modern upgrades, the LES retains a large amount of its history, especially it's Jewish, Polish, Irish and Italian cultures. The LES also has one of the best selections of hotels in NYC - tons of boutique hotels with amenities, rooftops, skyline views and seconds from 1000s of cool restaurants and hot spots.
---
Chinatown NYC
Chinatown NYC is a small, but very densely packed area of shops and restaurants. It is really fun to walk around, enjoy the culture, pick up some souvenirs, and most definitely, eat some delicious and affordable Dim Sum, dumplings, pork buns and other amazing Chinese cuisines.
---
Little Italy NYC
Little Italy NYC Guide is a just a few blocks, with tons of outdoor restaurants and owners promising free wine and sangria to lure you in. Puglia is a favorite restaurant for families with their live singing and kids standing on their chairs waving napkins. Visit the new Italian American Museum, which tells the story "from Columbus to Cuomo," the original Old St. Patrick's Church and NYC Police Headquarters.
---
NYC Boroughs
Explore the diverse neighborhoods of NYC Boroughs with our comprehensive guide to Brooklyn, Queens, the Bronx and Staten Island. New York City is a melting pot of cultures and neighborhoods, each with its own unique character and charm. Whether you're a local or a visitor, exploring the five boroughs of NYC is a must-do experience.
Explore:NYC Boroughs Guide
To Do: Williamsburg, Park Slope, Brooklyn Bridge, Brooklyn Museum, Barclay's Center, Brooklyn Flea, Coney Island, Dyker Heights, Astoria, Jackson Heights, Unisphere, Citi Field, US Open, Mets, MoMA PS1, Yankees, Bronx Zoo, NY Botanical Garden, Staten Island Ferry
---
Share YOUR favorite travel tip, story or photo
---
Top of Union Square, NoMad, Flatiron Guide
---
Union Square, NoMad, Flatiron Guide


---
Gramercy Park Hotel – Closed 2020
With over 140 rooms and 40 suites, the Gramercy Park Hotel offers both luxurious accommodations & fine dining on historic Gramercy Park. Steps from Union Square, the hotel boasts the Medieval Rose Bar (local business favorite), exclusive only to guests who have booked a table with the concierge. The rooftop garden, open year-round, provides spectacular city views.
---
The NoMad Hotel – Closed 2020
A Parisian-themed, renassiance inspired hotel in a restored Beaux-Arts building, The NoMad offers 168 rooms designed with a residential feel and decorated in classic, timeless style. The NoMad offers all the high end amenities you'd expect for a classic European hotel, along with beautiful views and some claw-foot tubs. They even have a bar dedicated only for hotel guests.
Discount Rates: The NoMad Hotel NYC
1170 Broadway & 28th St (Near Empire State Building, Madison Square Garden, short walk to the Highline)
Back to Top of Union Square NoMad Hotels
---