Film Festival, West Side Highway
Tribeca (TRI-angle BE-low CA-nal) NYC, is home of the namesake Film Festival, every April, Robert DeNiro's pet project, created to promote commerce downtown after 9/11. He also owns several hotels and restaurants in the area and is spotted quite frequently.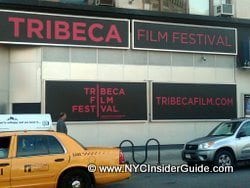 Tribeca was also the home of JFK Jr and Caroline Bessette Kennedy before their tragic death in 1999 and is filled with old warehouses, now converted into lofts, beautiful views of the Hudson River and Statue of Liberty, excellent restaurants, families, parks and NYC history.
Things to Do
Washington Market Park (Washington/Jay Sts) – playground and weekly farmers market.
Hudson River Park and River Promenade – cross the West Side Highway at Chambers to enjoy a stroll from Battery Park City to Chelsea along the water. Watch the runners, bikers, roller bladers, views of the Hudson and Statue of Liberty, rent a Kayak (free), stop at the Nike Runners kiosk and "test drive" sneakers.
Duane Park, Finn Square and Tribeca Park – three small areas surrounded by history and old-meets-new architecture. Check out the converted warehouses that are now some of America's most expensive homes.
A stroll through TriBeCa reveals upscale eateries like Nobu, MR CHOW, Chanterelle, and Bouley, local staples like Bubby's and Odeon, and sophisticated retail options such as Issey Miyake and Stephen Alan.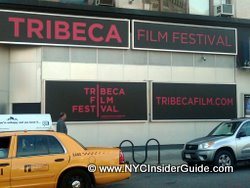 Annual Tribeca Film Festival
April – May Annually
The multi-week Film Festival takes place at various venues, mostly near Tribeca Cinemas, 54 Varick Street and showcases every film genre while attracting blockbuster global celebrities, probably more so than Fashion Week.
Recommended Tribeca Hotels below.
Recommended Restaurants
Bubby's  (120 Hudson St, N Moore) – one of the city's best  brunch spots, spicy  Bloody Mary's, comfort food and great for kids. Long weekend lines. 
Nobu (105 Hudson, Franklin) – top NYC sushi restaurant ($$$$). More casual, less expensive (but not cheap) version at Nobu Next Door.
Tribeca Grill (375 Greenwich St, Franklin)– owned by DeNiro and buddies, often a patron, along with much of his crowd. Food is good, not the best.
Bouley (163 Duane St, Hudson) – top NYC French, $45 lunch, $85 dinner. Wonderful  food and a view overlooking Duane Park.  Craving dessert or a snack? Bouley Bakery is rated for its brunch and best hot chocolate in NYC.
Odeon (145 W Bway, Thomas) – American Brasserie known for being the original inventor of the "Sex and the City" cosmopolitan.
Bubbles Lounge (228 W Bway, White St) – night spot, champagne lounge with oysters and caviar
More Casual/inexpensive local restaurant favorites:
Puffy's Tavern  (81 Hudson St, Harrison/Jay) – dive bar with cheap beer, 
Mudville 9 (126 Chambers St, W Bway/ Church) – great sports bar and wings,
Capri Cafe (165 Church St, Chambers/ Reade) – small Italian restaurant owned by 2 Italian brothers with great fresh pasta (and a $6.95 prix-fixe lunch deal). Cash only.
Kitchenette (156 Chambers St, W Bway) –  very kid friendly
Petite Abeille (W Bway) –  Belgian mussels and fries, nice outdoor patio.
Ninja New York (25 Hudson St @ Duane St, Tribeca) – Great for Kids! Be whisked underground by elevator, led to the dining area via a secret path lined with "ninjas" ready to scare you, then brought into the castle where each private chamber houses a single table. Fairly pricey for the small portions, but the food is tasty, and the price is for the whole experience.
Thalassa (179 Franklin Street) – From Santorini-style spanakopita to moussaka à la Mykonos, the food here is authentic Greek, since the restaurant is owned by a family of Greek-food importers. The townhouse style restaurant offers tables draped in white tablecloths, surfaces scatted with pottery from Argos and the white marble has been sourced from Thasos.
Liberty View Chinese Restaurant 21 South End Ave (West Thames St), Battery Park City 

A reasonably-priced, family-friendly restaurant with indoor and outdoor seating. The best part? Lovely views of the Statue of Liberty, Ellis Island and New Jersey. Is it the best Chinese Food in the City? No, but it's really good and certainly the Chinese restaurant with the best NYC views – plus you can print coupons directly from their website!
Shopping
Franklin Street – cobblestone street with converted warehouses that are now art galleries, home décor shops, antique stores and bars
SoHo Photo Gallery (15 White St, Church) – over 100 artists and photographers exhibit their work in a converted egg warehouse
Tribeca, Battery Park City Hotels
Click for current rates and reviews or keep reading for more hotel details.
Back to Top of Tribeca NY
New York City Luxury Hotels – Tribeca
Ritz Carlton Battery Park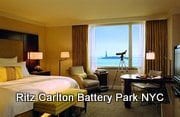 With striking views over New York Harbor, Ellis Island, and the Statue of Liberty, the AAA Five Diamond Ritz-Carlton New York, Battery Park offers a superlative cosmopolitan experience. The contemporary hotel is a perfect sanctuary for the business or leisure traveler, with 298 recently renovated rooms and suites; a brand-new club lounge; an award-winning restaurant, 2West; and The Ritz-Carlton spa featuring CARITA treatments. Enjoy a breathtaking sunset from your room or step outside for a stroll along the scenic esplanade of Battery Park.
Back to Top of New York City Luxury Hotels
Boutique Downtown Hotels New York
Boutique Downtown Hotels put you right next to some of NYC's most popular attractions: The 9-11 Memorial and Museum, Statue of Liberty, One World Observatory, Wall Street, St. Paul's Cathedral, Charging Bull and every major subway station.
Some of our top boutique accomodation picks downtown include:
See More: Boutique Downtown Hotels New York
Back to Top of Tribeca, NY
NYC Chain Hotels – Tribeca
Subways
1 to Canal, Franklin or Chambers
2, 3 to Chambers
A, C, E to Canal
6 to Canal/Broadway
General Address: 107 W Broadway, NY, NY 10013
Compare New York City Discount Passes
Now is THE Time Buy Your NYC Pass!
Now is when all the NY Passes are still having some sales and discounts, just before the holiday season really kicks off. So buy your NY Pass (all are good for a year from purchase) while they still have great pricing!!! See All: Compare All NYC Passes - Download our FREE side by side Comparison Chart and learn all about our NYC sightseeing attraction passes.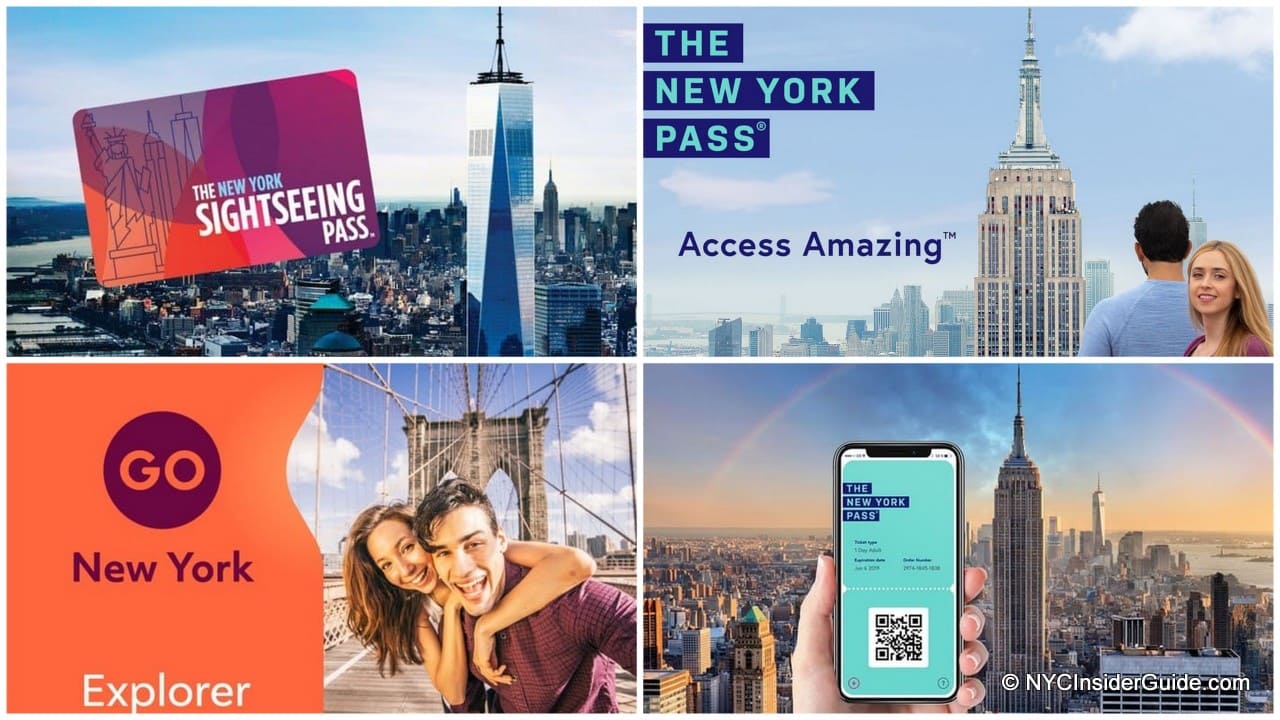 Back to Top of Tribeca NYC
Tribeca NYC Printable Map

Tribeca NYC Map
(Download Full Size By Sharing Above)
Back to Top of Tribeca NYC
NYC Insider Print Map and Guide to Manhattan
Download over 100 pages of NYC maps, information and recommendations in less than 5 minutes! Our NYC Insider Printable Map Guide Book includes organized, easy to follow, color coded guides to NYC, detailed maps of every neighborhood, weekly chart of Free Museum Days and Times and free weekly neighborhood tours, Best of NYC Categories and lists by ALL native New Yorkers and much more.
The New York City Travel Guide is your NYC PRE VACATION Guide, sort of like, "New York City 101." This book is an overview of NYC to help you PLAN your trip so you make the absolute MOST of your time and money here. Think of this book as the guide to answer all the most commonly asked questions and avoid the most common NYC Vacation and Trip Planning mistakes.
The NYC Map Printable Bonus Guide is a 14 page downloadable Bonus Guide, compiled of the best free, downloadable local neighborhood maps with stores and shops block by block put together by our local NYC neighborhood associations; all formatted and ready for you to print.
Top of Tribeca NYC
Share YOUR favorite travel tip, story or photo