New hotels in Manhattan give you access to crisp sheets, new linens, towels, restaurants, rooftops and more before anyone else gets to them. While you may have to deal with some grand opening kinks, you'll often get amazing rates at the newest Manhattan hotels before the full buzz is out there for everyone to discover. Think of it like seeing an Off Broadway show before it gets moved to Broadway (don't you wish you had seen Hamilton when tickets were less than $50??) Now is your chance to stay in a new New York City hotel.
Calling ALL New York City Hotels – go ahead and tell us all about your hotel for FREE!
Artezen Hotel
The Artezen Hotel opened Spring 2019, is the newest luxury boutique hotel in Lower Manhattan. The Artezen rewrites the rules of modern hospitality with 89 high-tech suites, a yoga and fitness center, and HIDE, a swanky, two-story sky lounge serving handcrafted cocktails and creative fare amid spectacular New York City skyline views.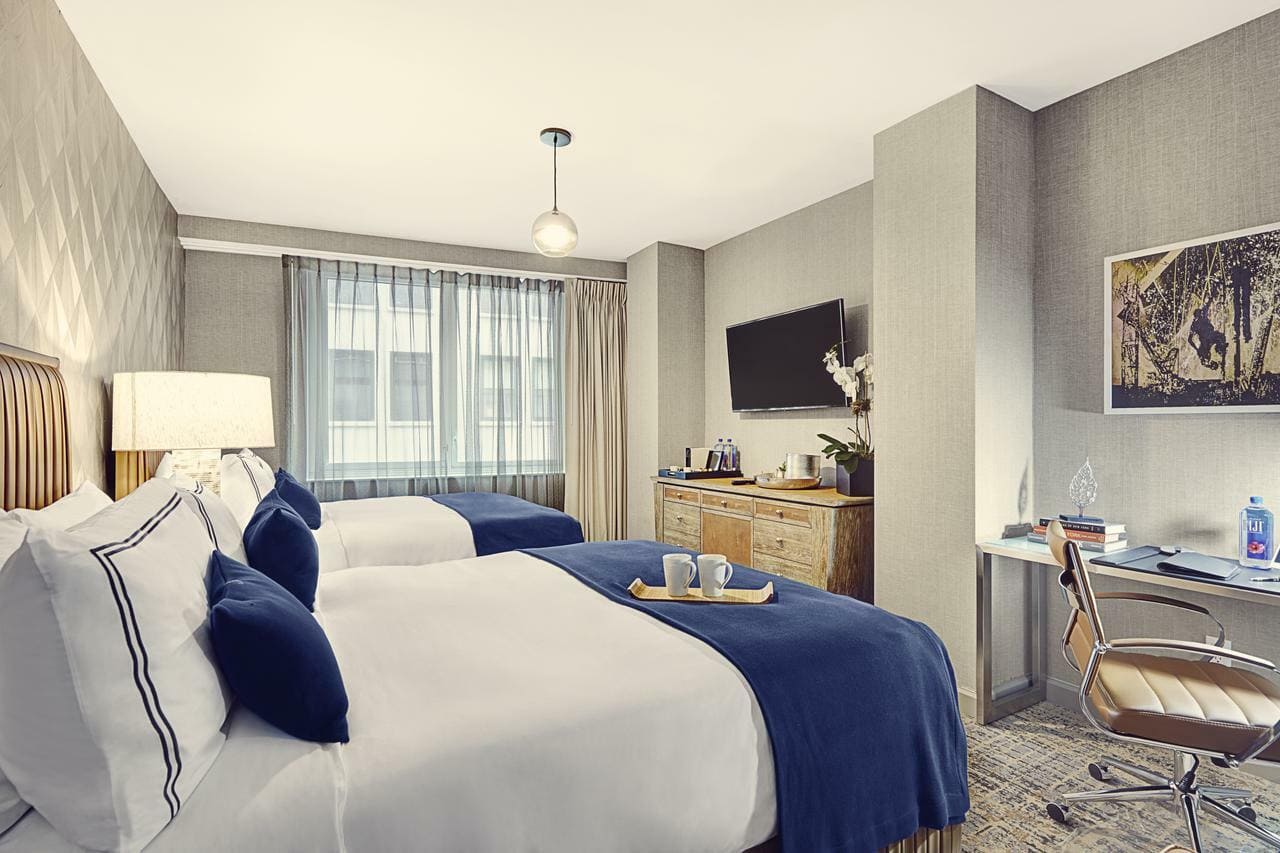 Back to Top of New Hotels in Manhattan
Sister City Hotel
Sister City, opened March 2019. Located in the Bowery (Lower East Side), Sister City offers 200 intimate, efficient rooms, an innovative ground-floor restaurant, Floret, and a rooftop bar. According to their website, "Sister City is an experiment in essentialism — a hotel distilled to its most beautiful, working parts. It gives you shelter from the elements, but orients you to the wider world, too."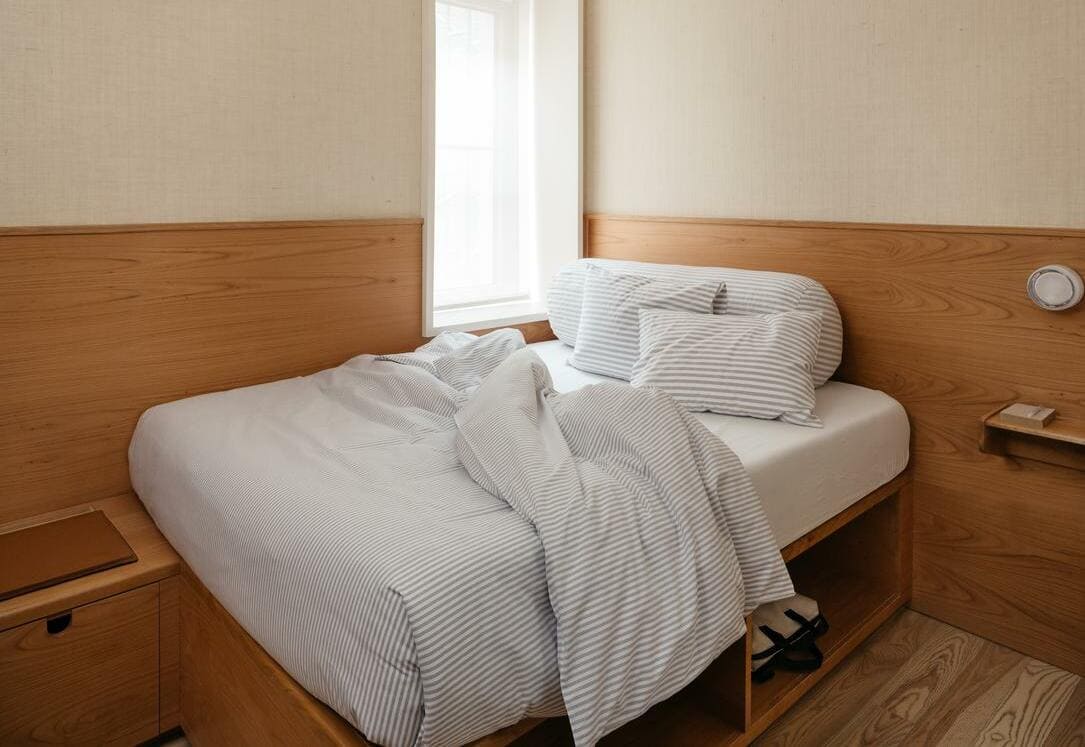 Back to Top of New Hotels in Manhattan
Times Square EDITION
The new, long-awaited Times Square EDITION features 42 stories, 452 guest rooms, a signature restaurant leading out onto a 5,800 sq. ft. beer garden and event deck overlooking Times Square, as well as an all-day dining venue also featuring terraces with views of Times Square. Edition, Ian Schrager's swanky brand-within-a-brand under the Marriott name, opened his newest hotel March 2019.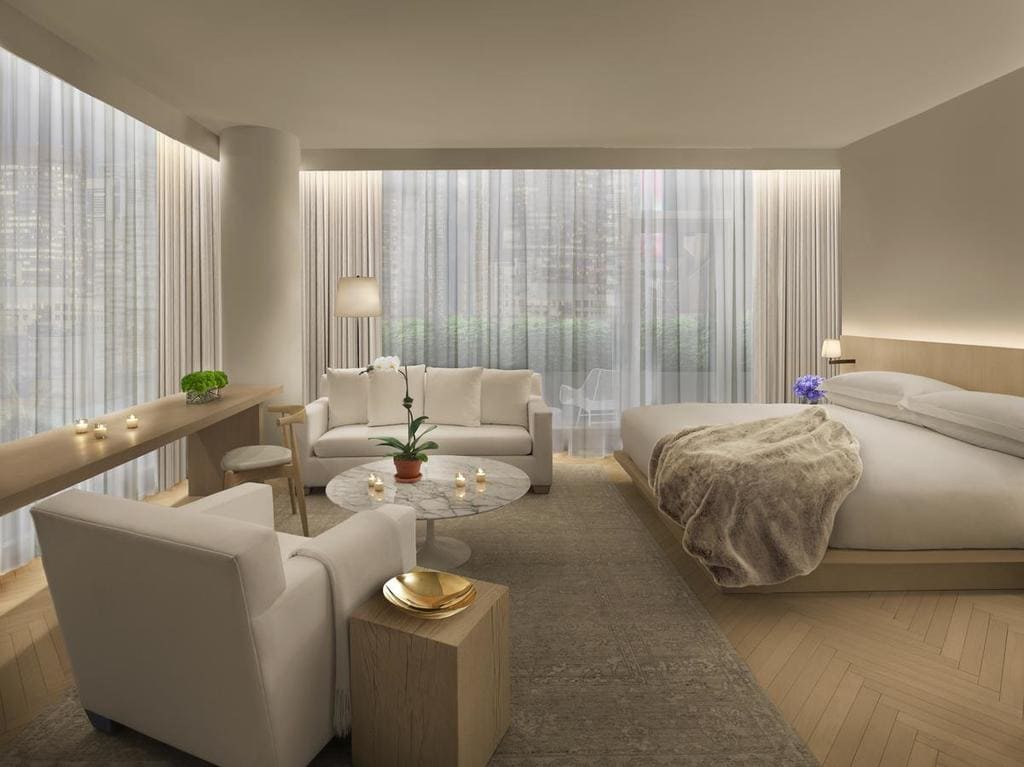 Back to Top of New Hotels in Manhattan
Lord and Moris Hotel Times Square
Lord and Moris Hotel, a new addition to NYC in 2019, is part of The Red Collection of Red Roof Hotels. The rooms boast modern décor and furniture, spa-inspired bathrooms, free WiFi, comfortable beds and flat screen TVs. Lord and Moris has a huge range of room types, from King Suites to 4 Bunk Beds in a room, which should appeal to most budgets. The hotel group plans on introducing Lord & Moris Brooklyn and Artel Brooklyn later in 2019.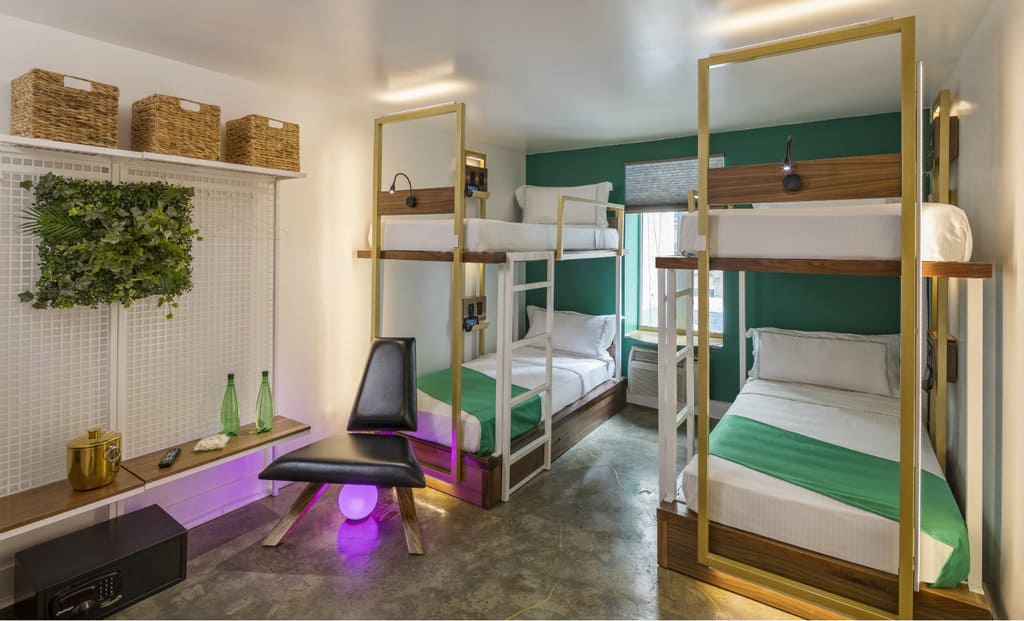 Back to Top of New Hotels in Manhattan
StayPineapple Midtown NYC Hotel
StayPineapple, An Artful Hotel, Midtown New York – new in 2019, StayPineapple markets their hotels to the "young, young at heart, savvy and the seeker of different and great." StayPineapple offers afternoon delights, like cupcakes and coffee, big fluffy towels, robes, slippers, cozy over-stuffed duvets and beds about which guests rave. With rooms as low as $120 per night, StayPineapple is super dog-friendly and uses hipster room names like Starlet Queen and Fashionista King.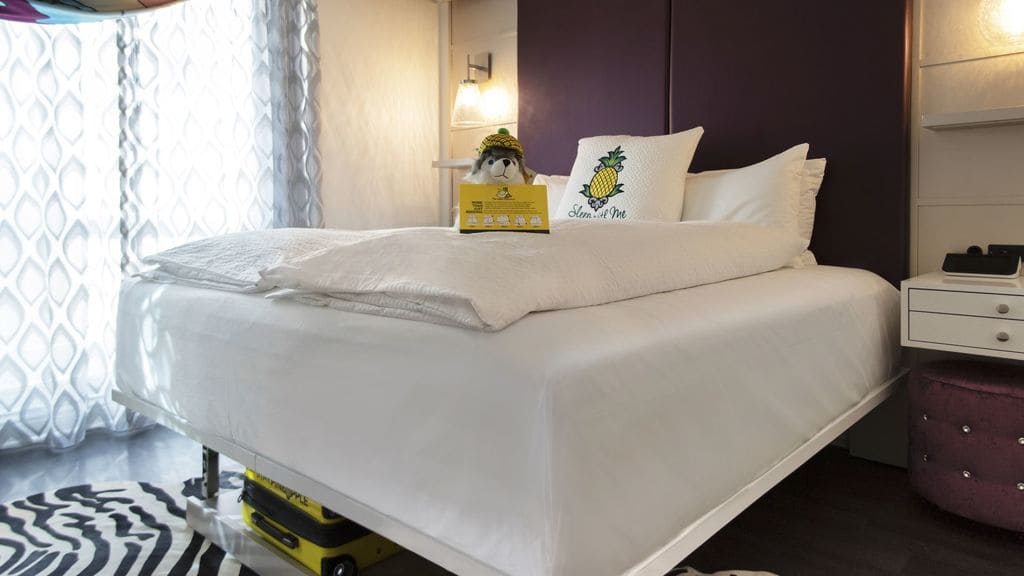 Aliz Hotel Times Square
Aliz Hotel Times Square – Aliz, a new independent boutique hotel brand, opened it's first NYC hotel in late 2018. The guest rooms feature luxury bedding, high-tech audio & visual room systems, free wifi and Keurig® coffee machines. The hotel has a fitness center, business center, pet-friendly accommodations and (will be) home to Manhattan's highest open-air rooftop bar, with 2 floors of unparalleled views of the city.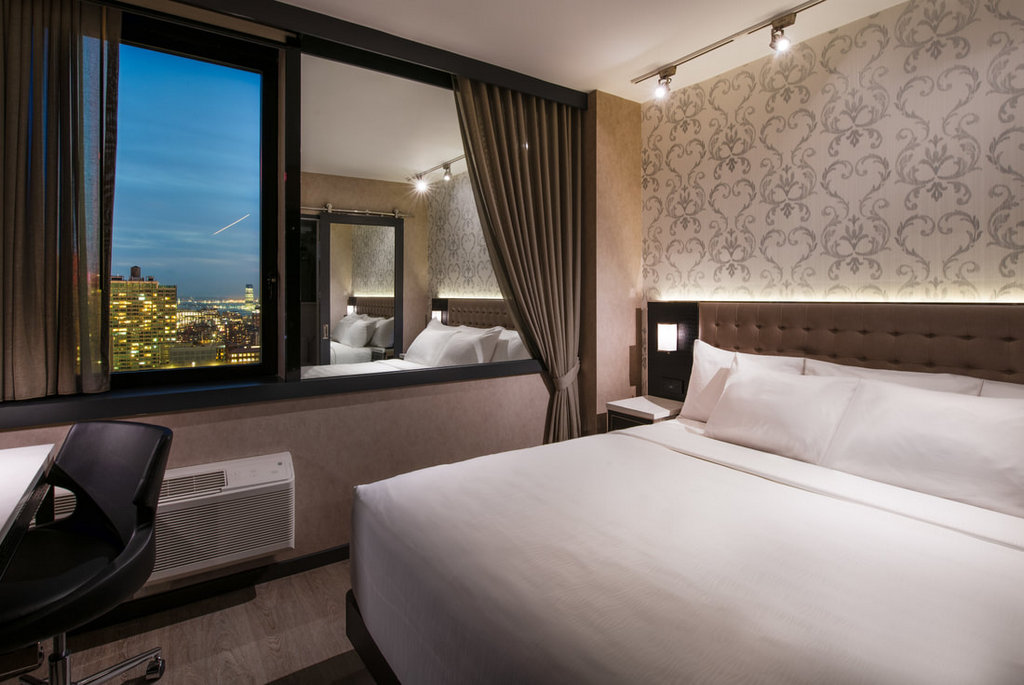 Back to Top of new hotels in Manhattan
Moxy NYC Chelsea Hotel
The Moxy Hotel Chelsea, by Marriott, features a 37th floor spectacular glass-enclosed rooftop lounge that transforms into an alfresco veranda. You enter the hotel through an oversized flower garden (it is in the Flower District) and activities like DJ appearances, a made-for-Moxy bocce drinking game on the terrace, rooftop meditation, reiki classes, floral workshops, and pizza-making classes await you. Moxy's focus is on the millennial traveler, who understands style can be delivered at attractive prices.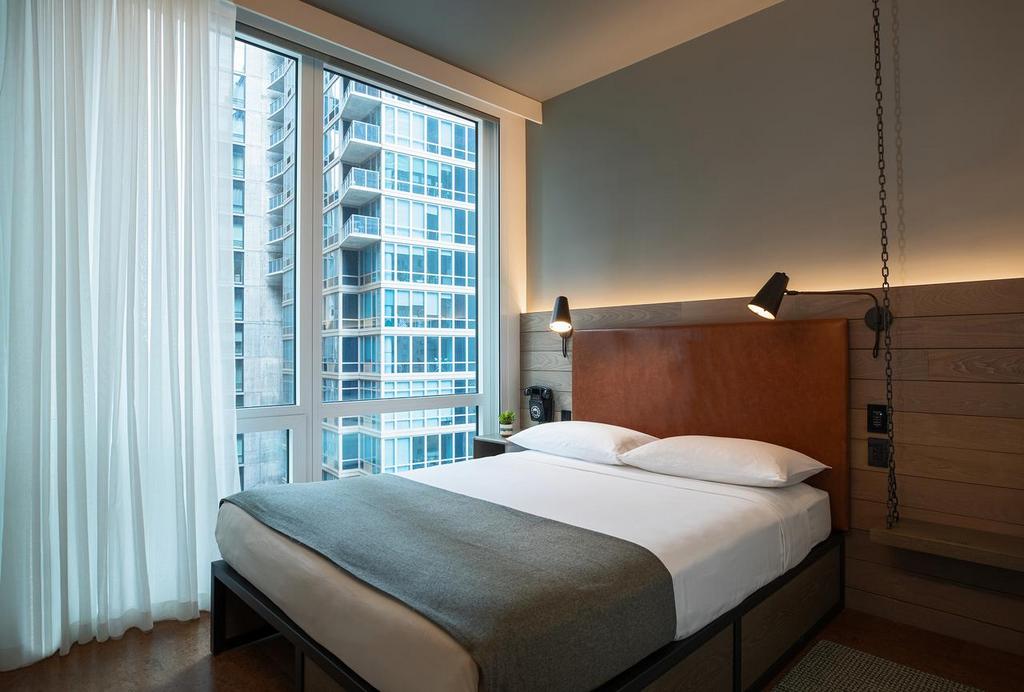 Back to Top of New Hotels in Manhattan
Moxy NYC Downtown
Moxy Downtown is a stunning new 30 story hotel, designed for the young-at-heart, featuring a 5,000 sq. ft. bar and lounge space serving coffee, cocktail and food, complete with a local coffee program, playful cocktails and food, old school arcade games, DJ and a basketball court! Opened October 2018, Moxy's focus is on the millennial traveler, who understands style can be delivered at attractive prices.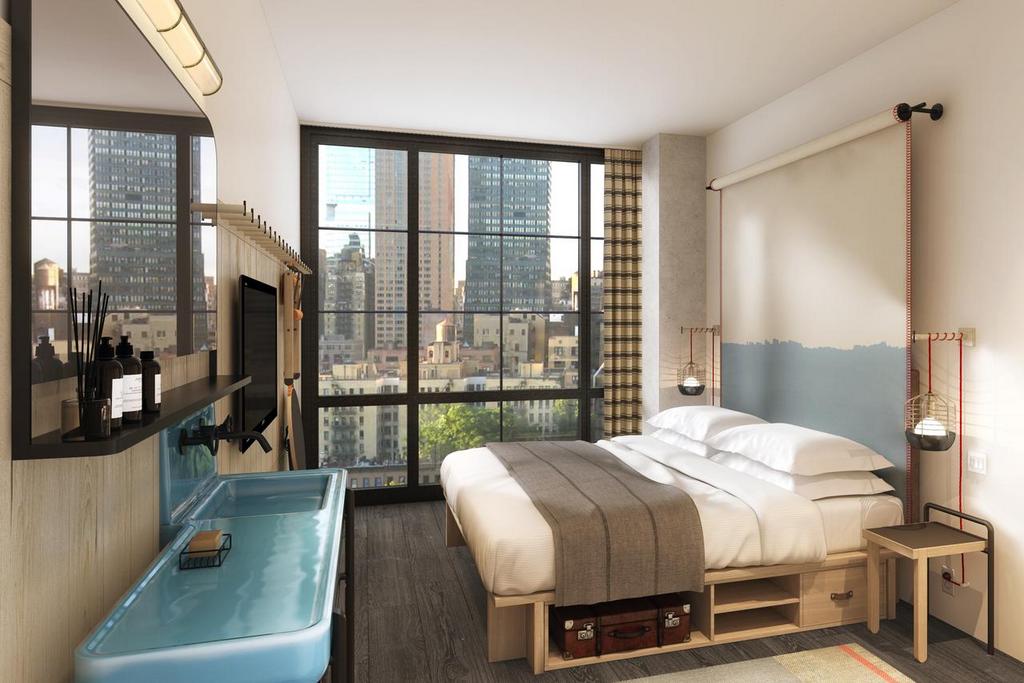 Back to Top of New Hotels in Manhattan
The Wagner Hotel
Formerly the Ritz Carlton Battery Park, The Wagner is an independent, contemporary luxury hotel, 5 star hotel offering 24-hour fitness centre with panoramic views of the New York skyline, a spa and restaurant. The Wagner Hotel is Wall Street's new go-to spot. "We loved the spacious rooms, the service and hospitality we received from the staff."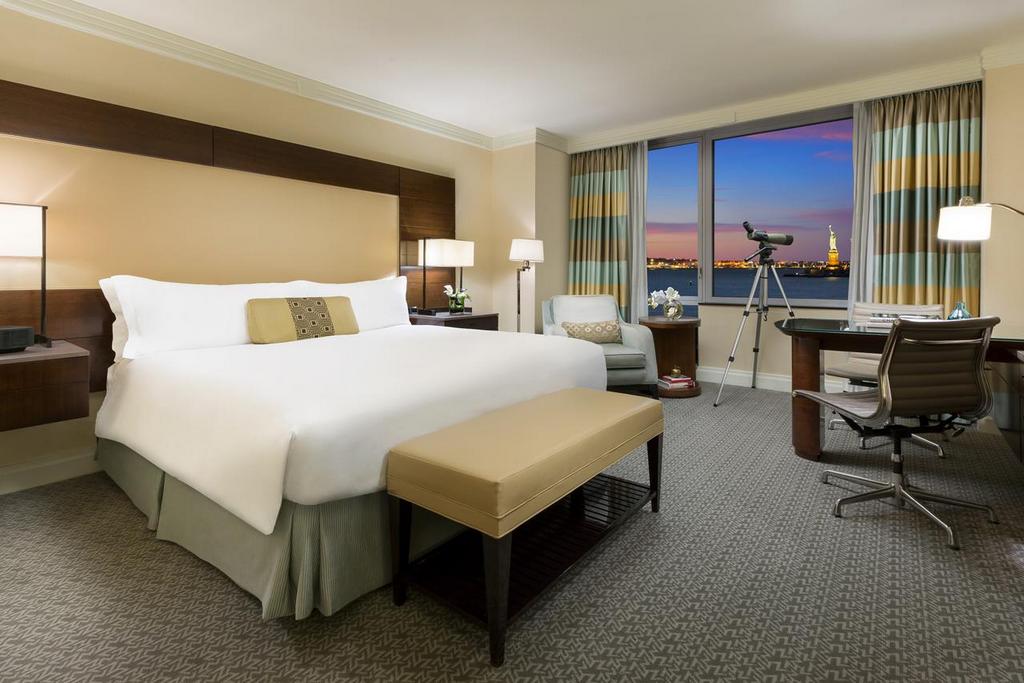 Back to Top of new hotels in Manhattan
Distrikt Hotel New York City
An upscale, affordable, boutique hotel by Hilton, with 155-rooms and 32 stories. Distrikt offers a tranquil, chic, and unique experience where guests stay within one of ten distinct neighborhoods of Manhattan recreated within the hotel while enjoying four-star amenities and exceptional local cuisine.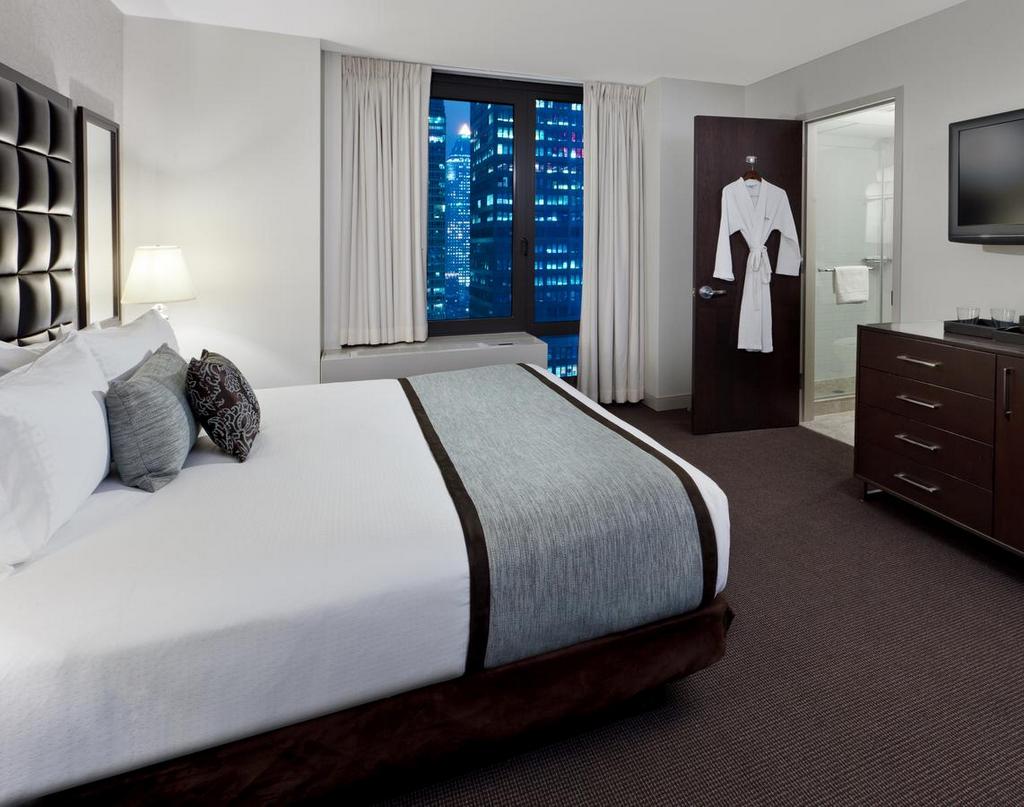 Back to Top of new hotels in Manhattan
AC Hotel New York Downtown by Marriott
Opened in November 2018, the 33-story hotel features guest rooms with minimalist designs to complement the waterfront views of the Seaport, local artwork accents, Spanish tapas at AC Kitchen and handcrafted cocktails at the AC Lounge. The Marriott hotel will be located in lower Manhattan near the World Trade Center, Seaport District and Pier 17.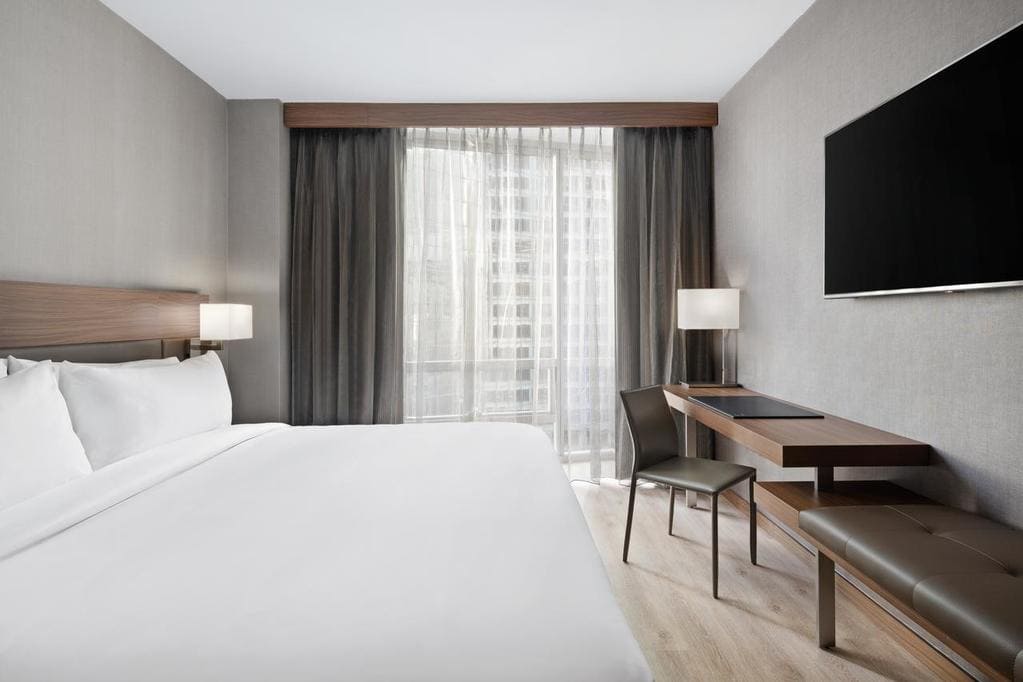 Back to Top of new hotels in Manhattan
Citadines Connect Fifth Avenue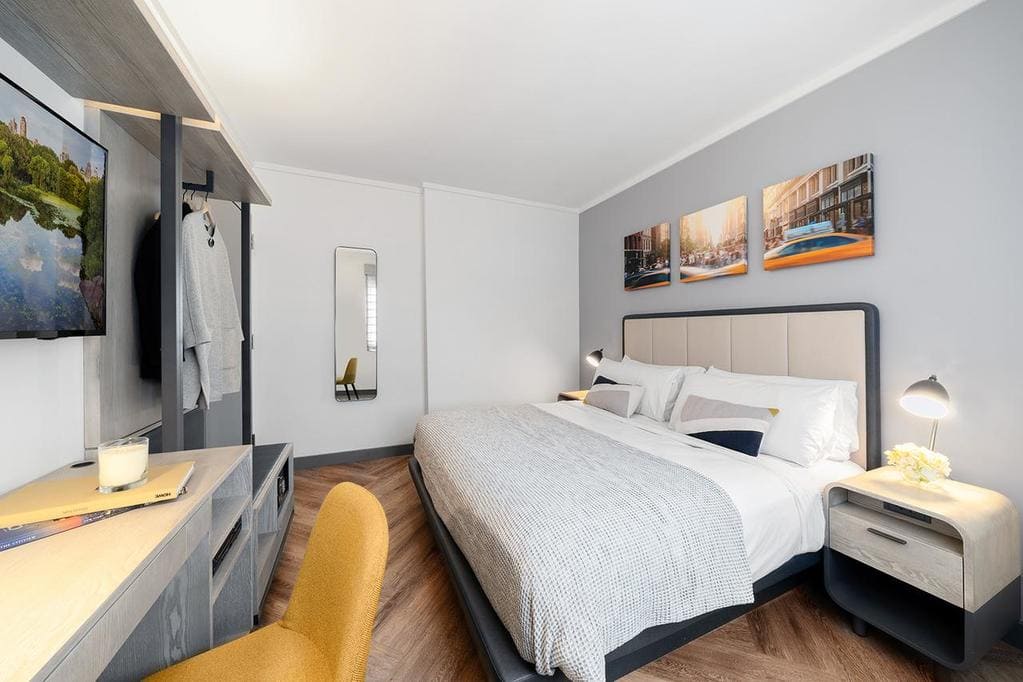 Citadines Connect Fifth Avenue New York, formerly known as Hotel Central Fifth Avenue New York, offers guestrooms featuring a sophisticated design that combines modern comfort with functionality. Guests enjoy the light "Breakfast to Go in a bag," comfortable beds, large room sizes, and being close to all the tourist action in Midtown. The front desk attendants, known as "Connectors," offer insider tips, local hotspots, eatery favorites and off the beaten track recommendations. To celebrate the launch of Citadines Connect Fifth Avenue New York, the hotel is offering a special promotion, "New Beginnings!" Guests who book between September 20, 2018 and December 31, 2018 will receive 20% off the Best Flexible Rate. The stay window is from September 20, 2018 to March 31, 2019.
Back to Top of new hotels in Manhattan
citizenM New York Bowery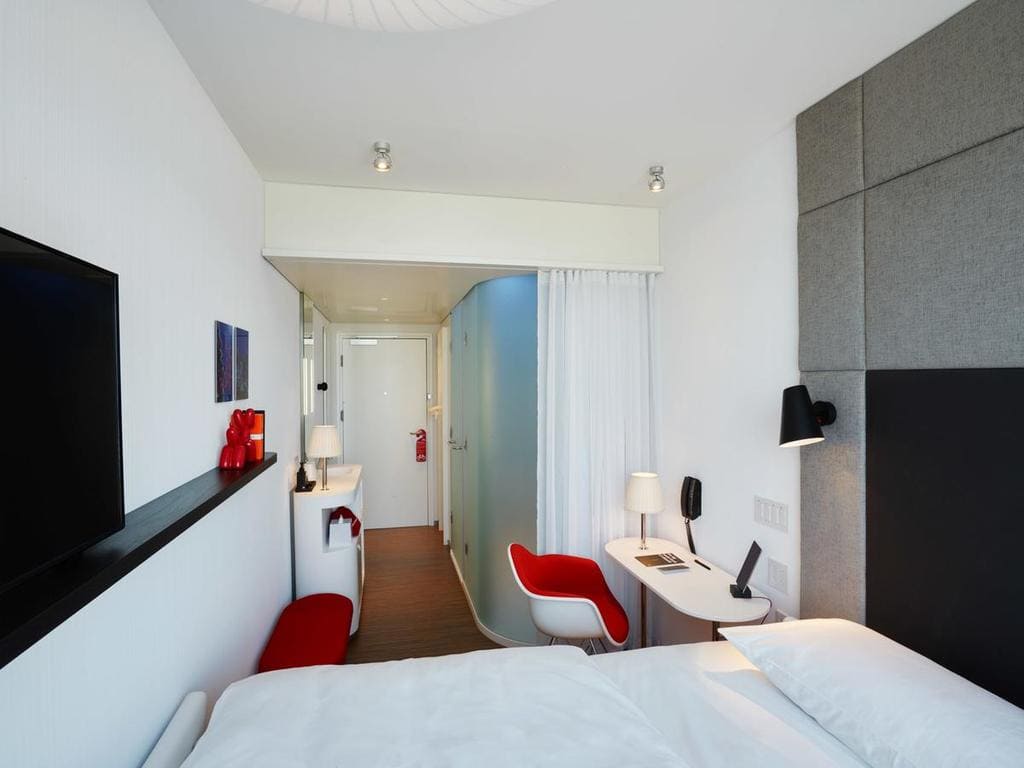 citizenM New York Bowery is a 300-room sister hotel to the citizenM New York Times Square, very popular and known for it's super-efficient and modern rooms as well as it's concept of 'affordable luxury for the people'. All rooms are fitted with a desk, wall-to-wall windows, flat-screen TV, rain showers and small refrigerators. The hotel offers the expansive cloudM rooftop bar, outdoor terrace, and spectacular 360-degree views of New York. Guests rave about the comfy beds as well as the bar and cafe area.
Back to Top of new hotels in Manhattan
Mr. C Seaport Hotel New York City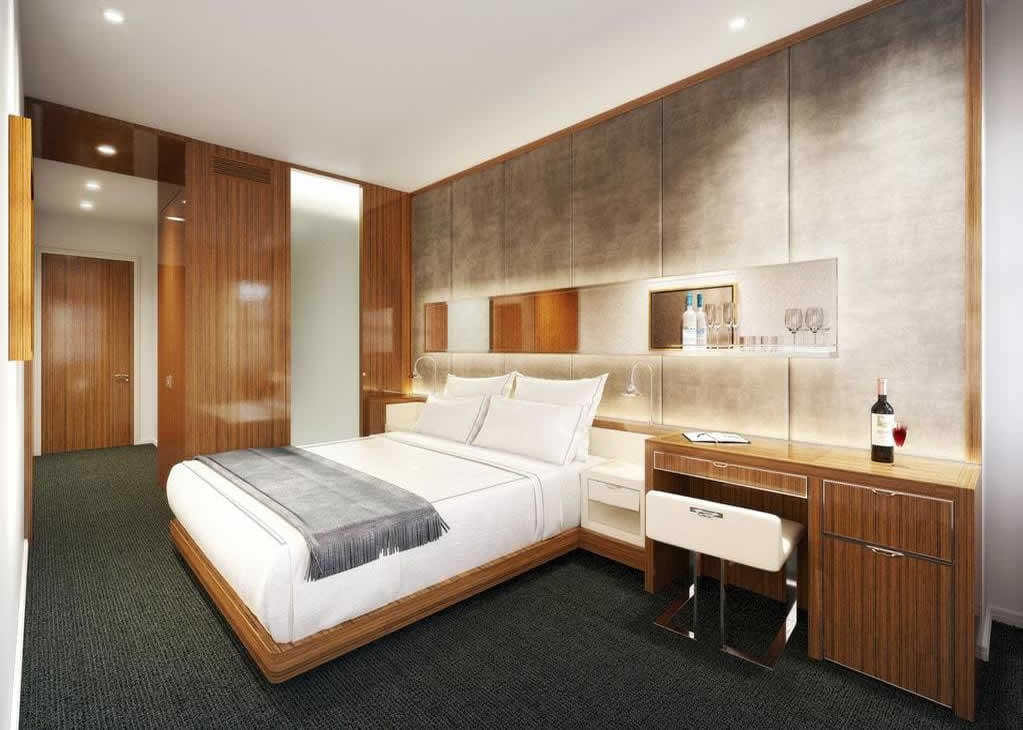 A Leading Hotels of the World oasis from the fourth generation Cipriani family, Mr. C Seaport is an intimate escape within the bustling cobbled streets of Downtown's historic South Street Seaport. Contemporary and classic retreat offering unparalleled views of the East River, Brooklyn Bridge and New York skyline. Premiering July 2018. Financial District/Wall Street.
Back to Top of new hotels in Manhattan
The Maxwell New York City
Rebranded in May 2018, formerly the W New York, The Maxwell still offers the cult Bliss products, as well as the Bliss 49 Spa, and former W guests love the newly branded hotel. The Maxwell New York City offers a soulful sanctuary within the city and is close to museums, Times Square, Broadway and the business district. Guests rave about great location, accommodating staff, excellent food, room service and Heartbeat restaurant.
Back to Top of new hotels in Manhattan
AC Hotel New York Times Square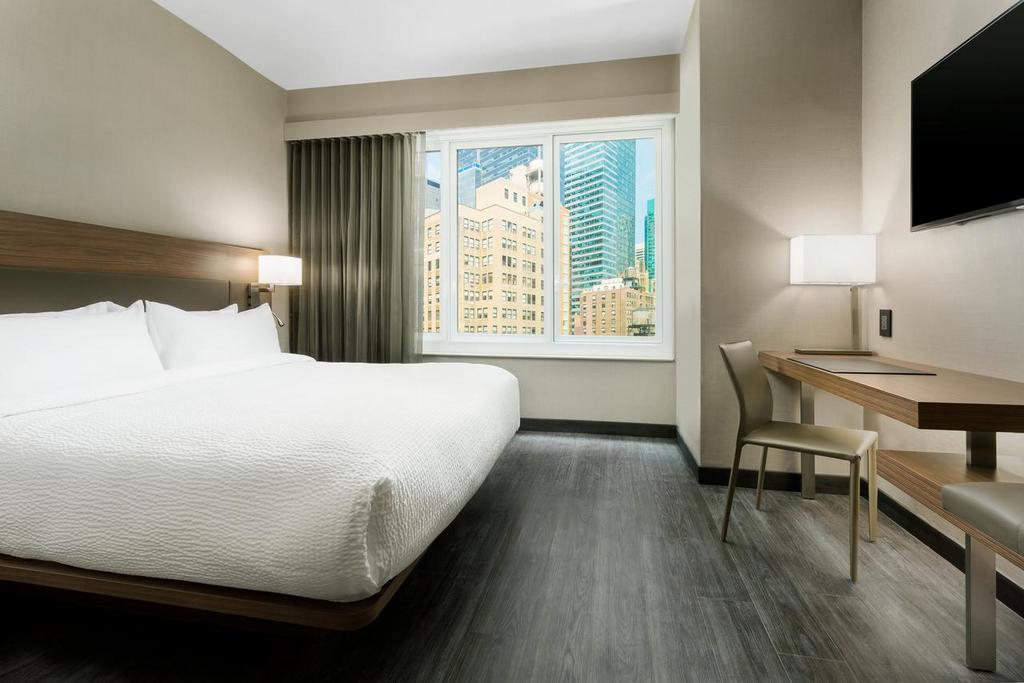 Opened in April 2018, this Times Square hotel melds an urban vibe with classic elements that harken back to its Spanish roots. Shared spaces feature local artwork, while guestrooms are an oasis of modern design, with sleek furnishings as well as complimentary Wi-Fi, wide-screen TVs and comfortable bed. Options including private balconies and ceiling-to-floor windows make the most of city views. Guests rave about the service and the location, which is right in the heart of NYC, but just off the craziness of Times Square.
Back to Top of new hotels in Manhattan
Hotels Coming Soon in Manhattan
The new Radisson New York City – Manhattan Times Square will be located at 525 8th Avenue, between West 37th and West 38th streets. The hotel will have 320 guest rooms, a restaurant, and a fitness center. Anticipated opening is spring 2019.
Moxy Hotel by Marriott – at 151 Bowery (& Broome). Expected 2019
Equinox Hotel (opening 2019) – Hudson Yards. The gym's first forray into hotels.
TWA Hotel at JFK – a 512 room hotel landing in 2019 at JFK Airport. 512 ultra-quiet guestrooms with exhilarating views of JFK's runways and the iconic TWA Flight Center. 6 restaurants, 8 bars, 10,000-square-foot rooftop observation deck with pool, 10,000-square-foot fitness facility and an aviation history museum.
How to Save on Hotels in New York City
Check out all our tips and dozens of promo codes to help save on NYC Hotels. Whether you are visiting NYC on a budget, or just looking to save a little on luxury, we share all our insight on How to Save on Hotels in New York City.
Best Value Hotels
Enter Dates, Check Value and Secret Deals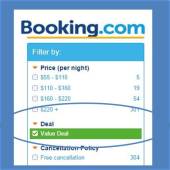 Hotels.com NYC
Straight to All NYC Deals Page

NYC Insider Guide
Hotel Tips Promo Coupon Codes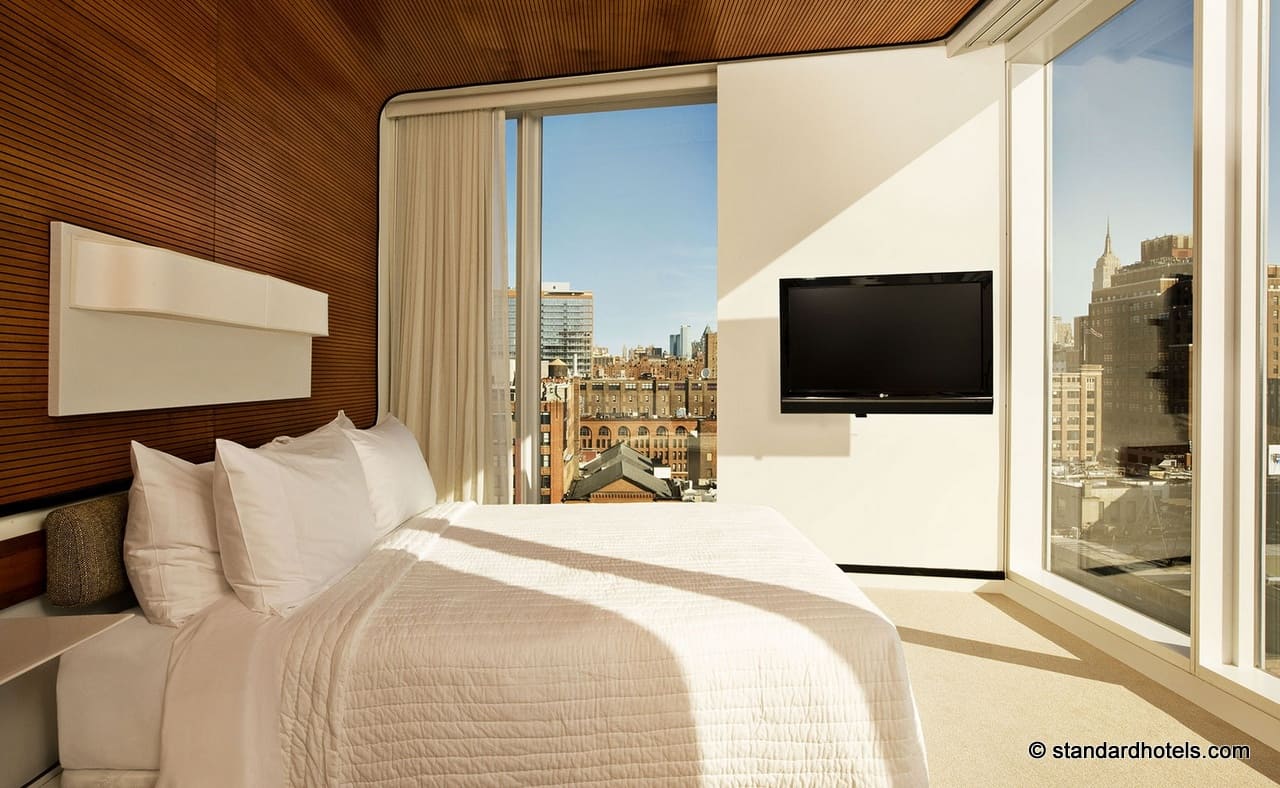 NYC Insider Print Map and Guide to Manhattan
I wanted to let you know how much I enjoy the insider guide and maps. It is exactly what I was looking for and trying to search the internet for weeks and still did not find even a fraction of what you have in your guide. Even something as simple what direction avenues and streets run was not something I thought of or found any information on but is very important. Exactly what I was looking for. Don't waste your time researching and trying to find all this information online when you can get it in the insiders guide. Wonderfully put together and extremely helpful. Thank you. - Mary Margaret (October 2018)
Download over 100 pages of NYC maps, information and recommendations in less than 5 minutes! Our NYC Insider Printable Map Guide Book, Travel Planner and Bonus Map Guides include organized, easy to follow, color coded guides, detailed maps of every neighborhood, weekly chart of Free Museum Days and Times and free weekly neighborhood tours, Best of NYC Categories and lists by ALL native New Yorkers. Download everything you need to know NYC Like a Pro and make the most of your NYC vacation.
L-O-V-E this guide! It's well thought out, easy to read and easy to follow with a very sensible layout. I can tell whomever wrote this put a heck of a lot of thought into every section. Thanks so much for this awesome book. This is going to make this our best NYC trip by far. --Brenda, PA
Back to Top of new hotels in Manhattan
Follow NYC Insider Guide: