New hotels in Manhattan give you access to crisp sheets, new linens, towels, restaurants, rooftops and more before anyone else gets to them. While you may have to deal with some grand opening kinks, you'll often get amazing rates at the newest Manhattan hotels before the full buzz is out there for everyone to discover. Think of it like seeing an Off Broadway show before it gets moved to Broadway (don't you wish you had seen Hamilton when tickets were less than $50??). Now is your chance to stay in a new New York City hotel.
Calling ALL New York City Hotels – go ahead and tell us all about your hotel for FREE!
Citadines Connect Fifth Avenue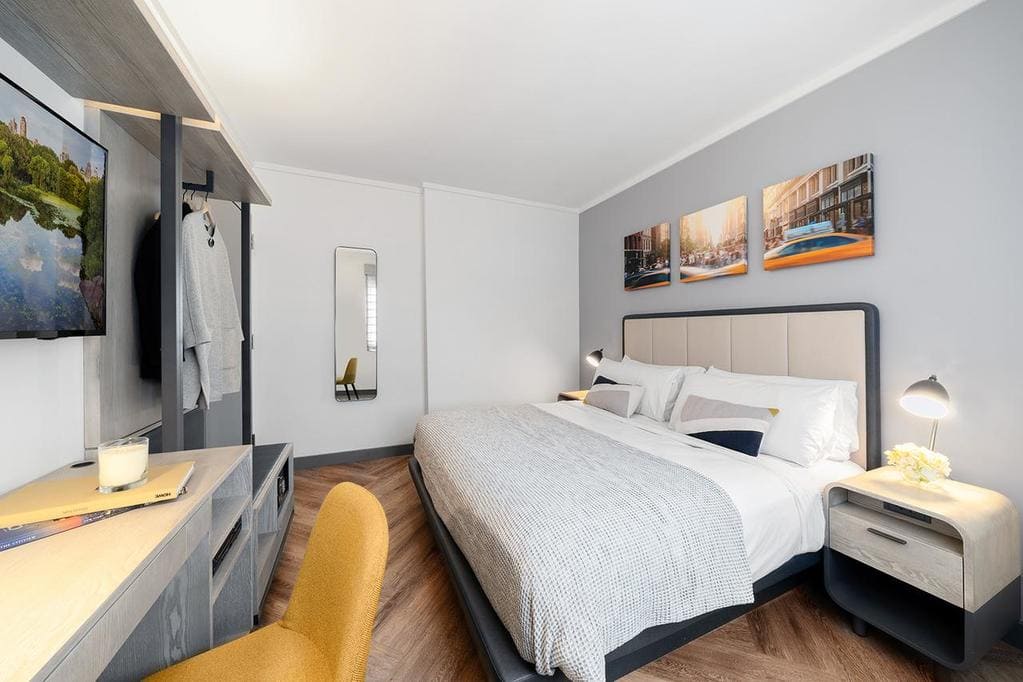 Citadines Connect Fifth Avenue New York, formerly known as Hotel Central Fifth Avenue New York, offers guestrooms featuring a sophisticated design that combines modern comfort with functionality. Guests enjoy the light "Breakfast to Go in a bag, " comfortable beds, large room sizes, and being close to all the tourist action in Midtown. The front desk attendants, known as "Connectors," offer insider tips, local hotspots, eatery favorites and off the beaten track recommendations. To celebrate the launch of Citadines Connect Fifth Avenue New York, the hotel is offering a special promotion, "New Beginnings!" Guests who book between September 20, 2018 and December 31, 2018 will receive 20% off the Best Flexible Rate. The stay window is from September 20, 2018 to March 31, 2019.
citizenM New York Bowery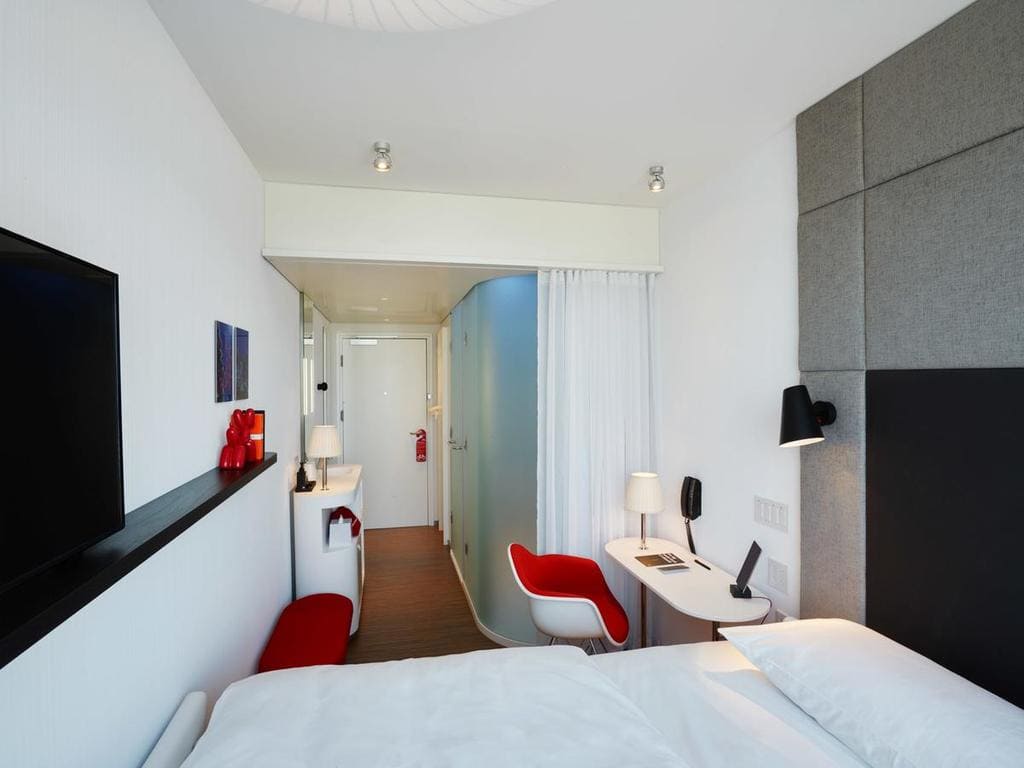 citizenM New York Bowery is a 300-room sister hotel to the citizenM New York Times Square, very popular and known for it's super-efficient and modern rooms as well as it's concept of 'affordable luxury for the people. All rooms are fitted with a desk, wall-to-wall windows, flat-screen TV, rain showers and small refrigerators. The hotel offers the expansive cloudM rooftop bar, outdoor terrace, and spectacular 360-degree views of New York. Guests rave about the comfy beds as well as the bar and cafe area.
Mr. C Seaport Hotel New York City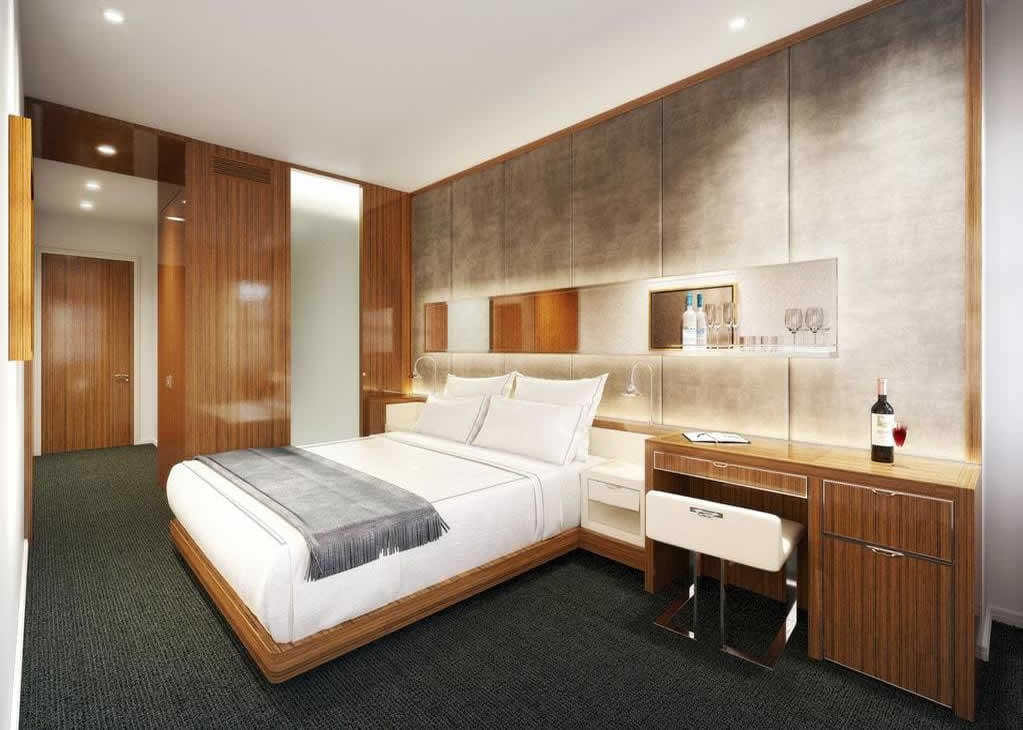 A Leading Hotels of the World oasis from the fourth generation Cipriani family, Mr. C Seaport is an intimate escape within the bustling cobbled streets of Downtown's historic South Street Seaport. Contemporary and classic retreat offering unparalleled views of the East River, Brooklyn Bridge and New York skyline. Premiering July 2018. Financial District/Wall Street.
The Maxwell New York City
Rebranded in May 2018, formerly the W New York, The Maxwell still offers the cult Bliss products, as well as the Bliss 49 Spa, and former W guests love the newly branded hotel. The Maxwell New York City offers a soulful sanctuary within the city and is close to museums, Times Square, Broadway and the business district. Guests rave about great location, accommodating staff, excellent food, room service and Heartbeat restaurant.
AC Hotel New York Times Square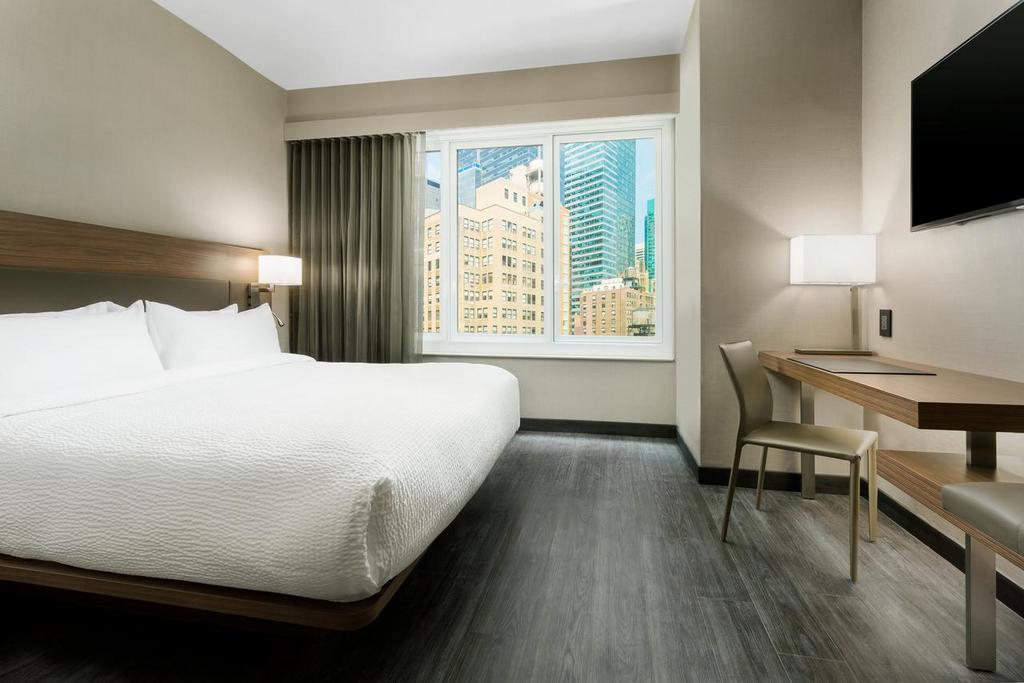 Opened in April 2018, this Times Square hotel melds an urban vibe with classic elements that harken back to its Spanish roots. Shared spaces feature local artwork, while guestrooms are an oasis of modern design, with sleek furnishings as well as complimentary Wi-Fi, wide-screen TVs and comfortable bed. Options including private balconies and ceiling-to-floor windows make the most of city views. Guests rave about the service and the location, which is right in the heart of NYC, but just off the craziness of Times Square.
Sister Hotels: Pod 39 Hotel, Pod 51 Hotel, Pod Hotel Williamsburg Brooklyn
Embassy Suites by Hilton Midtown Manhattan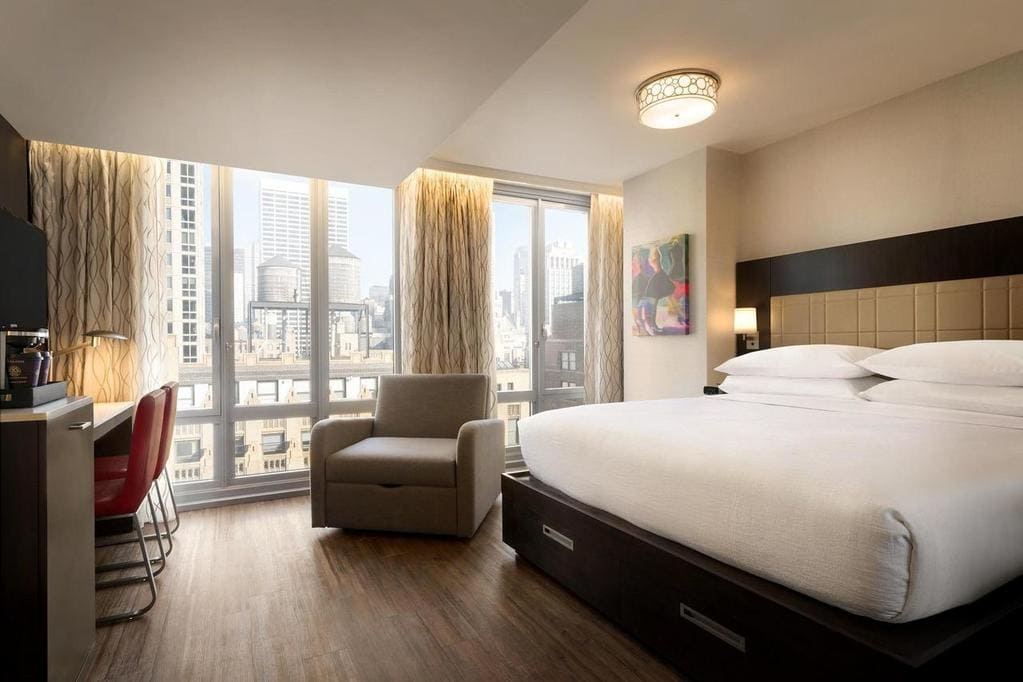 Opened January 2018, the Embassy Suites by Hilton Midtown Manhattan offers a lobby featuring a fountain with horizontally running waters, a concierge desk with an iconic New York City backdrop, The Heist Bar, and comfortable sitting areas. Reviewers note it as being close to the 34th St Subway and Empire State Building, great views from the top floors, free daily breakfast and a daily happy hour.
Back to Top of new hotels in Manhattan
Pod Hotel Times Square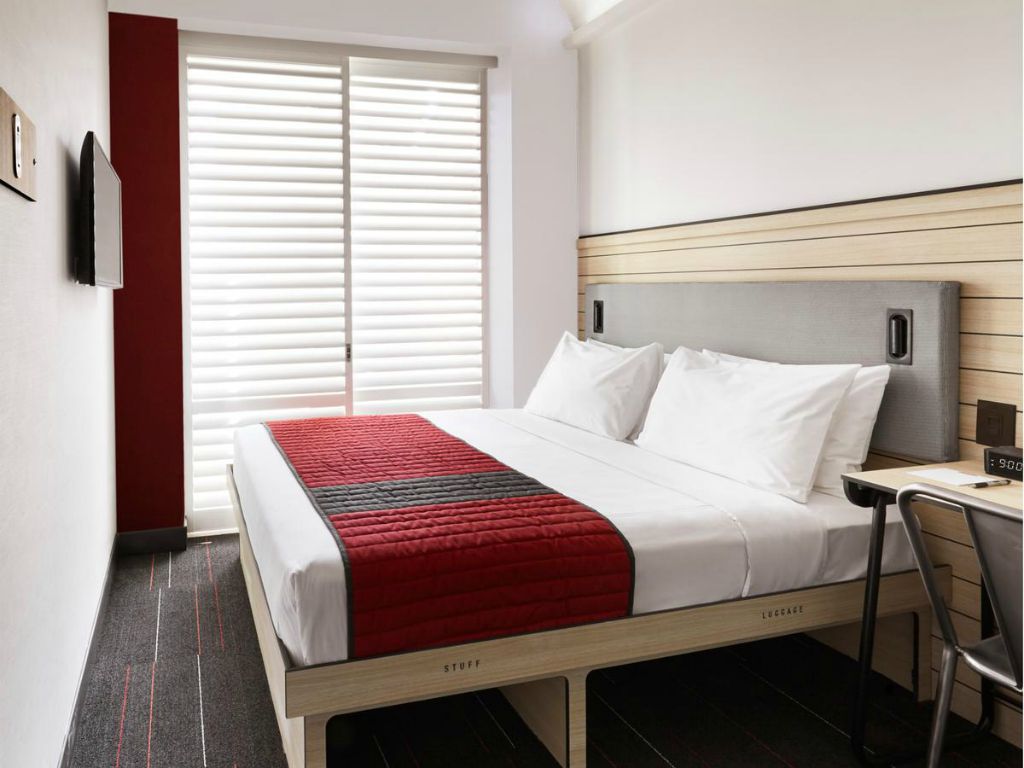 Launched in January 2018, this is Pod's fourth hotel in NYC and the other three are considered some of the best value (and inexpensive) hotels in Manhattan, so we expect this one to be no different. Reviewers say the hotel is "chic, very nice and super efficient" with "very comfy beds," including some rooms with bunk beds.
Sister Hotels: Pod 39 Hotel, Pod 51 Hotel, Pod Hotel Williamsburg Brooklyn
Back to Top of new hotels in Manhattan
Crowne Plaza HY36 Midtown Manhattan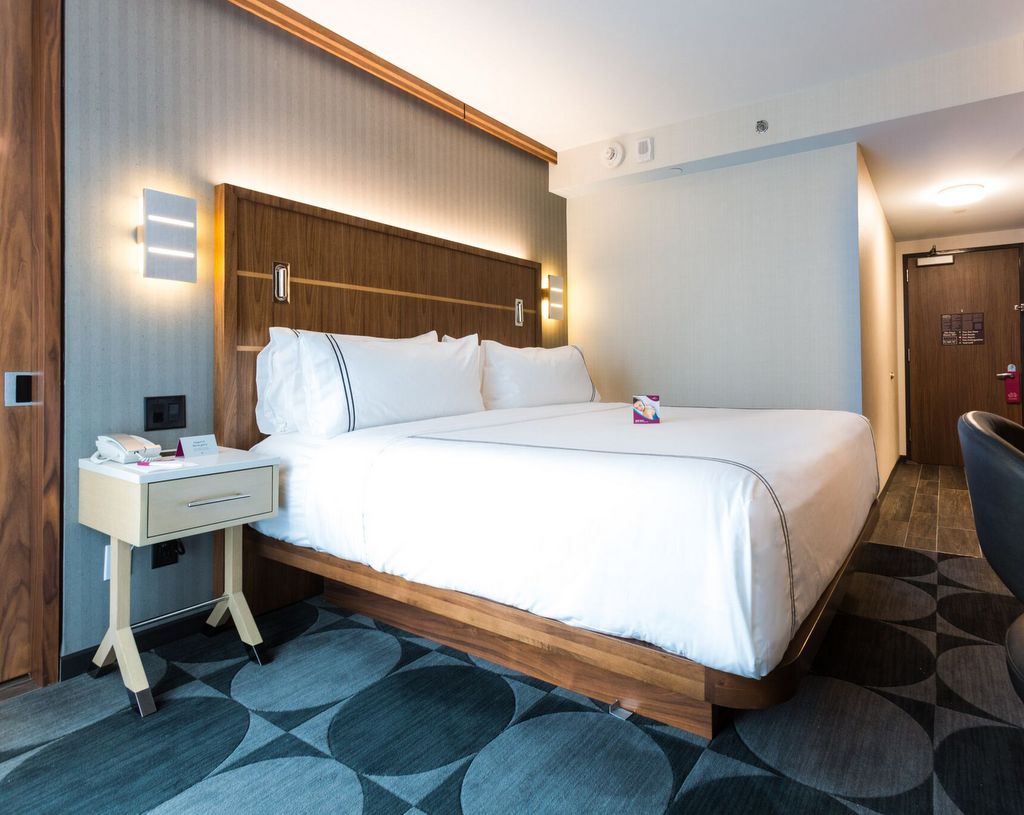 Just opened in 2018, the Crowne Plaza HY36 with Four Star, 251 rooms, is right next to Penn Station, Macy's and other Herald Square shopping. Guests are raving about the bedding, showers, fast wi-fi, guests services, fitness center with Peloton bikes and more.
Back to Top of new hotels in Manhattan
Freehand Hotel Flatiron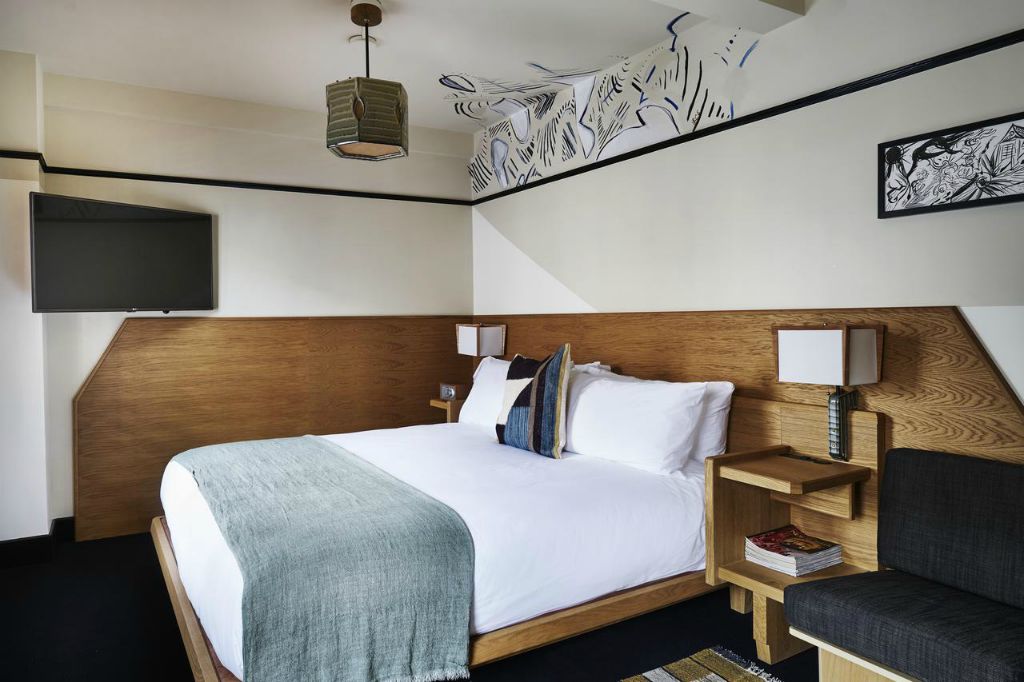 Freehand Hotel, opened December 2017, offers 358 rooms ranging from suites to bunk beds, starting at $199, including one room type specifically geared toward three people. Dining includes the ground-floor restaurant, Simon & the Whale, and the rooftop cocktail bar, Broken Shaker. Reviewers say, "Cool vibes that felt almost mediterranean and nautical." and "As a very frequent traveler, I would 100% recommend this hotel."
Back to Top of new hotels in Manhattan
Moxy Hotel Times Square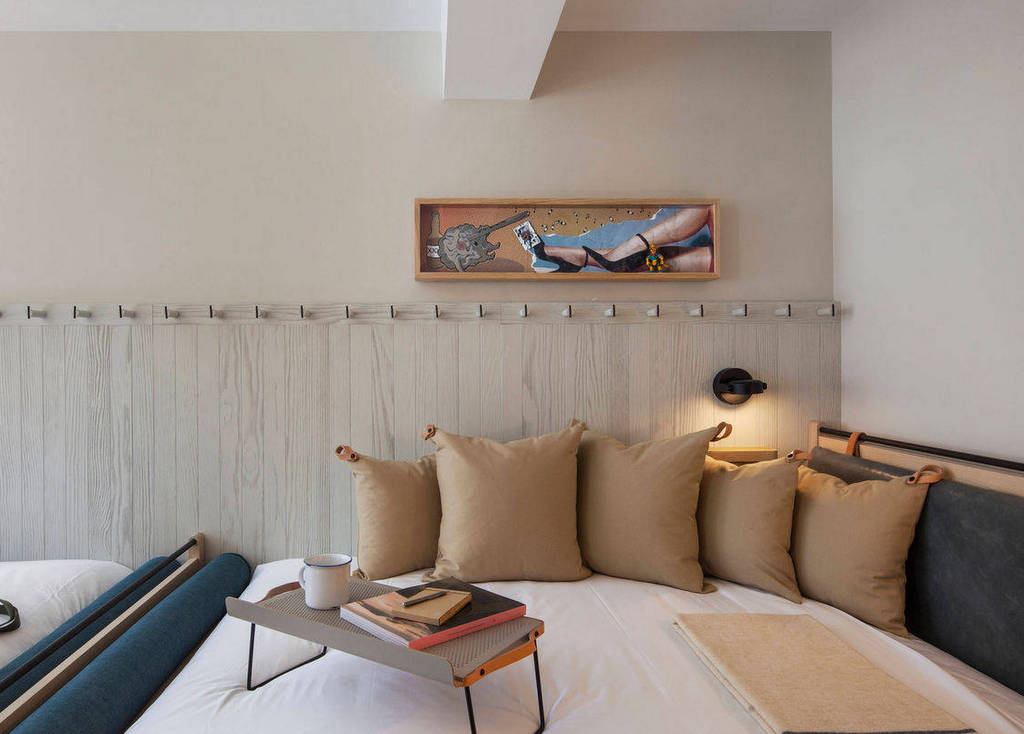 Moxy (by Marriott), a new breed of micro-hotel and opened in late 2017, offers 612 bedrooms designed with adaptable furniture. They have a variety of room types, flexible furniture, bunk beds, oversized walk-in showers, furiously fast and free Wi-Fi and personal screencasting–Netflix, Hulu, Pandora and more! Moxy has five dining choices: seafood brasserie, an egg-centric all-day breakfast spot, a communal lobby bar, grab and go market and NYC's largest rooftop lounge featuring an "urban amusement park" concept and epic skyline views.
Back to Top of new hotels in Manhattan
MADE Hotel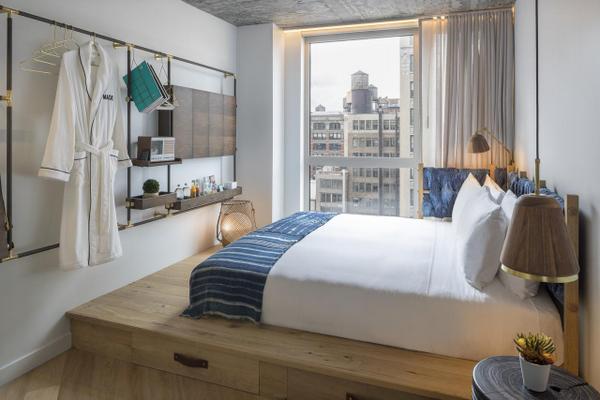 MADE Hotel – new in 2017, MADE describes themselves as a "boutique hotel with a global soul". Rooms with Frette linens and towels, floor to ceiling windows mostly with great views, and all the little luxuries you may want during your stay away from home. MADE offers some amazing new spaces including the new communal coffee shop 'Paper', the intimate lobby bar and the newest rooftop bar, "Good Behavior," along with a second floor patio open only to hotel guests.
See More: Union Square NoMad Hotels
Back to Top of new hotels in Manhattan
Hotel 50 Bowery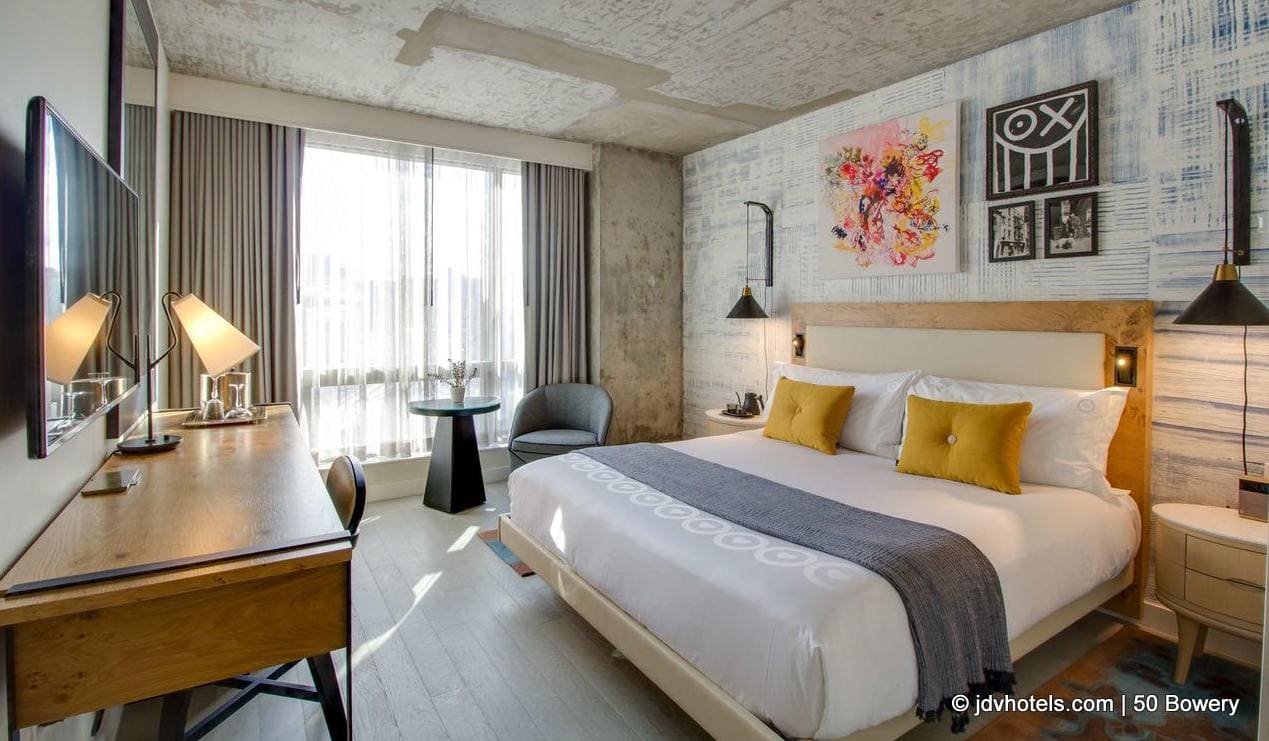 50 Bowery – new in 2017. This 229-room boutique hotel offers incredible views of the Empire State Building, Chrysler Building and the World Trade Center from many of their rooms, as well as for all guests from their 21st floor Rooftop, The Crown. Situated right in the heart of Chinatown, Little Italy and the Lower East Side, 50 Bowery puts you within 5-10 minutes of at least 400 restaurants (I'm underestimating) from every ethnicity and for every price range you can imagine. Within the hotel, you'll find luxury linens, flat screen TVs, complimentary WiFi and most pets are welcomed!
See More: Chinatown Hotels
Back to Top of new hotels in Manhattan
Hotel Hayden Chelsea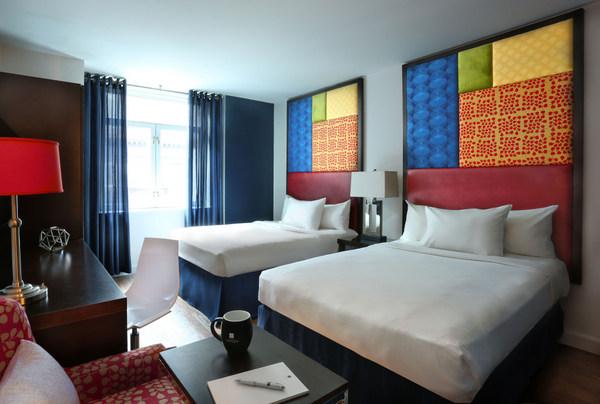 With one of our favorite New York City Hotel Rooftops, the Hotel Hayden is a buzz-worthy boutique for trend-setters, stylists and sophisticates. At the intersection of the Fashion District, Flower District and the eternally trendy Meatpacking District, it's a modern boutique gem just steps from world-famous local landmarks. Formerly the Hotel Indigo Chelsea, the new hotel welcomes arriving guests with 122 stylish guest rooms and suites, crave-worthy Greek cuisine at Mykonos Blue.
See More: Chelsea Hotels
Back to Top of new hotels in Manhattan
Public Hotel – Lower East Side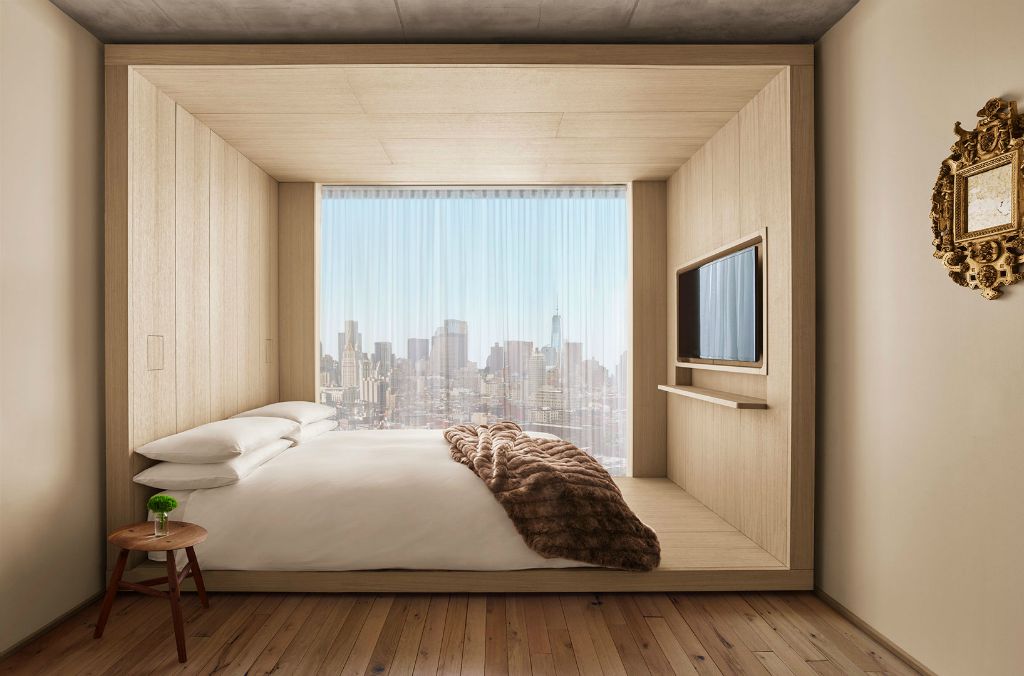 Opened in June 2017, Public offers 367 rooms designed by award winning architects Herzog & DeMeuron and a space with floor to ceiling windows and jaw-dropping views of the city skyline. It has opened to rave reviews of the rooms, comfortable beds, the overall smart and sophisticated vibe, rooftop bar and service. It is an Ian Schrager hotel boasting "luxury for all" – meaning a luxury hotel at a "non-luxury" price point. Rooms start at just $150.
See More: Lower East Hotels
Back to Top of new hotels in Manhattan
The James New York NoMad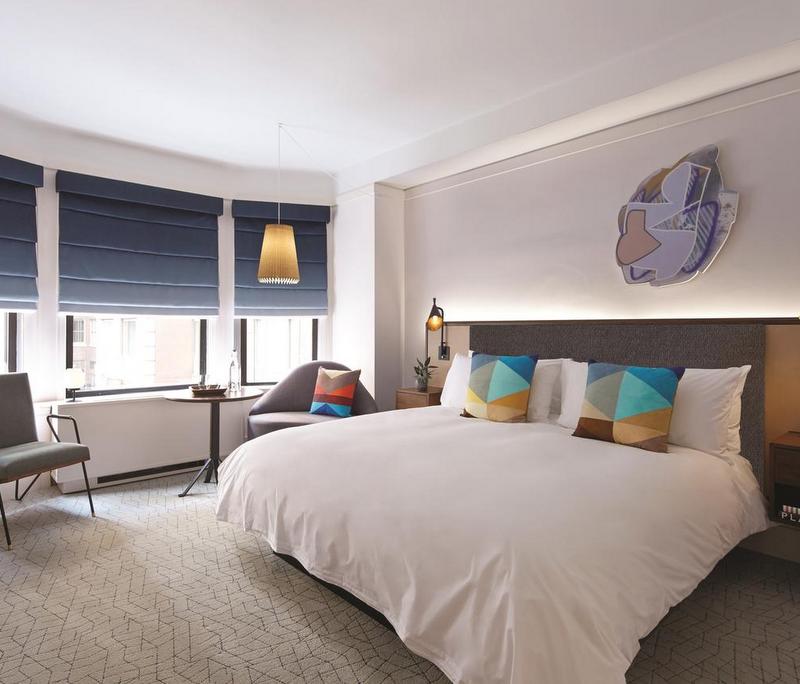 Opened in June 2017, The James New York – NoMad (formerly the Carlton Hotel) is a 344-room luxury boutique hotel with complimentary WiFi, luxury amenities, and – rumor has it – a free wine happy hour. Soon to open, the hot restaurant, Scarpetta, relocating from the Meatpacking District.
Sister property: The James SoHo
See More: Union Square NoMad Hotels
Back to Top of new hotels in Manhattan
Hotels Coming Soon in Manhattan
How to Save on Hotels in New York City
Check out all our tips and dozens of promo codes to help save on NYC Hotels. Whether you are visiting NYC on a budget, or just looking to save a little on luxury, we share all our insight on How to Save on Hotels in New York City.
Best Value Hotels
Enter Dates, Check 'Value Deal' Box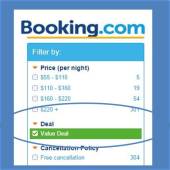 Trip Advisor NYC
Straight to All NYC Deals Page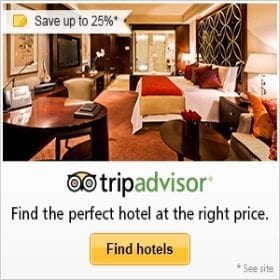 NYC Insider Guide
Hotel Tips Promo Coupon Codes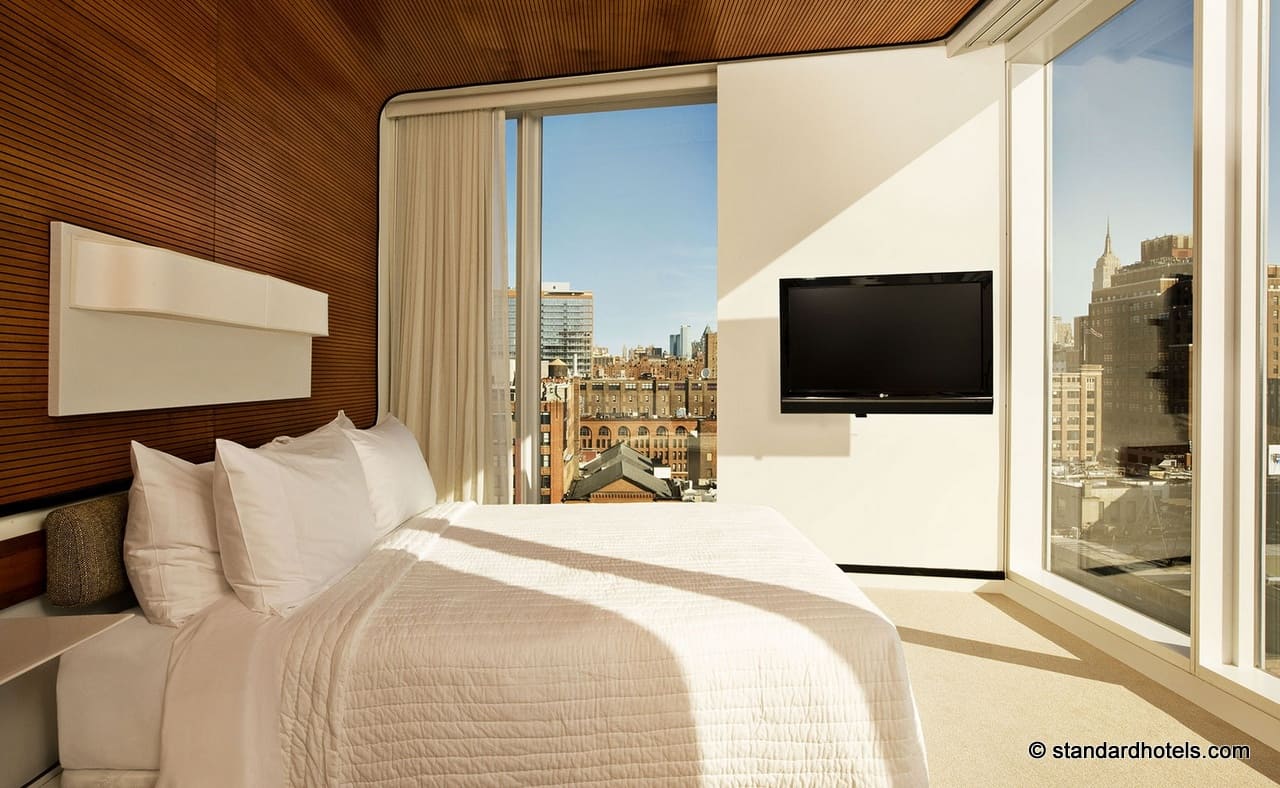 NYC Insider Print Map and Guide to Manhattan
I wanted to let you know how much I enjoy the insider guide and maps. It is exactly what I was looking for and trying to search the internet for weeks and still did not find even a fraction of what you have in your guide. Even something as simple what direction avenues and streets run was not something I thought of or found any information on but is very important. Exactly what I was looking for. Don't waste your time researching and trying to find all this information online when you can get it in the insiders guide. Wonderfully put together and extremely helpful. Thank you. - Mary Margaret (October 2018)
Download over 100 pages of NYC maps, information and recommendations in less than 5 minutes! Our NYC Insider Printable Map Guide Book, Travel Planner and Bonus Map Guides include organized, easy to follow, color coded guides, detailed maps of every neighborhood, weekly chart of Free Museum Days and Times and free weekly neighborhood tours, Best of NYC Categories and lists by ALL native New Yorkers. Download everything you need to know NYC Like a Pro and make the most of your NYC vacation.
L-O-V-E this guide! It's well thought out, easy to read and easy to follow with a very sensible layout. I can tell whomever wrote this put a heck of a lot of thought into every section. Thanks so much for this awesome book. This is going to make this our best NYC trip by far. --Brenda, PA
Back to Top of new hotels in Manhattan
Follow NYC Insider Guide: