Concerts, Shows, Music Calendar
NYC Concerts Shows February 2017 include Red Hot Chili Peppers, Ariana Grande, Metropolitan Opera, Carnegie Hall and more being announced. February has far more kids and sports events than music shows filling our top venues, including the Ringling Bros Circus, Sesame Street Live, Rangers, Knicks, Nets and Islanders.
NYC Concerts Shows February 2017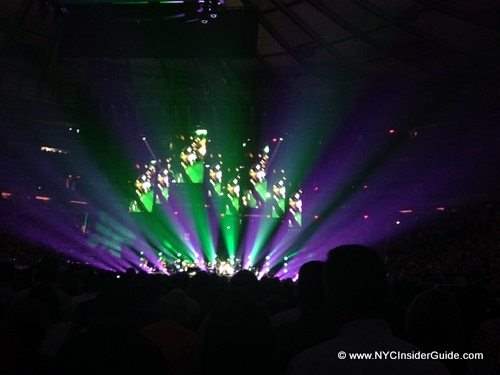 More February Concert Schedules
Valentine's Day (Week) Concerts
NYC Monthly Concert Schedule by Venue
Back to Top of NYC Concerts
Save $$ on New York Concert Tickets
Tickets Now - (official Ticketmaster company)
SeatGeek - know EXACTLY where to sit with live 3-D views of every venue
Note: All of our ticket partners are legitimate, official, recommended ticket sellers and guaranteed to sell you official NYC Concert tickets.
---
NYC Concerts Shows by Month
2017 New York Concerts - U2, Neil Diamond, Bon Jovi, Eric Clapton, Billy Joel, Barbra Streisand, The Weeknd, Governors Ball Music Festival, ColdPlay, Justin Bieber, Bruno Mars and more being announced daily!
---
NYC Upcoming Concert Schedule
NYC Concerts - Looking for a show tonight? Or maybe sold out tickets for a big act, a more intimate setting or smaller bands and venues? We show you the next 30 days of NYC shows and concerts and where to get guaranteed tickets.
---
Insider Guides to NYC Concert Venues
Our insider guides to Barclays Center, Madison Square Garden, Met Life Stadium, Radio City Music Hall, Beacon Theatre and lots of smaller, more intimate venues. Get discount ticket insider tips, hotels and dining information.
See All: Insider Guides to NYC Concert Venues
---
Concert Schedule and Tickets
See upcoming shows, concerts and special events at NYC's best Live Music Venues:
Back to Top of NYC Concerts Shows
Madison Square Garden Concert Calendar
Back to Top of NYC Concerts
The Theatre at Madison Square Garden
Tickets: The Theater at Madison Square Garden
Back to Top of NYC Concerts
Barclays Center Concert Calendar
Back to Top of NYC Concerts
Beacon Theatre Concert Calendar
Back to Top of NYC Concerts
Prudential Center Concert Calendar
Back to Top of NYC Concerts
Radio City Musical Hall Calendar
Back to Top of NYC Concerts
Carnegie Hall Concert Calendar
Back to Top of NYC Concerts
Kings Theatre Concert Calendar
Back to Top of NYC Concerts
B.B. King Blues Club & Grill – Concert Calendar
Back to Top of NYC Concerts
Irving Plaza Concert Calendar
Back to Top of NYC Concerts
February Concert Calendar
Ticket Liquidator Coupon - $10 off $350+ code 17FALLTL
Back to Top of NYC Concerts