NYC's Newest Music and Sports Venue
The new and spacious Barclays Center Brooklyn, opened in 2012, hosts world-renowned concerts, MTV Video Music Awards, conventions, entertainment and sports teams, such as the Brooklyn Nets and the New York Islanders.
Upcoming 2017 events include: The Weeknd, Ed Sheeran, Bruno Mars, Cirque du Soleil Ovo, New Kids On The Block, Paula Abdul & Boyz II Men, Imagine Dragons, Janet Jackson, New York Salsa Festival, Iron Maiden, Queen & Adam Lambert, WWE, Roger Waters and much more.
Barclays Center offers classic Brooklyn foods like Nathan's hot dogs and Juniors' cheesecake, and have Jay-Z as a part owner! Jay-Z's 40/40 club in the luxury sections of Barclays center is a hit and serves drinks until 2am.
With 2,000 Brooklyn Nets seats at Barclay's Center costing $25 or less, professional basketball is now available to everyone. No matter what type of world-class entertainment you seek, Barclays Center is sure to bring it, Brooklyn-style!
Barclays Center Brooklyn Tickets
Note: All of our ticket partners are legitimate, official, recommended ticket sellers and guaranteed to sell you official Barclays Center tickets.
Get Tickets to Barclays Center Brooklyn
Barclays Center Brooklyn Upcoming Events

Get Tickets to Barclays Center Brooklyn
Brooklyn Nets Barclays Center Seating Chart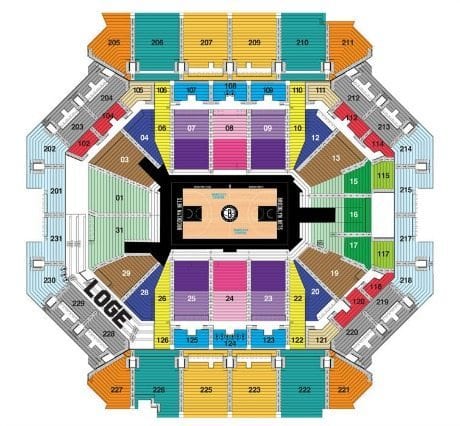 More Seating Charts:
http://www.barclayscenter.com/tickets/3d-seating-charts
Barclays Center Seating Capacity:
Basketball – 18,103
Ice Hockey – 14,500
Concerts – 19,000
Get Tickets to Barclays Center Brooklyn
Hotels Near Barclays Center Brooklyn
Barclays Center Hotels – compare reviews at Trip Advisor
Lowest Rate Value Deals

Get Tickets to Barclays Center Brooklyn
More About Barclays Center Brooklyn
The new Barclays Center, opened in 2012, is part of a nearly $5 billion business and residential complex located at the intersection of Flatbush and Atlantic Avenues, near the Brooklyn Museum and the Brooklyn Botanical Garden and within walking distance of Park Slope and Fort Greene neighborhoods.
Get Tickets to Barclays Center Brooklyn
Directions To Barclays Center, Brooklyn
Barclays Center is located on top of one of the largest transit hubs in New York, about 25 minutes from Midtown Manhattan. Public transit is the fastest, most convenient way to travel (and yes, it's totally safe!). The 2/3, N/R/Q, B/D and 4/5 all go right to the Atlantic Avenue – Barclays Center stop.
Subway Lines Serving Atlantic Avenue – Barclays Center:
2, 3, 4, 5, B, D, N, R, Q
Barclays Center
620 Atlantic Avenue
Brooklyn, New York 11217
More: http://www.barclayscenter.com/getting-here/public-transportation
Get Tickets to Barclays Center Brooklyn
More Info Barclays Center Brooklyn
Get Tickets to Barclays Center Brooklyn
Follow NYC Insider Guide: