Fireworks, Boat Cruise, Festivals, BBQ, Rooftops
July 4th in New York City is amazing! The weather is almost always wonderful and our July 4th celebrations, including the Macy's 4th of July Fireworks®, which will return to the East River in 2017 and light up the night from 5 barges placed from 24th to 41st Streets.
This page is partially updated for 2018 as the cruises and other major events are on sale now and they provide fireworks views no matter the location from which they are launched. I've noted where there is still 2017 information).
In prior years, fireworks were also displayed from the Brooklyn Bridge, but they will not be in 2017.
Make sure to check sightseeing and holiday hours for Wednesday, July 4, 2018. Add your event to the July 4th in NYC Events Activities calendar.
Top Picks for July 4th NYC Activities and Events
NYC Insider Tip – Best Place to See Fireworks?
Personally, I think the BEST view of the 2018 New York City Fireworks is from a boat cruise on the water. Here's why…
If you want to watch them from land, be prepared for crowds, long waits, packing your food and drinks, carrying your stuff and umm…restrooms? Good luck.
Not sure if the fireworks will be on the East Side or West Side? Over the Brooklyn Bridge or not? A cruise has a view of the fireworks no matter what changes the city makes at the last minute.
A hotel with a roof deck is also a great option. The 2017 fireworks will return to the East River in 2017 and light up the night from 5 barges placed from 24th to 41st Streets.
Back to Top July 4th in New York City, NYC July Events
Rooftops, Hotels, Restaurants with Views of 4th of July NYC 2018 Fireworks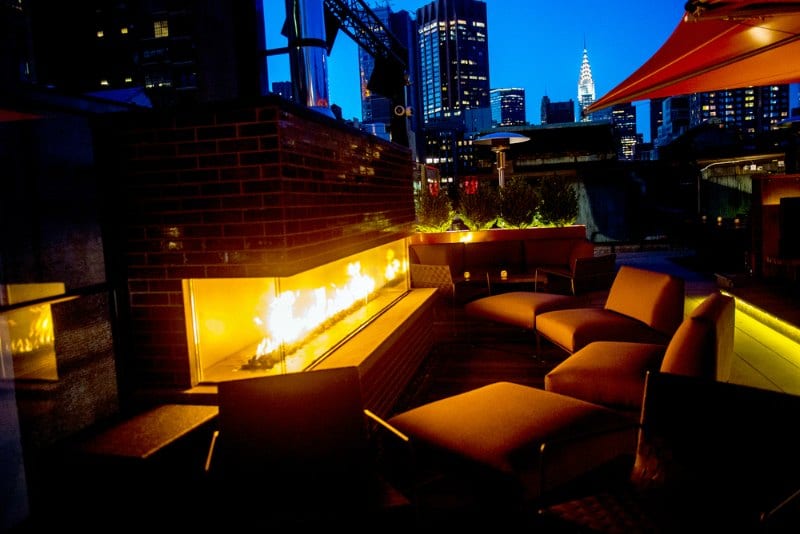 Where will you watch the July 4th fireworks this year? A rooftop, lounge, hotel, restaurant?
All July 4th Trip Advisor reviews are from the East River Fireworks:
2018 July 4th Fireworks NYC Viewing Options:
Park South Hotel – July 4th reviews, 'The rooftop patio was an amazing bonus and we had a great view of the fireworks' and '…for added pleasure the Roof bar was fabulous we watched the fireworks' (photo above)
Dumont NYC – July 4th reviews, 'What an amazing experience viewing the show from my room on the 33rd floor.' and 'We were able to see the 4th of July Fireworks from our hotel room!' and 'We were with our 3 boys and requested the telescope and a high floor to see the fireworks. They were very accommodating and gave us a corner room on the 31st floor. We could see the East River and downtown'
Discount Rates: Dumont NYC
Compare Rates: Dumont NYC
150 East 34th St, NY, NY 10016 (Kips Bay/Midtown East)
Residence Inn New York Manhattan/Central Park – 'we were given a room on the 64th floor! Looking out of the window the Rockefeller building was in front of us, Times Square to the right and Central Park to the left. We even watched the 4th of July fireworks from our room'
July 4th Fireworks Boat Cruise & Hotel Vacation Package – Book your July 4th day as part of a July 4th Fireworks Hotel Package or separately. Fill your entire day with hosted July 4th festivities
The Standard, East Village – July 4th reviews, 'The Hotel itself is a gem with wonderful views of south Manhattan. July 4th fireworks were easily seen. The Restaurants are excellent – a definite NY vibe less pretentious than Standard Highline. I gladly recommend this gem' and "wanted a room with a view of the East River, so we could see fireworks. She went beyond to find us the PERFECT room"
Hotel Indigo – 'The room was large, and had a great view towards the east and the south, giving wonderful views of the July 4th fireworks. The hotel is in the heart of things, with the bars and restaurants of the LES all a short walk way.'
Hotel on Rivington – offers panoramic city and East River views from their spectacular Penthouse roofdeck. Their Fireworks Party offers a luxurious July 4th experience with live DJ, open bar and a prime view of the East River fireworks in one of NYC's hippest neighborhoods! Enjoy 360 degree breathtaking panoramic views of downtown, midtown, uptown Manhattan, Brooklyn, and beyond!
Back to Top of July 4th in New York City, Back to NYC July Events
July 4th Fireworks Boat Cruises
Enjoy the fireworks over the East River with your choice of NYC Boat Cruises. As mentioned above, I think the BEST view of the fireworks is from the water. Plus, it doesn't matter where the fireworks are – you'll always have a front row spot! Book your seat on a variety of private, upscale and family-friendly parties, with on-board DJ's to get you dancing the night away, plus food and drinks.
Classic Harbor July 4th Fireworks Cruises
Best for Adults Only
Classic Harbor cruises offers a choice of at least 5 different July 4th Fireworks cruises. All five of Classic Harbor's cruises are Ages 21+ and generally range around $400-$500 per ticket. Each cruise or sail will have some light fare and an open bar for you to enjoy. Highlights of the 5 boat options:
Manhattan II – largest, most spacious and luxurious vessel. The glassed in, climate-controlled cabin and open bow offers guests plenty of room to walk around and enjoy the different views of the harbor and fireworks show. This is the most elegant of the cruises and has the most food.
Yacht Manhattan – a smaller version of Manhattan II, still with an elegant feel, drinks served in real glasses, crew walks around with hors d' oeuvres.
Schooner America 2.0 Sailboat – more laid back than the Yachts, heavy passed hors d'oeuvres. Guests tend to find a seat and hang out for the duration of the cruise, while the crew comes to them for beverage service.
Schooner Adirondack Sailboat – similar to above, slightly lighter food fair.
Yacht Kingston – smallest and most intimate of the vessels, an enclosed cabin with large windows as well as an open bow. Light hors d' oeuvres served.
Back to Top of July 4th in New York City, Back to NYC July Events
July 4th Family-Friendly Fireworks Cruises
Family Friendly Festive Boat with Bar Light Food
4th of July Fireworks Cruise
Back to Top July 4th in New York City, NYC July Events
July 4th Fireworks BBQ, Boat Cruise and NYC Tour – FULL DAY!
Book your July 4th day as part of a July 4th Fireworks Hotel Package or separately. Fill your entire day with hosted July 4th festivities:
More Info: July 4th BBQ, Tour and evening Fireworks Cruise.
Start your 4th of July NYC with BBQ Over Broadway from 1pm until 3:30pm on the Supernova Restaurant's outdoor terrace. Continue with a guided tour of historical Manhattan and finish your holiday with the World Yacht Duchess cruise with buffet dinner and open bar. The 4th of July NYC fireworks BBQ Day ALWAYS sells out, so don't get left behind!
Back to Top of July 4th in New York City, Back to NYC July Events
NY Yankees vs. Atlanta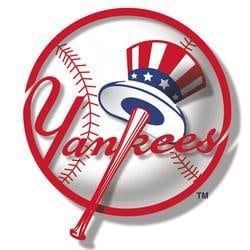 What better way to celebrate Independence Day than with America's favorite pastime, an old-fashioned hot dog and beer? Don't miss the NY Yankees take on Atlanta while the Mets are away in Toronto for the weekend.
July 4th in New York City – Attractions
Many New York City Tourist Attractions are open 365 days per year, although some with limited hours. July 4th may be a great day to try and see some of the more popular attractions as many people will be celebrating the holiday.
July 4th in New York City – Open Attractions
Save BIG on July 4th with a Discount New York City Pass!
Get savings coupons and find the best New York City Pass Discounts for your July 4th in New York City.
Back to Top of July 4th in New York City, Back to NYC July Events
NYC Insider Print Map and Guide to Manhattan
This guide is incredible! I wish I had found it months ago. I like that it has suggested locations (shopping, restaurants and things to do) in each neighborhood. I can plan out days in each area and have activities, lunch, and maybe even dinner while in that area. Thank you so much – you have done an outstanding job covering everything – all in one reference! - Cindy (November 2017)
Download over 100 pages of NYC maps, information and recommendations in less than 5 minutes! Our NYC Insider Printable Map Guide Book, Travel Planner and Bonus Map Guides include organized, easy to follow, color coded guides, detailed maps of every neighborhood, weekly chart of Free Museum Days and Times and free weekly neighborhood tours, Best of NYC Categories and lists by ALL native New Yorkers. Download everything you need to know NYC Like a Pro and make the most of your NYC vacation.
L-O-V-E this guide! It's well thought out, easy to read and easy to follow with a very sensible layout. I can tell whomever wrote this put a heck of a lot of thought into every section. Thanks so much for this awesome book. This is going to make this our best NYC trip by far. --Brenda, PA
Back to Top of July 4th in New York City
---
New York City Hotels with Pools
While a few of our hotels with pools are family-friendly, most are adult party zones with skyline views, cocktails, private cabanas and summer long pool parties. We highlight more than 10 family-friendly and adults-only hotel pools, many with day-pass availability for NYC locals.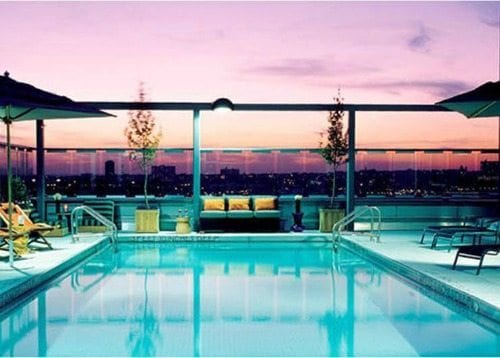 See More: New York City Hotels with Pools
Back to Top of July 4th in New York City
NYC Hotels with Free Bicycles
If had to pick my FAVORITE way to explore NYC, it would be on bicycle! Don't miss out on your choice of NYC hotels with free bicycles, allowing you to explore hidden nooks of NYC you can't see any other way. Some of our top value picks include:
See the Insider Guide for dozens more NYC Hotels with Free Bicycles.
Back to Top of July 4th in New York City
Madame Tussauds Ghostbusters Experience
From the eerie underground tracks of the NYC subway to the basement of a haunted mansion to Ghostbusters Headquarters to the streets of Times Square, brace yourself for several spooks and even catch a ride on Ecto-2. The Ghostbusters Experience is a multi-layered and sensory environment immersing you into a fantastical and spirited world, inspired by the 2016 film.
Back to Top of July 4th in New York City, Back to NYC July Events
July 4th Broadway Shows NYC 2018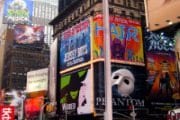 Back to Top of July 4th in New York City, Back to NYC July Events
41st Annual Macy's 4th of July Fireworks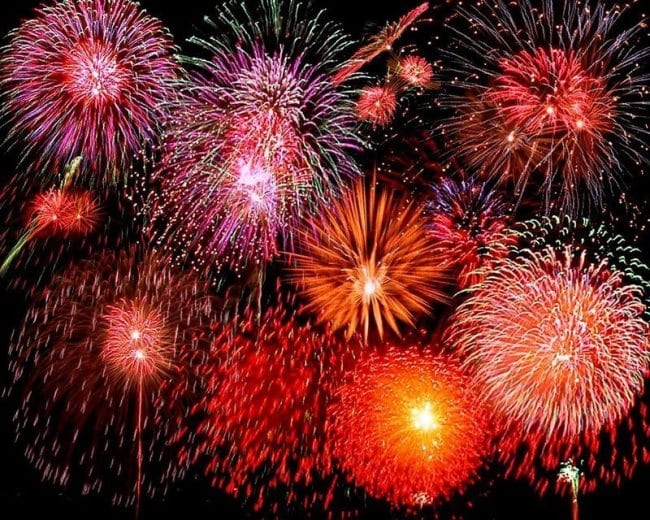 Tuesday, July 4, 2017, 9:00pm
Television Perfomances:
Independence Day spectators from coast-to-coast can catch all the action by tuning to NBC's two-hour national broadcast of Macy's 4th of July Fireworks Spectacular beginning at 8:00 PM ET (check local listings). In addition to the pyrotechnic splendor, the 4th of July's most popular entertainment special will feature performances from the nation's hottest musical acts.
Back to Top of July 4th in New York City, Back to NYC July Events
Macy's 4th of July NYC 2017 Fireworks Viewing Spots and Barges
View the Fireworks Live Over the East River from anywhere in Manhattan with an unobstructed view of the East River from 24th to 41st Streets. Please do not try and view the fireworks over the Brooklyn Bridge, although you will be able to view them FROM the Brooklyn Bridge.
The public viewing sections will be the elevated portions of FDR Drive with the following entry points:
From Houston to Midtown – Houston, 23rd, 34th, 42nd
ADA viewing area (please confirm): FDR Drive Southbound Lane at 16th St & Avenue C or 34th Street
For Brooklyn and Queens locations and other spectator tips, see Macy's.
Back to Top of July 4th in New York City, Back to NYC July Events
2017 Macy's Fireworks Updates
2017 Update: The following hotels only provided views of the Brooklyn Bridge Fireworks and will not provide views in 2017.
Millenium Hilton – here's what one reviewer had to say about his July 4th stay: 'The hotel is right across from the Macy's July 4th Fireworks…We were on a higher floor (40+) in an "01" corner room… and out our east windows, we had a fabulous view of the Brooklyn Bridge, the East River and Long Island.'
New York Marriott Downtown – July 4th reviews, 'Came to see the Macy's fireworks display on July 4th….short walk from this hotel to the Brooklyn Bridge… I had a corner room with an awesome view of Ellis Island' and 'We braved the crowds at the fireworks but if your room faces the bridge and is high enough up, you could see them right from your room!'
Trump SoHo – "They made sure I had a view of the east river so we could see the Fourth of July fireworks. I will definitely be staying there again." and "so very helpful in situating us in the best room possible to view the 4th of july fireworks and a tremendous view of the Empire State Building"
Best Western Plus Seaport – 'balcony has an excellent view of the city and we had a good spot to watch the fireworks' and 'location was perfect for celebrating the 4th of July! There were bands and a street fair all around the hotel and the view of the fireworks was great! We were in room 308 and could see the show and hear the music!'
See More: July 4th Fireworks Hotels New York City
Z Hotel Long Island City – Join Z Hotel for their family-friendly all inclusive Red, White and View Package, including food, drinks with KILLER views of the Fireworks and Brooklyn Bridge!
The Ides Rooftop Bar at the Wythe Hotel -The Ides will open at 7:30pm for a ticketed entry ($25) for access to the bar and fireworks display at 9:00pm. Fill up while they grill house-made sausages, along with german potato salad which will be available to accompany cold beers and sparkling rosé (all for purchase).
Restaurants Pending 2017 Updates
July 4th NYC Visitor Questions
Can I watch the fireworks from Central Park?
Not that I know of. There is no vantage point high enough from which to view the fireworks on the East River.
Can Trump SoHo see the see 4th of July fireworks?
Yes, the Trump SoHo hotel offers some rooms with fireworks views. I'm not sure if you can see them from the rooftop pool, so please check with the hotel. See Trump Soho Reviews above.
Can You See the Macy's fireworks from Weehawken?
No. The current Mayor, DeBlasio, has moved the Fireworks back to the East Side of NY, so more New Yorkers can see them, including those in Queens and Brooklyn. I've heard "the fireworks are for New York, not Jersey." However, I hear New Jersey does have their own fireworks display which may be an option.
Back to Top of July 4th in New York City, Back to NYC July Events
Rooftop Restaurants with July 4th Fireworks Parties:
(pending 2018 updates)
Riverview Restaurant & Lounge – Long Island City
Riverview, which has one the best Manhattan skyline views, especially of the Brooklyn Bridge and East River (probably all of the fireworks), is offering standard open bar and a four-star buffet from 6-9 pm and top-shelf open bar 6-10pm for $170 per guest (plus tax & tip). After the fireworks, at 10 pm, get dancing with a DJ and cash bar. More info: www.riverviewny.com
NYC Insider Tip: Back in the 90s, when the fireworks were launched from the same barges as those that will be from 23rd to 37th Streets this year, I worked on the 71st Floor of the Empire State Building, and we had FANTASTIC VIEWS of the fireworks.
Who Does NOT Have a View of the Fireworks?
In researching some other posts online, I was wary of the information NON New Yorkers were providing, such as, "to see NYC fireworks this year, the restaurant or upper floors of the Andaz Wall Street would be a good option." – thepointsguy
This is completely incorrect as the Andaz Hotel Rooms do NOT have views of the Brooklyn Bridge (BB), and the restaurant is on the ground floor, with about 100 buildings between it and the BB. The hotel is about a 15 minute walk from the BB, but you will not see the fireworks from the hotel.
Another old (and now incorrect) article – Best Hotels to View New York City Fireworks. I've tried to email USA Today to tell them, but their form doesn't work.
Back to Top of July 4th in New York City, Back to NYC July Events
Back to Top of July 4th in New York City
Hornblower July 4th Fireworks Cruises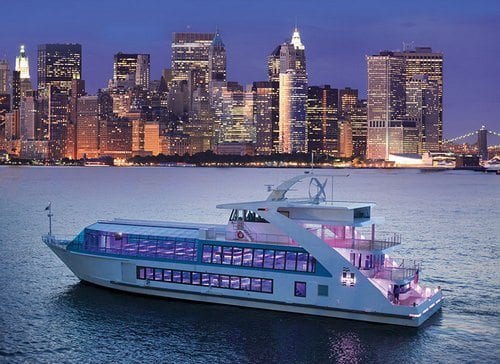 Hornblower, one of the most popular NYC cruise lines offers a choice of July 4th cruises in 2017 aboard The Hybrid (photo) or The Espirit. All cruises include prime views of fireworks from the East River, food and open bar, DJs and dancing, as well as indoor and outdoor space on the boats.
All July 4th Cruises are GUARANTEED to sell out before the end of June, and price jumps will happen in May and June. Early birds ALWAYS get the best pricing.
Special NYC Insider Discount – by using our links below, you will save $5 off any cruise ticket. Discounts will be reflected after adding tickets to your cart. You can read more about the July 4th Cruises at hornblowernewyork.com, but to get your discount, please use links below to purchase.
July 4th Fireworks Boat Cruises 2017
Admiral's July 4th Fireworks Cruise (SOLD OUT) or Nautical July 4th Fireworks Cruise (family-friendly) – 5 hour cruise includes passed appetizers, American picnic-style buffet, premium open bar, cruise-style seating, live DJ, after-dinner dancing, and soda, juice, coffee, and tea. Sail on the upscale Luxury Hybrid Yacht (photo above – Nautical cruise is Lower/Main Deck only, Admiral's includes Upper Deck/Atrium). Board @ 6pm, Cruise 7-11:30pm. Casual attire.
Premier July 4th Cruise (21+ only) – step up your July 4th game in 2017, grab your spots on the luxury Hornblower Esprit Yacht and enjoy your prime view of the fireworks while the Moët & Chandon bubbles are flowing. This exclusive luxury cruise includes a six-course gourmet dinner, top shelf open bar and wine pairings, entertainment and individual seating. 21+ only. Cocktail attire. Board @ 6:30 pm, Cruise 7-11 pm.
Video: Hornblower July 4th Family Fireworks Cruise