NYC Insider Top Picks by Month – New York City Events Calendar
Our New York City events calendar highlights the BEST of NYC's annual holiday celebrations, parades, festivals, shopping and sample sales and much more. Many of these New York City events are not in your tourist guides or the lobby of your hotel (really cool things don't get advertised, they are published and spread by word of mouth). However, NYC events are easily found online, in our local magazines and papers, spread by word of mouth and in dozens of email lists, some very secret.
I actually already gave away some of my secrets by showing you my favorite New York City Sites. Since I regularly read all these lists and sites, here are the top New York City Event choices by month. I hope they will keep you from scouring the internet, because, if you're like me, you don't want to spend more time planning your vacation than actually being on it!
Add YOUR event to the New York City Events Calendar
NYC Annual Special Events and Holidays
New York City Event Calendar
January Events & Holidays Calendar
February Events & Holidays Calendar
March Events Calendar and Holidays
April Events & Holidays Calendar
May Events Calendar and Holidays
June Events & Holidays Calendar
July Events Calendar and Holidays
August Events & Holidays Calendar
September Events Calendar and Holidays
October Events & Holidays Calendar
November Events Calendar and Holidays
December Events Calendar and Holidays
Back to Top of New York City Events
Tell Us About Your Event or Business!
Event Promotion (Free) – apply for inclusion on NYC Insider Guide and get listed on this page. Subject to editor discretion.
Featured Events
Back to Top of New York City Events
User Submitted Events
May New York City Events
Poker Ball Fundraiser 2020
May 2, 2020
This annual fundraiser for the Alliance for Decision Education is hosted by Annie Duke, a World Series of Poker Champion and Alliance for Decision Education co-founder. This black-tie event will feature a poker tournament and instruction by Annie Duke, in addition to a buffet dinner, open bar, music, and other entertainment. The event has been very successful in its first three years with 200 to 250 guests each year, as well as over 30 sponsors and over $900,000 raised in total.
Poker Ball 2020 will be held on May 2, 2020 at 6:00pm at Cipriani 25 Broadway (25 Broadway, New York, NY 10004). Cipriani 25 Broadway is easily accessible by subway (1, 4, 5, R, W, J) and bus.
Check out the Poker Ball webpage (https://alliancefordecisioneducation.org/get-involved/poker-ball) for more information about tickets, sponsorships, and more, as it becomes available!
March New York City Events
Speakers Who Dare: Broadway Meets TEDx
Tuesday March 24, 2020
Act I 10am – 12pm / Act II 2pm – 4pm
Hear the world's most daring speakers give voice to cutting edge ideas that disrupt the status quo. This two-Act show promises a fresh format of courageous expression mixed with theatrical entertainment. With 22 speakers and a blow-the-roof-off lineup of New York City entertainers, this event is an experience you don't want to miss. Each speaker is sharing a daring idea with the potential for global impact. They are saying what we are thinking and invite you to join the conversation so that together we can redefine what's possible for ourselves and the world.
The Triad Theater, 158 W 72nd St, New York City (near Amsterdam Ave; take subway 1,2,3 to 72nd St station)
December New York City Events
Verena sings Marlene … and other movie & Broadway hits
Friday, Dec 6th '19. – 7 pm (1 Set only)
Verena sings Marlene … and other movie & Broadway hits of the 30's & 40's. Actress and vocalist Verena McBee will take her audience on a trip down Memory Lane at Pangea, Friday December 6, performing favorites from her theater days in Germany—songs sung by Marlene Dietrich, Zarah Leander, the Comedian Harmonists, and the Andrew Sisters, plus classics by Kurt Weill and Bertolt Brecht and others.
Pangea: 178 Second Avenue (betw. 11th & 12th Streets), New York City
Back to Top of New York City Events
November New York City Events
Boogie Wonder Band Concert
Friday November 29, 2019, Doors 6:30PM Show 8PM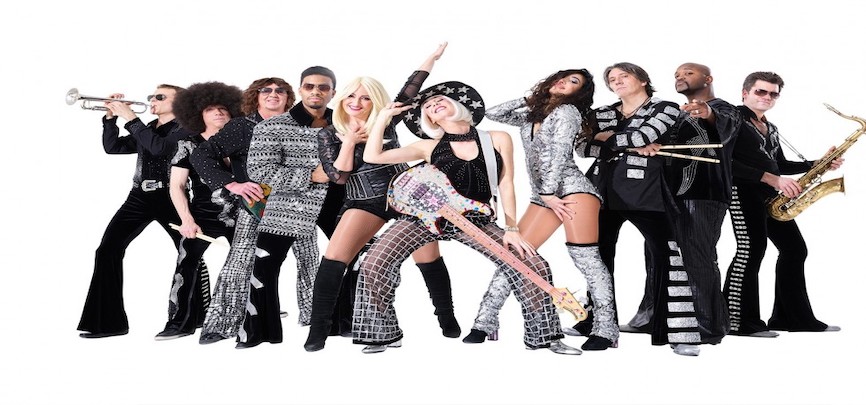 Boogie Wonder Band Concert. If we didn't know better, we'd say that the Boogie Wonder Band, arrived via a time machine because this 10-piece band busts out funk-a-licious grooves and disco-strutting jams like they are straight out of the '70s. Channeling the era with a full throttle high-octane live show, each member dons eye-popping Las Vegas-inspired costumes and flashy personas. They don't just hail from another land; they come from another decade – where Disco ruled the dance floors!
The Cutting Room 44 E. 32nd St. New York (212) 691-1900
Back to Top of New York City Events
October New York City Events
2019 IIE Centennial Gala
October 30, 2019
On Wednesday, Oct. 30 from 6 to 10 p.m., the Institute of International Education will be holding its IIE Centennial Gala: 100 Years of Transforming Lives at The Pierre (2 East 61st Street &, 5th Ave, New York, NY 10065). Martin Lipton will be receiving the IIE Stephen P. Duggan Award for Mutual Understanding and will be joined by Kenneth Langone, and Larry Silverstein for a special conversation moderated by Maria Bartiromo. For more information, sponsorship opportunities and tickets, please contact Ellin Delsener at (212) 245-6570 or email [email protected] or visit www.iie.org/gala.
Back to Top of New York City Events
The Marvelous Mr. Marzo Musical Cabaret
October – December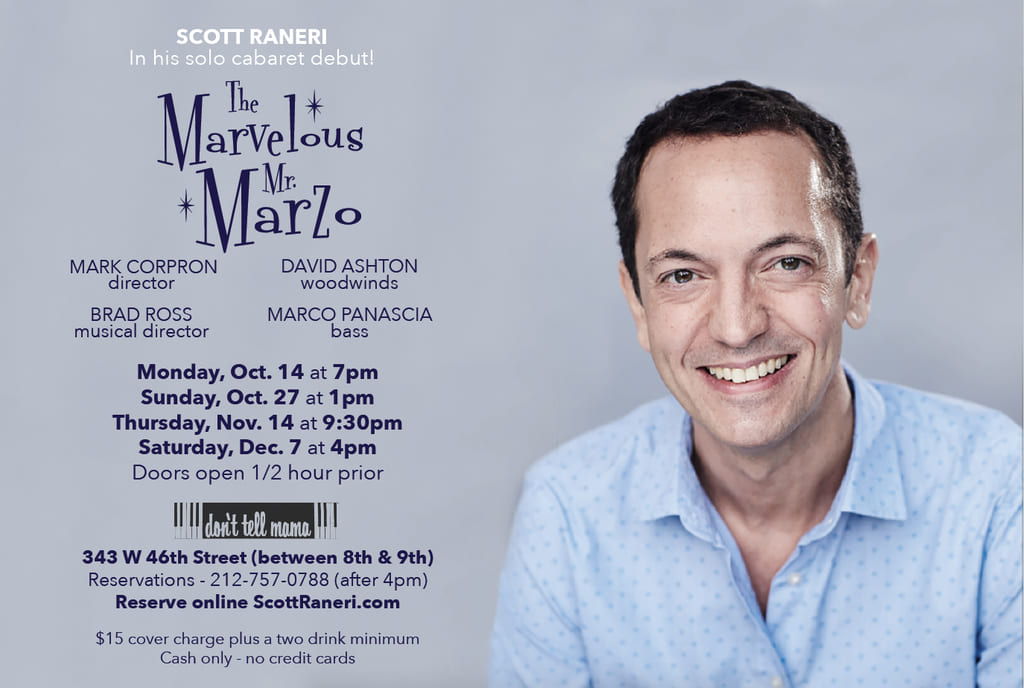 The Marvelous Mr. Marzo will feature songs by Stephen Sondheim, Cy Coleman, Peggy Lee, Andre Previn, Amanda McBroom, David Friedman, Fred Barton, and more. The cabaret is written by Joey Virgo and directed by Mark Corpron, with musical director Brad Ross on piano, David Ashton on woodwinds, Marco Panascia on bass and orchestrations by Ben Morris.
There is a $15 cover charge plus 2-drink minimum per person (cash only). Make reservations at www.ScottRaneri.com or call 212-757-0788 after 4 pm.
The Marvelous Mr. Marzo
Monday, October 14 at 7pm
Sunday, October 27 at 1pm
Thursday, November 14 at 9:30pm
Saturday, December 7 at 1pm
at Don't Tell Mama, 343 W 46th Street, New York, NY 10036 (between 8th & 9th)
Back to Top of New York City Events
Exhibit of Long Lost Fashion Photographs from the 80s/90s
Sept 5, 2019-Jan 20, 2020
An extraordinary collection of long lost 1980s-1990s fashion photographs found on a New York sidewalk. The exhibition showcases the history of fashion in New York and is presented in the ZAZ10TS lobby gallery of the iconic building that served as home to the prominent designers featured in the photos.
It features captivating runway images of the fashion stars and supermodels of the era, including Anna Sui, Donna Karan, Liz Claiborne, Ralph Lauren, Marc Jacobs, Perry Ellis, Isaac Mizrahi, Anne Klein, Geoffrey Beene, Adrienne Vittadini, Kate Moss, Cindy Crawford, Naomi Campbell, Linda Evangelista, Christy Turlington, Helena Christensen and more.
10 Times Square: New York Fashion Rediscovered 1982-1997 is located at 1441 Broadway, NYC 10018 (between 40th-41st St). For more information visit www.zaz10ts.com
Back to Top of New York City Events 2019
The Glass Menagerie Off Broadway at Wild Project
October 3-20, 2019
Ruth Stage, a professional not for profit theater company, is thrilled to present a chilling new take on Tennessee Williams' seminal play, THE GLASS MENAGERIE, directed by Austin Pendleton and Peter Bloch. After two critically acclaimed runs in 2018 of Wars of the Roses, directors Austin Pendleton and Peter Bloch reunite with actor Matt de Rogatis to take on the American classic, The Glass Menagerie. In this disquieting production, the tormented Tom (de Rogatis) relives the story of his time in the Wingfields St. Louis apartment, circa 1939, as if he were remembering it through the lens of a spooky dream.
Wild Project 195 East 3rd Street NY NY 10009 Co-directed by Two Time Tony Nominee Austin Pendleton and featuring Ginger Grace as Amanda Wingfield and Matt de Rogatis as Tom Wingfield. Visit www.theglassmenagerieplay.com for more information!
Back to Top of New York City Events
September New York City Events
MED Festival NYC
September 5-8, 2019
Over four days from the September 5-8, 2019 we'll be getting NYC excited about medicine through a diverse program of experiences, exhibitions, talks and activities. From behind the scenes tours of hospitals and specifically curated exhibitions, to talks from world experts and hands-on technology demonstrations – there's something for all ages and interests.
Learn about the impact of contagious disease at the Tenement Museum. Enjoy a night of comedy from Doctors Without Boundaries, History of Medicine Highlights of the New York Academy of Medicine's Rare Book Room. Behind-the-Scenes Hard Hat Tour of Ellis Island's Abandoned Hospital. Free first aid and CPR training. Join a tour of the state-of-the-art Lenox Health Greenwich Village. Walk Through the Fascinating Medical History of Roosevelt Island.
Identità Golose New York 2019
September 23-25 , 2019
Ten of the most iconic chefs from across the globe come together at Eataly Flatiron for the not-to-be-missed tenth anniversary U.S. edition of Identità Golose, the acclaimed international chefs' forum. These all-stars will present the latest culinary trends in a three-day convention that — get ready — is open to the public.
That's right, you can learn (and taste) from the world's best in five culinary seminars and a one-of-a-kind dine-around dinner. Among the 2019 edition participants are Massimo Bottura, Missy Robbins, Carlo Cracco, Karime Lopez, Anthony Mangieri, Fortunato Nicotra, Melissa J. Rodriguez, Antonia Klugmann, Petra Antolini and Ana Roš.
Eataly New York is located at 200 Fifth Avenue, with entrances on 23rd Street and Fifth Avenue
Back to Top of New York City Events 2019
August New York City Events
Citi Taste of Tennis NYC
August 22, 2019
Citi Taste of Tennis offers foodies and tennis fans an evening of signature cuisine prepared by top chefs paired with some of the world's best tennis players. Guests will enjoy an unforgettable evening sampling fine food, sipping signature cocktails and fine wines, and mingling with their favorite tennis players.
Along with great music, the event features a 360-degree photo booth, an exciting cooking demonstration, past Citi Taste of Tennis players and chefs, and a number of other surprises.

Thursday, August 22, 2019 from 7:00 – 10:00pm
Citi Taste of Tennis
Cipriani's 42nd Street
110 E 42nd St,
New York, NY 10017
A portion of the proceeds raised benefit New York Junior Tennis and Learning. Tickets to the event are $300 and include unlimited food and drink throughout the evening. Citi clients are eligible to receive a 15 percent discount on general admission tickets. Group discounts are also available. For more information and to purchase tickets, please visit www.tasteoftennis.com/nyc/ and be sure to follow #CitiTasteofTennis on social media for updates.
Back to Top of New York City Events
July New York City Events
The Russian Arts Theater and Studio
July 5 – 15, 2019
This July, The Russian Arts Theater and Studio presents two gripping love stories by Russian émigré writers: Nobel Prize winner Ivan Bunin and the lesser-known yet captivating Nina Berberova. Driven to exile following the revolution, former Russian aristocrats now find themselves isolated as new immigrants in Paris. Their new lives are spent battling sickness, searching for affordable apartments and waiting in pawn shops, Ivan Bunin's In Paris tells the brief and bittersweet encounter of an ex-general of the old imperial army and Olga Alexandrovna, a young woman now working as a waitress in a Russian restaurant.
Upon a chance meeting, they momentarily find a sense of home in each other's arms. In Nina Berberova's raw and searing The Waiter And The Slut, Tania Shabunina longs to find a wealthy man to take care of her, only to attract a former lieutenant now working as a waiter at an upscale restaurant. Living bitterly among ghosts of her past, Tania soon grows to hate her lover as her dream of "Parisian happiness' seem farther and farther out of reach.
Wednesdays to Sundays at 8PM
Saturday matinee at 2PM

The Russian Arts Theater and Studio
165 W86th Street Pushkin Hall
New York, NY 10024
www.russiantheater.org
Back to Top of New York City Events
June New York City Events
Queer Liberation March
June 30, 2019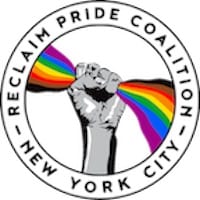 The Queer Liberation March is a people's political march – no corporate floats, and no police in our march. We honor the powerful legacy of the Stonewall Rebellion by highlighting the most marginalized members of our community, as we commit to addressing the ongoing struggles that we face. On June 30th, retracing the steps of the original Christopher Street Liberation Day March of 1970, the Reclaim Pride Coalition will gather in Sheridan Square and begin the march at 9:30 am. We will proceed up 6th Avenue and have a midpoint gathering in Bryant Park at 11:00 am, where supporters are welcome to meet up before joining the march. The march will end with a Rally in Central Park's Great Lawn (West 85th Street) at 1 p.m.
Housing Works Hosts A Feast for the Books
Wednesday, June 12 from 6 to 9 p.m
Housing Works Bookstore Cafe
The event will feature unlimited tasting dishes from local, all-star chefs including Agatha Kulag of Ovenly, Sheryl Heefner of Superiority Burger, Richard Ho of Ho Foods, Scott Tacinelli and Angie Rito of Don Angie, Melissa J. Rodriquez of Del Posto, and Chintan Pandya of Adda Indian Canteen.
Food Network Celebrity Chef Alex Guarnaschelli and the Standard International Hotel Group's Creative Director of Food and Culture Angela Dimayuga will host the annual culinary event, which proceeds will support Housing Works' lifesaving services and supportive housing.
The festive evening will offer unlimited tastings of chef dishes and beverages provided by Gay Beer, Greenport Harbor Brewing Co. and Broadbent Selections.
A limited number of VIP tickets are available, which allow guests to meet and greet with both chefs and hosts and be among the first to taste chef-prepared dishes from 6 to 7 p.m. The event will open to General Admission ticket holders from 7 to 9 p.m. Both VIP and General Admission tickets are available for purchase: afeastforthebooks2019.splashthat.com
The Musical Improv Circuit Show
June 1, 8, 15, 2019, 10:30 PM – 11:30pm
Free Event
Magnet Theater Main Stage
254 West 29th St (btwn 7th and 8th Ave.)
New York City, NY 10001
Box Office (212) 244-8824
The Circuit features improv ensembles made-up of both Magnet students and veteran Magnet performers. Every week, three Musical Circuit teams hit the stage with a brand new improvised musical. Magnet exists to grow and nurture a community of great improvisers, writers, actors and storytellers united by their love of the work: making smart, original and brilliantly funny comedy.
Improv Comedy: Real Housewives Episode
May 16 @ 9:30pm, June 7 @ 7pm, July 5 @ 7pm, August 2 @ 7pm
At the Improvised Real Housewives Episode, a fabulous collection of UCB and PIT performers will create an episode of Real Housewives before your eyes. Using just an audience suggestion, these wig-wearing, high-heeled thespians will recreate all the drama, taglines, and confessionals that you'd expect from this classy AF franchise. Before you know it, friendships will be tested, wigs will be snatched, and face will be served. The show will also include a reunion where "Andy Cohen" gathers the Housewives after the episode to ask them triggering questions and reopen new wounds. The audience will be invited to ask the Housewives questions as well.
The Peoples Improv Theater, 123 E 24th Street, New York, NY 10010 (b/t Park & Lex; take 6 train to 23rd or R/W to 23rd)
May New York City Events
2019 Annual Texas Chili Cook-Off (and Queso) Fundraiser
May 18th, 1pm-6pm
2019 Texas Chili Cook Off
Boat Basin (W 76th Street)
The Texas Chili Cook-Off is an annual event hosted by the Texas Exes New York (University of Texas at Austin alumni group in New York). All proceeds from the event benefit our scholarship endeavors. Amateur and restaurant teams make chili and guests and professional judges choose a winner. Attendees not only enjoy chili and queso, Shiner Beer and Tito's Vodka but also live music by Ben Cina, a DJ, and more!
Classic Jazz Record DJ at Slowly Shirley
May 15 and every other Wednesday thereafter from 7 til Midnight
Hot Club NY at Slowly Shirley
121 W. 10th St. (between 6th Ave. and Greenwich St.)
Enjoy an evening's listening from the crown jewels from the Fat Cat Mat Rivera's extensive collection of 78rpm Jazz records. The Fat Cat presents the most stomping, rip-roaring 78s from the Jazz Age, Swing Era, and BeBop revolution. These records, some extremely rare, are up tempo, red hot dance tunes that will have you on your feet! You'll hear them from supreme original pressings on the Fat Cat's world-class unique 78rpm playback system. The Fat Cat Matthew Rivera is a young record collector and student of Jazz radio host Phil Schaap. His collection and knowledge of Jazz heritage makes for unique shows of early Jazz music played in its best possible sound from a vintage tube amp and Swiss belt drive turntables.
NYCxDesign's NoMad Design District Night
Friday, May 17, 2019
Kick off NYCxDesign's "NoMad Design District Night" on May 17th with a cocktail party at 277 Fifth Avenue. The event will feature champagne, passed sweets and a lively Q&A between international architect Jeffrey Beers and Brittany Chevalier, Editor of Luxe Interiors + Design. The Q&A will be followed by tours of 277 Fifth Avenue's model residences, designed by Jeffrey Beers International. Architecture by Rafael Viñoly. This event is part of NoMad Design District Night, an evening of celebrations when the community of international designers, architects, artists and artisans open up their design showrooms for enthusiasts to check out the high-level design and art on display.
5pm: Event begins
5:15pm: Q&A begins
6-7pm: tours of model residences
Address: 277 Fifth Avenue (enter on E. 30th St.)
Improv Comedy: Real Housewives Episode – May 16
Back to Top of New York City Events
Back to Top of New York City Events