There are New York City Coupons and Discounts available for almost everything one can do in NYC, except for a few exclusive events, shows and restaurants. NYC Insider Guide reveals ALL our local steals and deals…
Whether you are just visiting NYC for a few days, or live here, this is a snapshot of the many available New York City Coupons. Since many of these deals are available in your home town, consider signing up free with these coupon programs for your home city as well. Keep reading for details on each program, as each works differently, or just sign up for my top choices in each category…
Groupon – Daily New York City Coupons
It's like getting anything in NYC for HALF OFF! Almost everyone I know uses Groupon – it's great!
Return to Top of New York City Coupons
YELP Deals - Save All Year Round
Always thought Yelp was just for reviews? (I did). But I just found out they offer 1000s of deals every day - you just need to know how to look. Just look for what you want (I searched Restaurants in Manhattan below - but you can try Sushi in Times Square) and get your results. Then - and here's the trick - in that "Features" column, make sure to click the "Offering a Deal" box..and ta-da...Yelp Deals just for you!

Ticket Liquidator Monthly Special
Return to Top of New York City Coupons
TicketsNow Coupon
Return to Top of New York City Coupons
Classic Harbor Line Boat Cruises
Sail Manhattan on one of three classic yachts — the Schooner Adirondack and the Schooner America 2.0 (sailboats), and the Luxury Yacht Manhattan or Manhattan II ( motorized yacht) on an amazing variety of cruises.
More Info: Classic Harbor Line
New York City Luxury Discounts
Return to Top of New York City Coupons
How to Save on Hotels in New York City
How to Save on NYC Restaurants and Food
Read More: How to Save on New York City Restaurants and Food
FatWallet Does the Work for You
You can also use their coupons on just about ANY online purchase (EBay, Amazon, Sephora, etc), so it's much cheaper than just about any other online or in store purchase out there! Go ahead, check out FatWallet NYC Coupons today.
Return to Top of New York City Coupons
NYC Attraction Discounts and Coupons
If seeing a lot of attractions and taking tours, such as the Empire State Building, Top of the Rock, Museums, Walking Tours, NBC Studio or TV Spot tours is on your agenda, then definitely check into a NYC Sightseeing Pass. There are three main passes in NYC and each works differently and offers different values. Read the NYC Insider Guide to New York Passes.
Now is THE Time Buy Your NYC Pass!
Towards the end of February or early March is the time of year when all the NY Passes have figured out the new attraction and tour prices for the year - and that is when they will announce their price increases. So buy your NY Pass (all are good for a year from purchase) while they still have last year's pricing!!!
See All: Compare All NYC Passes - Download our FREE side by side Comparison Chart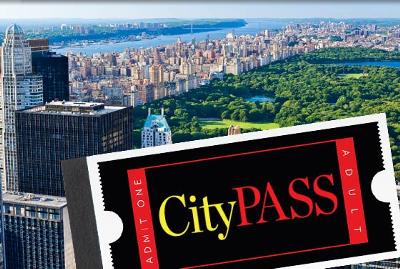 Return to Top of New York City Coupons
Gilt Groupe
How it Works: Every day, sometimes more than once per day, Gilte Group offers tons of top designer items at huge discounts. They usually email in the morning to let you what is going on sale at 12:00 pm EST (NYC Time). There are limited quantities of each item, but if you get them in your member cart early, they are all yours – score! Join the Gilt Groupe free.
Return to Top of New York City Coupons
Visiting New York on a Budget
Return to Top of New York City Coupons
New York City Coupons at NYC Visitor Centers
There are two Visitor Centers in NYC with hundreds of New York City Coupons and they are worth a visit, especially if you are staying near Midtown or Times Square. The New York City coupons are good for discount Broadway tickets, discount tours, discounts off attraction prices, coupons for bus tours, private tours, bike tours, museums, admission prices and hundreds of other things to do in NYC. The two centers are about a five minute walk apart. There are also free maps, guides, tour books and employed staff who can answer all of your questions!!
Official NYC Information Center
810 Seventh Ave
(West side, between 52nd and 53rd Sts)
New York, NY 10019
Hours: M-Fr 8:30am – 6pm, Sat-Sun 9am – 3pm, check for holiday hours
Torino (formerly Maison Brasserie), right across the street, NW corner of 53rd and 7th Ave, is a good spot for lunch, brunch, cocktails and the outside patio during warmer months is a especially fun for people watching.
Times Square Information Center
7th Avenue – East side b/w 46th and 47th Sts
New York, NY 10019
Hours: M-Fr 9am to 7pm, and Sat-Sun 8am to 8pm.
Join their free tour every Friday at Noon for "Times Square Exposé" a free, behind-the-scenes walking tour of Times Square. Visit historic theatres, new sites, and the best of the neighborhood during this walking tour through the Crossroads of the World.
More New York City Coupons:
Google Offers, Amazon Local
Return to Top of New York City Coupons
Recent New York City Coupons
Return to Top of New York City Coupons