Best Ways to Get to NYC from LGA, JFK and EWR
Upon arriving in New York, you can use NYC Limos, public transit, taxi, carshare or shuttle to get to Manhattan. There is no one best choice for everyone, as it depends on your budget, luggage amount, timing, number of people in your party and the time of day.
NYC Limos Discount Codes
NYC Uber and UberPool - Save $5 Coupon
Read More: NYC Limos, Taxis, Shuttles, Car Services
Back to Top of NYC Limos
NYC Limos
A popular and well-liked NYC Town Car Service company is Carmel.
Back to Top of NYC Limos
New York City Airport Shuttles
One advantage of shuttles is you do not have to pay tolls or round trip fares.
Airport Shuttle Buses charge per person, while taxis and NYC Limos are one rate for up to 4 people (or more for larger limos). However, shuttle and van services vary when it comes to taking you door to door, and many will drop you off (or pick you up) only at a central Manhattan location. Some offer another complimentary car that will transfer you to your stop. Some will not and you can walk, take the subway or hail a taxi that will likely be around $10.
Back to Top of NYC Limos
New York City Taxis
Before you book your flight, note the large cost difference of taxi travel to and from Newark, New Jersey (EWR) in the chart below. Flights to New York are not that cheap when they charge you round trip tolls and a $17.50 fee just to leave NYC and enter New Jersey. Since a New York City Taxi is not allowed to pick up a return fare at Newark Airport, you are charged the returns tolls and an extra fee. I highly recommend New York City Limos, Airlink Shuttle or the PATH train for outbound travel to Newark Airport.
You may download either of the official NYC taxi apps: Curb and Waave, and use them both at the airport and anywhere in the City. Get $5 off your first Curb ride with code p59t71.
Flying to/from JFK at a busy time? No worries, the taxi is a flat fare no matter how long you are in the car or to where in Manhattan you travel.
LGA – approx $40 metered rate each way, up to 4 people
JFK – approx $70 flat rate each way, up to 4 people
EWR – approx $95 metered rate inbound, extra fees outbound, 4 ppl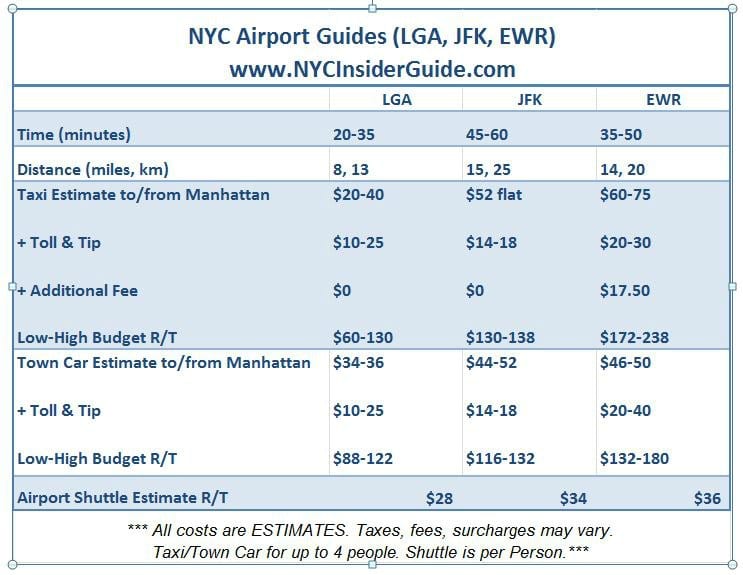 Back to Top of NYC Limos
NYC Airport Guides - LGA, JFK, EWR
Our detailed NYC Airport Guides go in-depth on everything you need to know about each airport. Free shuttles, nearby hotels, Stay & Fly Free Parking, Taxis, Limos, Shuttles, Parking, Cheap Flights and more.
Reader Questions About NYC Limos
Back to Top of NYC Limos
Book Your NYC Limos and Car Services
Back to Top of NYC Limos
How to Talk to a Driver – Tourist vs. New Yorker
Drivers of both taxis and NYC Limos will know how to get to most hotels in Manhattan. However, if you really want to sound like a New Yorker and not a tourist, know your Cross Streets. When you get in to the car, make sure to say, "Park Central Hotel. 56th and 7th, please" and not "Park Central Hotel, 870 Seventh Avenue."
Addresses are a dead give away you are a visitor. It likely won't make any difference in price or service and the drivers are generally honest, so this is just for your information.
Back to Top of NYC Limos
Taking the Subway from NYC Airports
For more information than you will ever need on NYC Airports and every last detail on transportation options, see (Unofficial) NYC Subway Guide and the (Official) NYC Taxi and Limousine Commission. If you choose to take public transit (buses, shuttles, subways), which include several transfers and often carrying your luggage up and down stairs, you can get into NYC from LGA for $7.75, and JFK or EWR for under $10, and the above sites will show you how to do just that.
Let's move on to New York City Coupons for when you arrive in NYC.
Back to Top of NYC Limos
Follow NYC Insider Guide: