Safe and Fun NYC Things to Do
Open in NYC: 9-11 Memorial, The Highline, Top of the Rock, Empire State Building, Edge, The Bronx Zoo, Liberty Island, in-person Sample Sales. MoMA, The Met, Natural History, Madame Tussauds and much more.
Secrets to Half Price NYC Theater Tickets
New York Broadway Shows comprise some of the best plays and musicals in the world. To be a NYC Broadway Show, a show must run in one of roughly 40 theaters considered Broadway houses, and only these NYC Broadway shows are eligible for Tony Awards. Already know what show you want to see and looking for a discount? Not sure what's best for kids? Want to see which Broadway Shows are starring Celebrities? Read on…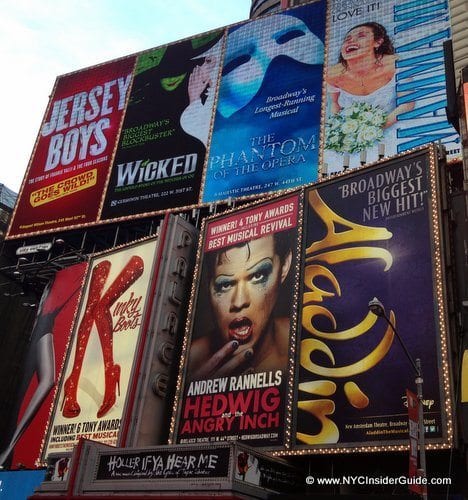 Play or Musical? What's best for kids? What shows are previewing soon? Check out Broadway Shows by category and see which celebrities are starring in NYC, best for kids, best musicals, TONY award winners, newest shows, sneak previews of what's coming soon and more.
Back to Top of New York Broadway Shows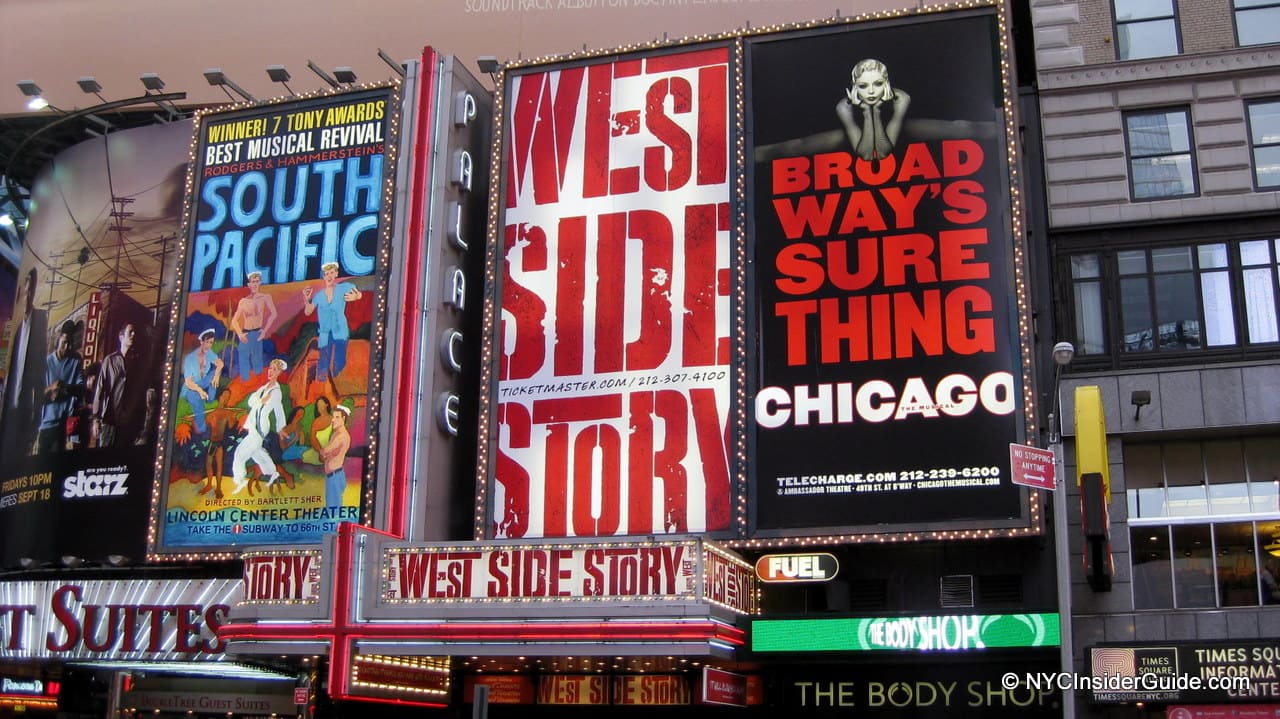 Discover all the Broadway Shows playing now with reviews and links to discount and half price tickets. The list of New York City Broadway Shows offers reviews, synopses and show summaries, ticket discounts, theater information, categories, and more.
Back to Top of New York Broadway Shows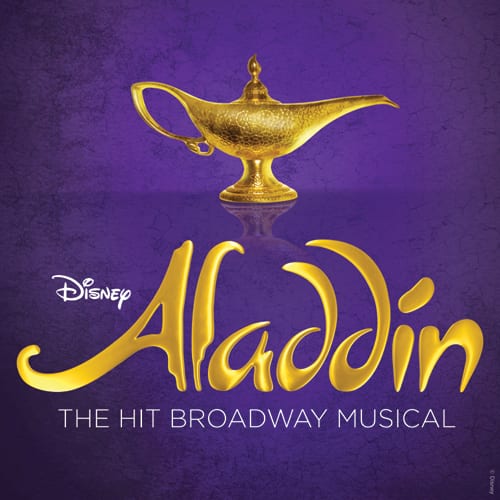 NYC always has an amazing selection of kids shows, like Aladdin, Lion King, Wicked, Harry Potter, Frozen and more. Shows for kids tend to be just as much fun for adults, with grander sets and costumes, spectacular singing and choreography and overall, a very classic "Broadway" feel to them. Check out our top picks for the best Broadway shows for your kids, tweens and teens.
Back to Top of New York Broadway Shows
I'm going to let you in on a New York Insider Broadway Tip… a real New Yorker knows never to underestimate the entertainment value of an Off Broadway Show! Famous Broadway Shows that got their start Off Broadway include Hamilton, RENT, A Chorus Line, HAIR, Avenue Q, In the Heights and Little Shop of Horrors.
Back to Top of New York Broadway Shows
New York City Broadway Week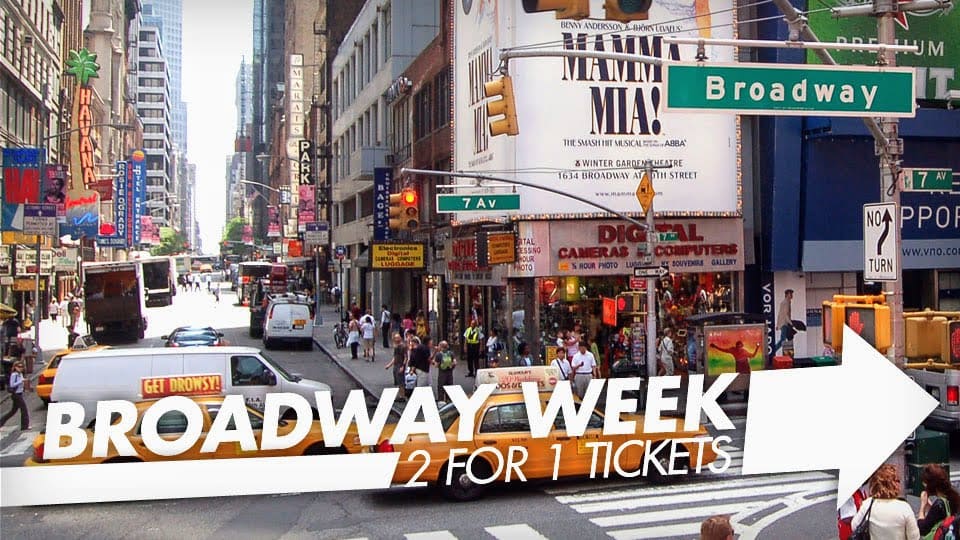 Twice a year, Broadway Week offers two-for-one tickets to some of the City's hottest Broadway shows including Aladdin, Book of Mormon, Frozen, Harry Potter, Lion King, Mean Girls, Tootsie, Wicked and many more. Check out New York City Broadway Week in January/February or August/September to see if you can score Buy One Get One Free Tickets. Certain terms and conditions may apply. Tickets are subject to availability. "NYC Broadway Week℠" is a service mark of NYC & Company, Inc., and is the original and official Broadway Week.
Back to Top of New York Broadway Shows
Broadway Shows for Kids – FREE!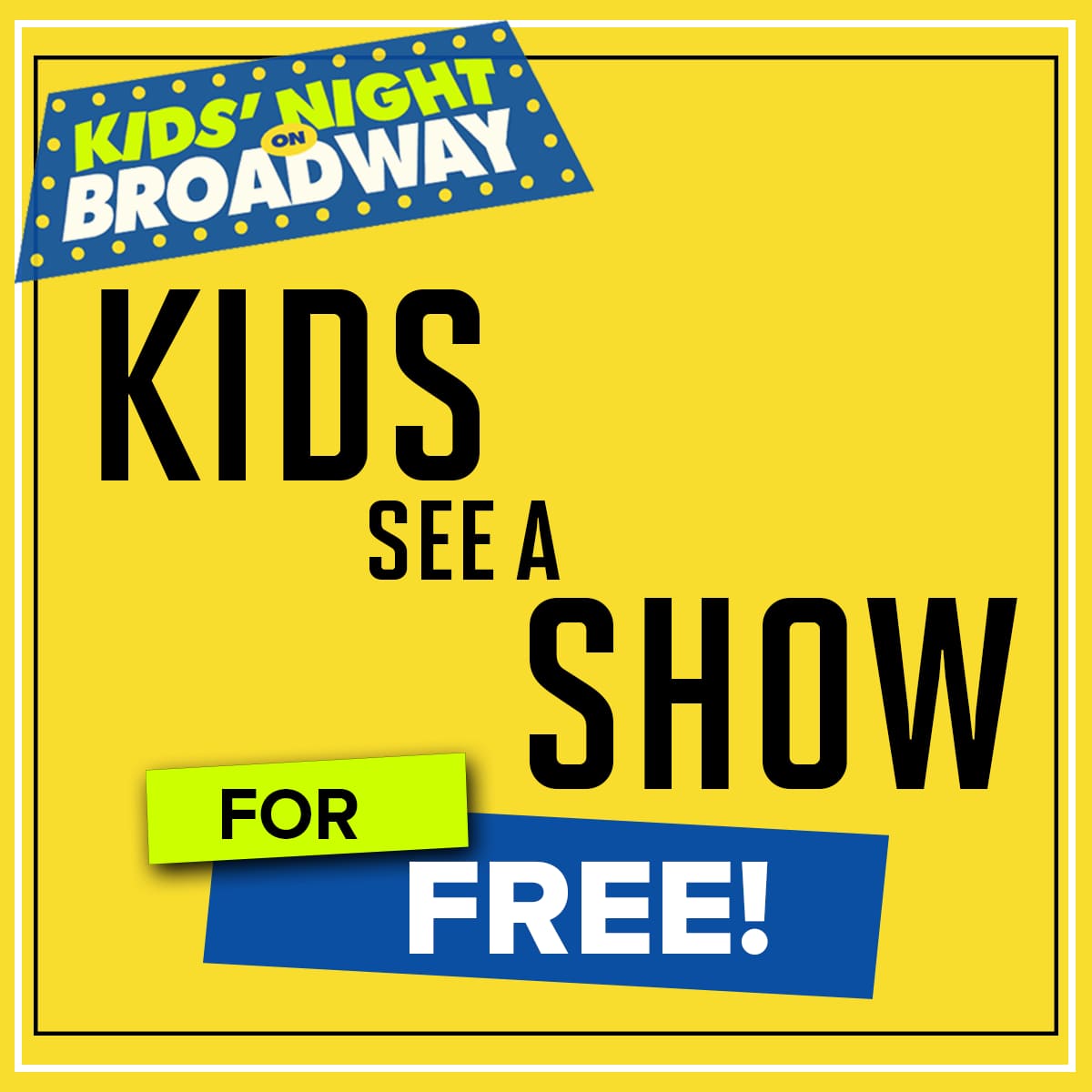 Every Jan/Feb, Kids (ages 6-18) go FREE in NYC!
Kids Night on Broadway (KNOB) let's kids go FREE to over 20 Broadway shows, when accompanied by a full-paying adult. Kids dine free at many Times Square restaurants, and parents get discounted parking rates.
Back to Top of New York Broadway Shows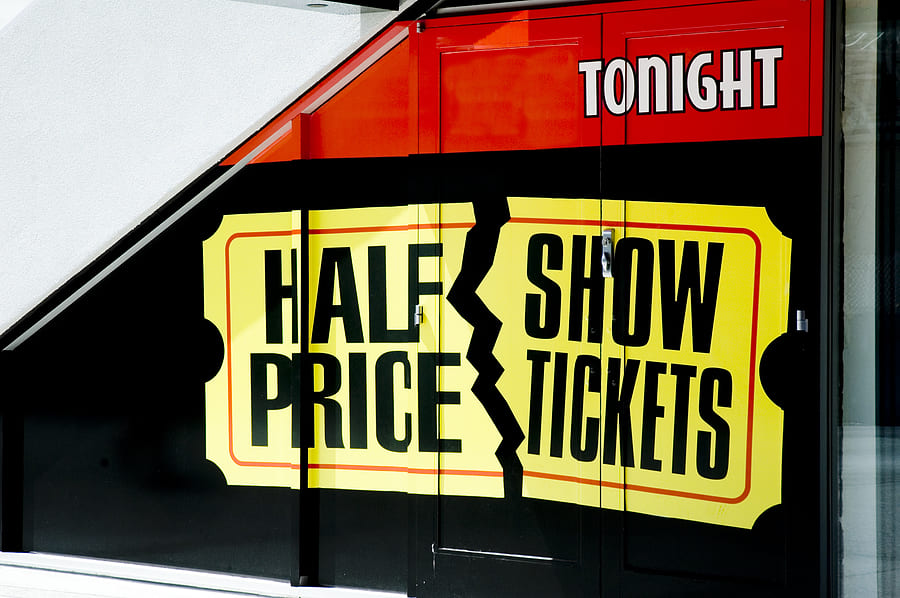 Getting half price Broadway and theater tickets is easy, you just have to know where to look. Discounts depend on the show popularity, how important seeing the show is to you and how much time you might spend on line during your NYC vacation and some other choices. Here are all our local secrets to getting Half Price Broadway Tickets
Back to Top of New York Broadway Shows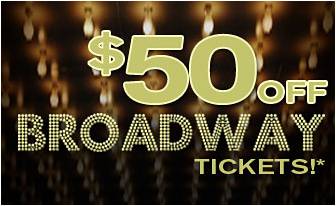 Discount Broadway Tickets New York
There are always dozens of online Discount Broadway Tickets New York available to both locals and visitors. I do my best to maintain a partial list of online discount codes for advance discount Broadway tickets as well as my best tips for all possible discount show tickets in New York City.
Back to Top of New York Broadway Shows
Some of My Favorite Broadway Tickets Sites
Buy Great Broadway Tickets Today!
Broadway Shows will resume no earlier than June 2021. Openings will be rolled over time, with different shows opening on different dates.
Top Picks for Broadway Tickets
Note: All of our ticket partners are legitimate, recommended ticket sellers and guaranteed to sell you official NYC Broadway tickets.
Back to Top of NYC Broadway Shows
NYC Insider Tip – Matinée or Evening Show?
NYC Broadway show evening performances start at 8pm and shows usually run 2.5-3 hours, so prepare to eat dinner either at 6:00 pm or 11:00 pm. Consider your day plans before you commit to a show time.
A matinée may just be the ideal time (it's my favorite), especially for kids. You may find it preferable to make the most of your morning and take in the sights, enjoy a leisurely lunch or picnic in Central Park, be in the show from 2:00 pm – 5:00 pm and get out in time for a cocktail, or to head back to your room to relax and shower before heading out for an amazing night on the town!
New York Broadway Shows – Schedules
For evening performances, New York Broadway Show tickets, on average, run $65-$125 for regular seating and $300 for premium seating. Sometimes a Matinée is less expensive and they are usually performed on Wednesday, Saturday and Sunday at 2:00pm. Most Broadway shows are "dark" (closed) on Monday nights. Children under the age of 4 are generally not permitted in theaters.
Playbill keeps a great list of weekly Broadway schedules.
NYC Insider Guide Broadway Show Reviews:
TKTS New York Broadway Shows
TKTS Discount Booths offer tickets to Broadway and Off-Broadway shows at up to 50% off. The Theater Development Fund (TDF) runs the program and operates three TKTS Discount Booths in New York: Times Square (Duffy Palace – Broadway and 47th St, see map), South Street Seaport and Downtown Brooklyn.

New York Broadway Theater District Map
All TKTS tickets are sold on the day of the NYC Broadway show (except some matinées sold the day before) and each booth keeps it's own hours. Be there at least an hour before the booths open to get the best seats to the best shows! Check TKTS to see which shows offered discount tickets last week, as they generally repeat, except on major holidays and peak tourist times.
If you're really out for a bargain and willing to wait until the last minute, check Broadway Rush and Standing Room Only Policies. You may luck out with $20 front row seats!
There are always coupons and discounts made available for New York Broadway Shows. Look for them at the Visitor Centers, in the airport, at your hotel, in Delis, supermarkets, emails and the paper. Never buy Broadway tickets from anyone on the street!
TKTS Times Square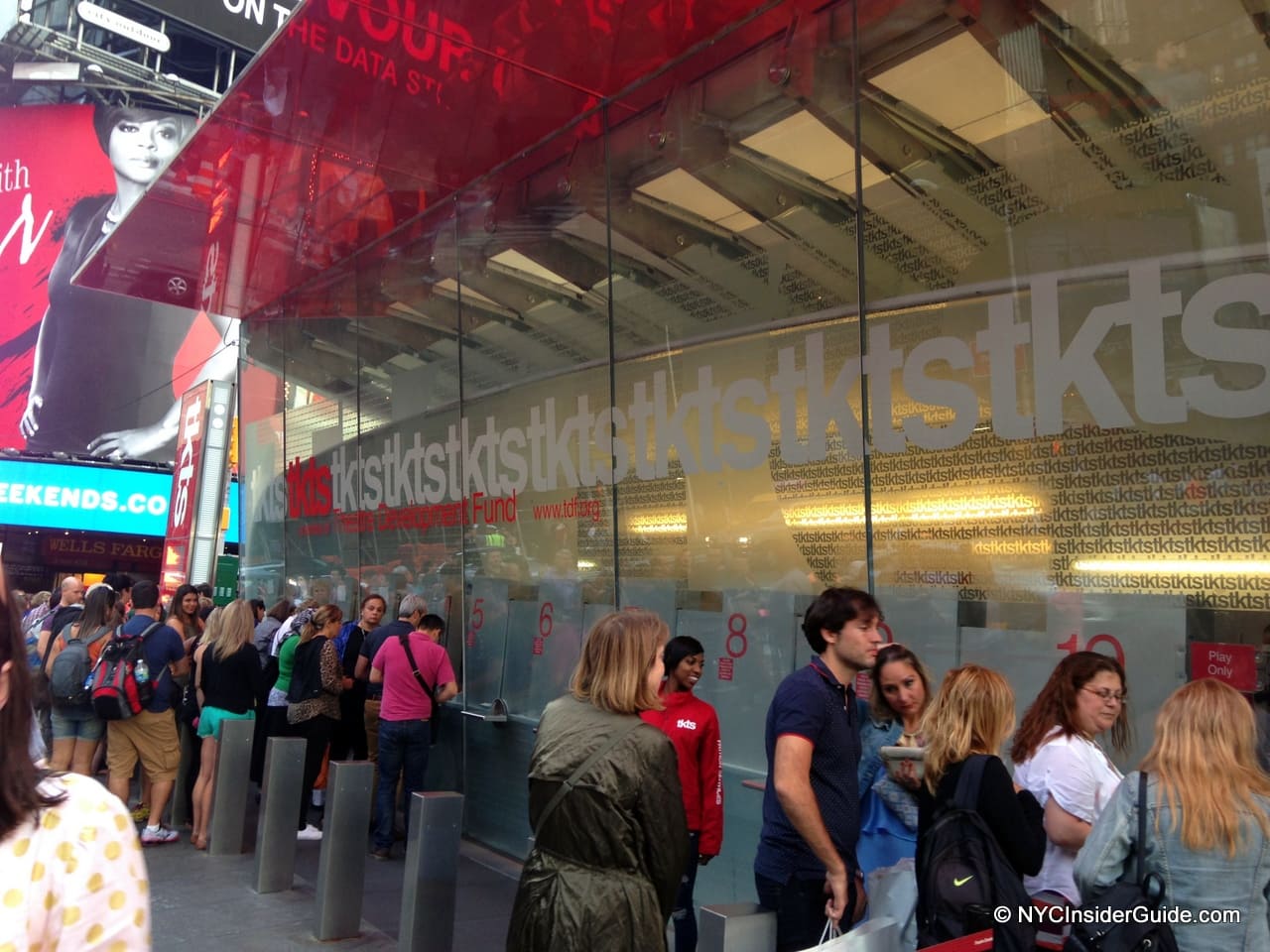 TKTS South Street Seaport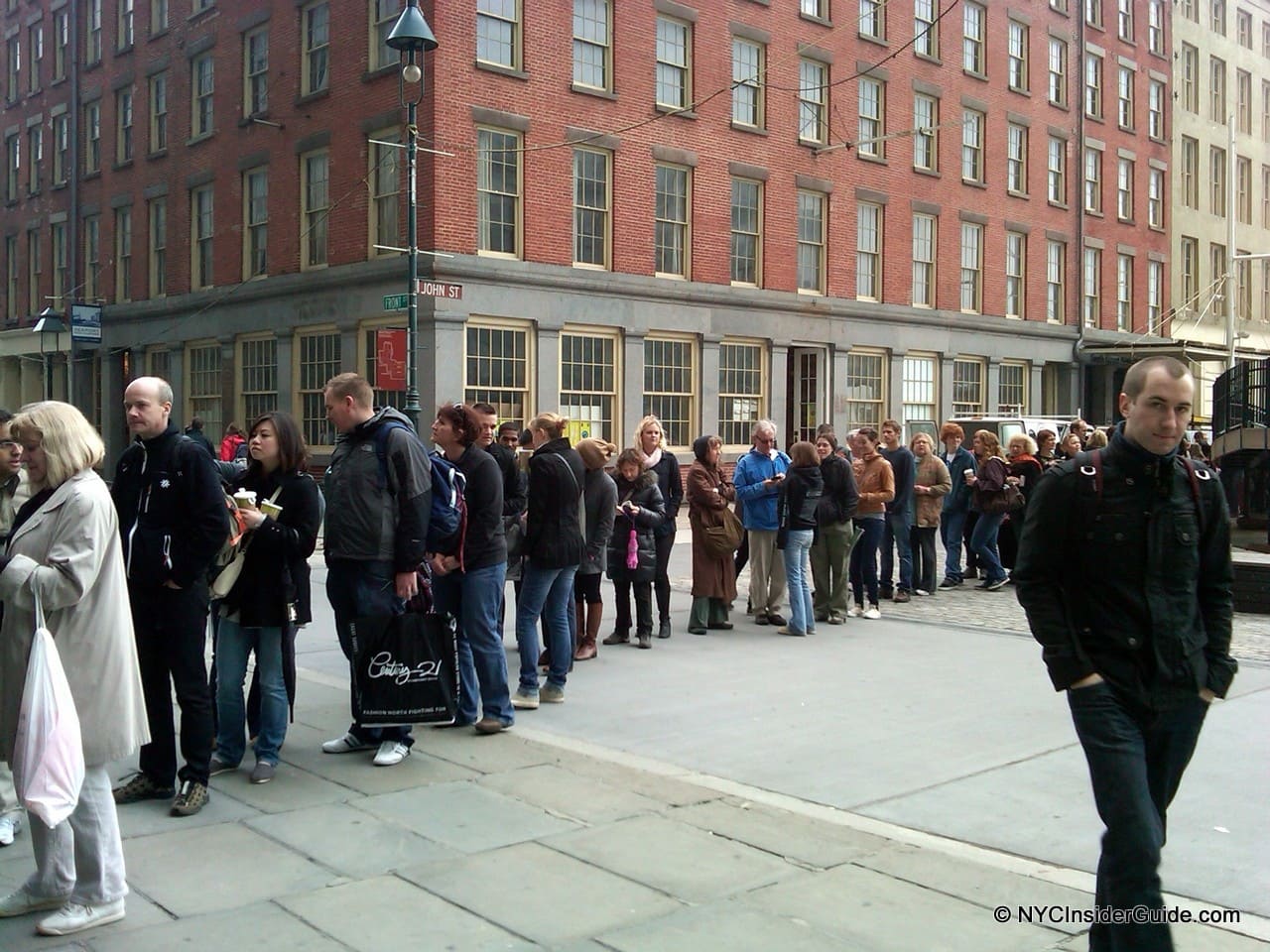 Back to Top of New York Broadway Shows
Broadway Ticket Websites
All Broadway shows sell their tickets directly through Ticketmaster or Telecharge, depending on the theater. However, seats are not always available and their sites often don't offer a lot of show information.
A very detailed site with all New York Broadway Shows and Off Broadway Shows is Broadway.com. They offer tons of reviews, show times, tickets, details, audience types and lots more.
Back to Top of New York Broadway Shows
Back to Top of New York Broadway Shows