2016 Winner of 11 Tony Awards! The HOTTEST Ticket in NYC!!!
Hamilton, the rap-and-hip-hop infused new musical about Alexander Hamilton, our most controversial founding father is an absolute MUST SEE show. This is THE most phenomenal musical to hit Broadway in years and is definitely going to sweep swept the Tony Awards in 2016 with 11 wins!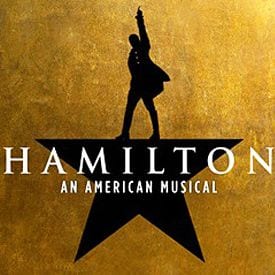 The show is already selling through November 2017, which is completely unheard of on Broadway. So, grab your tickets ASAP (ANY seat in the house is good – even if it says partially obstructed view, you won't miss anything).
Hamilton Ticket Options
Note: All of our ticket partners are legitimate, official, recommended ticket sellers and guaranteed to sell you official Hamilton tickets.
The New York Times reported in June 2016, "about 200 seats at every Hamilton performance — mostly in the center orchestra — will be sold for $849. The rest of the house … about 1,075 seats per show — will be sold for between $179 and $199."
Hamilton Broadway Musical Synopsis: 
From orphan, immigrant bastard to George Washington's top aide and first secretary of the Treasury, Hamilton rises to the top of the newborn government as he survives the country's first sex scandal. Politics, power, sex, scandal, history of NYC and America, immigration…all topics the show covers, quite deliciously.
Buy Great Broadway Tickets Today!
Hamilton Broadway Musical
Get Tickets: Hamilton Broadway Musical
Richard Rodgers Theatre Seating Chart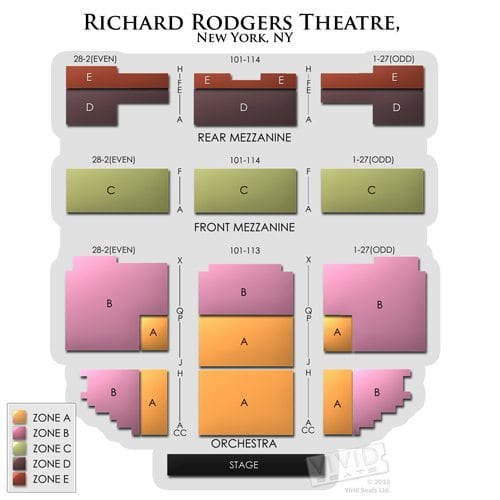 Get Tickets: Hamilton Broadway Musical
NYC Insider Guide Hamilton Review and Tips
Hamilton, hands down, is one of the best musicals I've seen in ages! The entire audience was enthralled and engaged for the whole show.
ANY seat in the house is good – even if it says partially obstructed view, you won't miss anything and there are great deals on those seats
The show is funny and modern, the lyrics are fast and furious. Some reviews even say too fast, but everyone I know loves them.
Hopefully you are far more versed in American History than I am (Mr. Christiansen, I am sorry I did not pay more attention in class). If not, read up a bit on Hamilton and our Founding Fathers. Even Wiki will do, but I wish I had put some effort into a refresher course to be more familiar with many of the main characters.
The musical, written by and starring Lin-Manuel Miranda, is inspired by the biography Alexander Hamilton, by Ron Chernow. If you really want to be prepared, read up!
My favorite character was King George III (Jonathan Groff, of GLEE!) whose main song throughout the show has a tune similar to old school Monkees song and lyrics such as…."and when push comes to shove, I will send a fully armed battalion to remind you of my love" (min 6:00 of the video)
Casting is color- and gender-blind, which means the entire show was cast based solely on talent! I am by no means prejudice, but it did take me a while to understand why George Washington was black or how women were in the army back then. Bottom line – ignore color, race and gender and focus on the incredible talent in this show. To quote Lin-Manuel Miranda, "This is the story of America then, told by America now. It looks like America now."
Get Tickets: Hamilton Broadway Musical
Upcoming Hamilton Broadway Musical Shows
Get Tickets: Hamilton Broadway Musical
Richard Rodgers Theatre, 226 W 46th Street, NY, NY 10036
2 hrs, 55 minutes, 1 intermission
Awards – Total of 11 Tony Award Wins in 2016, including Best Musical
Opened August 6, 2015 (after many years in development and Off Broadway, including a workshop at the White House for the Obama's in 2009)
Recommended for ages 12+
Ticket Lottery: $10 Tickets are available for all performances of Hamilton via both a live and digital lottery program. See www.hamiltonbroadway.com for ticket lottery details.
Get Tickets: Hamilton Broadway Musical