Broadway's Sultry and Sexy Musical Show
Chicago Broadway Musical is a brilliant tale of murder, greed, corruption, violence, exploitation, adultery and treachery. Paint the town red with merry murderesses Roxie Hart, Velma Kelly, their hotshot lawyer, Billy Flynn, and the iconic choreography of Bob Fosse.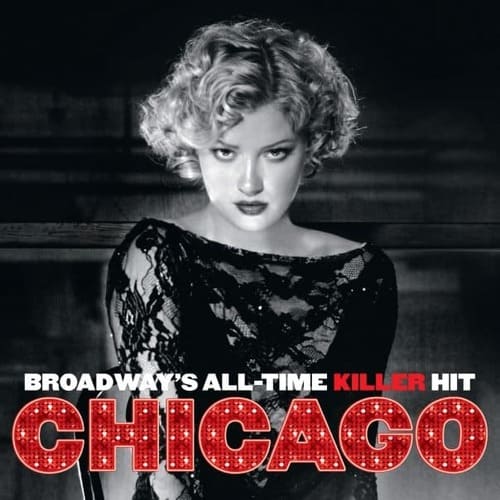 Chicago on Broadway Ticket Options
Note: All of our ticket partners are legitimate, official, recommended ticket sellers and guaranteed to sell you official tickets.
Chicago Synopsis: 
The show opens with Velma Kelly, bragging about how she just murdered her husband and her sister when she found them in bed together. She then welcomes the audience to tonight's show, All That Jazz, and the Chicago Broadway Musical fun begins!
Set in the legendary city during the roaring "jazz hot" 20s, Chicago Broadway Musical tells the story of two rival vaudevillian murderesses locked up in Cook County Jail. Nightclub star Velma's serving time for killing her husband and sister after finding the two in bed together. Driven chorus girl Roxie's been tossed in the joint for bumping off the lover she's been cheating on her husband with. Not one to rest on her laurels, Velma enlists the help of prison matron Mama Morton and slickster lawyer Billy Flynn, who turn Velma's incarceration into a murder-of-the-week media frenzy, thus preparing the world for a splashy showbiz comeback. But Roxie's got some of her own tricks up her sleeve…
Buy Great Broadway Tickets Today!
Watch the Video: CHICAGO BROADWAY MUSICAL
Get Tickets: Chicago Broadway Musical – Save over $25!
Ambassador Theatre Theatre Seating Chart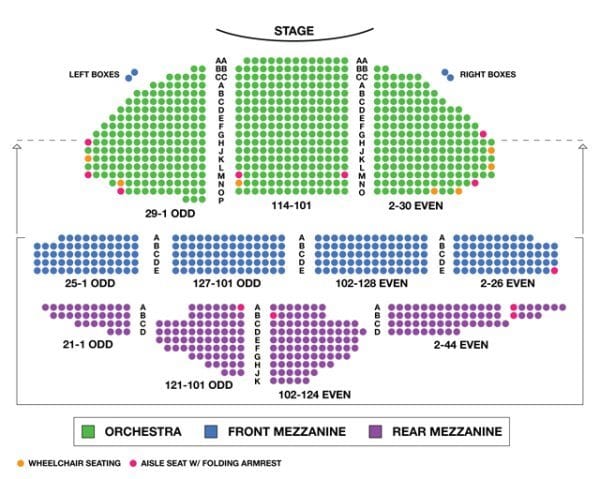 Get Tickets: Chicago Broadway Musical – Save over $25!
Chicago on Broadway Info
6 Tony Awards, Including Best Musical Revival
Ambassador Theatre, 219 West 49th Street
2hrs, 30mins, 1 intermission
Opened November 14, 1996
Longest-running American musical in Broadway history
Get Tickets: Chicago Broadway Musical – Save over $25!
NYC Insider Guide Chicago Review and Tips
The Chicago Broadway Musical, originally produced in 1975, was revived on Broadway in 1996. The show holds the record for the longest-running musical revival and the longest-running American musical in Broadway history. In 1997, Chicago was nominated for 8 Tony Awards and won SIX of them, including Best Revival of a Musical, Direction, Choreography, Costume Design and both leading roles.
You'll notice Chicago Broadway Musical did NOT win for best Best Scenic Design. While it was perfect for the show, it was a very simple set (see photo below). This is ONE SEXY SHOW that is all about the music, dance and story…not the the set or costume design. Chicago is really a tremendous show, which is pretty amazing, given how minimal all the elements are – the cast is so small, they announce everyone by name at the end of the show!
The Ambassador Theatre is pretty small, so any seat is good. The Orchestra (1st floor) only goes to Row O, and all the Mezzanine Seats are good as well.
After 17 years, Chicago Broadway Musical still entertained a packed house, although I do think I was the only New Yorker (possibly even American) in the theatre on a rainy Thursday night
Full Disclosure: One of my dear High School friends, Adam Pascal, performed the role of Billy Flynn and he TOTALLY ROCKED IT! The role has been played by dozens of people over the years as the cast is continually changing.
The Ambassador Theatre View from the Stage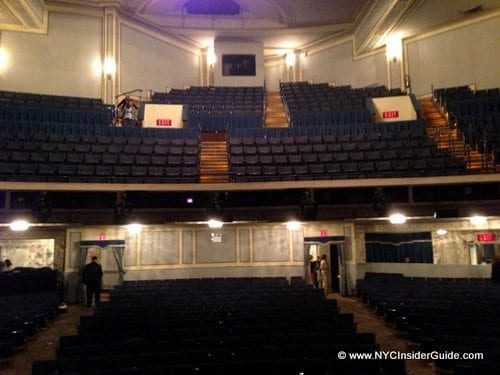 Melissa (your NYC Insider) Hanging with Adam Pascal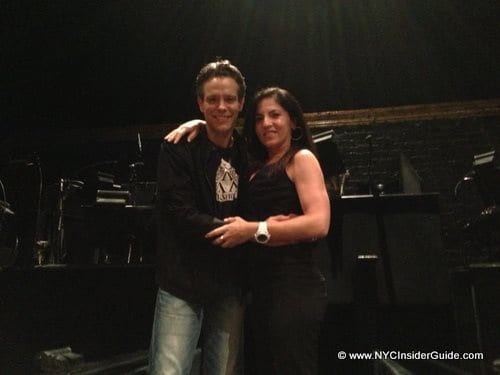 Get Tickets: Chicago Broadway Musical – Save over $25!
Home / List of NYC Broadway Shows / Chicago Broadway Musical