Ed Sheeran, Bruno Mars, Charlie Puth
The Today Show Summer Concert Series takes place mostly on Fridays from May to September. The 2017 lineup includes Charlie Puth, Ed Sheeran, Flo Rida, Brad Paisley, Bruno Mars, Tim McGraw and Faith Hill, New Kids on the Block, Zac Brown Band, Mary J. Blige, Miley Cyrus, Halsey, Shania Twain and more!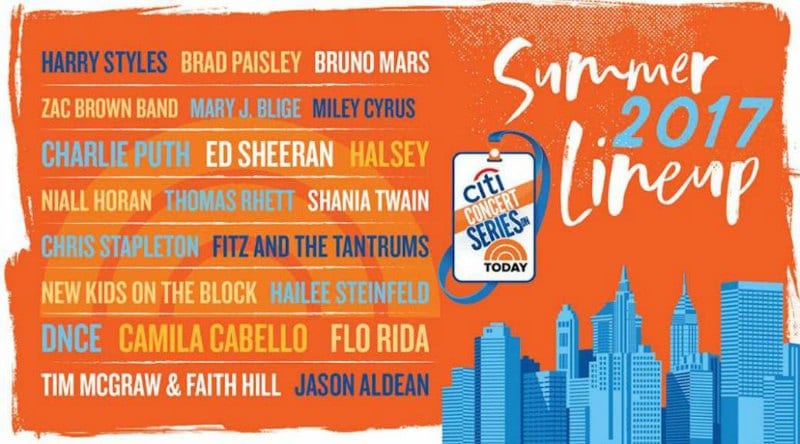 May 15 – August 25, 2017; Fridays (many variations)
49th Street and Rockefeller Plaza
Fans are encouraged to visit the plaza outside "Today's" Studio 1A for the performances. Viewing is on a first-come, first-served basis. Entrance is located at 48th Street and Rockefeller Plaza in New York City (See: Rockefeller Center Guide). To get the best spot, fans should try to arrive by 5 a.m. Generally, concerts happen rain or shine. Sign up for Today Show Newsletter to be eligible for Fan Passes.
TODAY Show Summer Concert Series Line Up 2017: 
MAY
9 – Harry Styles (Tuesday)
15 – New Kids on the Block (Monday)
16 – Zac Brown Band (Tuesday)
19 – Mary J. Blige
26 – Miley Cyrus
29 – Niall Horan
JUNE
2 – Thomas Rhett
9 – Halsey
16 – Shania Twain
30 – Charlie Puth
JULY
6 – Ed Sheeran
7 – Flo Rida
18 – Chris Stapleton
21 – DNCE
28 – Fitz and The Tantrums
AUGUST

4 – Brad Paisley
18 – Hailee Steinfeld
25 – Jason Aldean
TBD Dates: Bruno Mars, Tim McGraw and Faith Hill and Camila Cabello
Additional Today Show Summer Concert series performances may be announced throughout the season.
More Info: www.today.com/concertseries
How To Get a Fan Pass:  http://www.today.com/concertseries
Announced: May 8, 2017
Rockefeller Center Discount Passes
More Info: Visiting Rockefeller Center
Back to Top Today Show Summer Concert Series
Hotels Near Rockefeller Center
Rockefeller Center runs from 47th - 50th Streets, between 5th and 6th Aves. Download our free neighborhood maps at Midtown East Hotels and Midtown West Hotels
Back to Top Today Show Summer Concert Series
More Summer Concerts in NYC:
Summer Concert Series Schedules
(May - September)
June Concerts, Shows and Events
See All: NYC Concerts Shows June
Back to Top of NYC Concerts Calendar
July New York City Shows and Concerts
See All: NYC Concerts Shows July
Back to Top of NYC Concerts Calendar
August NYC Concerts and Shows
See All: NYC Concerts Shows August
Back to Top of NYC Concerts
September NYC Concerts and Events
Back to Top of NYC Concerts