Why We LOVE Boutique Hotels in New York City
Why do New Yorkers love New York City boutique hotels? Because we are known for appreciating all things unique, intimate, luxurious, artistic, and sometimes, even quirky (free goldfish during your stay?)
When a New Yorker goes on a "staycation," we usually choose a New York City Boutique Hotel, known for their services, rooms, dining, amenities and many times, perks, such as free breakfast.
New York City Boutique Hotels – Midtown West
Beautiful private park, like a mini Central Park, with full cocktail bar, chaises, floor cushions, ivy on the walls. Heated in the winter. A bit further West than the other main hotels in this area and quieter.
356 W 58th St, Between 8th & 9th Aves, Midtown West
Located in Lincoln Center, guest quarters at the Empire Hotel offer earthy décor, leather furnishings, satellite television, room service, wireless Internet, and work stations. There is an onsite restaurant, cocktail bar and casual lounge, business and conference facilities, a rooftop swimming pool with with Cabana Rentals (May-September), spa services, and a fitness center.
See Also: Upper West Side, Midtown West
Royalton New York
Royalton New York is a super hip hotel right off Times Square appealing to a sophisticated crowd. The majority of rooms have 5 foot soaking tubs and fireplaces and the lobby is sleek and cozy with a huge bronze fireplace and leather sofas. 44, the restaurant, has been a trendy NYC hotspot for years.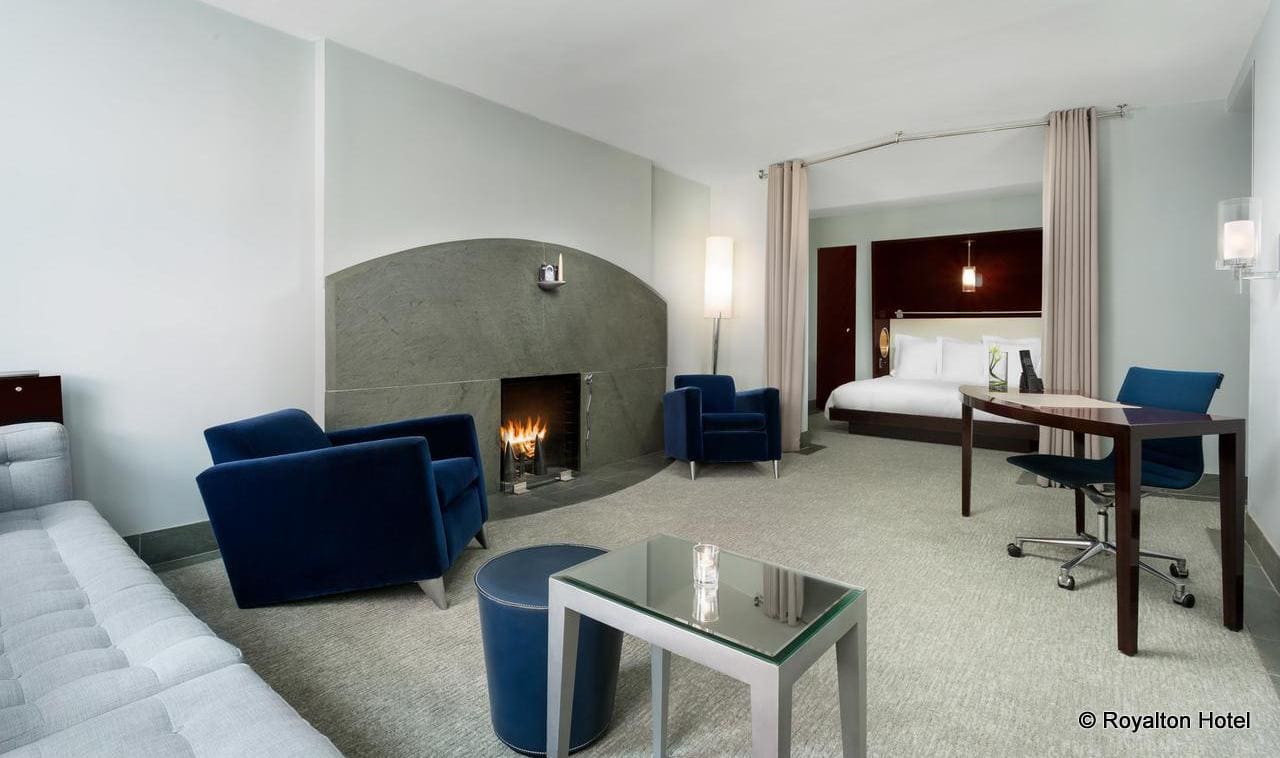 See Also: Midtown West
Back to Top of New York City Boutique Hotels
Boutique Hotels in Times Square
Some of our top boutique accommodation picks in Times Square include:
See Also: Times Square Hotels (Suite, Cheap, Budget, Apartment)
Back to Top of New York City Boutique Hotels
Boutique Hotels Garment District
Refinery Hotel
A top boutique Manhattan hotel, and prime location for viewing the Macy's Thanksgiving Day Parade with 20 rooms that overlook the parade route. The Refinery offers 197 Guest Rooms with elegant furnishings that build upon the hotel's industrial past. Each room has dark brushed oak hardwood floors, a walk-in rain shower and full entertainment facilities: Wi-Fi, iHome docking stations, LCD HD TVs and full cable.
63 West 38th St (between Fifth and Sixth Avenues)
Back to Top of New York City Boutique Hotels
Boutique Hotels in New York City
Greenwich Village | SoHo | NoHo | Lower East | E Village
Luxury, style, class, and a touch of old fashioned New York chic are standard in every guest room at the Soho Grand Hotel. Perks include free bicycles, wireless internet access, silk bedspreads, private CD libraries, 24 hour room service, business and fitness facilities. Check out the Grand Bar & Lounge (year round), The Yard (May-Sept) with outdoor chaise lounges, cocktails, beautiful trees and foliage.
310 W Bway, Grand/Canal, SoHo
The Mercer is Soho's foremost luxury hotel – offering 75 guest rooms on six floors of a landmark Romanesque revival building in one of New Yorks most exclusive neighborhoods. The first hotel to offer an authentic taste of loft living, the Mercer is both home and hotel and offers an extensive list of luxurious guest services.
The James New York
The modern and new James Hotel is packed with amenities including their lush Urban Garden, all-glass Sky Lobby and very exclusive rooftop deck and pool with river-to-river Manhattan views, rooftop yoga, free bicycles, a kids program and just about anything else you might want.
The Bowery Hotel consistently receives rave reviews and is a top choice for locals when they go on a "staycation." The lobby bar is a hip destination spot (saw Jake Gyllenhaal last time I was there) and the patio has leather club chairs and a fireplace in winter with an outdoor patio for summer.
See Also: East Village, Hotels with Free Bicycles
Boutique Hotels Lower East Side New York
The Lower East Side is a wonderfully ethnic, diverse, chic and cool neighborhood and serves as a shopping, dining and nightlife destination for many NYC locals. As a matter of fact, the folks who live in this neighborhood would probably prefer I didn't tell you about it. Whoops - sorry...
See More: Boutique Hotels Lower East Side New York
See Also: Lower East Side
Hotel on Rivington
The Hotel on Rivington treats guests to floor-to-ceiling glass walls, offering stunning views of Manhattan in every room. Imagine watching the entire city skyline from your bed or tub. The vistas aren't the only thing that will appeal to amorous guests. As one traveler notes, "From the unconventional layout, to the glass curtain walling, to the voyeuristic shower walls, everything about this place screams hedonistic pleasure."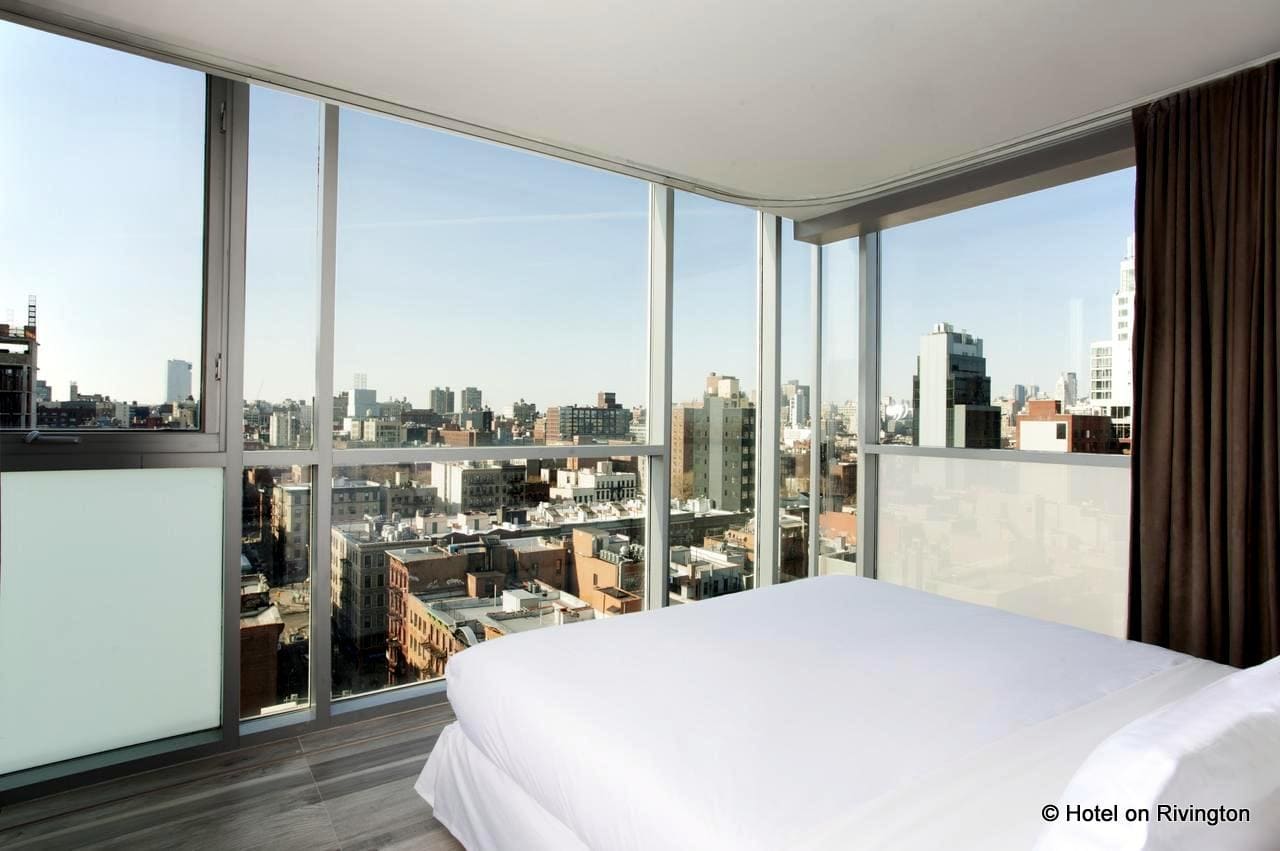 Cooper Square Hotel (25 Cooper Sq/ Bowery, NoHo) – very modern, all glass building. Great 2nd floor lobby bar and 3 kinds of robes in each room.
Back to Top of New York City Boutique Hotels
New York City Boutique Hotels
Union Square | Gramercy | Murray Hill
W Hotel Union Square NYC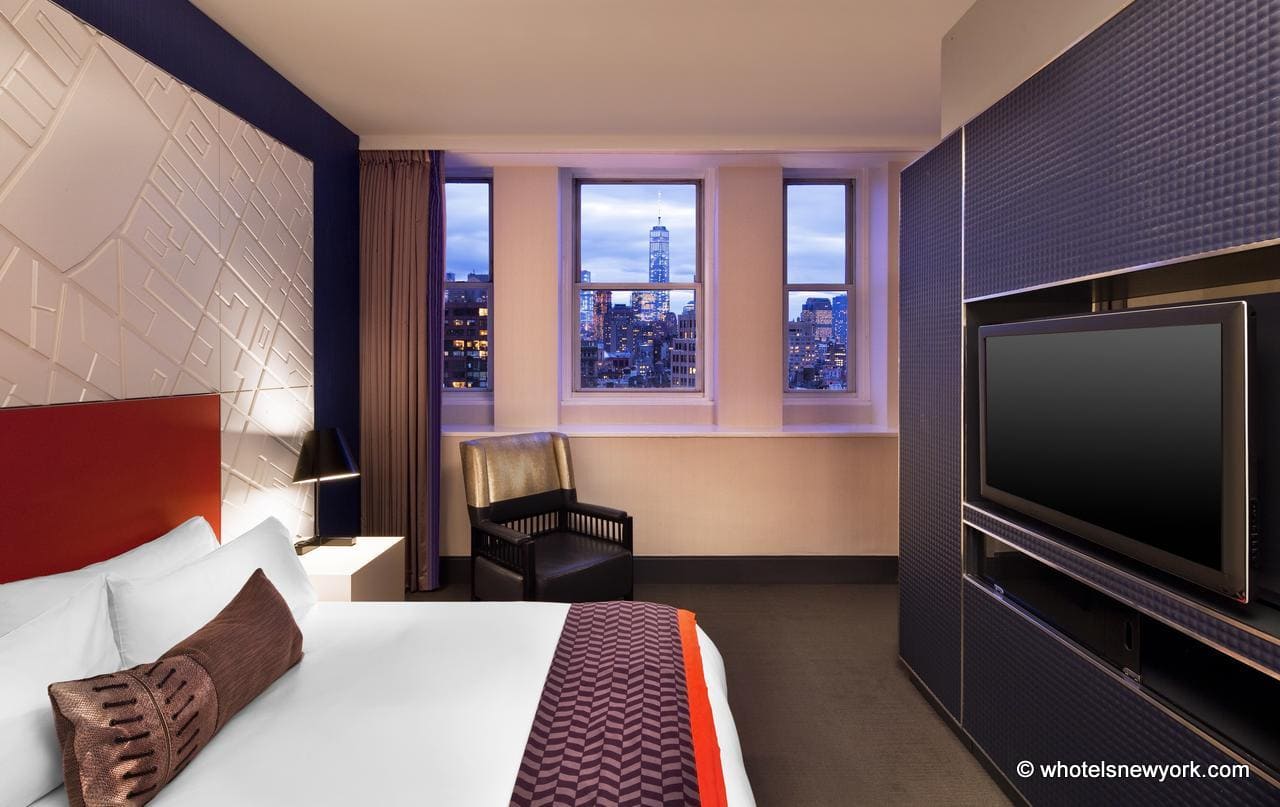 Opulent. Bohemian. And everywhere in between. Bridging the gap between old and new, New York's famous landmark Guardian Life Building has undergone renovations and reemerged as the stylish W New York – Union Square. The 1911 Guardian Life building – designed in the Beaux-Arts style – is a magnificent granite and limestone structure with all the exquisite details inherent in traditional European architecture.
See More: Union Square Hotels
Back to Top of New York City Boutique Hotels
Midtown East Boutique Hotels
Midtown East offers tons of great boutique hotels, like The Library, Roosevelt, Dylan, Giraffe and many more. Staying here puts you close to the NY Public Library, Grand Central Station, Bryant Park, Rockefeller Center and St. Patrick's Cathedral. Boutique hotels offer a lot of character and unique amenities not found in other types of hotels.
See More: Midtown East Boutique Hotels
Back to Top of New York City Boutique Hotels
Boutique Downtown Hotels New York
Boutique Downtown Hotels put you right next to some of NYC's most popular attractions: The 9-11 Memorial and Museum, Statue of Liberty, One World Observatory, Wall Street, St. Paul's Cathedral, Charging Bull and every major subway station.
See More: Boutique Downtown Hotels New York
Back to Top of New York City Boutique Hotels
New York City Boutique Hotels
Meatpacking District | West Village
The Standard, New York features modern guest rooms with floor-to-ceiling windows, seating areas, plasma TVs with HD channels and some breathtaking views. Restaurants include the hip Standard Grill or guests can have a cocktail, listening to a live DJ, in the trendy Living Room lounge. The seasonal outdoor Biergarten offers a German menu.
See Also: Meatpacking District
More Hotels: Jane Hotel, Hotel Gansevoort
More New York City Hotel Deals
Best Hotels for NYC Events & Holidays
NYC events and holidays bring in massive amounts of visitors, all of which want prime views and access to the July 4th fireworks, Macy's Thanksgiving Parade, New Year's Eve fireworks, Marathon finish line and more. Here are our top hotel picks for NYC's most popular annual events.
NYC Hotels by Type
NYC offers hotels of every type you can imagine. Boutique hotels with cool features like pools, rooftops and gyms, to suite hotels which are more comfortable for families or those who want more apartment-type lodging, to cheap budget hotels with bunk beds, check out our top choices appealing to all budgets and tastes.
NYC Hotels by Amenity
Turn your NYC stay into your home away from home with our amazing hotel amenities. Get an in-room jacuzzi tub to soothe after a long day of sightseeing, check into a hotel with an amazing rooftop to watch our skyline twinkle at you while sipping a cocktail and dive into the nooks and crannies of Central Park with a free bike. We've hand picked all the best of the best - the places where New Yorkers check into for a stay-cation.
New York City Hotel Map
Top of New York City Hotel Deals
NYC Hotels By Attraction - I Want To Be Near...
Back to Top of New York City Hotel Deals
How to Save on Hotels in New York City
Check out all our tips and dozens of promo codes to help save on NYC Hotels. Whether you are visiting NYC on a budget, or just looking to save a little on luxury, we share all our insight on How to Save on Hotels in New York City.
Top of New York City Hotel Deals
NYC Hotel Deals By Neighborhood
Manhattan Neighborhood Map
Boutique Hotel Quick Links
Click for current rates and reviews or keep reading for more hotel details.
Boutique Hotels in New York City Photo Gallery
(Roll Over Thumbnails to See Photos, Click Thumbnails to Jump to Hotel)
New York City Boutique Hotels
Back to Top of New York City Boutique Hotels
New York City Boutique Hotels