Admission to New York City's Top 6 Attractions
The New York CityPASS (City Pass New York) is the most basic (but covers a LOT) New York City Attractions Pass, and offers you a direct savings with minimal marketing tricks. If six attractions, out of a choice of 9, on this City Pass New York are in your New York vacation plans, then the New York CityPASS is a great value.
New in 2017 – Mobile or Printed Ticket Options. No paper or booklet necessary. Just show your smartphone to enter attractions!
New in 2016 – Choice of 9/11 Memorial & Museum or Intrepid Sea, Air & Space Museum
City Pass New York – Cost of Attractions
1) Empire State Experience ($30)
2) American Museum of Natural History and Space Show ($27)
3) Guggenheim Museum ($25) OR Top of the Rock ($26)
4) 9/11 Memorial & Museum ($24) OR Intrepid Sea, Air & Space Museum ($24)
5) The Met (Suggested Donation $25)
6) Circle Line Sightseeing Cruise ($36) OR Statue of Liberty & Ellis Island Cruise ($18).
Extra Value included:
$5 coupon for NYC Bus Tour
15% Bloomingdales certificate
15% off plus priority seating at Patina Group Restaurants (Rockefeller Center + more)
CityPASS New York
"Whether you're looking for stories to tell, moments to share, or memories you'll never forget, CityPASS makes sure you'll take something special home with you."
City Pass New York – Included Attractions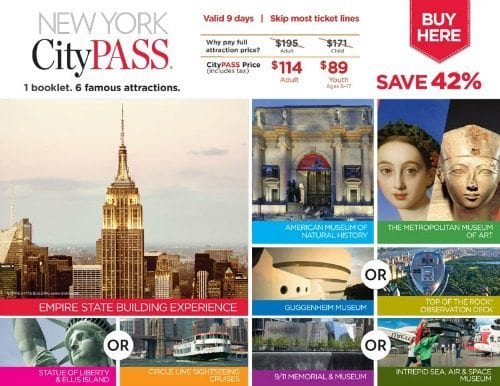 City Pass New York – NYC Insider Notes
Museum of Natural History – Planetarium Space Show is included in the City Pass New York, but not The New York Pass or Explorer Pass. Museum access is a $19 suggested donation or admission to the Museum and Space Show is $25 at all times. Add $20 to the New York Pass or $12 to the New York City Explorer Pass (the first two) for the Space Show. The Planetarium is a must-see for kids, and frankly, I think for all adults as well.
Statue of Liberty – getting Statue of Liberty tickets for INSIDE the Statue of Liberty Museum is difficult and there is only ONE way to get this reservation. Do not confuse getting a reservation for Statue of Liberty tickets with the New York City Pass Statue of Liberty & Ellis Island Cruise to Liberty Island to walk the Liberty Grounds.
City Pass New York – How it Works
New York CityPASS – either the booklet or smartphone bar code – contains your discounted admission to six of New York's most famous attractions.
Every attraction has signs indicating where CityPASS ticket holders may present their tickets to avoid most entrance ticket lines. However, these are the most-popular attractions in New York City – and the U.S. – and there may be lines in summer, on weekends and holidays. In addition, there are unavoidable airport-like security lines to clear at the Empire State Building and before boarding a Statue Cruises ferry to visit Ellis and Liberty islands.
New York City Pass – Testimonials

nyctraveller – Minnesota
For someone who wants to experience as much as possible on a trip, the city pass was perfect. I will be recommending that my Dad picks up a City Pass New York on his planned visit to NYC. Loved skipping the lines at the Top of the Rock to view the sun setting on Manhattan, we would have missed it otherwise!

Jennifer – San Diego, CA
Just returned from my first trip to NYC. Bought the City Pass at the recommendation of a friend. It was more than worth it. Not only does it save a few dollars overall, but more importantly to me is it allows you in the 'VIP' or group entrances and you can save so much time not waiting in the long lines everywhere…which allows more time for sight-seeing! Will definitely use CityPass again!

michelle – edinburgh
Absolutely brilliant value when you do the math. We were in NYC for 6 days and used all our vouchers making it well worth it. I will be recommending this to anyone I knwo is going to New York and would consider buying a pass if i visited any of the other cities on offer. To save money on travel also, buy a weekly metro pass for $27 for all buses & subway trips for 7 days! You know it makes sense.

Daniel – Basque Country
CityPass covers the main attractions for a first time visit to NYC of about 7 days. The best part of it is skipping the lines. So get your citypass but don' t tell anybody else! And don´t forget what is not included in the pass: go to a musical, a basketball game, dine in Soho, stroll around the streets, etc. And visit Rockefeller Center at 4:30 pm on a Wednesday and say hi to the grannies.
Tell us about your City Pass New York and help others choose the best pass for their NYC vacation.
Read more New York CityPASS Testimonials
Which is the BEST New York City Pass?
Major New York Pass promotions all of December. Just in time for the holidays, choose the New York Pass sale that's right for you!
Dec 7-12 | Up to $80 of New York Pass. Take $50 off a 3-day pass, $60 off a 5-day pass, $70 off a 7-day pass and $80 off a 10-day pass.
Dec 13 - 18 | 20% off 3, 5, 7 or 10 day adult passes!
Dec 19-22 | 15% off 3, 5, 7 or 10 day passes
Dec 23-27 | Up to $80 of New York Pass. Take $50 off a 3-day pass, $60 off a 5-day pass, $70 off a 7-day pass and $80 off a 10-day pass.
Dec 28 - 31 | 20% off 3, 5, 7 or 10 day adult passes!
Ready for More Things to do in NYC?
Additional New York City Pass Discount Advantages
Budgeting – know what you're going to spend and potential exchange rate bonus
Lines – unpredictable, but they may gain you an advantage, they certainly can't hurt
All come with mini guide books and coupons to different things
The New York City Pass Discounts only offer you entrance to a small part of what makes New York City so special. Ultimately, you have to decide how much you want to take on while you're here, and how much room you want to leave for our New York City Events and Neighborhoods. Remember, some of us live exhilarating lives here and go years without seeing any attractions at all.
Read our Discloure on NYC Pass Discounts.