Open, Closed, Explore NYC FREE, Help NYC
The Coronavirus has impacted the globe in a way we haven't seen for years. Here we provide all the updates we know, how you can explore NYC safely from home, what's open and closed, how you can help and much more.
Top Virtual NYC Things to Do
20 Bucks 20 Minutes Before the Show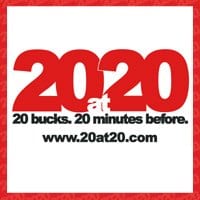 September 3-23, 2019
20at20 is your chance to see the Best of Off-Broadway for only $20! A 3 course meal (when it coincides with Restaurant Week in January) and a show for $55 per person??? Can't beat that!
This is where REAL NEW YORKERS go. With 20at20, you get the chance to see the next Hamilton, Rent, A Chorus Line, In The Heights or Spring Awakening – before the prices go "uptown". Read more about all the hot Off Broadway Shows this season.
How it Works: Tickets for 20at20 shows are $20, starting 20 minutes before show time. Go to the box office of the show you want to see 20 minutes before it begins and say, "20at20." You'll get your ticket to a real New York theater experience!
Buy Great Broadway Tickets Today!
Top Picks for Broadway Tickets
Note: All of our ticket partners are legitimate, recommended ticket sellers and guaranteed to sell you official NYC Broadway tickets.
Back to Top of NYC Broadway Shows
Prior 20at20 Dates:
September 4 – 23, 2018
March 28-April 16, 2017
September 5-25, 2016
Back to Top of 20 at 20 Off Broadway Shows $20