…New York City's #1 Attraction
The Metropolitan Museum of Art NYC (aka The MET) contains more than 2 million works spanning 5,000 years and is the Number One attraction in New York City, counting over 5 million visitors annually. Even those who think art or Museums are not their thing can spend days here and still not experience a small portion of their art collections, famous exhibits, special events, multiple restaurants, rooftop garden, live music, museum tours and much more!
Metroplitan Museum of Art
Metropolitan Museum of Art NYC

The Met is home to classical antiquity, ancient Egyptian art, paintings and sculptures from nearly all the European masters, an extensive collection of American and modern art, African, Asian, Oceanic, Byzantine, and Islamic art; musical instruments, costumes, accessories, antique weapons and armor and so much more!
The Metropolitan Museum of Art also hosts amazing special exhibits and events (sports, fashion, movies, celebrities), live music, free guided tours, multiple restaurants and cafés, a rooftop garden and martini bar, fantastic views of Central Park…and I'm just getting started. The Met spreads over 1.6 million square feet and is the largest museum in the Western Hemisphere.
1000 Fifth Ave. (at 82nd St – part of Museum Mile New York City)
Manhattan, NY 10028
Suggested Contribution: $25; seniors 65 and older, $17; students, $12 (or free).
Which New York City Pass is BEST for The Met?
Back to Top of Metropolitan Museum of Art NYC
NYC Insider Tip
Suggested Donation vs. Admission Price
The Metropolitan Museum of Art is a non-profit organization. Their goal is to make art and culture affordable to everyone. They ask for a "suggested donation" or contribution to access the museum, rather than an admission price. Pay attention when evaluating sightseeing passes, if the "price" is suggested donation or an actual admission cost. Please do donate, as these Museums are priceless, and the money donated goes back into the NYC Museums, so we can all enjoy them.
A pre-negotiated "Suggested Contribution" is made to the Met with New York CityPass, New York Pass or a choice on the New York Explorer Pass
Back to Top of Metropolitan Museum of Art NYC
Metropolitan Museum of Art NYC Photo Gallery
(Roll Over Thumbnails to See Photos)
Metropolitan Museum of Art NYC | Temple of Dendur
Back to Top of Metropolitan Museum of Art NYC
Weekend Evening Cocktails in the Great Hall
Met Friday's are truly one of my all-time favorite things to do in New York City. The atmosphere is magical and it doesn't get more quintessential New York.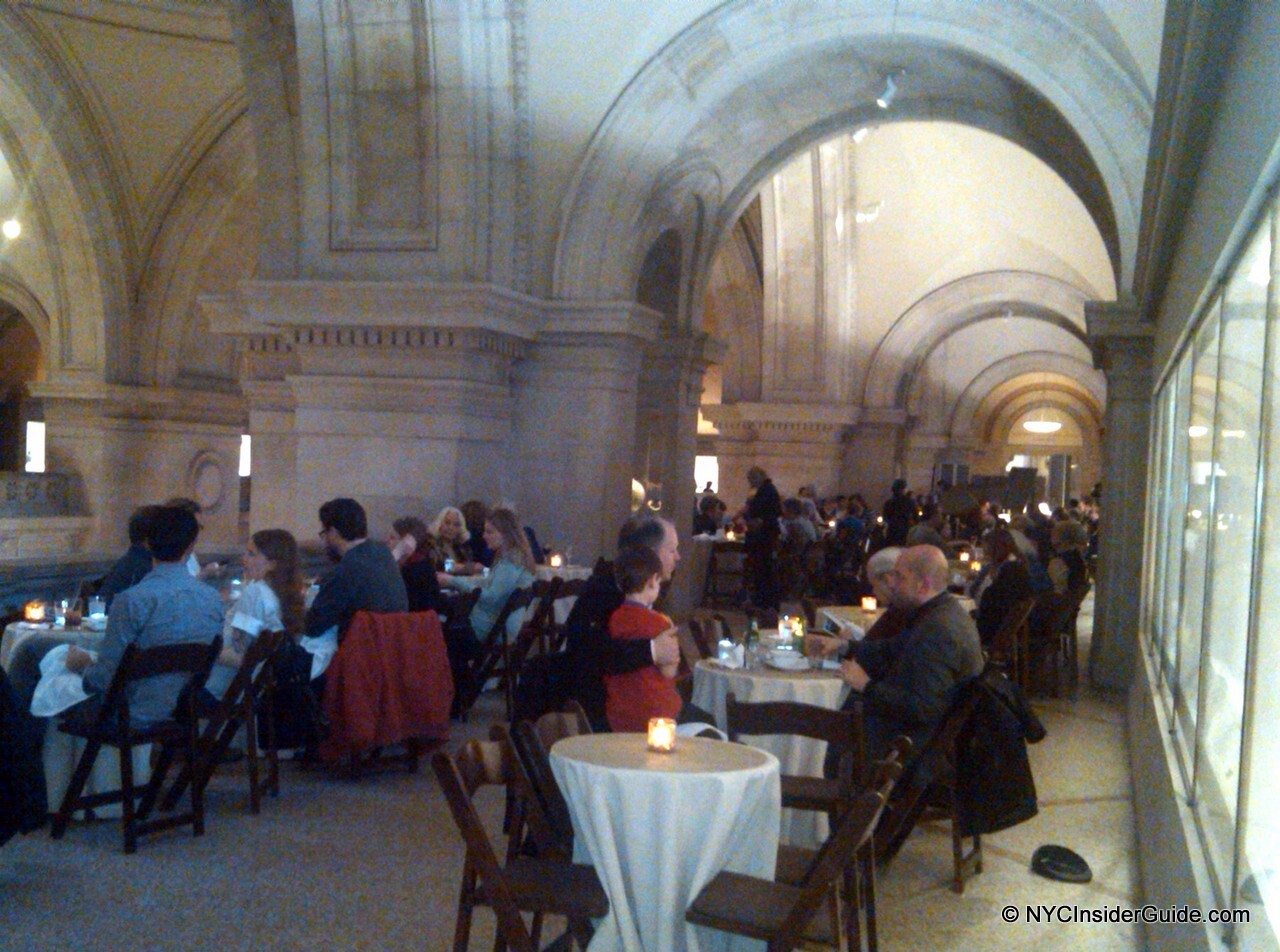 On Friday and Saturday evenings, the Met remains open late, not only for art viewing, but also for cocktails in the Great Hall Balcony Bar (5-9pm) and classical music from a string ensemble. The restaurant at Petrie Court Café and Wine Bar stays open until 10:30pm (last reservation at 8:30pm), and dinner is usually accompanied by piano music.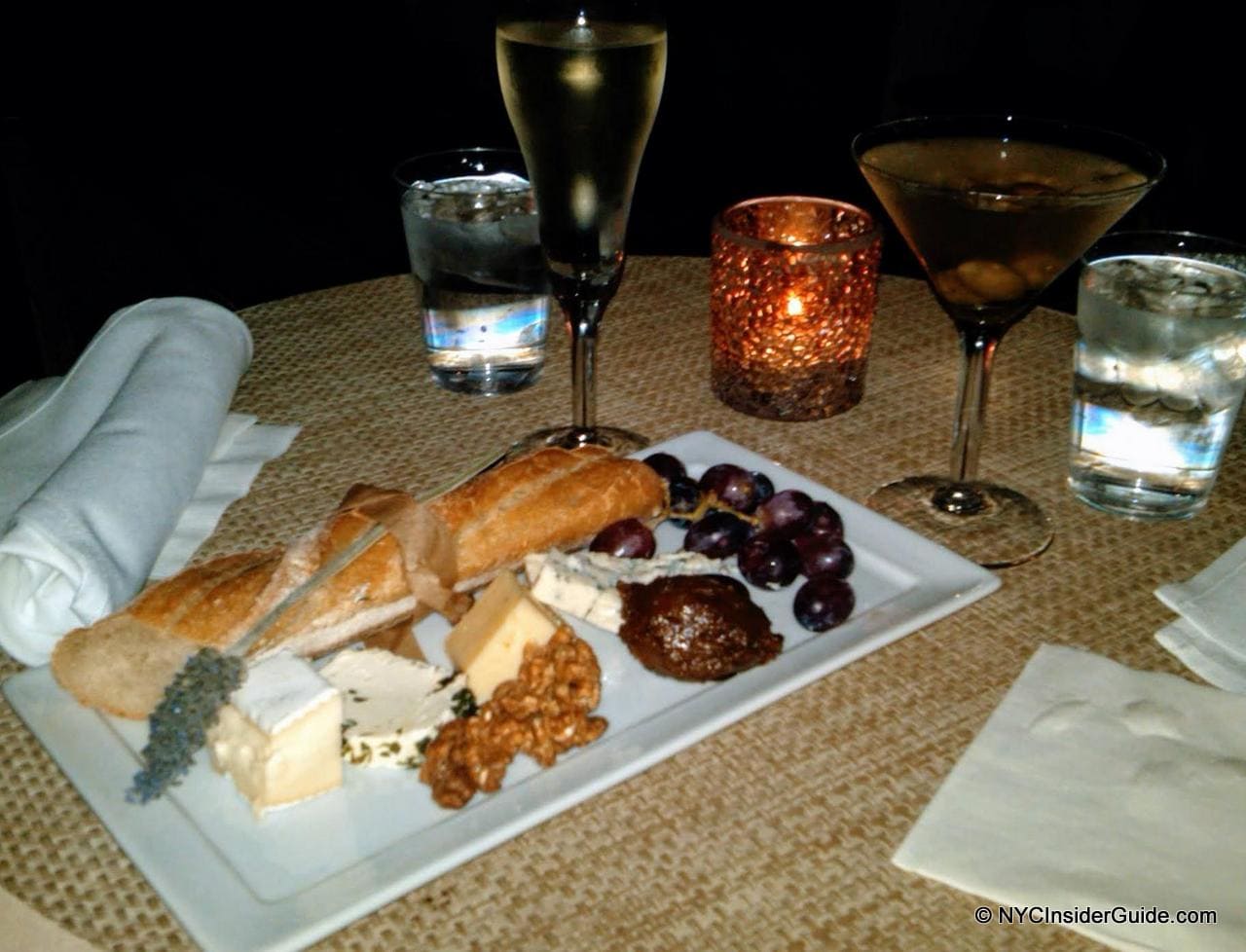 You can purchase cocktails and appetizers at the Balcony Bar, and if you get there early enough, grab one of the little tables with candles. You still get to see some beautiful art and no ticket purchase is necessary. A slate of after-hours programs (gallery talks, walking tours, family programs) changes by the week; call for the current schedule.
Back to Top of Metropolitan Museum of Art NYC
Summer Martini Bar on the Roof Garden Café
Skyline Views, Art and Cocktails – what more could you want?
April 14–October 29, 2017
Iris and B. Gerald Cantor Roof Garden
Metropolitan Museum of Art Restaurant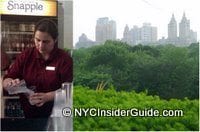 Every summer, the Metropolitan Museum of Art opens the Roof Garden Café and Martini Bar, an 8,000-square-foot, informal, outdoor setting with breathtaking panoramic views of the Manhattan skyline and Central Park.
The Roof Garden Café serves sandwiches, snacks, desserts, and beverage service—including espresso, cappuccino, iced tea, soft drinks, wine, and beer— daily 10 a.m. until closing, as weather permits.
The Martini Bar is open Friday and Saturday evenings (5:30-8 pm).
Roof Garden Hours:
May through late fall, weather permitting
Friday and Saturday: 10:00 a.m.–8:00 p.m.; Martini Bar: 5:30–8:00 p.m.
Sunday – Thursday: 10:00 a.m.–4:30 p.m.
Enter on the Fifth floor via the elevator in the European Sculpture and Decorative Arts galleries
More info: The Met Rooftop Café
Back to Top of Metropolitan Museum of Art NYC
The Met Current Exhibits
Coming Soon
Past Exhibits
Schiaparelli and Prada: Impossible Conversations
May 10–August 19, 2012. The Met's latest Costume Institute exhibition explores the striking affinities between Elsa Schiaparelli and Miuccia Prada, Italian designers from different eras. Inspired by Miguel Covarrubias's "Impossible Interviews" for Vanity Fair in the 1930s, the exhibition features fictive conversations between these iconic women to suggest new readings of their innovative work.
P.S. Art 2012 – Celebrating the Creative Spirit of New York City Kids
June 12–August 11, 2012. An annual juried exhibition of talented young artists from New York City's public schools. This selection showcases the creativity of seventy-six K through 12 students from all five boroughs and includes paintings, prints, sculptures, mixed-media works, collages, and drawings. Each piece represents a unique expression of imagination and ability.
Back to Top of Metropolitan Museum of Art NYC
Hotels Near the Met
Click for current rates and reviews or keep reading for more hotel details.
More Hotels: Upper East Side Museum Mile
Metropolitan Museum New York Hours and Info
1000 Fifth Ave. (at 82nd St)
Manhattan, NY 10028
Subway: 4, 5, 6 to 86th St, walk West from Lex
www.metmuseum.org
Metropolitan Museum of Art Hours
Sunday–Thursday: 10:00 a.m.–5:30 p.m
Friday and Saturday: 10:00 a.m.–9:00 p.m.
Closed Thanksgiving, Christmas, New Year's Day and the first Monday in May
Back to Top of Metropolitan Museum of Art NYC
The Met Special Events
Met Museum Kronos Quartet Performance – Wed, May 2, 2012, 7:00pm
The Pen World Voices Festival—one of the world's biggest international literary gatherings—kicks off its 2012 season at the Metropolitan Museum of Art with the Kronos Quartet teaming up with noted writers Tony Kushner, Marjane Satrapi, and Rula Jebreal to create a program of readings by the authors of their work, interspersed with music.
Metropolitan Museum Artists in Concert – Sat, May 12, 7:00pm
Spend the evening at the Met Museum and resident chamber group Metropolitan Museum Artists as they return for a beautiful program of music to compliment the New American Wing Galleries for Paintings, Sculpture, and Decorative Arts. Including music by Amy Beach, Henry Cowell, John Adams, and Antonin Dvorák.
Andy Warhol Multimedia Event – Saturday, October 6, 2012 7:00pm
Dean Wareham and Britta Phillips, former members of the band Luna and now the duo Dean and Britta, present a multimedia event featuring a selection of Andy Warhol's Screen Test films with live musical accompaniment. As thirteen of Warhol's four-minute film portraits play at the Metropolitan Museum of Art, a four-member ensemble performs a composed score.
Met Museum Piano Performance Fazil Say – Fri, April 20, 2012, 7:00pm
Remembering 9-11 at The Metropolitan Museum of Art
On Sunday, September 11, 2011 at 3:30 p.m., join the Metropolitan Museum of Art and  listen to the Wordless Music Orchestra, in The Temple of Dendur in the Sackler Wing, as they premiere the live orchestration of William Basinski's ambient masterwork "Disintegration Loop 1.1," created and conceived from Basinski's residence in downtown Brooklyn in the weeks before and after the World Trade Center's destruction.
Back to Top of Metropolitan Museum of Art NYC
More on The Met
Back to Top of Metropolitan Museum of Art NYC
Most Popular New York City Museums
More from NYC Insider Guide:
Back to Top of Metropolitan Museum of Art NYC