NYC Insider > New York City Museums
New York City Museums
…many Museums are actually FREE? Yes, they are!
New York City Museums range from the world-renowned Metropolitan Museum of Art NYC and American Museum of Natural History NYC, to the more specialized, such as The New York City Police Museum or the Museum of American Finance.
Did you know it is possible to see two NYC museums every day for a year and still not cover them all?
NYC Locals – Add your NYC Museum Event (updates, exhibits, concerts, promotions) to the NYC Insider Guide.
NYC Insider Tip
Suggested Donation vs. Admission Price
Many New York City Museums are non-profit organizations. Their goal is to make art and culture affordable to everyone. As non-profits, they ask for a "suggested donation" or contribution to access the museum, rather than an admission price. Pay attention when evaluating sightseeing passes, if the "price" is suggested donation or an actual admission cost. Please do donate as these Museums are priceless and the money donated goes back into the NYC Museums, so we can all enjoy them.
Most New York City Museums also offer Free or "Pay-What-You-Wish" days and times. Some are listed at NYC Museums and on the NYC Museums and Tours cheat sheet in the NYC Print Guide and free Mini Guide.
Back to Top of New York Museums
---
Most Popular New York City Museums
---
---
New York City Museums -MoMA
Museum of Modern Art NYC
11 W. 53rd St. (5th/6th Aves)
Subway: E, V to 53rd St.–5th Ave.; F to 57th St.;
B, D, F, V to 47th–50th Sts.–Rockefeller Center

Admission – $25; $18 seniors; $14 students; children 16 and under free.
Closed Tuesdays. (Open every Tuesday in July and August, 10:30 a.m.–5:30 p.m.)
Admission included with New York CityPass, New York Pass and a choice on the New York Explorer Pass
Plan your day at MOMA with the interactive MoMA tool highlighting the best days to visit and best touring plan, based on your preferences.
NYC Insider Ways to Visit the MoMA
1) MOMA Thursday Nights: see all the museum attractions with an added bonus of live music and cash bar cocktails in the The Abby Aldrich Rockefeller Sculpture Garden. The summer music selection showcases Brazil and China. Performances at 5:30 and 7:00 pm. The Garden Cart sells gelato and sorbetto from Il Laboratorio del Gelato and Terrace 5 is open for light refreshments inside the Museum on the fifth floor. Regular NYC Museums admission applies.
2) The Modern – This is not a typical New York City Museum cafe. Everything from the food to the atmosphere and scenery is exquisite. The Modern is part of Danny Meyer's Union Square Hospitality Group, which also owns Union Square Cafe, Gramercy Tavern, Eleven Madison Park, Tabla and many other of NYC's top rated restaurants. The dining room overlooks the sculpture garden in the middle of the museum and food itself is practically art. Of all the dining in New York City Museums, this is likely the nicest
3) Target Free Fridays: Like many New York City Museums, MOMA offers free admission every Friday evening from 4:00 to 8:00 p.m.
Back to Top of New York Museums
---
Which New York City Pass is best for Museums?
Back to Top of New York Museums
---
New York City Museums – The Met


Metropolitan Museum of Art NYC
1000 Fifth Ave. (at 82nd St)
Manhattan, NY 10028
Subway: 4, 5, 6 to 86th St, walk West from Lex
Suggested Contribution: $25; seniors 65 and older, $17; students, $12 (or free);
Closed Most Mondays.
NY Discount Passes | Special Events | Current Exhibits
Rooftop Garden | Weekend Music with Cocktails | Martini Bar
Info and Hours | Nearby Hotels
"Suggested Contribution" made with New York CityPass, New York Pass or a choice on the New York Explorer Pass
Read all about Jean's Art Lovers Tour of NYC Museums
---
NYC Museums – Guggenheim Museum NYC
Solomon R. Guggenheim Museum NYC

1071 Fifth Ave. (89th St)

Manhattan, NY 10128

Subway: 4, 5, 6 to 86th St

Admission (as of June 2012) – $22, $18 Students and Seniors (65+), Free children under 12. Closed Thursdays, Thanksgiving, and Christmas Day.
Admission included as a choice on New York CityPass (or Top of the Rock), included with the New York Pass or as a choice on the New York Explorer Pass
NYC Insider Ways to Visit the Guggenheim Museum
1) Art After Dark – The Guggenheim hosts really cool after hours art events with a cash bar and music centered around a special exhibition or program. Once the general public has left for the day, usually after 9pm, the museum turns into one of the city's hottest spots. $22 guests and general public (credit card only at the door).
2) Pay-What-You-Wish: Saturday evenings from 5:45–7:45 pm
3) CLOSED. Guggenheim Museum Soho: always free. 575 Broadway (at Prince St). Closed Tues/Wed.
Guggenheim Museum Hours:
Sun-Wed, Fri: 10 am–5:45 pm*
Thursday –  Closed
Saturday –  10 am–7:45 pm*, Pay What You Wish 5:45-7:45pm
---
Guggenheim Museum Current Exhibits
Picasso Black and White,  October 5 – January 23, 2013
Now's The Time: Recent Acquisitions, November 4 – January 2
Kandinsky 1911 – 1913, June 23 – April 23
The Deutsche Bank Series at The Guggenheim Gabriel Orozco: Asterisms, November 9 – January 12
Zarina: Paper Like Skin,   January 25 – April 21
UBS Map Global Art Initiative, February 22 – May 22
Gutai: Splendid Playground, Feb 15 – May 8
James Turrell, June 21 – September 25
Christopher Wool, October 25 – January 22
Robert Motherwell September,
27 – January 5
Back to Top of New York Museums
---
American Museum of Natural History NYC
SuperSaver Admission – Adults: $33 Children (2-12): $20.50 Seniors/Students with ID: $25.50. Include admission to Museum and Rose Center for Earth and Space plus all special exhibitions, IMAX films, and Hayden Planetarium.
Only the New York CityPass includes the Planetarium Space Show.
Many New Yorkers think this is the best of all the New York City Museums. The Planetarium is well worth the price. Anyone who grew up in NY fondly remembers their class trips and Saturdays with their parents at the Planetarium. Check out the spectacular new Space Show, "Journey to the Stars," narrated by Whoopi Goldberg, that premiered July 4, 2009. Show times approximately every half hour.
---
New York City Museums – Statue of Liberty
Back to Top of New York City Museums
---
9-11 Ground Zero Memorial and Museum

The 9/11 Memorial will be dedicated on the 10th anniversary of 9/11 and be open the public on September 12, 2011. Free tickets to view the Memorial will be available beginning Summer 2011.

Read all about ways to honor the memories of the thousands of lives lost on 9-11-01, the Ground Zero Memorial and 9/11 Memorial Museum, opening in 2012.
Back to Top of New York City Museums
---
Ground Zero Museum Workshop
420 West 14th St (9th Ave and Washington Street)

$25 adults, $19 seniors, $19 kids (under 4 free)

Included as a choice on the New York Explorer Pass.

Daily Guided Tours (Reservations Required):

Sunday-Monday: 12:00 pm and 2:00 pm;

Tuesday, Thursday and Friday: 11:00 am and 1:00 pm;

Saturday: 11:00 am, 1:00 pm, and 3:00 pm

The Ground Zero Museum Workshop is a non-profit state museum with artifacts, photos, history, stories, remnants and more. The ticket proceeds are used to cover the museum's operating costs and also shared with FDNY and 9/11 charities.

Best For: A reminder we should "Never Forget." Visit here BEFORE you go to the former World Trade Center Site, to experience 9-11-01.

The actual Ground Zero site does not lend itself to tours, although they do have a walking tour, which is excellent, but not child-friendly. To really get a feel for what happened on that day, this New York City Museum is a must-see. There are a lot of child-friendly sections since much of this museum is dedicated to showing the children of victims, who were too young to understand at the time, what happened on 9/11/01 and the days immediately following. You may want to go to the WTC site as well, which is currently a construction zone for the new WTC Towers.

NYC Insider Way: seeing the faces and names of family and friends who were lost on 9/11. This is one area where you are definitely better off not being a NYC Insider! Please do go, pay the full price of admission, and pay your respects to the innocent people who were lost that tragic day, and to those who fought to save them.
Back to Top of New York City Museums
---
Intrepid Sea, Air and Space Museum
Intrepid Sea, Air and Space Museum

Pier 86, 12th Ave. & 46th Street (Midtown West)
www.intrepidmuseum.org

$19.50 adults, $15.50 seniors, $14.50 kids (under 2 free).

Included in New York Pass and a choice on New York Explorer Pass.

The Intrepid is a such a great New York City Museum attraction – and not to stereotype – but especially for boys and men. However, the Intrepid offers something for the whole family and was one of my favorite NYC things to do as a kid. The Museum is centered on the aircraft carrier Intrepid (CVS-11), one of the most successful ships in US history and features a range of interactive exhibits and events providing a snapshot of heroism, education, and excitement and one of the most unique attractions in New York City. With outdoor movies in the summer, Kids Week in February and special Veteran's Day activities, the Intrepid has something for everyone all year round.

Best For: Kids or anyone really interested in War history and transportation.  (PS – this is my Dad's all-time favorite thing to do in NYC, except eating, of course).

NYC Insider Way: Sorry, but private events, such as weddings and charity balls, are the true insider way to have this spectacular museum to yourself for a night.
---
Other New York City Museums
The Paley Center for Media (formerly Museum of Television and Radio)
The New York City Police Museum – The NYPD's tribute to 165 years of service features exhibits on its history and the tools of its trade, including vintage uniforms, squad cars and firearms. More notorious artifacts are also on view, including a gun used by one of Al Capone's minions in the 1928 murder of Frankie Yale. Visitors can participate in a simulated police gunfight, see a model jail cell and a 9/11 memorial.
Museum of the City of New York
The New Museum – Founded in 1977, the New Museum is a leading destination for new art and new ideas. It is Manhattan's only dedicated contemporary art museum and is respected internationally for the adventurousness and global scope of its curatorial program. Lower East Side
Like the rest of New York City, many of our less famous Museums are some of the best kept secrets. Examples include, The Frick Collection, The Morgan Library, The Cooper Hewitt, The New York Historical Society, The Museum of The City of New York and International Center for Photography.
Back to Top of New York Museums
---
New York City Museum Updates MUST INCLUDE:
Your contact information, in case we have questions
Event location
At least one photograph
Correct spelling, punctuation and grammar. This is a quality website and only quality submissions will be accepted.
New York City events should be submitted in article form, not as a Press Release. The first paragraph should be a few sentences in a row and describe your event. Please see the other approved NYC Events below as examples.
NO PRESS RELEASES. Original content not published elsewhere only.
If the event is not Manhattan, public transportation must be included
Please allow at least 10 business days for events to go live as I review each event personally.
Changes and additions to events (ie, your show has been extended) must be updated in the comments section of your event, not submitted as a new event.
Events submitted along with a LINK BACK TO NYC INSIDER GUIDE ALWAYS receive preference. Just let me know in your event submission where you have provided a link back to the NYC Insider Guide!
New York City Museum Updates
Art After Dark July 2012 | Guggenheim Museum  Art After Dark is a series of seasonal events at the Guggenheim Museum for members and their guests, centered around a special exhibition or program at …
Free NYC Museum Admission for Military Families Summer 2012
Free NYC Museum Admission for Military Families is being offered all summer at more than 40 New York City Museums and gardens. The program, sponsored by Blue Star, allows all active duty, National Guard and Reserve military…
NYC Holiday Candlelight Tours at Mount Vernon Hotel Museum   Step back into the holiday season of 1830 and take a tour of this 200+ year-old treasure by the warm glow of candlelight. Sample traditional confections …
Posadas y Pastorelas Mexican Celebration at Museum of the City of New York  Get into the holiday spirit a la mexicana. Join Mano a Mano: Mexican Culture Without Borders for its ninth annual presentation of Posadas y Pastorelas,…
Halloween Murder Mystery at Mount Vernon Hotel Museum  Halloween Murder Mystery!. Based on the real mystery surrounding a reported discovery in the building, this fictional game begins with an unidentified …
Remembering 9-11 at The Metropolitan Museum of Art  On Sunday, September 11th at 3:30 p.m., listen to the Wordless Music Orchestra, in The Temple of Dendur in the Sackler Wing, as they premiere the live …
Candlelight Tours at Bartow-Pell Mansion Museum  Experience the magic of the mansion by candlelight – decorated for the holidays. Christmas trees inspired by children's holiday stories adorn rooms throughout …
---
Click Here to Add a New York City Museum Event or Update
Back to Top of New York Museums
---
Recent New York City Museums News
Kids Week at the Intrepid Museum

February 18-26, 2012

The Intrepid Museum offers dynamic, interactive exhibits in the Exploreum Hall and a host of fun-filled, hands-on activities for every member of your family – every day of the week. From special guests and activities galore to flight simulators and multimedia technology, Kids Week at the Intrepid is action packed and filled with excitement.
---
Two for One Admission at Eight NYC Museums
Get Two for One Admission at Eight New York City Museums through May 31, 2011. The New York City Museum Discovery Pass includes 2 for 1 admission to American Folk Art Museum, Asia Society Museum, International Center of Photography, Jacques Marchais Museum of Tibetan Art, Museum of Arts and Design, Museum of Chinese in America, Noguchi Museum and Rubin Museum of Art. Download your New York City Museum Discovery Pass today and start saving!

---
See 9 (Nine) New York City Museums for $25

Get $50 of Museum Entries for just $25 with the Downtown Culture Pass!

See how the Brooklyn Bridge was made at the Skyscraper Museum, uncover what makes the NYPD New York's finest at the New York City Police Museum, find out just exactly what default swaps are at the Museum of American Finance (in photo at left).

Must sees include the Tribute WTC Visitor Center and the 9/11 Memorial Preview Site.

Also included: Museum of Jewish Heritage and National Museum of the American Indian.

How It Works: For a limited time, spend $25 (regularly $50) and get two adult passes to explore eight of Lower Manhattan's museums. Or, $30 gets you two adult and two children's tickets (an $80 value). Each pass gives you access to eight of the Financial District's treasured cultural institutions. You can head straight to the Downtown Culture Pass or, if you missed the limited time deal, the Downtown Culture Pass is always a bargain.
---
---
NYC Museums free days and times for every New York City Museum
New York Museums free days and times downloadable chart.
Back to NYC Travel Guide Home Page from New York City Museums
---
NYC Museums
See the best, interesting and FREE ways to visit the Metropolitan Museum of Art NYC, Guggenheim Museum NYC, Museum of Modern Art NYC, Museum of Natural History NYC and and more.
New York City Passes
In MOST cases, a New York City Attractions Pass can offer a savings. See my review of the three main New York City Passes, New York Pass, New York City Explorer Pass and New York CityPass.
New York City Events
Top New York City Events by Month including Broadway Shows, street fairs, free events, kids events, free movies and and half price tickets.
Read why NYC Tourists and locals alike think a Bus Tour is a great way to see New York City! See photos and learn how to manage your sightseeing time.
Manhattan Neighborhood Map and Guide
Our maps shows you the heart and soul of New York City…the places where New Yorkers live, eat, work and breathe, and the reason we all love living in New York City. Find the best restaurants, things to do, sights to see and shopping for every Manhattan neighborhood. Upper West Side, Midtown West, Times Square, Koreatown, Hell's Kitchen, Garment District, Chelsea, Meatpacking District, West Village, SoHo, Tribeca, Battery Park City, Financial District, Lower East Side, East Village, Greenwich Village, NoHo, Union Square, Flatiron District, Midtown East and Upper East Side.
Tired of printing your own custom guide book from the dozens of internet sites about NYC? Get first hand, practical New York City information you can download and print with one click immediately.
New York City Shopping and Sample Sales
New York City Shopping and Sales. A real New Yorker's top picks to the best events, sample sales, discounts in New York City. Discounts, coupons and secret sales.
A NYC Sample Sale is one of our best hidden gems. New Yorkers can get almost ANYTHING at a major discount off the retail price! As a visitor, it is nearly impossible to get the inside scoop on NYC Sample Sales.
---
Thank you for visiting the NYC Insider Guide …welcome to our city and I hope you love it as much as I do!
-

Welcome to New York City!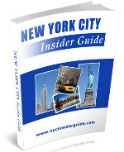 Download the free NYC Mini Guide
or the full
NYC Insider Print Guide
Compare NYC Passes
NY Explorer Pass
Customize your Sightseeing



New York Pass
50 Attractions in 3 days

CityPASS
51% off Top 6 Attractions