Pizza, Bagels, Steak, Food Trucks and More

New York Restaurant Guides cover the almost 19,000 restaurants in NYC… you can eat at different one every day for 52 years and that number doesn't even include our food trucks, some of which have more customers than restaurants! So how do you choose where to eat in NYC and where do you find the best discounts?
---
New York Restaurant Guides
---
Restaurant Week New York City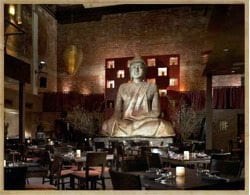 A three-course dinner at the best restaurants in New York for $35? Sign me up! Restaurant Week New York City is one of my favorite times of the year and now, since the event has been so successful, newer versions are starting to crop up everywhere, including ethnic Restaurant Weeks, like Japanese, Chinatown, Malyasian, French, Belgian and also neighborhood-specific restaurant weeks.
Read more on Restaurant Week New York City
Return to Top of New York Restaurant Guide
---
Where Should I Eat in New York City?
It is near impossible to answer this question, as if we could choose just one restaurant. It all depends on your taste, budget, group and location. There is something delicious to eat on every block of Manhattan.
I've done my best to organize these New York Restaurant Guides by neighborhood and highlighted the most "Kid Friendly" choices. At the very bottom of this page are additional New York Restaurant Guides and reservation tips.
Please promise me one thing – you won't eat at a restaurant you have at home, especially a chain! There are too many wonderful and delicious restaurants for you to even bother with a place at which you've already eaten.
---
Best NYC Restaurants by Neighborhood
Get our NYC Insider Printable Maps Package and download over 100 pages of NYC maps, information and recommendations in less than 5 minutes! The BEST of the NYC Insider Guide website, with detailed maps, directions and my personal recommendations for shopping, restaurants, attractions and Insider Tips. Available for download and print immediately, you can make as many copies as you want and get FREE Updates for a year!
Return to Top of New York Restaurant Guide
---
Restaurant Guides by Neighborhood
---
Restaurant Guides by Type
Tapas
Italian
Pizza
Burgers

Wine Bars
Nightlife
Karaoke
Clubs
---
NYC Restaurants At Half Off? You Bet!!
EVERY DAY, dozens of top NYC Restaurants offer half off deals. The sooner you sign up (FREE) for the best NYC Deal Lists, the sooner you start saving!
New York City Upscale Restaurant Discounts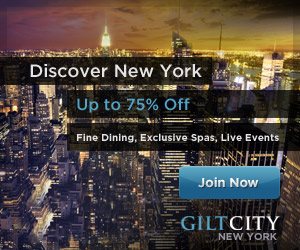 Gilt City has some of my favorite upscale NYC deals! Restaurants, Charity Events, Special Spa Events, fitness classes and tons more.
Definitely take a look at some Gilt City offers and you'll be amazed at how affordable luxury Manhattan can be, without comprising quality!
---
New York City Food and Alcohol Discounts
Savored, a NYC discount dining program, works with hundreds of restaurants in NYC and the Hamptons. Members (free to join) are able to reserve tables through Savored and when you dine, a 30% discount is automatically applied to your bill – for both food and alcohol. Savored restaurants include Le Cirque, Aquavit, Fatty Crab, Bond Street and more. Go ahead and accept your personal NYC Insider Invitation to Discount Restaurants in Manhattan!
Return to Top of New York Restaurant Guide
---
Best New York Restaurants for Kids
Children are welcome at almost any establishment serving food in NYC. Families are always welcome at any pizza parlor, cafe, delicatessen, diner, chinese or Italian restaurant and most of them have food that appeals to kids.
Some local chains you will see often are Ollie's Noodles (Asian), Jackson Hole (burgers), Mary Ann's (Mexican), SaraBeths (American).
Here is a list of unique to New York Restaurants (not those 'everywhere' chains!) that really cater to children and families and that kids just love!
Return to Top of New York Restaurant Guide
---
Midtown East, New York Restaurant Guides
---
Restaurants Near Grand Central Station
Right in Grand Central Terminal, you have Cipriani – Dolci, by the same Cipriani's of the famous Harry's Bar in Venice, Grand Central Oyster Bar and The Campbell Apartment, formerly the private office and salon of 1920's tycoon, John W. Campbell, recently converted into a restaurant.
A few blocks away is El Rio Grande, a large and fun Mexican restaurant with great margaritas and Capital Grille in the Chrysler Building (steak). While the atmosphere around GCT is all business, a bit further away (less than 10 blocks), check out more of my Midtown East Recommendations. These are a 10 minute walk from your hotel, but in a more residential neighborhood, so the atmosphere is quainter, restaurants smaller and, occasionally, less expensive. Two great rooftops in the area to grab a cocktail are in the Library Hotel and the Roosevelt Hotel.
---
Upper East Side, Restaurant Guides
Union Square/Gramercy/Flatiron, New York Restaurant Guides
East Village, New York Restaurant Guides
Greenwich Village, Nolita, Chinatown and Little Italy Restaurant Guides
West Village, New York Restaurant Guides
MeatPacking District, New York Restaurant Guides
Central Park (South and West), Lincoln Center
New York Restaurant Guides
Midtown West, Times Square, Hells Kitchen, New York Restaurant Guides
More New York Restaurant Guides
---
---
Filed under: NYC Restaurants, NYC Vacation
Last updated: