Simba, the African Jungle and Elton John
The Lion King Broadway Musical is the classic story of young royal heir, Simba, and the animals of the African Pride Lands brought to vivid life. The Lion King has some of Broadway's best music, costumes and set design and is a true classic Broadway musical in every sense. After 18 years, Lion King tickets are still in high demand almost every night and the show continues to amaze audiences worldwide.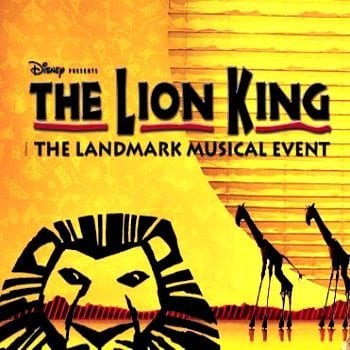 Lion King Ticket Options
Note: All of our ticket partners are legitimate, official, recommended ticket sellers and guaranteed to sell you official Lion King tickets.
Lion King Broadway Musical Synopsis: 
A lively stage adaptation of the Academy Award-winning 1994 Disney film, The Lion King is the story of a young lion prince, Simba, living in the flourishing African Pride Lands. Born into the royal family, Simba spends his days exploring the sprawling savanna grasslands and idolizing his father, Mufasa.
When an unthinkable tragedy, orchestrated by Simba's wicked uncle, Scar, takes Mufasa's life, Simba flees the Pride Lands and meets two hilarious friends. See why more than 70 million people around the world minted this as the Broadway musical smash that simply must be seen to be believed.
Marvel at the breathtaking spectacle of animals brought to life by an enormous company of international performers, whose detailed costumes, carved masks, and intricate makeup will transport you to the gorgeous vistas of the African savanna. Get Tickets: Lion King Broadway Musical to watch some of Broadway's best costumes and set design, while Simba fulfills his destiny to be king.
Buy Great Broadway Tickets Today!
The Lion King Broadway Musical
Get Tickets: Lion King Broadway Musical
Lion King Broadway Show Schedule
Get Tickets: Lion King Broadway Musical
Lion King Show Details
1998 Best Musical + 6 other Tony Awards
Minskoff Theater, 200 West 45th Street
2hrs, 30mins, 1 intermission
Opened November 13, 1997
Get Tickets: Lion King Broadway Musical
Home / List of NYC Broadway Shows / Lion King Broadway Musical