by Bryanne Koehn
(Winnipeg, Canada)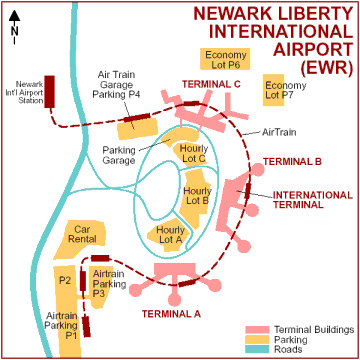 Newark Airport (EWR) Map
Hi there. I'm going to be staying in New York (Days Inn Hotel New York City – Broadway – 215 West 94th St, on the Upper West Side) from November 12th-15th. I'm flying to the Newark Int'l Airport, and was wondering what was the best recommended way to get to New York (cab? Subway?)
My flight is scheduled to arrive at 8pm on Thursday the 12th. I'll have a couple of pieces of luggage and will be with a friend.
I also just wanted to say how much I appreciate this site – looking forward to doing some of the things that were recommended!
Thank you so much!
Bryanne
NYC Insider Guide Answer:
Hi Bryanne! That is just the type of question answered in the Perfect Vacation Planning Guide on the Cheap Flights to New York page.
Check there for the cost of taxis and note that taxis from Manhattan to Newark are more expensive than from Newark to Manhattan. Since you are arriving at 8pm, traffic should not be bad.
Easiest Travel from Newark Airport to Manhattan
I think taxi or town car would be the easiest. A reserved town car would be around $60 (for up to 4 people) plus tolls and tip at this popular New York City Car Service.
Shuttle Bus Newark Airport to NYC
You can also reserve an Airport Shuttle Bus, which will be about $18 per person, so $36 total and no tolls or tip. The shuttles stop and drop everyone off at their chosen destination, so it could be quick or take several hours.
Last time I flew into Newark (2015), there were tons of buses available and easy to find to go to Manhattan. But they only made stops in Midtown (Grand Central), so I took a cab home from there. I think the ticket was around $20.
Cheapest Travel Newark to Manhattan
The Path (NJ's train system) to the NYC Subway (switching at Penn Station to go the Upper West Side) will be the lowest cost. Just note that with subways/trains you will be carrying luggage through stairs, crowds and turnstiles with a few transfers along the way. Of course, once you're in NYC, my vote is always the subway, but personally, I don't like to struggle on vacation, so I take the easy way.
More on Taxis and Town Cars
Taxis will be waiting when you arrive at the airport (should not be more than a 15 minute wait) or you can call a town car. Inbound (Newark to Manhattan), taxi and town car are within a few dollars of eachother and outbound, many times a town car to Newark can be cheaper than a taxi (see why below).
I rarely reserve town cars. Most people don't know this, but the larger companies keep cars in the holding areas of all the major airports. So you can call when you land, they are less than 5 minutes away and you don't have to worry about paying for wait time if you're flight is delayed. More info on: NYC Limos
Return Trip Manhattan to Newark Airport
NYC Yellow Cabs are not allowed to pick up return fares from EWR, so you are responsible for their round trip tolls and an extra $15 fee. Town cars are allowed to pick up a return fair from EWR, so they are usually cheaper.
Whew – sorry for the long explanation – make sure to check the Cheap Flights to New York page.
More From NYC Insider Guide