Today Show Concert Line Up 2013 | One Direction, Maroon 5,  Boyz II Men, Phillip Phillips
The TODAY Show Summer Concert Series 2013 takes place every Friday from May through August. The 2013 lineup includes indie pop band fun., One Direction, Chris Brown, Maroon 5, Train and Fall Out Boy, John Mayer, Michael Buble and Ed Sheeran, New Kids on the Block, 98 Degrees, and Boyz II Men, Lionel Richie , The Band Perry, Phillip Phillips, Hunter Hayes, Luke Bryan and more!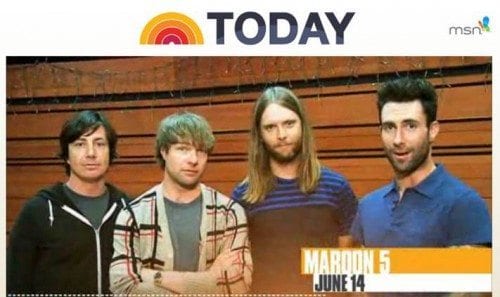 [show_AdSense float="left" ad_client="pub-3779437666898062" ad_slot="1029928897" ad_width="300" ad_height="250" ]
May 24- August 30, 2013; Fridays
49th Street and Rockefeller Plaza
Fans and visitors are encouraged to come to the plaza for the TODAY Show Summer Concert Series live performances. Viewing is on a first-come, first-served basis outside TODAY's window-on-the-world studio, located at 49th Street and Rockefeller Plaza in New York City.
Fans should arrive by 6 a.m. for best viewing. 
TODAY Show Summer Concert Series Line Up 2013: 
MAY
24 FUN, #FunTODAY
31 NEW KIDS ON THE BLOCK/ 98 DEGREES/ BOYZ II MEN, #NKOTBTODAY
JUNE
7 LIONEL RICHIE, #LionelTODAY
14 MAROON 5, #Maroon5TODAY
21 HUNTER HAYES, #HunterTODAY
28 PHILLIP PHILLIPS, #PhillipTODAY
JULY
5 JOHN MAYER, #JohnMayerTODAY
12 ED SHEERAN, #EdSheeranTODAY
19 FALL OUT BOY, #FallOutBoyTODAY
26 TRAIN, #TrainTODAY
AUGUST
2 THE BAND PERRY, #BandPerryTODAY
9 MICHAEL BUBLE, #BubleTODAY
16 LUKE BRYAN, #LukeBryanTODAY
23 ONE DIRECTION, #1DTODAY
30 CHRIS BROWN, #ChrisBrownTODAY
Additional Today Show Summer Concert series performances may be announced throughout the season.
More Info: http://www.today.com/toyotaconcertseries/fun-chris-brown-one-direction-headline-today-2013-summer-concerts-6C9690371
How To Get a Fan Pass: http://www.today.com/id/49638754/ns/today-toyota_concert_series/
---
More Summer Concerts in NYC: