Usher, Maroon 5, Pharrell Williams
The TODAY Show Summer Concert Series 2014 takes place every Friday from May through September. The 2014 lineup includes Mariah Carey, Maroon 5, Usher, Sara Bareilles, Austin Mahone, Phillip Phillips, Ed Sheeran and more!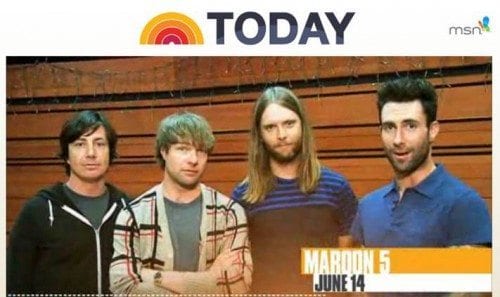 May 16 – September 5, 2014; Fridays
49th Street and Rockefeller Plaza
Fans and visitors are encouraged to come to the plaza for the TODAY Show Summer Concert Series live performances. Viewing is on a first-come, first-served basis outside TODAY's window-on-the-world studio, located at 49th Street and Rockefeller Plaza in New York City.
Fans should arrive by 6 a.m. for best viewing.
TODAY Show Summer Concert Series Line Up 2014:
MAY
16 Mariah Carey, #MariahTODAY
23 Tim McGraw, #TimMcGrawTODAY
26 Austin Mahone, #MahoneTODAY *Monday
30 Rascal Flatts, #RascalFlattsTODAY
JUNE
5 Pharrell, #PharrellTODAY * Thursday
6 Sara Bareilles, #SaraBareillesTODAY
13 Train, #TrainTODAY
17 Little Mix, #LittleMixTODAY * Tuesday
20 Fall Out Boy, #FallOutBoyTODAY
27 Phillip Phillips, #PhillipsTODAY
JULY
4 Ed Sheeran, #EdSheeranTODAY
11 Fifth Harmony, #5HTODAY
18 Jason Mraz, #JasonMrazTODAY
25 OneRepublic, #OneRepublicTODAY
29 Jennifer Hudson, #JHudTODAY * Tuesday
AUGUST
1 Aloe Blacc, #AloeBlaccTODAY
8 TBD
15 Neon Trees, #NeonTreesTODAY
22 TBD
29 Ariana Grande, #ArianaTODAY
SEPTEMBER
1 Maroon 5, #Maroon5TODAY
5 Usher, #UsherTODAY
Additional Today Show Summer Concert series performances may be announced throughout the season.
More Info: http://www.today.com/toyotaconcertseries/mariah-carey-usher-more-full-lineup-2014-summer-concert-series-1D79564738
How To Get a Fan Pass:  http://www.today.com/id/49638754/ns/today-toyota_concert_series/
---
More Summer Concerts in NYC:
Filed under: NYC August, NYC Concerts, NYC July, NYC June, NYC May
Last updated: