Usher, Maroon 5, Pharrell Williams
Stay tuned for 2015 information – 2014 concert dates were announced on May 4th, so check back soon.
The TODAY Show Summer Concert Series 2014 takes place every Friday from May through September. The 2014 lineup includes Mariah Carey, Maroon 5, Usher, Sara Bareilles, Austin Mahone, Phillip Phillips, Ed Sheeran and more!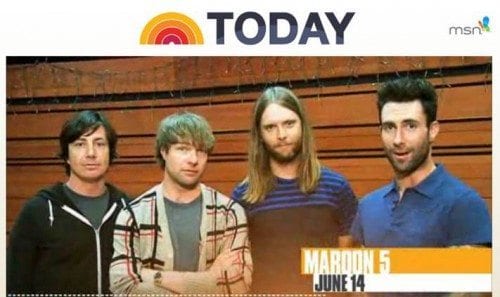 May 16 – September 5, 2014; Fridays49th Street and Rockefeller Plaza
Fans and visitors are encouraged to come to the plaza for the TODAY Show Summer Concert Series live performances. Viewing is on a first-come, first-served basis outside TODAY's window-on-the-world studio, located at 49th Street and Rockefeller Plaza in New York City.
Fans should arrive by 6 a.m. for best viewing. 
TODAY Show Summer Concert Series Line Up 2014: 
MAY
16 Mariah Carey, #MariahTODAY
23 Tim McGraw, #TimMcGrawTODAY
26 Austin Mahone, #MahoneTODAY *Monday
30 Rascal Flatts, #RascalFlattsTODAY
JUNE
5 Pharrell, #PharrellTODAY * Thursday
6 Sara Bareilles, #SaraBareillesTODAY
13 Train, #TrainTODAY
17 Little Mix, #LittleMixTODAY * Tuesday
20 Fall Out Boy, #FallOutBoyTODAY
27 Phillip Phillips, #PhillipsTODAY
JULY
4 Ed Sheeran, #EdSheeranTODAY
11 Fifth Harmony, #5HTODAY
18 Jason Mraz, #JasonMrazTODAY
25 OneRepublic, #OneRepublicTODAY
29 Jennifer Hudson, #JHudTODAY * Tuesday
AUGUST1 Aloe Blacc, #AloeBlaccTODAY
8 TBD
15 Neon Trees, #NeonTreesTODAY
22 TBD
29 Ariana Grande, #ArianaTODAY
SEPTEMBER
1 Maroon 5, #Maroon5TODAY
5 Usher, #UsherTODAY
Additional Today Show Summer Concert series performances may be announced throughout the season.
More Info: http://www.today.com/toyotaconcertseries/mariah-carey-usher-more-full-lineup-2014-summer-concert-series-1D79564738
How To Get a Fan Pass:  http://www.today.com/id/49638754/ns/today-toyota_concert_series/
Rockefeller Center Discount Passes
CityPASS
Choose between TOTR
or Guggenheim Museum


NY Explorer Pass
One time TOTR visit is
an attraction choice

New York Pass
Includes TOTR admission
and NBC Studios Tour

Back to Top Today Show Summer Concert Series
Hotels Near Rockefeller Center
Rockefeller Center runs from 47th – 50th Streets, between 5th and 6th Aves. Both Midtown East Hotels and Midtown West Hotels will be nearby.
Hotels within a 5-10 minute walk to Rockefeller Center include:
Back to Top Today Show Summer Concert Series
More Summer Concerts in NYC:
---
Discount NYC Concert Tickets
GoldStar Events
Half Off
Limited Selection


TicketsNow
Save 5% with
Code aff5off

Report this?