Puff Daddy, Blake Shelton, Charlie Puth
The TODAY Show Summer Concert Series takes place every Friday from May to September. The 2016 lineup includes Puff Daddy, Blake Shelton, Celine Dion, Jessica Simpson, Nick Jonas, Luke Bryan, Alicia Keys, Meghan Trainor, Macklemore & Ryan Lewis, Fifth Harmony, Charlie Puth, The Band Perry who will be performing live from the XXXI Olympic Summer Games in Rio de Janeiro and more!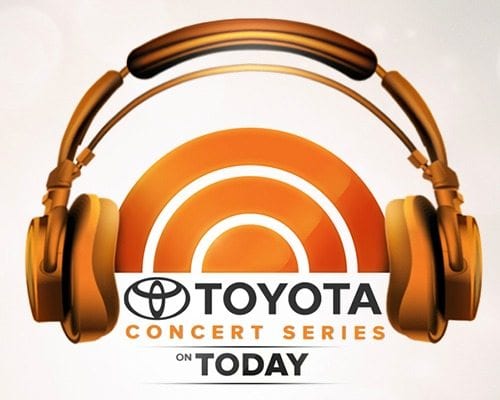 ---
May 20 – September 2, 2016; Fridays (some exclusions)
49th Street and Rockefeller Plaza
Fans are encouraged to visit the plaza outside "Today's" Studio 1A for the performances. Viewing is on a first-come, first-served basis. Entrance is located at 48th Street and Rockefeller Plaza in New York City (See: Rockefeller Center Guide). Sign up for Today Show Newsletter to be eligible for Fan Passes.
Fans should arrive by 6 a.m. for best viewing. 
---
TODAY Show Summer Concert Series Line Up 2016: 
MAY
20 – PUFF DADDY AND THE FAMILY (#PuffDaddyTODAY)
27 – DIERKS BENTLEY (#DierksTODAY)
30 – FIFTH HARMONY (#5HTODAY) *Monday
JUNE
3 – LUKE BRYAN (#LukeBryanTODAY)
10 – NICK JONAS (#NickJonasTODAY)
17 – CHARLIE PUTH (#CharliePuthTODAY)
21 – MEGHAN TRAINOR (#MeghanTODAY) *Tuesday
23 – MACKLEMORE & RYAN LEWIS *Thursday
24 – STEVEN TYLER
JULY
1 – RACHEL PLATTEN (#RachelPlattenTODAY)
8 – SHAWN MENDES (#ShawnMendesTODAY)
15 – TBD
22 – CELINE DION (#CelineTODAY)
29 – TBD
AUGUST

5 – BLAKE SHELTON (#BlakeTODAY)
11 – THE BAND PERRY (#TheBandPerryTODAY) Live from Rio
19 – TBD
26 – JESSICA SIMPSON (#JessicaSimpsonTODAY)
29 – DNCE (#DNCETODAY) *Monday
SEPTEMBER
2 – ALICIA KEYS (#AliciaKeysTODAY)
---
Additional Today Show Summer Concert series performances may be announced throughout the season.
More Info: 
TODAY.com/ConcertLineup
nbcnewyork.com/entertainment/entertainment-news/Today-Summer-Concert-Series-Lineup-Announced-379400981.html
How To Get a Fan Pass:  http://www.today.com/concertseries
Updated: June 22, 2016
Announced: May 13, 2016
---
Rockefeller Center Discount Passes
More Info: Visiting Rockefeller Center
Back to Top Today Show Summer Concert Series
---
Hotels Near Rockefeller Center
Rockefeller Center runs from 47th - 50th Streets, between 5th and 6th Aves. Download our free neighborhood maps at Midtown East Hotels and Midtown West Hotels
Back to Top Today Show Summer Concert Series
---
More Summer Concerts in NYC:
Summer Concert Series Schedules
(May - September)
---
June Concerts, Shows and Events
See All: NYC Concerts Shows June
Back to Top of NYC Concerts Calendar
---
July New York City Shows and Concerts
See All: NYC Concerts Shows July
Back to Top of NYC Concerts Calendar
---
August NYC Concerts and Shows
See All: NYC Concerts Shows August
Back to Top of NYC Concerts
---
September NYC Concerts and Events
Back to Top of NYC Concerts
---
Discount NYC Concert Tickets
---
---