"Perfect Princess" Girls Weekend in New York City
Kimberly's NYC Vacation with young girls was a hit! As the founder of GlobeAware, a nonprofit that develops short-term volunteer programs all over the world, Kimberly has visited the nooks and crannies of countries most of us have never even heard of! She also knows the best vacations are when you immerse yourself in the local culture and that is exactly what she did with her two-day September weekend in NYC, with her daughters, ages 3 and 5.
Day 1 – Friday Night
Mulberry Street (Little Italy) Apartment Check In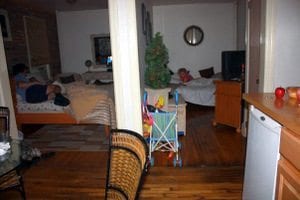 We checked into our charming apartment on Mulberry Street in Little Italy, which we chose because after doing our research on NYC Insider Guide, we knew it was the weekend of the San Gennaro Festival and wanted to be in the center of the action. The apartment was quaint and we lived like real New Yorkers all weekend, including our little balcony on the fire escape.
We booked it through VRBO, which we've used before in NYC, and paid under $200 per night for a perfect location right in the middle of such a fun festival!
---
San Gennaro Festival
We dropped our bags and headed right back out, smack into the middle of the Feast of San Gennaro and the Bounce House. All the restaurants had outdoor tables and the streets were filled with entertainment and the smell of authentic Italian food. The balloon guy was a scream, doing magic tricks and following us around to give endless balloon animals and swords to play with…
Back to top of NYC vacation with young girls
---
Day 2 – NYC Vacation with young girls
Breakfast at Balthazar Restaurant & Bakery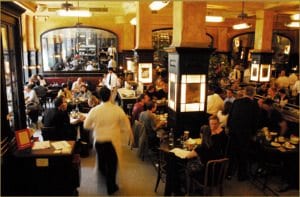 We woke up and walked 10 minutes to Balthazar, my favorite breakfast/brunch spot. Scrambled eggs in a puff pastry, brioche french toast, homemade oatmeal..mmmm. Balthazar is one of those quintessential NYC restaurants that scores the trifecta – great décor, service and food! All the decorations have been shipped straight from France, so you feel like you're in a Paris café, but with a definite NYC edge…it's also a great place for lunch and dinner if you're browsing art galleries or shopping at all the boutiques in SoHo.
80 Spring Street (Broadway and Crosby)
Subway: C, E at Spring St. or N, R, W at Prince St.
---
Scholastic Book Store in SoHo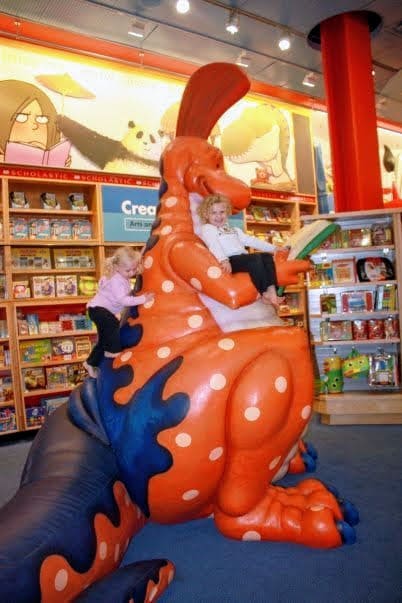 We walked right around the corner, and went to the huge (over 6,000 feet) children's bookstore, where the girls wandered and played for a bit. Scholastic Store is the entire ground floor of the Scholastic Publishing headquarters, who introduced Harry Potter to the US.
They had a great selection of kid's books as well as tons of of games, craft kits, toys and educational stuff. There was a huge amount of Harry Potter things, a 12-foot high doghouse with a huge Clifford and a long Magic School Bus the kids can pretend to drive.
557 Broadway (Prince and Spring St.)
Subway: C, E at Spring St. or N, R, W at Prince St.
NYC Insider Note: Since it was a beautiful day, they walked 15 minutes through Greenwich Village from Scholastic to the Orpheum Theater for Stomp, but could have taken the R/W subway one stop Uptown to 8th Street.
---
STOMP – Off Broadway Show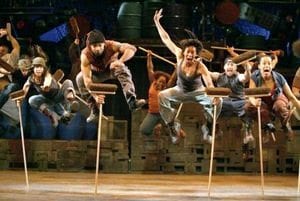 Thanks to NYC Insider Guide, we got $39 tickets to see STOMP. The girls thought STOMP was wonderful fun, though they did begin to wiggle the last 10 minutes, which is also when it gets really loud. Basically, there's no speaking, except a "Yeah" here and there, but the performers "talk" to each other with their made-up instruments, such as garbage can lids, brooms, buckets, sticks and even the kitchen sink. The show takes place in a junkyard where workers in coveralls are all sweeping at the same time, but eventually start to get a rhythm and use all the junkyard objects to make music, Zippo lighters, garbage cans, newspapers, plastic jugs, hubcaps, running water.
See a preview of Stomp on YouTube or read more about Stomp at New York Off Broadway Shows.
Orpheum Theatre, 126 Second Ave (7th and St. Marks place, equivalent of 8th Street)
---
Walk The Highline (Meatpacking District)
The Highline was a Highlight! We LOVE THE HIGHLINE, New York City's newest public park, in the Meatpacking District, along the water. It is an elevated walkway, above street level, made from converted railroad tracks. The benches are hooked up to the original train tracks and move sideways along the tracks. The girls climbed and jumped around on the benches and loved pressing their faces against the glass in the amphitheater overlooking 9th Avenue. We couldn't pull them away from here.
NYC Insider Note: This is the time to see the Ground Zero Museum Workshop, which has several kid-friendly exhibits. Unfortunately, reservations were not available at the time.
---
Dinner at Puglia in Little Italy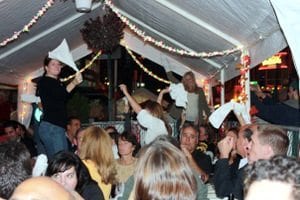 What kids would NOT love standing on their seats, twirling their napkins and dancing and singing throughout the meal? This is not a part of our normal dinner routine, so it sure made it fun. Apparently, it IS the normal routine at Puglia!
This was my favorite part of our weekend. It was extra-special for us, since it was during the San Gennaro Festival, so we had the added bonus of sitting outside on the street under a tent, and there were so many smiling, happy, shiny people watching from outside the restaurant waiting to get in, we really felt like we were in the center of all the action, which we were. The restaurant is named for "Puglia", a region in Southern Italy.
189 Hester St (at Mulberry St), (212) 966-6006, http://pugliaofnyc.com/
Back to top of NYC vacation with young girls
---
Day 3 – Sunday (My 5 year old says this was the BEST day of her life)
Staten Island Ferry for a Statue of Liberty View
We took the Staten Island Ferry for closer view of "The Statue of Litterty," as Maggie calls her. The ferry is free, runs every 30 minutes and takes approximately 25 minutes each way.
NYC Insider note: 1, 4, 5, N, R subway lines as well as the M1, M6 and M15 bus lines. Exit South Ferry, Whitehall Terminal is the Manhattan port and St. George Terminal is the Staten Island port, 4 South Street.
To get to Serendipity from the Ferry, take the 4/5 subway to 59th Street, 15 minutes to go 80 blocks (~4 miles). Would be a $20 taxi!
---
Lunch at Serendipity 3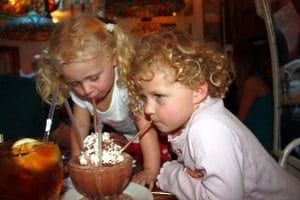 I think the funhouse mirrors would have kept the girls happy for hours. Of course, we had the famous frozen hot chocolate, one of Oprah's favorite things. Limited reservations accepted for lunch and dinner, but not for dessert only.
225 East 60th Street (2nd and 3rd Aves), http://www.serendipity3.com
---
Dylan's Candy Bar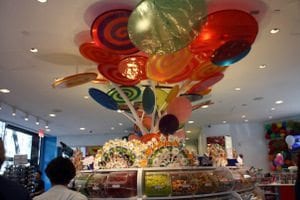 Welcome to Real Live Candy Land, the world's largest candy store, founded by Dylan Lauren, daughter of fashion designer, Ralph Lauren.
Think Willy Wonka…but not just chocolate. Over 5,000 types of candy including classics and new creations, spa products like hot-chocolate bath beads, custom ice cream flavors and candy clothing and jewelry.
Take a virtual tour of the Candy Bar. 1011 Third Ave (60th and 61st)
NYC Insider note: Right across from Bloomingdales, then walk west on 59th Street from 3rd Ave to 5th Ave for FAO Schwarz.
---
FAO Schwarz (not Schwartz)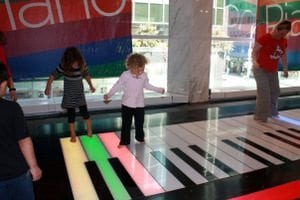 When we got to FAO Schwarz, my daughter said she never wanted the day to end. We've been here before, but every time it feels new for the kids. The store is set up with lots of areas for different toys, themes, castles, characters and games. Tons of life-sized stuffed animals…and is there anyone who doesn't jump on the keyboard from the movie, "BIG"?
767 5th Ave (58th & 59 St, right next to Apple Store)
---
Plaza Hotel
As Eloise fans know, the The Plaza hotel is where Eloise lives. The lobby is as elegant as ever, after The Plaza's recent $400M renovation.
768 5th Ave at Central Park South
(CPS is 59th Street, but the portion of it bordering Central Park is called Central Park South)
NYC Insider Note – If adding in American Girl Place, 10 blocks south at 609 Fifth Avenue at 49th Street, near Rockefeller Center.
---
Carriage Ride in Central Park

Every Princess deserves her Carriage Ride…and it was worth the money, but we learned a LOT about the rates.
The signs say "$34 for 30 minutes or any fraction thereof" – but the REAL DEAL is the Hansom Cab Drivers take you on an assigned 1.5 mile route through the park that takes approximately 20 minutes (18- 23 minutes, depending on the horse pace). Current Price Info: Central Park Ride.
So what the sign really should say is "$34 for 1.5 mile tour, $10 per 15 minutes thereafter," although the Hansom Cab Drivers do not like to add on time. The bottom line is you are paying for the tour, not hiring the Hansom Driver by the minute. Suggested tip is $6 if the driver does a great job, so budget $40.
NYC Insider note – Prices are for 4 Adults, or up to 5 people with 3 Adults and 2 small children.
---
Playing in Central Park
During the Carriage Ride, we saw the Carousel, Wollman Rink, Sheep Meadow, Belvedere Castle, Strawberry Fields, The Bandshell and the Bethesda Fountain and Terrace.
But as all NYC Insiders know, Central Park is meant to be PLAYED in, not just looked at! So, we spent our last minutes in NYC climbing the rocky hills in Central Park.
Sadly, we didn't get a chance to go to the Zoo…there's always next time!
Back to top of NYC vacation with young girls
---
Share Your NYC Favorites and NYC Itineraries!
Back to New York City Vacations
---
Filed under: NYC Kids, NYC Vacation Itineraries
Last updated: