Holiday Magic, Sparkling Lights, Window Displays
A New York City Holiday Lights Tour is a great way to see the magical holiday wonderland all over NYC, which is a "don't miss!" Though I usually recommend you see as much of NYC as you can on foot, it's not always possible. Seeing all of NYC's attractions, trees and lights across four square miles in one night and on foot can take a while, not to mention the holiday crowds and winter weather.
To the Rescue: a warm, guided, personal holiday lights tour!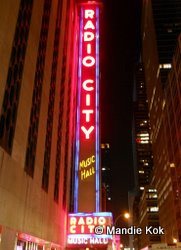 Get in the festive spirit by taking an evening tour of Manhattan's glittering holiday-season lights including: Central Park's Holiday Markets, The tree at Lincoln Center, The World's Largest Snowflake, all the store displays on Madison, Park and Fifth Avenues and lots more!
A NYC Insider Guide Reviewer gave TWO THUMBS UP on this NYC Holiday Lights Bus Tour and you can read the detailed review and see photos below.
Also Check Out these Holiday Lights Tour Options:
Back to Top of New York City Holiday Lights Tour
New York City Holiday Lights Tours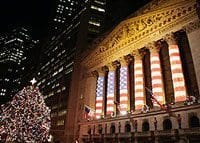 November 24, 2016 – December 30, 2016
Daily at 6:30 pm
Approximately 3 1/2 to 4 hours
Tickets from $55.
Meeting Point: 53rd Street side entrance of the Sheraton New York Hotel, off 7th Avenue
More Info: NYC Holiday Lights Tour
The tour takes place in a climate controlled luxury motor coach, with frequent stops to get out and view the displays up close. Along the way, you will see sights like:
Central Park's Holiday Markets
The multicolored snowflakes of Columbus Circle
The Lincoln Center Tree
The World's Largest Snowflake
Park Avenue's "Boulevard of Lights"
Holiday Model Train Exhibit (walking tour)
The Waldorf Astoria
Madison Avenue's displays
The world's largest Menorah
The Plaza Hotel
FAO Schwarz
Rockefeller Center (walking)
Times Square
Plus, the window displays of: Bloomingdales, Barney's, Saks 5th Avenue, Bergdorf Goodman, Lord & Taylor and Macy's
More Info: NYC Holiday Lights Tour
Back to Top of New York City Holiday Lights Tour, December Events
New York City Holiday Lights Tour Photo Gallery
(Roll Over Thumbnails to See Photos)
Rockefeller Center Christmas and Channel Garden Angels
Back to Top of New York City Holiday Lights Tour, December Events
New York City Holiday Lights Tour Review
by Mandie Kok, South Africa
The New York City Holiday Lights Motorcoach Sightseeing tour is an ideal way to start your winter vacation in New York. The tour covers most of the holiday attractions in Midtown Manhattan and offers a good introduction to locations you might want to visit during your trip.
The tour starts at the 53rd Street side entrance of the Sheraton New York Hotel, off 7th Avenue. It is easy to find, with several subway stations close by. The hotel is not affiliated with the tour, it just serves as a convenient meeting place. However, if you need to use a restroom, you can enter through the hotel's garage and use the facilities next to the ballroom. You will also be able to go on the bus if the need arises.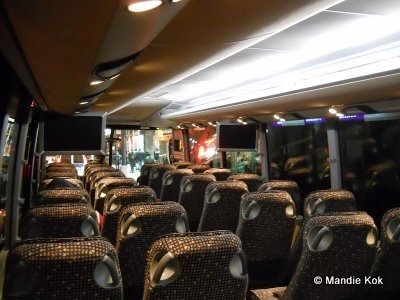 The motorcoach is heated, but not so much that you will need to take off your coat. Don't worry about scrambling for a seat – the route loops back on itself on occasion, so you can sit anywhere without missing any of the important sights. You will be able to hear the guide even if you sit at the back.
One drawback of a night-time bus tour is that photography is nearly impossible. The tour guide will request that you turn off your camera's flash, since the windows are tinted and the light will bounce around inside the bus. After experiencing several accidental flashes going off, I can attest to the fact that this is painful and annoying, so be sure to turn off your flash or cover the light with your hand before taking photos.
Even while the bus is standing still, the vibrations will make your photos blurry. It is better to use a video camera to film from inside the bus and then take photos during the walking tours.
The tour is scheduled to last for 4 hours, but it may be shorter, depending on traffic. You will still see all the attractions, regardless of the length of the trip. The attractions may change from year to year, with less than spectacular displays excluded and exciting new sights added.

Times Square Billboards
Chris, our tour guide, was entertaining and informative. While David, our driver with nerves of steel, manipulated the busy streets, Chris shared personal stories, historical background and tips about visiting New York's most popular tourist spots. When we drove past the Rockefeller Center's amazing Christmas tree, the number of people milling around outside was frightening. Chris told us about an alternative route to avoid the crowds and get close to the tree. Following his advice later that evening, we were able to casually walk up right to the base of the tree. That tip alone made the tour worthwhile.
This tour is suitable for children and the short walking tours to view attractions up close will keep them interested. You will encounter many of the attractions simply while shopping, but to see it all in one evening and to find out the history behind the installations makes for a delightful introduction to New York.
NYC Holiday Lights Tour Tickets
About This Review: In December, I spent a month in South America and rented my NYC apartment to wonderful young woman, Mandie, visiting NYC for the first time from South Africa.
I put Mandie to "work," asking her to review some tours and sights of NYC so she could write them up for you.
Lucky for us, she did an amazing job taking photos and detailed notes for you, so you know exactly what to expect on a NYC Lights Tour.
Back to Top of NYC Holiday Lights Tour, December Events
More New York City Lights Tours
New York Christmas Holiday Tour (4 hrs) – Hop On Hop Off guided bus tour takes you to see the Rockefeller Christmas Tree, all the famous displays at Bloomingdales, Lord & Taylor, Saks Fifth Ave, Macy's and others along Fifth Avenue. Then, drive through Times Square, Columbus Circle and see Lincoln Center, horse-drawn carriages at the entrance to Central Park, through the Park and a quick stop to see the ice skaters and the Holiday Market at Bryant Park. Nov 30, 2016 – Jan 7, 2017
The Ride Holiday Edition – The Ride, one of NYC's most popular bus tours, has more TV screens (40) and LED lights than any other tour bus, as well as a booming club-quality sound system, stadium seating and floor-to-ceiling windows. During the holidays, the 75-minute holiday-themed tour offers cheery seasonal tunes and decorations.
Festive Holiday Dinner Cruise – the perfect blend of DJ entertainment, skyline views, and gastronomic delights… all aboard a hybrid yacht. Be greeted with a glass of sparkling wine, enjoy cheeses and crudité, a carving station and an unlimited buffet. (December 4, 11, and 18)
Holiday Lights and Movie Sites Tour – the perfect excursion for movie-buffs lucky enough to be in town over the holidays, or anyone who wants to catch a glimpse of that picture-perfect city they know from its cameos on the silver screen. The Holiday Lights & Movie Sites guided bus tour gives passengers an up-close look at the locations used for iconic New York City holiday movie scenes while they take in the broader vistas of the dressed-up city during this magical time of year.
Back to Top of New York City Holiday Lights Tour
Christmas Holiday Walking Tour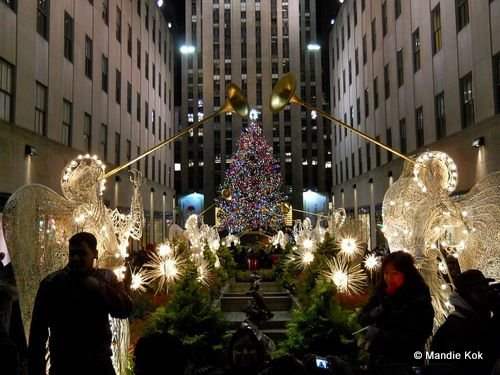 This 3 1/2 hour holiday tour highlights the festive homes of Dyker Heights, the Italian-American section of Brooklyn made famous in the PBS documentary "Dyker Lights" and seen on TLC's "Crazy Christmas Lights." You'll also visit the festive homes in the Bay Ridge and Bensonhurst sections of Brooklyn.
More Info: Slice of Brooklyn Christmas Lights Tour
Back to Top of New York City Holiday Lights Tour