Spring, Fall, Men's, Women's, Boutique
Every February and September, New York Fashion Week leads the fashion world as the first of four major fashion weeks held around the globe. Mercedes-Benz Fashion Week is the most well-known event, however there are hundreds of fashion related events around the City, offering all fashionistas a chance to shop, cocktail and pamper themselves all night in the city's coolest neighborhoods! Here's a round up of some popular NY Fashion Week events and please feel free to add your event to the New York Fashion Week and Fashion's Night Out calendar.
---
Fashion Week in NYC by Mercedes-Benz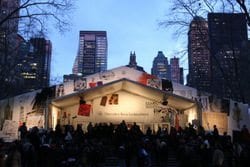 Spring/Summer: September 8-15, 2016
NOTE: NEW LOCATIONS!
Mercedes-Benz Fashion Week is likely the most well-known event during New York Fashion Week, but not the only one. Many top-name designers show their collections at other venues, including Ralph Lauren, Donna Karan, Calvin Klein and Marc Jacobs. Dozens of other fashion shows and related events are held around the city during Fashion Week in NYC.
As of September 2015, Fashion Week has left Lincoln Center and takes place at multiple different locations:
Skylight at Moynihan Station, 360 W 33rd St, Midtown West
Skylight Clarkson Square, 550 Washington St, SoHo
www.racked.com/fashion-week has a great round up of all the major fashion week events.
More Fashion Week Events:
Back to Top of New York Fashion Week
---
New York Fashion Week Invites and Discounts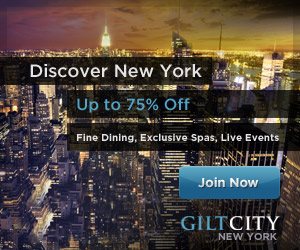 Gilt City has some of my favorite upscale NYC deals and they often have exclusive access to New York Fashion Week Events. With Gilt City, you can experience New York Fashion Week like a true insider, with access to fashion shows, backstage passes, after-parties and more.
Recent offers include: Reserved seats and backstage passes at several fashion shows, tickets to Fashion Week Party at the Empire Hotel, membership to exclusive Fashion Week Pop Ups, and much more.
Back to Top of New York Fashion Week
---
Men's Fashion Week NYC
February 1-4, 2016; Skylight Clarkson North
July 11-14, 2016
The Council of Fashion Designers of America launched New York Fashion Week: Men's, a standalone showcase for American men's fashion which kicked off with the Spring/Summer 2016 collections at Skylight Clarkson Sq. The sophomore season will be held February 1-4 at Skylight Clarkson North.
www.cfda.com/programs/new-york-mens-week
Prior Dates:
July 13-16, 2015
Back to Top of New York Fashion Week
---
Fashion Week Hotels in NYC
Please note the NEW location of Fashion Week as of 2015 that will likely change many of these specials. Feel free to browse our recommended hotels in both Midtown West and SoHo, the new Fashion Week locations.
Following is a collection of hotels that have offered Fashion Week specials over the last few years. Please check their websites for current specials.
Back to Top of New York Fashion Week
---
The NYC Insider Printable Guide
Includes over 20 Discount and Outlet Shopping Locations rarely advertised in New York City. Not just discount chains, but REAL NYC Insider shopping secrets open to the public.
Did you know you can just walk into a specific Theory store and get 30% off any current item? If they don't have it in stock, they will special order it for you.
Get all our NYC Shopping Secrets on one page with a map (and some store manager's names!) so you'll know where the bargains are everywhere in NYC.
Back to Top of New York Fashion Week
---
Fashion Plate Prix Fixe – Discount Dining
Note: Due to New Fashion Week locations, this info is likely obsolete. Please stay tuned for updates!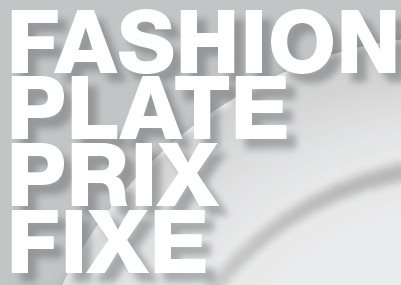 During New York Fashion Week, the Lincoln Square Business Improvement District rolls out the red carpet for everyone who wants to join the world-class exhibition of style and design with Lincoln Square's Fashion Plate Prix Fixe!
As some of the world's top tier designers unveil their latest collections, chefs from Lincoln Square's finest restaurants showcase their own creative talents by offering New Yorkers sumptuous meals at can't-beat prices as part of the Lincoln Square BID's very own restaurant week. More info: http://lincolnsquarebid.org
Back to Top of New York Fashion Week
---
Fashion Week NYC Dates
Fall/Winter Fashion Week: February 9-17, 2017
Spring/Summer 2017: September 8-15, 2016
Fall/Winter Fashion Week: February 11-18, 2016
Spring/Summer 2016: September 10-17, 2015
Fall/Winter Fashion Week: February 12-19, 2015
Spring/Summer 2015: September 4-11, 2014
Fall/Winter Fashion Week: February 6-13, 2014
Spring/Summer September 5-12, 2013
Back to Top of New York Fashion Week
---
Annual Fashion's Night Out – Cancelled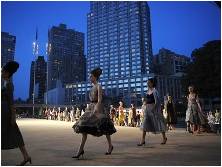 September 6, 2012
Fashion's Night Out puts the fun back in shopping, with designer appearances, live windows, celebrity guests, and other special events. Fashion's Night Out is an unprecedented global initiative created to celebrate fashion, restore consumer confidence, and boost the industry's economy. Stay tuned for special shopping events, discounts, cocktails, soirées and more at Times Square, Rockefeller Center and dozens more places around NYC.
---
Back to Top of New York Fashion Week

---