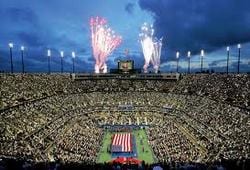 Tickets, Schedule, Insider Tips and Photos
The US Tennis Open is always an amazing event and 2016 promises to be no different. Federer, Djokovich, Murray, Serena Williams and so many more amazing players!!!! Get the info on the US Tennis Open Schedule, U.S. Open Tennis discount codes, US Open Vacation Packages, NYC Insider Tips, photo galleries, directions and more. 

The US Open is one of my all time favorite sports events!! The Billie Jean King National Tennis Center is one of the nicest sporting venues there is, and the crowd is always amazing. Who knows, maybe you'll catch an 11 hour tennis match this year? With FREE qualifying rounds, Arthur Ashe Kids Day, and almost guaranteed celebrity sightings, there is something at the US Open for everyone and every budget.
And with the new retractable roof on Ashe (no more rain outs!!!), upgraded USTA Billie Jean King National Tennis Center grounds, more seats, more food options….2016 is going to be the BEST OPEN EVER!
Read the complete NYC Insider Guide to the US Tennis Open, with discount tickets, hotel packages, schedule, seating chart and more!
2016 US Tennis Open
August 29 – September 11, 2016
How to Get US Open Tickets
Back to Top of US Tennis Open
---
US Tennis Open Hotels
The Best US Tennis Open hotels include our cheap, budget and lesser known discount hotels along with Hotels near Grand Central, Penn Station and the NTC in Queens.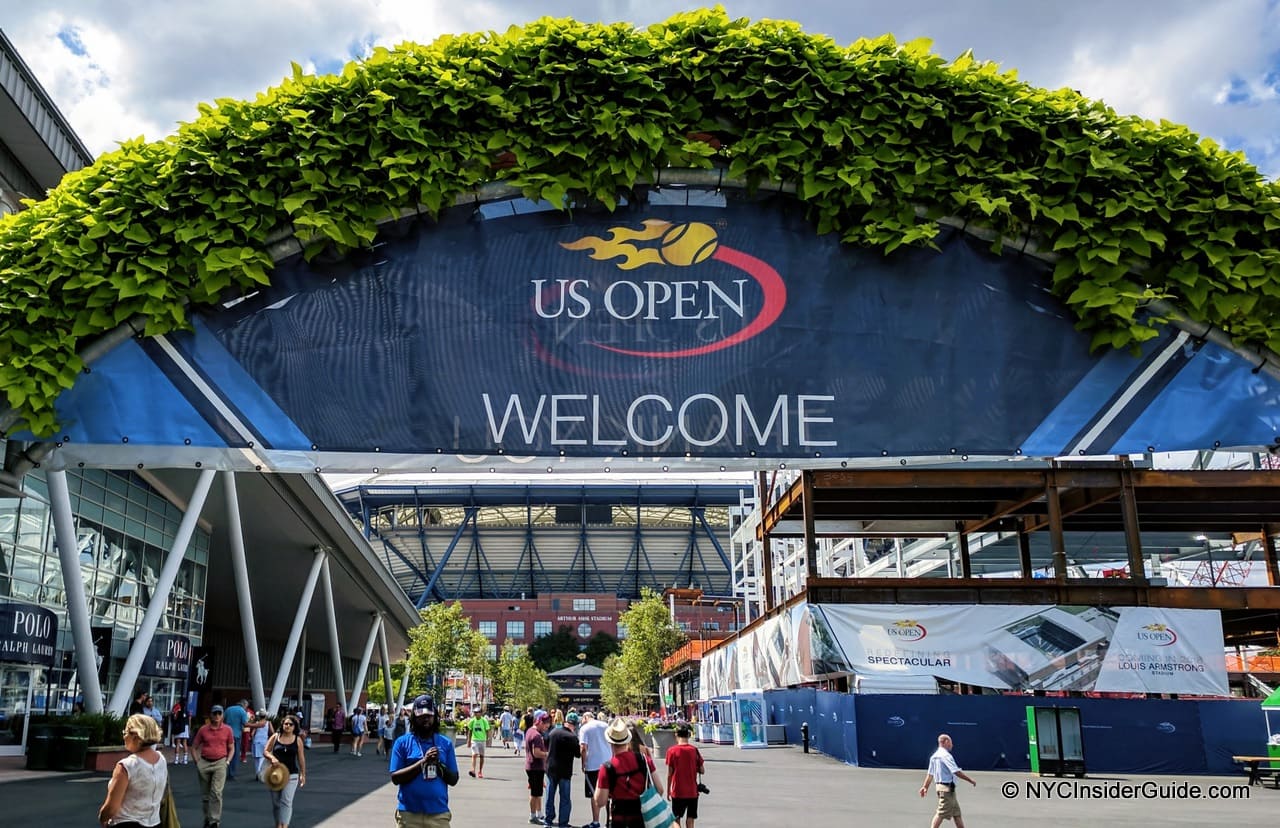 Part of the fun of traveling to the US Open is to see NYC, right? In that case, you'll want to stay in hotels closest to the NYC public transportation that takes you there quickly. If you have a car to park, then a Queens hotel with a shuttle to the NTC might be best for you. Read the full guide: Best US Tennis Open hotels.
Back to Top of US Tennis Open
---
U.S. Tennis Open Schedule 2016
August 29 – September 11, 2016
The US Open has moved finals weekend back to Saturday, September 10th (Women's Final/Men's Doubles Final) and Sunday, 11th (Men's Final/Women's Doubles Final). The women's semifinals kick off the action on Thursday afternoon, with the men's semifinals moving to a Friday afternoon slot.
You can safely buy tickets and not worry about games being canceled. NO MORE RAINOUTS! As of 2016, Ashe has a retractable roof and it looks awesome!!!!
Around 85 percent of the entire USTA Billie Jean King National Tennis Center grounds have been upgraded as part of the strategic transformation, all aimed at improving the fan experience and getting people closer to the action than ever before. Bring it on, US Open, we love you!!!!!
Arthur Ashe Stadium Schedule
Back to Top of US Tennis Open
---
Louis Armstrong Stadium Schedule
Back to Top of US Tennis Open
---
U.S. Tennis Open Free Qualifying Rounds
Want to see some really cool tennis at almost no cost? Check out the US Open Qualifying Rounds, starting the last Tuesday (Aug 23rd) before the start of the US Open, ending on Friday (Aug 26th) of the same week. Gates open at 10 a.m. and are free and open to the public. No ticket is required. Watch a level 7 player in front row seats, when hardly anyone is there. Tuesday, 11:00 through Friday 11:00am.
Arthur Ashe Kids Day is Saturday, August 27th. It's free to enter the grounds and grand stadium tickets start at $13. There will be a lot of activities and give aways, like caps, wrist bands, tennis racquets, face painting for kids 14 and under.

Tues, Aug 23, 11:00 am, Qualifying Tournament
Wed, Aug 24, 11:00 am, Qualifying Tournament
Thurs, Aug 25, 11:00 am, Qualifying Tournament
Fri, Aug 26, 11:00 am, Qualifying Tournament
Sat, Aug 27, 9:30 am, Arthur Ashe Kids' Day
Back to Top of US Tennis Open
---
US Tennis Open Vacation Package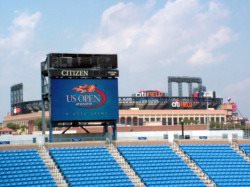 Check out this great NYC US Open Vacation Package customized by local NYC vacation experts.
The package includes hotel, 3rd Round Open tickets, Grounds Pass, $25 credit, Empire State Building and Top of the Rock (or many other choices) and much more.
Customize your NYC Vacation package any way you want to make the most of your NYC trip – the choices are endless. 
The US Open NYC Vacation Package Includes:
Accommodations for 2 nights or longer at a midtown Manhattan hotel
Tickets to 3rd round Men's and Women's action (reserved seats in Arthur Ashe Stadium Upper Promenade level)
Grounds Pass for Louis Armstrong Stadium, Grandstand and field courts
$25 per person in food, beverage and souvenirs at the USTA Billie Jean King National Tennis Center
Metrocard for full-day use of the NYC bus and subway
Free admission to the Empire State Building Observatory, Museum of the City of New York or NY Water Taxi's Statue of Liberty Flex Pass
Free admission to the American Museum of Natural History, Metropolitan Museum of Art or Top of the Rock Observation Deck
All state and local hotel taxes, and much more
The best part is they do ALL the planning for you and let you customize your trip exactly the way you want! Plus, you'll have all your tickets and itineraries in hand before you visit! More Info: NYC US Open Vacation Package
Back to Top of US Tennis Open
---
U.S. Tennis Open Discount Tickets and Codes
Discounts are almost always good for 300+ level seats and early sessions only. Do not waste your time trying to get discounts to lower level seats or Finals sessions.
Labor Day Weekend 2016 – Fri 9/2 – Mon 9/5. All coupons valid on varied sessions.
Please also see our tutorial on How to Use Coupon Codes
Back to Top of US Tennis Open
---
Fill up your Metrocard, if it's not Unlimited Ride, before you go to Arthur Ashe Stadium, or you'll be waiting for hours trying to fill it at the subway after the matches.
Also, for a TRUE insider's guide to getting US Open tickets, make sure to read this article by my friend, PJ Simmons, on the best seats and where to spend and save at: A Serious Tennis Fan's Top 10 Tips for the US Open (Tickets & More).
And for the true tennis fan and player, check out his world-class US Tennis Congress.
Back to Top of US Tennis Open
---
U.S. Tennis Open Arthur Ashe Stadium Seating
During a day session, I highly recommend you consider a shaded section. It can be brutally hot and blinding during some sessions.
The shady sections at Ashe tend to be on the West and South sides since the sun starts on the South side (shining on the North side) and moves towards the West (shining on the East Side) of the stadium. Look at sections 301-328 (Upper Promenade) below and then move down for those looking for Lower Promenade, Loge or better seats.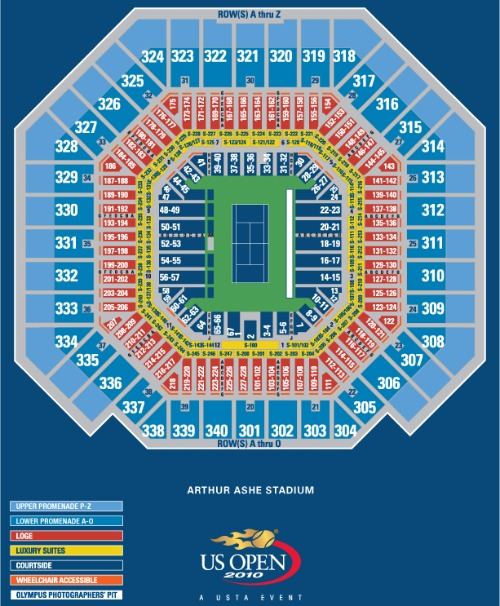 Larger View: Arthur Ashe Seating Chart
The following items are not allowed on the grounds of the U.S. Tennis Open: briefcases, knapsacks, backpacks, hard coolers, glass bottles or cans, aerosol cans, alcoholic beverages, computers or laptops, pets, tennis racquets, roller skates…and the usual weapons, firearms, etc.
Back to Top of US Tennis Open
---
US Tennis Open Photo Gallery
The 2010 US Tennis Open is officially over and Rafael Nadal certainly earned his place as the #1 Player in the World after his first Grand Slam win and first US Open title. Here are a few US Tennis Open pictures from the 2010 Men's Tennis Finals.

---
Back to Top of US Tennis Open
---