Giants, Jets, Yankees and Mets!
Here is a quick overview of our New York City Sports Teams. Make sure to add a NYC Game Day to your NYC vacation – it's an absolute MUST in NYC! The sports atmosphere in New York is exhilarating year round and some of the most intense competition is within our own rivalries…
Yankees vs. Mets | Rangers vs. Islanders | Giants vs. Jets
Links: Yankees | Mets | Giants | Jets | Rangers | Knicks | Nets
---
Top Ways to Get New York City Sports Teams Tickets
About New York City Sports Teams
New York City sports teams are some of the best in the world. Boasting rights allow us to include:
5 Super Bowl wins (4 Giants, 1 Jets)
8 Stanley Cups (4 Rangers, 4 Islanders)
29 World Series wins (27 Yankees plus 10 NY Giants, 2 Mets)
2 NBA Championships (Knicks)
Attending a New York City Sports Team event during your visit should be priority!
The easiest events to get to are NY Rangers and NY Knicks, both at Madison Square Garden.
The NY Yankees and NY Mets are quick and very easy subway rides out of NYC.
The NY Giants and NY Jets play in New Jersey, about an hour outside of Manhattan, and the games take up a full Sunday, but there is nothing like a traditional American Football game.
---
US Tennis Open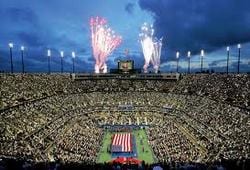 August – September
This is one of my all time favorite sports events. The Billie Jean King National Tennis Center is a fantastic sporting venue and the crowd is always amazing. Read the complete NYC Insider Guide to the US Tennis Open, with discount tickets, hotel packages, schedule, seating chart and more!
Back to Top of New York City Sports Teams
---
New York City Sports Teams | MLB Baseball
April-October/November
New York Yankees (American League)
The new Yankee Stadium in the Bronx is fabulous, but it's ALWAYS the fans that make a Yankees Game one of the BEST things you can do in NYC. Yankees history is filled with all time greats, like the recently retired, Derek Jeter, Babe Ruth, Yogi Berra, Lou Gehrig, Joe DiMaggio, Mickey Mantle and Jackie Robinson.
Truth be told, my family is split down the Mets/Yankees line, but I am 100% Yanks – they are my favorite New York City Sports Team. Such magical memories from the 70's (hmm..did I just date myself?) with my Aunt and Uncle who had the best seats right between home and 1st, watching Bucky Dent, Reggie Jackson and Thurman Munson with a soda and a hot dog! I can't even recall a game they lost, all I remember is leaving the stadium as winners, with Sinatra's "New York, New York" playing loudly, a long-time NY Sports tradition.
Back to Top of New York City Sports Teams
---
New York Mets (National League)
Read More: New York Mets Tickets, Schedule and Directions
Back to Top of New York City Sports Teams
---
Major League Soccer
March through October
New York City Football Club
---
New York City Sports Teams | NFL Football
August-January
New York Giants Football(NFC)
Come see the 2012 SuperBowl Champs with star quarterback Eli Manning and Hakeem Nicks, Victor Cruz, and Ahmad Bradshaw. And let's not forget our historical favorites like Frank Gifford, Lawrence Taylor, Tiki Barber, Phil Simms, Bill Parcells and Michael Strahan.
More Info: New York Giants Tickets, Schedule and Directions.
Back to Top of New York City Sports Teams
---
New York Jets Football (AFC)
Back to Top of New York City Sports Teams
---
New York City Sports Teams | NBA Basketball
November-April/May
New York Knicks Basketball
---
Brooklyn Nets Basketball
Back to Top of New York City Sports Teams
---
NHL Hockey
New York Rangers Hockey
October-April
---
New York Islanders Hockey
Back to Top of New York City Sports Teams
---
Discount New York City Sports Tickets
---
Broadway, Sports, Concert Tickets Below Retail Price
ScoreBig is a great way to get huge ticket discounts – YOU pick YOUR price!
Here's a sneak peek at some NYC Tickets:
Yankees, Mets, Knicks, Rangers, Jets and Giants
Top NYC Concerts
Top Broadway Shows
Back to Top of New York City Sports Teams
---
Super Bowl 2014 (XLVIII) New York City
Back to Top of New York City Sports
---
New York City Sports Teams | Tennis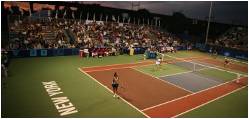 Our New York Tennis Team, Sportimes, hosts an array of tennis superstars such as Andy Roddick, James Blake, Serena Williams, Kim Clijsters and the legendary John McEnroe, doing battle so close, you can almost touch them.
The New York Tennis Team Sportimes franchise of World Team Tennis play 7 home matches July 5-19, against opponents in the Eastern Conference of World Team Tennis. All home matches are hosted at Sportime Stadium on Randall's Island. Its fast, furious and an entertaining night out for the whole family. Full match schedule and tickets from as little as $40 can be purchased at NYSportimes.
---
NYC has hosted the 2013 MLB All Star Game, 2014 Super Bowl and US Golf Open 4 times in the last 10 years. Check the New York City Events calendar to see upcoming major New York City Sports events.
Back to Top of New York City Sports Teams
---