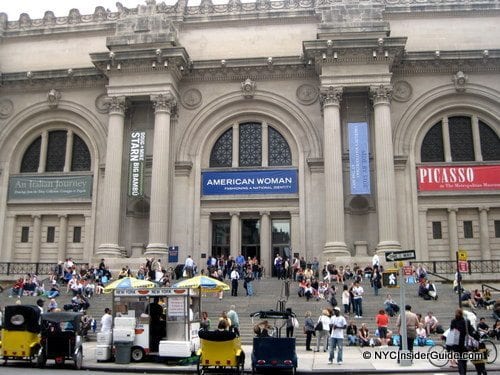 Museum Mile and Luxury Shopping
The Upper East Side is an upscale, residential neighborhood filled with young professionals, families and many famous socialites, politicians and celebrities. It is home to "Museum Mile," some uber-upscale shopping, the Mayor's mansion and the homes on Fifth Avenue, along Central Park, are some of the most exclusive in all of Manhattan, and are currently the backdrop for television shows such as "Gossip Girl" and "The Real Housewives of New York."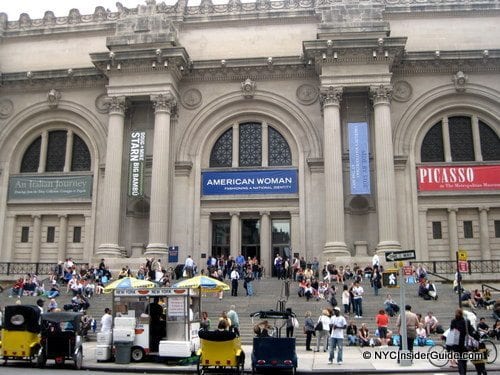 Metropolitan Museum of Art
Things to Do
Metropolitan Museum of Art (1000 5th Ave, 82nd St) –  more than 2 million works of art spanning 5,000 years of world culture.  Suggested: $25;  $17, 65+, $12 students, under 12 free. Fri/Sat night, 6-8 pm, classical string quartet above theGreat Hall and definitely try and see the roof view in summer, overlooking Central Park.
Guggenheim Museum (1071 5th Ave, 89th) – building itself is an architectural icon, exhibitions of modern and contemporary art, closed Thurs.
Museum Mile (5th Ave, 82nd to 105th) also includes:
Frick Collection (1 E 70th, 5th Ave),
Jewish Museum (1109 5th Ave, 92nd/93rd),
Cooper-Hewitt National Design Museum (2 E 91st, 5th Ave)
Gracie Mansion, the mayoral abode (except for Mayor Bloomberg), a historic house on 88th and East End Ave, overlooking the East River and surrounded by a waterfront park.
Upper East Side and Discount Passes
The New York Pass Includes:
Suggested donation to The Met ($25)
Museum of the City of New York ($10 adult)
Guggenheim Museum Admission ($25)
Central Park TV & Movie Sites Walking Tour ($24)
UPTOWN New York TV & Movie Sites bus tour ($32)
20% Discount on other On Location Tours, like Gossip Girl and Central Park Movies & TV
Suggested donation to The Met

Suggested donation to The Met
Choice of Guggenheim Museum OR Top of the Rock
Top of Upper East Side
Upper East Side Recommended Restaurants
Papaya King (86th,3rd Ave)– grab a hot dog at the famous NYC institution.
Big Daddy's (1596 2nd Ave, 83rd) – casual, burgers, shakes, tater tots and fries. Balloons, wall murals, lunch boxes. Great for kids.
Uva Wine Bar (1486 2nd Ave, 77th St) – small, quaint, good tapas.
Café Boulud (20 76th, Madison Ave) – sister restaurant to top-rated French, Daniel (65th & Mad). Less expensive, but not cheap. Jackets recommended for men.
B. Café (240 E 75th, 2nd/3rd Ave) – Belgian bistro with great mussels, fries and beer, outdoor garden in summer.
Thousands more restaurants on 2nd and 3rd Aves, 50s to 90s Sts.
More Upper East Side Restaurants.
Upper East Side Shopping
Madison Ave (58th to 88th) – Bottega Veneta, Chanel, Chloe, Christian Louboutin, Dolce & Gabbana, Gianni Versace, Giorgio Armani, Jimmy Choo, La Perla, Prada and dozens more high-end designer stores and local boutiques.
Boutiques – more unique and local flavor along 3rd Ave in the 70s, lots of children's, tween, teen and adult stores.
INA (208 73rd, 2nd/3rd Ave), Designer Resale (324 E 81st, 1st/2nd Aves) are two great designer resale shops (the Madison Ave shoppers who wear things once, if at all, and sell or donate them).
Upper East Side Hotels
Click for current rates and reviews or keep reading for more hotel details.
New York City Luxury Hotels – Upper East Side
The Pierre Hotel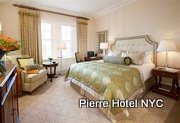 The Pierre, on Fifth Avenue overlooking Central Park, recently completed a $100 million renovation to create new guestroom and bath interiors and reconfigure first floor public areas to include London's classic brasserie, Le Caprice and Two E Bar/Lounge. Staff outnumber guests by a ratio of three to one. The Pierre's history is as rich and deep as that of the Vanderbilts, Morgans, Astors, Chryslers and E.F. Hutton, all famed guests of the original restaurant, and much like these names, The Pierre Hotel is a New York City icon.
Rates Reviews: The Carlyle, Rosewood Hotels
See More: New York City Luxury Hotels
The Carlyle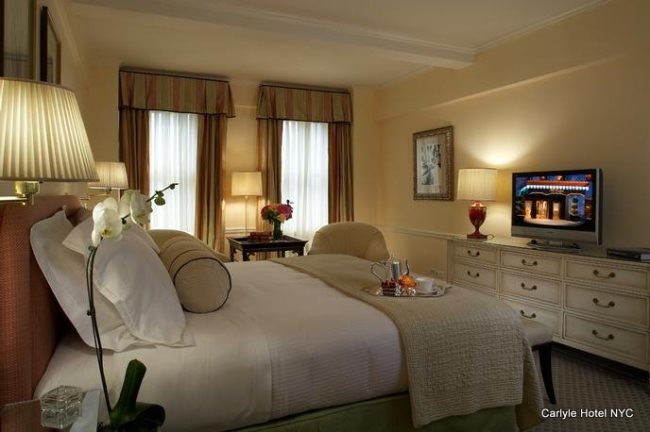 A recipient of Travel + Leisure's World's Best Hotel in New York award, The Carlyle Hotel has been called home by leaders in world affairs, business, society and the arts since its debut in 1930. Brilliantly positioned on Madison Avenue in Manhattan's Upper East Side overlooking Central Park, it is a true New York City landmark — a showcase of great art, a purveyor of privacy and a sanctuary of luxury and refined taste. Café Carlyle, the piano bar, hosts stars like Woody Allen regularly.
Rates Reviews: The Carlyle, Rosewood Hotels
See More: New York City Luxury Hotels
The Mark Hotel
The Mark Hotel includes a state-of-the-art gym, spacious guest rooms, The Mark Restaurant by Jean Georges, large soaking tubs and many more top of the line luxuries. Reviewers say, "From the bell man to to the front desk and concierge, they were all very hospitable and helpful. Their Tesla house car was a very nice perk too."
The Surrey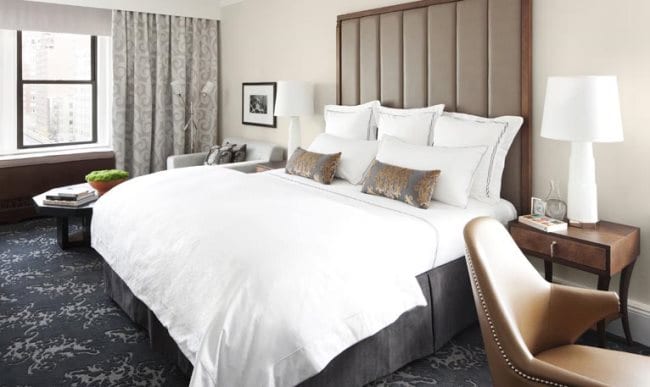 The Surrey offers a seasonal (and highly coveted) private rooftop garden, Café Boulud (very popular restaurant), divine bed linens, a spa and luxury bath amenities.
Hotel Plaza Athenee

Loews Regency

Top of Upper East Side, More New York City Hotel Deals
Subways
6 to 68th, 77th, 86th (also 4/5), 96th
General Address: 59 East 79th St, New York, NY 10075
Upper East Side Printable Map

Upper East Side NYC Map
(Download Full Size By Sharing Above)
See the full NYC Insider Print Guide
Top of Upper East Side

NYC Insider Print Map and Guide to Manhattan
Download over 100 pages of NYC maps, information and recommendations in less than 5 minutes! Our NYC Insider Printable Map Guide Book includes organized, easy to follow, color coded guides to NYC, detailed maps of every neighborhood, weekly chart of Free Museum Days and Times and free weekly neighborhood tours, Best of NYC Categories and lists by ALL native New Yorkers and much more.
The New York City Travel Guide is your NYC PRE VACATION Guide, sort of like, "New York City 101." This book is an overview of NYC to help you PLAN your trip so you make the absolute MOST of your time and money here. Think of this book as the guide to answer all the most commonly asked questions and avoid the most common NYC Vacation and Trip Planning mistakes.
The NYC Map Printable Bonus Guide is a 14 page downloadable Bonus Guide, compiled of the best free, downloadable local neighborhood maps with stores and shops block by block put together by our local NYC neighborhood associations; all formatted and ready for you to print.
Top of Upper East Side
Share YOUR favorite travel tip, story or photo