Wall Street, Charging Bull, 9-11 Museum
The Financial District (FiDi), at the southern tip of NYC, was the original settling point of New Yorkers in the 1600s, when the island of Manhattan was purchased by the Dutch from the Indians for 60 guilders (about $24). It is one of NYC's most bustling business and tourist areas, from Monday to Friday only. It is near dead on the weekends. In recent years, the construction of modern high rise buildings have started attracting more residents and new New Yorkers.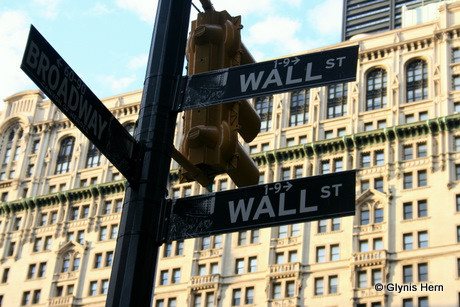 Things to Do
American Stock Exchange (86 Trinity Place, Pine St) and the New York Stock Exchange (20 Broad St). Closed to public touring indefinitely for security reasons.
Trinity Church
Brooklyn Bridge – walk across for a great view
NYC Police Museum– 100 Old Slip. Mock jail cell, vintage weaponry, 9/11 exhibit, take a mug shot.
Additional Museums – Fraunces Tavern, Smithsonian National Museum of the American Indian, Museum of American Finance, Sports Museum of America
South Street Seaport – shops, restaurants, ships, water views (a little touristy, but nice). During the summer, check the Seaport Music Festival at Pier 17, with FREE music on Friday nights showcasing the views of downtown Manhattan and East River. www.seaportmusicfestival.com
TKTS booth – 1 Seaport Plaza (192 Front Street). Less crowded than Times Square for half price Broadway Tickets
Staten Island Ferry (South Ferry) – Free, passes close to Lady Liberty, runs every 30 minutes and takes approximately 25 minutes each way. (1, 4, 5, N, R, exit South Ferry)
9-11 Memorial Museum, 9-11 Memorial, 9-11 Memorial Tours
One World Observatory NYC – opening May 2015
Downtown Alliance – Free 90 minute guided walking tour, Thursday and Saturday at 12:00 pm. Stops include the U.S. Custom House, Trinity Church, Wall Street, the New York Stock Exchange and other architectural and cultural sites.
Back to Top of Financial District
---
Downtown NYC Tours and City Passes
The New York Pass Includes:
Tribute WTC Visitor Center ($15 value), Museum of American Finance, Museum of Jewish Heritage, The New York City Police Museum, History of Wall Street Tour (Stock Market history) and Lower Manhattan Walking Tour.
New York Explorer or Go Select Pass
Choices include: New York Water Taxi's Hop-On/Hop-Off service with a free timed Visitor Pass to the Memorial ($27 value), SHARK Speedboat Ride ($22 value) and Wall Street Movie Tour ($20 value).
Wall Street and 9-11 Memorial Tour
Small group guided tour through the Financial District on foot. See the famous Wall Street strip,first home of the New York Stock Exchange, Federal Hall, current New York Stock Exchange,Word Trade Center Site and more.
Almost all the major hop-on hop-off bus tour loops stop near the 9-11 Memorial and Museum. Many will also include add-on tickets to whatever local attractions you wish to visit.
World Trade Center Visitor Tour – Usually led by volunteers (many involved in 9/11 in some way) mostly indoors, travels along the windows of World Financial Center, looking out onto Ground Zero. 120 Liberty Street, about 1 hr 15 min, $10, children under 12 free.
Wall Street Walks Walking Tour – Join us every Monday at 11 AM and Friday at 1 pm as we explore NYC's Financial District and learn about the history of the Wall Street Stock Market. Wall Street is not just a street in Downtown Manhattan! It's a symbol of the U.S.'s financial industry with a fascinating history stretching back over 200 years.
Back to Top of Financial District
---
New York City Helicopter Tours
New York City Helicopter Tours
Enjoy spectacular aerial views of the Statue of Liberty, Wall Street, Ground Zero Memorial, World Trade Center and Ellis Island downtown. On longer tours, catch Central Park and Yankee Stadium from above. The tours leave from the Downtown Heliport near the Financial District.
I LOVED my tour…check out some of my photos and review at New York City Helicopter Tour.
Back to Top of Financial District
---
See 9 (Nine) New York City Museums for $30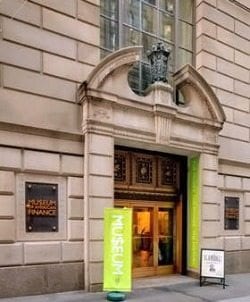 Get 3 days of admissions and discounts to more than 12 Lower Manhattan attractions with the Downtown Culture Pass!
See how the Brooklyn Bridge was made at the Skyscraper Museum, uncover what makes the NYPD New York's finest at the NYC Police Museum, find out just exactly what default swaps are at the Museum of American Finance (in photo at left).
More Info: www.downtownculturepass.org
Back to Top of Financial District
---
Recommended Restaurants
North End Grill (104 North End Avenue) – another Danny Meyer's success! American bar and grill. Try and make an advance reservation, and be sure to tell Jason (the Beverage Manager) you're an NYC Insider (and say hello for me!)
Les Halles (15 John Street)– French Bistro, also one in Murray Hill
Ulysses' (95 Pearl St, near Hanover Sq) – great pub and night spot with live music. A favorite happy hour and post-work stop for the Wall St crowd.
Delmonico's (56 Beaver St, William St) – Steak, opened in 1837. Old-boys, historical, expensive steakhouse. More casual and less expensive Grill attached. It's a Wall Street classic institution, think power lunch, business, politics.
See Tribeca for many more choices, all a 5-10 minute walk.
Back to Top of Financial District
---
Shopping
Century 21 (22 Cortlandt, Church/Broadway)  – designer discount shopping. Huge Men's department, Work directly with the garment district reps, and only stock locally. Designers include Armani, Pucci, Prada and Missoni, great shoe department for both men and women.
Back to Top of Financial District, More New York City Shopping
---
Financial District Hotels
Click for current rates and reviews or keep reading for more hotel details.
Back to Top of Financial District
---
Downtown NYC Hotels
Financial District | Tribeca | Battery Park City
Smyth Tribeca Hotel

The Smyth, a Thompson Hotel, is located next to the Chambers Street Subway Station and features massages, a restaurant and rooms include iPod docking stations. Each room at Smyth provides a flat-screen cable TV with DVD player. Minibars and bathrobes are also included.
Rates and Reviews: Smyth Tribeca Hotel
See More: Boutique Hotels
---
Cosmopolitan Hotel NYC

Owned by local New Yorkers, the Cosmopolitan Hotel is located in Tribeca near the World Trade Center site and Statue of Liberty. With only 150 guest rooms, the hotel is peaceful and private. The Cosmopolitan often feels more like a bed and breakfast than a lower Manhattan hotel, but the excitement of NYC is just outside their door.
Rates and Reviews: Cosmopolitan Hotel
See More: Boutique Hotels
---
W New York Downtown

With 217 rooms and 58 floors, explore the signature W bed and innovative technology while being near Wall Street and the Statue of Liberty. The new sleek and chic Living Room Bar & Terrace is definite downtown after-work happy hour hot spot with a fantastic night view of the and 9-11 Memorial and the waterfront views are certainly worth a look. 123 Washington Street.
Rates and Reviews: W New York Downtown
See More: Boutique Hotels
---
Residence Inn World Trade Center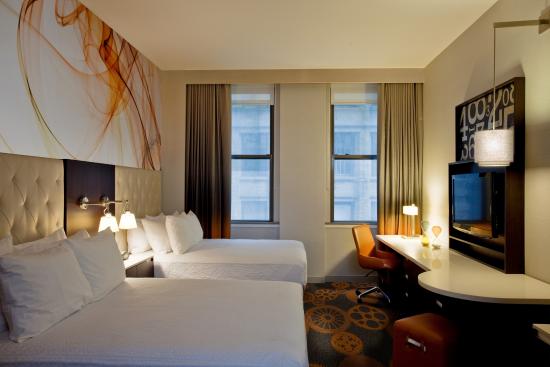 This brand new all-suite hotel offers 243 studio and one-bedroom lodgings, each of which is nearly the size of a New York City apartment. The Residence, opened in 2015, is designed for stays of five nights or more, each suite has a fully-equipped kitchen with a coffeemaker, microwave oven and residential-sized appliances.
Rates and Reviews: Marriott Residence Inn World Trade Center Area
Read More: Residence Inn New York Manhattan World Trade Center Area
---
More Downtown Hotels
See also Tribeca and Battery Park City for nearby Hotels
Back to Top of Financial District
---
Subways
1 2, 3 to Chambers
A, C, E
4/5
---
Financial District Printable Map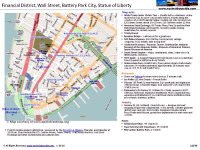 Financial District and Wall Street NYC Map
(Download Full Size By Sharing Above)
See the full NYC Insider Print Guide
---
NYC Insider Print Map and Guide to Manhattan
Download over 100 pages of NYC maps, information and recommendations in less than 5 minutes! Our NYC Insider Printable Map Guide Book includes organized, easy to follow, color coded guides to NYC, detailed maps of every neighborhood, weekly chart of Free Museum Days and Times and free weekly neighborhood tours, Best of NYC Categories and lists by ALL native New Yorkers and much more.
The New York City Travel Guide 2015 is your NYC PRE VACATION Guide, sort of like, "New York City 101." This book is an overview of NYC to help you PLAN your trip so you make the absolute MOST of your time and money here. Think of this book as the guide to answer all the most commonly asked questions and avoid the most common NYC Vacation and Trip Planning mistakes.
The NYC Map Printable Bonus Guide is a 14 page downloadable Bonus Guide, compiled of the best free, downloadable local neighborhood maps with stores and shops block by block put together by our local NYC neighborhood associations; all formatted and ready for you to print.
---
Top of Financial District
Share YOUR favorite travel tip, story or photo
---
Place Categories: NYC Neighborhood Guides
Report this?