Pink, Alec Baldwin, Sample Sales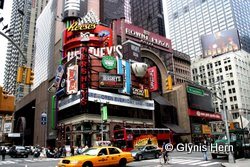 NYC Things to Do March 18-24 include Pink in concert on Friday, March 22, 2013 at Madison Square Garden. The New York Knicks host Orlando (Wed) and Toronto (Sat) this week at Madison Square Garden. The NY Rangers play 3 games at home this week: Mon, Mar-18, 7:00pm vs. Carolina; Thu, Mar-21, 7:00pm vs. Florida and Sun, Mar-24, 7:00pm vs. Washington
The new Broadway show, Orphans, starring Alec Baldwin and Shia Labeouf begings previews March 19, 2013. Motown The Musical on Broadway continues, and of course, the newly opened Lucky Guy Broadway Play Starring Tom Hanks and Breakfast at Tiffany's on Broadway are going strong. Don't forget, you can still see Scarlett Johansson star as Maggie the Cat in Cat on a Hot Tin Roof til the end of March.
If shopping is your thing, the Hickey Freeman and Bobby Jones Sample Sale is this week, and and stay tuned for Sferra Luxury Linens Sample Sale next week.
The Orchid Show at the New York Botanical Garden, always a beautiful exhibit and a gorgeous setting for evening cocktails (great date night!) opens on March 2nd.
On the kids' front, the Harry Potter Exhibit continues, as does the Spy Exhibit which closes at the end of March and the Ringling Bros Barnum and Bailey Circus finishes it's month long run at the Barclays Center, Mar 22-30, 2013.
Check out some of our user submitted events, like the NYC Top Chefs and Friends Celebrity Dinner on March 24, 2013, the NYC Coffee & Tea Festival 2013 on March 23-24, 2013, NYC Gourmet Fitness program – Fridays, March 22, 29, April 4 and 12 and NEWSical the Musical –  March through June.
Get your NYC March Concert Tickets (and save $25 off orders of $250+, which you can also use for March Madness tickets) including Pink, Taylor Swift. New York City Concerts in April include: Alicia Keys, WrestleMania, Fleetwood Mac, Eric Clapton's Guitar Festival, Rod Stewart with Steve Winwood, NIT College Hoops, Atlantic Men's Basketball. More 2013 NYC Concerts include: Justin Timberlake & Jay-Z, One Direction, Taylor Swift, Bon Jovi, Justin Bieber, Beyoncé and more being announced daily!