NYC Flea Market
by Brooke
(Houston)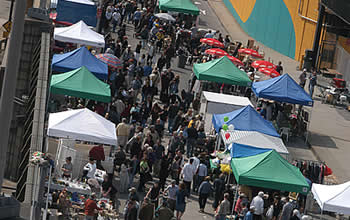 Hells Kitchen Flea Market
3 girlfriends will be in NYC in mid October and want to go to a flea market on Saturday morning. Our hotel is located in the Tribeca area. Any suggestions on a good flea market / craft market?
NYC Insider Guide Answer:
Hi Brooke! Since I haven't covered NYC Flea Markets just yet, check out this great article on the Best NYC Flea Markets .
In terms of which Markets are near which NYC attractions:
1) Hell's Kitchen Market - near Times Square and Broadway
2) Antiques Garage and Chelsea Antiques & Showcase - both near Chelsea, art galleries and the Highline
3) GreenFlea - Upper West Side, near Museum of Natural History
Enjoy your shopping and please let us know if you have any further questions!
New York City Vacation Questions
---