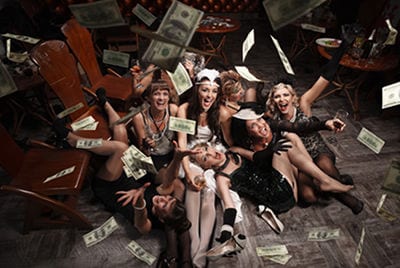 You are invited to our annual New Year's Eve social game experience in an exclusive lair underneath Manhattan's historic South Street Seaport! To usher in 2017, The Game Theatre presents Midnight Millions, an interactive experience where players must try to spend 1 million dollars in order to inherit a financial empire. Midnight Millions is a grand social game that will be experienced as interactive theater.
December 31, 2016
Midnight Millions Interactive Theater Event
Trading Post
170 John Street (cross is John St. and South St.)
2,3 to Wall Street or Fulton Street stations
www.thegametheatre.com
6:00 VIP Dinner Admission $195
8:30 General Admission doors $95
Players will inherit 1 million dollars (in funny money) from a mysterious will, which has one unique condition: you must spend every penny of your 1 million dollars before the strike of midnight, if you succeed you will inherit 100 million dollars, if you fail you will inherit nothing. Players will socially navigate a New Year's Eve party to locate vendors and other opportunities to spend their money as fast as they can.
Overall, Midnight Millions is a New Year's Eve celebration where the show is the shared experience between player guests, as directed by The Game Theatre team. Consider it a one of a kind grand game of Monopoly played in reverse!
The Game Theatre produces engaging social experiences that create an immersive realm of interactive theater. Events feature role-play, improv, hidden actors, team-building, and storytelling. The Game Theatre erases the line between performer and spectator and the evening's outcome is never pre-determined by the production, but rather the finale is decided by the decisions made by the player guests themselves.