Open, Closed, Explore NYC FREE, Help NYC
NYC set to enter Phase 3 on July 6, 2020. Personal care (spa, nails), tennis, volleyball, basketball, places of worship (@ 25 % capacity). Initially, indoor restaurants @ 50% capacity, but now that is postponed. There is currently no open date for theaters, gyms, and shopping malls.
Top NYC Things to Do
Starring Taye Diggs
See Current List of NYC Broadway Shows
Closed September 13, 2015. Hedwig and the Angry Inch is a musical comedy about a fictional rock 'n' roll band, fronted by Hedwig, a transgender woman and "internationally ignored song stylist" from East Berlin. This revival of Hedwig and the Angry Inch, the long-running Off-Broadway hit, is in the form of a rock concert where Hedwig tells his/her life story including a botched sex change operation.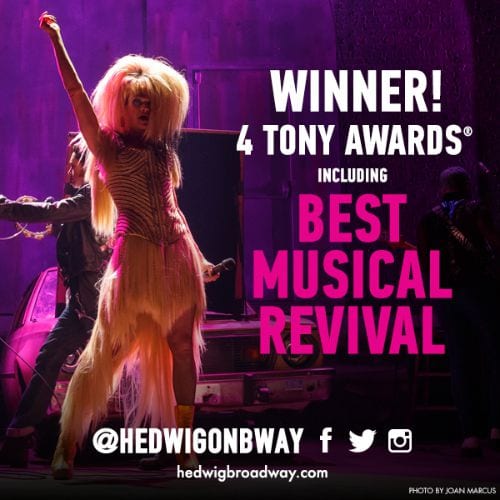 Hedwig and the Angry Inch Broadway Musical Synopsis: The show was called "the Best Rock Musical Ever" by Rolling Stone and "the most exciting rock score written for the theatre since, oh, ever," by Time Magazine. Through hilarious monologues and a hard-driving score, Hedwig poses fascinating questions about identity, gender, nationality, and love as she/he recounts a checked past from homeless waif to lover of an American soldier to super-diva. You've never seen Neil Patrick like this and he is getting rave reviews as Hedwig. The hard-rock score and adult subject matter render this show inappropriate for small children. Mature teens should be able to handle it, but with parental supervision.
Buy Great Broadway Tickets Today!
Top Picks for Broadway Tickets
Note: All of our ticket partners are legitimate, recommended ticket sellers and guaranteed to sell you official NYC Broadway tickets.
Back to Top of NYC Broadway Shows
Hedwig and the Angry Inch Broadway Musical
Get Tickets: Hedwig and the Angry Inch Broadway Musical
Belasco Theatre Seating Chart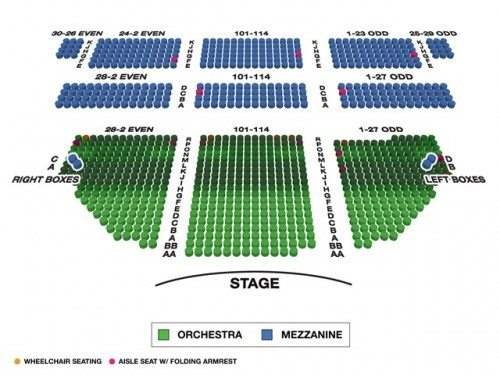 Get Tickets: Hedwig and the Angry Inch Broadway Musical