Safe and Fun NYC Things to Do
Open in NYC: 9-11 Memorial, The Highline, Top of the Rock, Empire State Building, Edge, The Bronx Zoo, Liberty Island, in-person Sample Sales. MoMA, The Met, Natural History, Madame Tussauds and much more.
Every Monday night throughout the summer, Bryant Park shows free movies.
June 10, 2019 – August 12, 2019
Lawn opens at 5pm
Enter at 42nd and 6th Ave
Movies start at dusk (8-9pm)
2019 Bryant Park Summer Film Festival Movie Schedule
June 10, 2019 – August 12, 2019
June 10: Big
June 17: Big Daddy
June 24: Fan Choice: Vote on Twitter @vulture starting June 3
July 1: To All The Boys I've Loved Before
July 8: Carrie (1976)
July 15: Bad Boys
July 22: Coming To America
July 29: Goodfellas
August 5: Anchorman
August 12: Thelma and Louise
August 20: Fan Choice: Vote on Twitter @vulture starting July 22
The gravel area surrounding the Lawn opens at 4:00pm. The Lawn opens at 5:00pm for blankets and picnicking. Films begin at sunset (typically between 8pm and 9pm). Hester Street Fair hosts food vendors on the Fountain Terrace with drink and delicious snack and meal options. All packages, bags, briefcases, backpacks, etc. subject to inspection.
More Information: https://bryantpark.org/programs/movie-nights
Hotels Near Bryant Park
Bryant Park runs from 40th – 42nd Streets, between 5th and 6th Aves. Both Midtown East Hotels and Midtown West Hotels will be nearby.
Hotels within a 5-10 minute walk to Bryant Park, Grand Central Station and The New York Public Library include:
Cheap Budget Hotels Midtown East
Midtown East is one of the best value spots in Manhattan since there are so many hotels from which to choose! Staying near Midtown East puts you in walking distance to St. Patrick's Cathedral, Rockefeller Center, Bryant Park, the UN, Grand Central Station, great NYC Shopping and much more. The hotels are mostly big skyscrapers, commercial brands and offer amenities targeted towards both business and tourist travelers.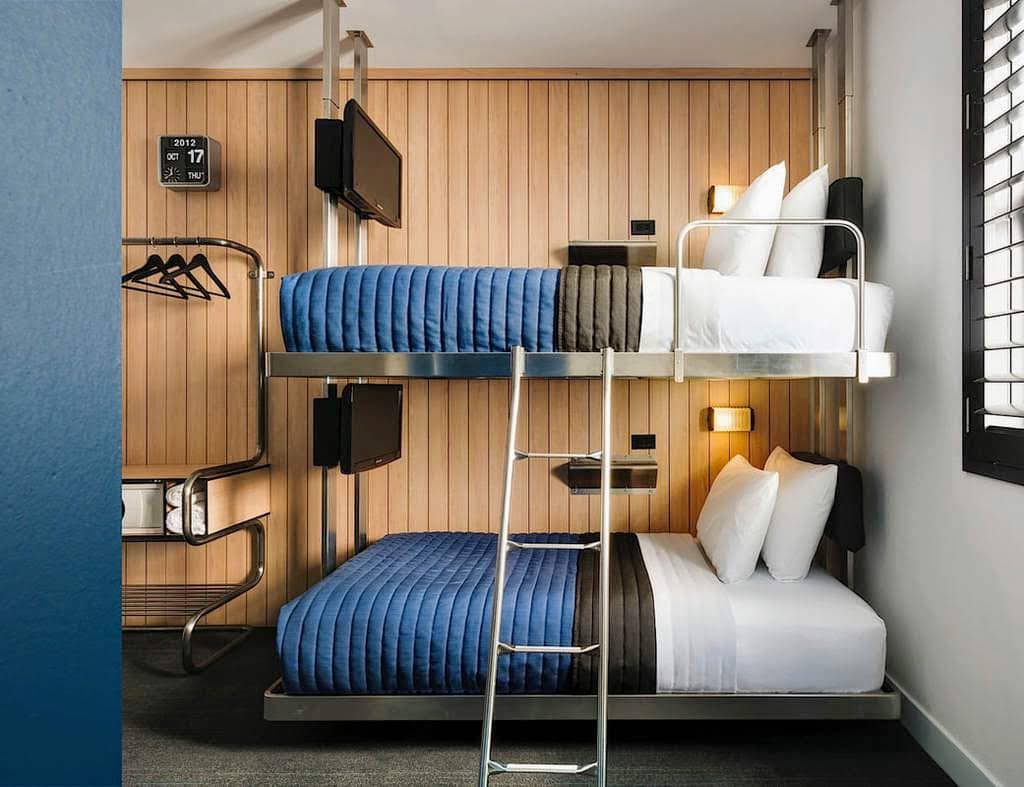 Pod 39 Hotel - marketed as "hip and thrifty," with multiple room types from private to shared (photo)
Seton Hotel - Look for the Seton Economy Option, (SEO), designed for travelers on a budget
Vanderbilt YMCA - less than $100 a night to be in the heart of NYC at Christmastime. Small rooms, shared or private baths.
See More: Cheap Budget Hotels Midtown East
Cheap Budget Hotels Midtown West
Finding cheap hotels in Midtown West NYC is less difficult than you may think, as this is one of the best value spots in Manhattan. You'll be right near the Empire State Building, Garment District, Times Square, Chelsea and Hell's Kitchen, all while possibly paying less than $100 per night for a clean and fairly spacious room. So, if you have reasonable expectations and can't wait to stay in the very center of Manhattan, these are the best value deals in Midtown West NYC.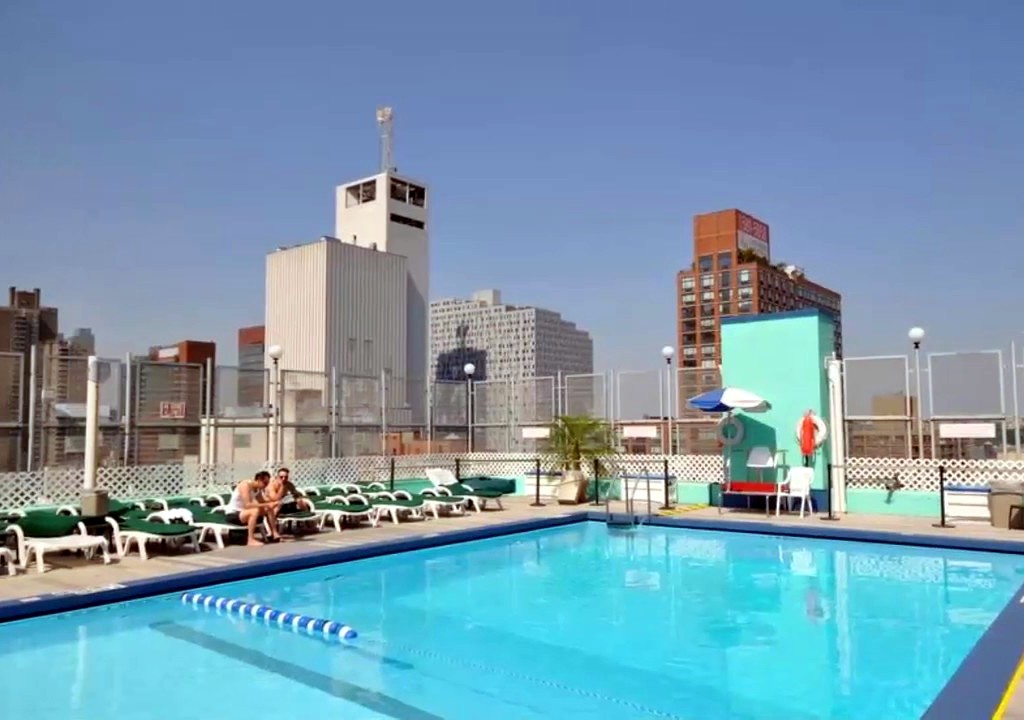 See More: Cheap Budget Hotels Midtown West
Back to Top of Bryant Park Film Festival
Luxury Hotels in Midtown NYC
Any luxury hotel in Midtown NYC provides you with our top of the line accommodations while placing you in the heart of all the action. From decadent dining to killer skyline views to the world's best spas, these luxury hotels put you in the premier location in the heart of the best city in the world.
See More: Exclusive Luxury Hotels in Midtown NYC
Back to Top of Bryant Park Film Festival
Spacious Suite Hotels in Midtown NYC
Many NYC visitors love staying in Midtown, putting them within a mile of Rockefeller Center, Bryant Park, Grand Central, Empire State Building, Broadway, Times Square and tons of restaurants and shopping. One could easily spend 2-3 days in Midtown alone and only see a fraction of all there is to offer. Some of our top spacious and family-friendly Midtown Suite Hotels include: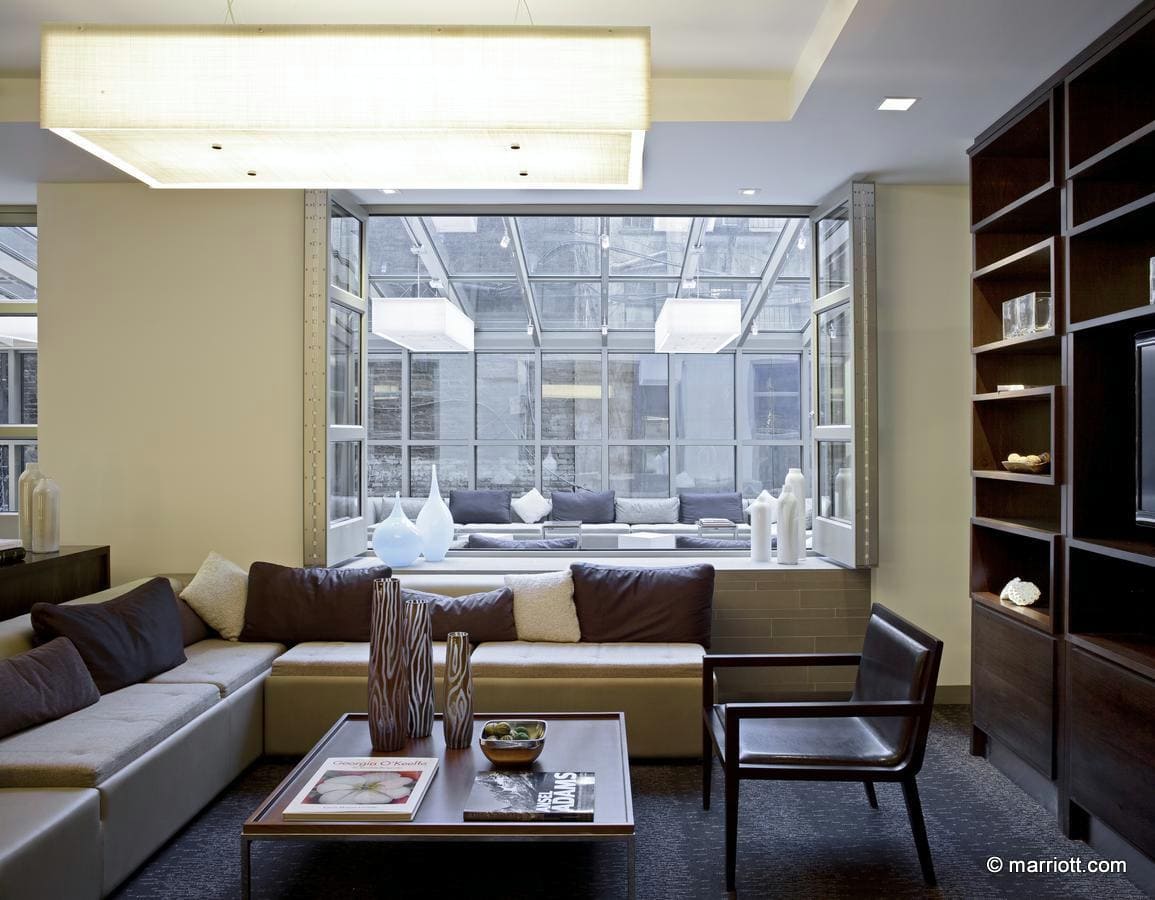 See More: Spacious Suite Hotels in Midtown NYC
Back to Top of Bryant Park Film Festival
Back to Top Bryant Park Summer Film Festival
2018 Bryant Park Summer Film Festival Movie Schedule
June 18, 2018 – August 10, 2018
June 18: The Breakfast Club
June 25: The Philadelphia Story
July 2: A League of Their Own
July 9: Little Miss Sunshine
July 16: Fried Green Tomatoes
July 23: The Princess Bride
July 30: When Harry Met Sally…
August 6: The Wiz
August 13: Thelma and Louise
August 20: The Terminator
2017 Bryant Park Summer Film Festival Movie Schedule
Monday, June 19, 2017 – King Kong
Monday, June 26, 2017 – On the Town
Monday, July 3, 2017 – The Muppets Take Manhattan
Monday, July 10, 2017 – Sabrina
Monday, July 17, 2017 – Wall Street
Monday, July 24, 2017 – Pillow Talk
Monday, July 31, 2017 – The Hustler
Monday, Aug 7, 2017 – All That Jazz
Monday, Aug 14, 2017 – North by Northwest
Monday, Aug 21, 2017 – Dirty Dancing
2016 Bryant Park Summer Film Festival Movie Schedule
Monday, June 20, 2016 – Ferris Bueller's Day Off
Monday, June 27, 2016 – East of Eden
Monday, July 4, 2016 – Top Gun
Monday, July 11, 2016 – The Palm Beach Story
Monday, July 18, 2016 – The Omen
Monday, July 25, 2016 – Three Days of the Condor
Monday, August 1, 2016 – Harvey
Monday, August 8, 2016 – High Plains Drifter
Monday, August 15, 2016 – The Big Chill
Monday, August 22, 2016 – Star Trek II: The Wrath of Khan