NYC Architecture Along 42nd Street – Forget Chicago. Forget Tokyo. For my money New York City is THE most amazing city for architecture, for getting an instant street education about the meaning and importance of the urban fabric. New Yorkers notice, care about, worry about, and constantly improve the quality of their shared built environment like no other group of citizens I know about.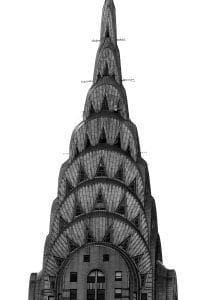 Chrysler Building NYC
Of course there's the standard hit list of well-publicized buildings on an obvious architecture tour. That obvious list is going to include the Empire State Building, Rockefeller Center, the Brooklyn Bridge, the Guggenheim, the Flatiron Building, and a long list of similar classics. All perfectly worthy, but a little tired, perhaps oversold, and spread all over the city. I'd like to offer a quick alternate list of seven architectural experiences, all on the same stretch of 42nd Street, for your convenience. Just as a taste of the many architectural wonders that the city offers and nobody much talks about.
1) Let's start at the United Nations, a very odd architectural experience. Tours are available (your schedule allowing) and highly recommended, but it's more interesting for what you don't see. Designed by a committee of top-drawer strong-willed architects who fought a lot, the overall effect is like being unstuck in time (sometime between 1950 and 1965) and in no particular country (which is legally true). Entrance at 45th St and 1st Avenue, but the complex runs from 42nd to 48th along 1st Ave.
2) Further west, check out the Ford Foundation building from 1967, a respectable piece of modernism friendly toward the casual visitor, particularly the huge atrium garden with full-grown trees under the roof. Very pleasant and explorable inside. 42nd St b/w 1st and 2nd Aves.
3) Across Second Avenue, at 220 E 42nd St, on the south side, we have the Daily News Building. When first built this was a big deal, a major tourist attraction, and the remnants of that popularity are still there: a giant blue spinning globe in the lobby like an old science project (yes, it's perfectly okay to go in) and an amazing bit of modernist architectural sculpture on the facade. This was the model for Superman's Daily Planet.
4) The Chrysler Building is an irresistible Art Deco tower, usually on the short list of architectural 'musts' in NYC but always worth a look. Unless you're very dedicated and/or sneaky you won't get to ride the shiny gargoyles up top, but they may let you into the lobby for a look at the gorgeous Deco elevator doors and what's billed as the world's largest mural above your head, recently restored. 405 E Lexington (at 42nd St)
Back to top of NYC Architecture Along 42nd Street
5) No need to go into the Chanin Building on the sw corner of 42nd and Lexington (122 E 42nd), but take a good look at the exterior. The advent of the skyscraper demanded that a new relationship be worked out between mass and ornament — ornament would eventually would eventually get squeezed out altogether — and this is one of the experiments along the way. It may take awhile for you to make up your mind whether it's beautiful or hideous. Or you might know right away.
6) Next door Cipriani's 42nd Street was originally built at the Bowery Savings Bank in 1923, after banks suddenly discovered that marketing to the (relatively) poor was a good business model. To impress their new friends, to attract walk-in business, they began building interiors as grand as palaces or cathedrals, and this is one of the most awe-inspiring examples of that genre. It's almost holy. Wrangle your way in if you possibly can, and then remember to breathe.
7) Grand Central Terminal is a world to itself, an outstanding example of a building as a people-sorting machine with no moving parts, a spatial experience that explains itself with practical elegance. I can't do it justice here, but I can say if you only take one architectural tour of any building on the island, make it this one. It's the heart, soul, and nerve center of the city. To understand it is to understand something about the healing nature of good architecture — no kidding. If the timing is right, take one of their free tours.
From here, stop off at the Oyster Bar if you're hungry. More buildings? Feet okay? You have your choice of continuing west on 42nd towards the New York Public Library and Bryant Park behind it, another Beaux-Arts masterpiece much like Grand Central in presence and importance. Or go out through the north doors to that wonderful vista of Park Avenue and drop in at the Waldorf, see the stained glass and probably a bride out in front of the amazing St. Bart's, the Seagram Building…
Back to top of NYC Architecture Along 42nd Street
Back to New York City Vacations
Posted By: by Walt, (Portland, OR)
Comments for NYC Architecture Along 42nd Street
Average Rating





| | |
| --- | --- |
| Sep 28, 2009 Rating | Love this Architecture Tour! |
by: NYC Insider Guide
Walt – this is such a wonderful contribution, Thank You! One of the great things about building this website is being able to see New York City through a visitor's eyes. It makes everything old, new again. I lived on 42nd and 2nd, right below Tudor City, for 6 years, and did this walk every day on my to the subway at Grand Central. It's funny how you tune things out when you see them every day. Thank you for renewing Art Deco Architecture for me and reminding of the wonderful history that fills our city. -Melissa
NYC Insider Print Map and Guide to Manhattan
The Print Guide to New York City includes the BEST of the NYC Insider Guide website, with detailed maps, directions and my personal recommendations for shopping, restaurants, attractions and Insider Tips.

Available for download and print immediately, you can make as many copies as you want and get FREE Updates for a year!

Read more about the BEST Print Guide to New York City on the internet.
Weekly chart of the Free Museum Days and NYC Tours
Detailed maps of over 18 NYC neighborhoods, top Things to Do and See, restaurants, Shopping, Subways and key hotels
Over 20 Discount and Outlet Shopping Locations rarely advertised
Best of NYC by ALL native New Yorkers! Kid's sights and restaurants, Movie and TV sights, Pizza, Romance and FREE views of the NYC Skyline
NEW BONUS GUIDE with 14 pages of additional NYC Maps and Guides