There are many versions of New York City Street Maps and Subway Maps. Free, paid and online interactive. It generally takes a combination of all of these maps to navigate NYC, but here are a few shortcuts.
Best NYC Street and Subway Map
Combined New York City Street and Subway Maps are usually the most difficult to find - most maps have one or the other. Here is my favorite pick for the best online New York City Street and Subway Map.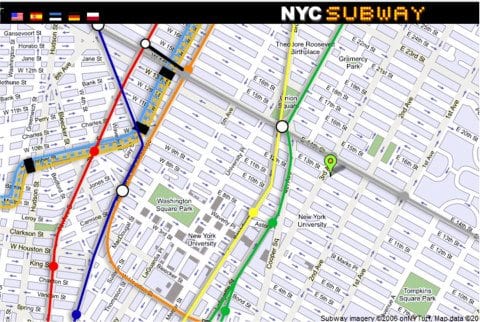 ---
Getting Around
A New York City Street Map is only a map – it doesn't tell you how to get around the city. Unlike most driving cities that use a map program or GPS, in New York City, we use HopStop or another Subway Planning Guide, designed for public transportation in major cities. See the NYC Subway Map page for Subway information and step-by-step instructions on using HopStop.
Pay attention to how you exit the Subway (not just the stop to get off the train), as it is important to know which exit to use out of the station. You should also map a reverse route, as sometimes the ways to go and return are not the same (kind of like one-way streets).
---
When street numbers go UP (51st, 52nd, 53rd), you are going NORTH. So, if for any reason you leave the wrong subway exit and are supposed to be going North, but the street numbers are going down, turn around.
One more tip – PLEASE, do not stop and pull out your New York City Street map at the very top of the subway stairs to try and figure out where you are…millions of people are standing behind you with places to go. How would you feel if 1 million people were blocking your driveway while you were trying to get work? Please step to a less crowded area so they can get out of the subway.
---
NYC Insider Print Map and Guide to Manhattan
The Print Guide to New York City includes the BEST of the NYC Insider Guide website, with detailed maps, directions and my personal recommendations for shopping, restaurants, attractions and Insider Tips.

Available for download and print immediately, you can make as many copies as you want and get FREE Updates for a year!

Read more about the BEST Print Guide to New York City on the internet.
Detailed maps of over 18 NYC neighborhoods, top Things to Do and See, restaurants, Shopping, Subways and key hotels
Weekly chart of the Free Museum Days and NYC Tours
Over 20 Discount and Outlet Shopping Locations rarely advertised
Best of NYC by ALL native New Yorkers! Kid's sights and restaurants, Movie and TV sights, Pizza, Romance and FREE views of the NYC Skyline
NEW BONUS GUIDE with 14 pages of additional NYC Maps and Guides
---
Best New York City Street Map – Pocket Size
This is my favorite NYC Street Map. I give this map to every friend who visits me – and I carry a bunch around to give to visitors whom I meet. The company, Anton Miles, also has a Subway Map of New York. There are a variety of these maps, including bus, subway and street, but I carry the Lower Manhattan Map everywhere with me.
Don't be fooled, not even most taxi drivers know every street in Lower Manhattan – since NYC was built from the Southern Tip (Statue of Liberty and Financial District) going North, urban planning did not have it's effect until roughly the Union Square area (14th Street and up).
You may also purchase these New York City Street maps at the New York Transit Museum in Grand Central Station for about $1.00 each.
NYC Insider Printable Guide with New York Street Maps
---