NYC Insider > Map of Manhattan NY > New York City Street Map
New York City Street Map
There are many versions of New York City Street Maps and Subway Maps. Free, paid and online interactive. It generally takes a combination of all of these maps to navigate NYC, but here are a few shortcuts.
Best NYC Street and Subway Map
Combined New York City Street and Subway Maps are usually the most difficult to find - most maps have one or the other. Here is my favorite pick for the best online New York City Street and Subway Map.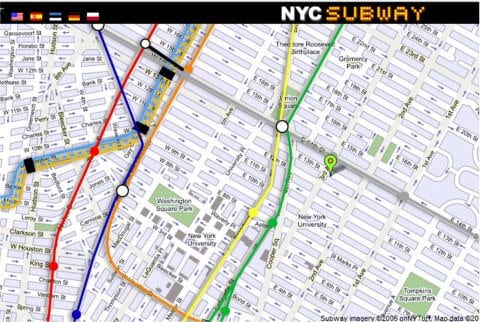 NEW !!!!! Check out our New York City
Street Map Store
---
Getting Around
A New York City Street Map is only a map – it doesn't tell you how to get around the city. Unlike most driving cities that use a map program or GPS, in New York City, we use HopStop, designed for public transportation in major cities. See the NYC Subway Map page for Subway information and step-by-step instructions on using HopStop.
Pay attention to how you exit the Subway (not just the stop to get off the train), as it is important to know which exit to use out of the station. You should also map a reverse route, as sometimes the ways to go and return are not the same (kind of like one-way streets).
NYC Insider Tip – New York City Streets
When street numbers go UP (51st, 52nd, 53rd), you are going NORTH. So, if for any reason you leave the wrong subway exit and are supposed to be going North, but the street numbers are going down, turn around.
One more tip – PLEASE, do not stop and pull out your New York City Street map at the very top of the subway stairs to try and figure out where you are…millions of people are standing behind you with places to go. How would you feel if 1 million people were blocking your driveway while you were trying to get work? Please step to a less crowded area so they can get out of the subway.


---
NYC Insider Print Map and Guide to Manhattan

The Print Guide to New York City includes the BEST of the NYC Insider Guide website, with detailed maps, directions and my personal recommendations for shopping, restaurants, attractions and Insider Tips.

Available for download and print immediately, you can make as many copies as you want and get FREE Updates for a year!

Read more about the BEST Print Guide to New York City on the internet.

Detailed maps of over 18 NYC neighborhoods, top Things to Do and See, restaurants, Shopping, Subways and key hotels
Weekly chart of the Free Museum Days and NYC Tours
Over 20 Discount and Outlet Shopping Locations rarely advertised
Best of NYC by ALL native New Yorkers! Kid's sights. restaurants, Movie and TV sights, Pizza, Romance and FREE views of our gorgeous NYC Skyline
NEW BONUS GUIDE with 14 pages of additional NYC Maps and Guides
---
Best New York City Street Map – Pocket Size
This is my favorite NYC Street Map. I give this map to every friend who visits me – and I carry a bunch around to give to visitors whom I meet. The company, Anton Miles, also has a Subway Map of New York. There are a variety of these maps, including bus, subway and street, but I carry the Lower Manhattan Map everywhere with me.
Don't be fooled, not even most taxi drivers know every street in Lower Manhattan – since NYC was built from the Southern Tip (Statue of Liberty and Financial District) going North, urban planning did not have it's effect until roughly the Union Square area (14th Street and up).
You may also purchase these New York City Street maps at the New York Transit Museum in Grand Central Station for about $1.00 each.
Using the Subway
Visit the Metropolitan Transit Authority (MTA), their special section meant for visitors, and their How to Use the Subway page. MTA is the government organization that runs all of New York City's Public Transportation. They have all the information you need to know about Metrocards (the card you need to pay and use the subway). There is a New York City Street Map and subway map posted on the wall of almost every subway station, so you can always check on your way in or out. If there is someone at the ticket booth, they also have a free foldable map for you to carry.
Is the subway safe?
Since 2005, New York City has had the lowest crime rate of the 25 largest US cities (check more interesting facts about New York City). In the main parts of Manhattan, the subway is almost always safe. I use it 24/7 and never have any issues, but if you want to play it really safe, I recommended not using it between about midnight and 5:00am.
---
 New York City Street Map Store
New York City Street Map

Excellent for route-planning and reference.This map of New York City, New York includes up-to-date information and features Motorways, principal highways, secondary roads (with road numbering where available) Street maps of major cities Distances between selected points Points of Interest clearly marked Tourist information and Attractions Public Transport information Index in Eight Languages German, English, French, Dutch, Italian, Spanish, Danish, Swedish

---



(Click Buy to learn more, no charges apply)
---
New York City, New York PopOut Street Map

Ideal for light travel and tourism, This New York City, New York travel map features Award-winning PopOut Design, alot of info in a portable, easy self-folding map Pocket Size conveniently fits in a pocket or purse Outstanding Mapping striking graphics and recognisable icons Updated Twice Annually assures accuracy and reliability Comprehensive and Concise Indexing easily locate streets, places of interest and travel info Eye-catching laminated covers show quality and durability

---



(Click Buy to learn more, no charges apply)
---
New York City Street Map

Environmentally friendly and durable, the Borch maps provide great information for travelers, tourists and locals. Complete with easy-to-read index, recognizable symbols, and a laminated write-onwipe-off surface.This travel map of New York City features Interesting Statistics Conversion Chart for Temperature and Weights Climate Chart with temperatures, sunshine hours, precipitation and humidity Top Sights Hotels, Museums, Markets, Churches Public Transportation Time ZonesCoverage AreaCentral New York City (1 15,000) Flushing Meadows (1 15,000) Five Boroughs (1 100,000)

---
---
Go to NYC Insider Printable Guide with New York Street Maps
Back to Map of Manhattan NY from NYC Street Map
Back to New York City Travel Guide Home Page
---
 

Like NYC Insider Guide?

Please Tell a Friend
***AddThis.shtml***

 
---
NYC Insider Printable Guide

Tired of printing your own custom guide book from the dozens of internet sites about NYC? Get first hand, practical New York City information you can download and print with one click immediately.
New York City Tourist Map
Are you looking for a good New York City Tourist Map? The NYC Insider Guide has several NYC Tourist Maps that include New York City tourist attractions, New York City neighborhoods and NYC Subway Maps.
Detailed Map of Manhattan
A good, detailed map of Manhattan online can be a challenge to find. So the NYC Insider Guide created one that includes NYC Manhattan Street Maps and Manhattan neighborhood maps.
NYC Subway Map

The subway is the easiest and fastest way to get around Manhattan and is very safe. Learn how to get a Metrocard, get directions and use the subway.
Map of Manhattan NY

Getting a free map of Manhattan NY is easy. Here are dozens of printable detailed maps of Manhattan, NYC street maps and Manhattan neighborhood maps.
Manhattan Monthly

Subscribe to our FREE New York City Newsletter and get a FREE New york City Street Map. Manhattan Monthly brings you the latest on everything you need to plan and experience New York City like a native New Yorker!
---
Thank you for visiting the NYC Insider Guide …welcome to our city and I hope you love it as much as I do!
-

Welcome to New York City!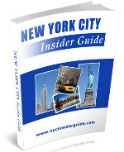 Download the free NYC Mini Guide
or the full
NYC Insider Print Guide
Compare NYC Passes
NY Explorer Pass
Customize your Sightseeing



New York Pass
50 Attractions in 3 days

CityPASS
51% off Top 6 Attractions