2013 Tony Best Musical Winner! Music by Cyndi Lauper
Kinky Boots Broadway Musical Synopsis: Based on a true story and the indie film of the same name, Kinky Boots follows young Brit Charlie Price, who abandons his family's shoe factory to live with his demanding girlfriend in London. After the unexpected death of his father, Charlie returns to the struggling factory and finds it's up to him to figure out a way to keep the business alive.
Enter Lola, a fabulous entertainer, in need of some sturdy stilettos and the unlikely pair works to turn the factory around. Soon, the factory is turning out "kinky boots" under the supervision of Charlie and Lola, but can this harebrained scheme actually work? The new musical packs a punch and provides everything audiences look for in a night at the theater: catchy songs, top-notch performances, colorful costumes, big sets, dazzling dance sequences and even a few scenes that could make you cry.
---
Buy Great Broadway Tickets Today!
---
Kinky Boots Broadway Sneak Preview
Get Tickets: Kinky Boots Broadway Musical
---
Al Hirschfeld Theatre Seating Chart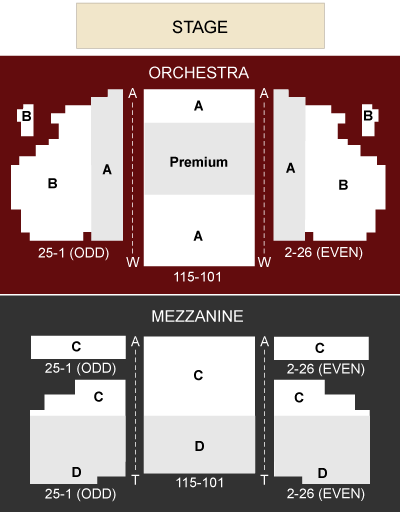 Get Tickets: Kinky Boots Broadway Musical
---
Upcoming Kinky Boots Broadway Musical Shows
Get Tickets: Kinky Boots Broadway Musical
---