Christmas Tree, Today Concerts, Ice Skating
When it comes to choosing hotels near Rockefeller Center, there are options for all types of travelers and most budgets. Rockefeller Center is right in the middle of all the NYC tourist action – St. Patrick's Cathedral, Top of the Rock, Radio City Music Hall, 5th Avenue Shopping, the famous Christmas Tree, Ice Skating, and the Today Show.
Rockefeller Center runs from 47th – 50th Streets, between 5th and 6th Aves. Nearby (within 10 blocks) will be Midtown East Hotels, Midtown West Hotels and Times Square Hotels, but these are our hand-picked choices closest hotels to Rockefeller Center.
---
New York Hilton Midtown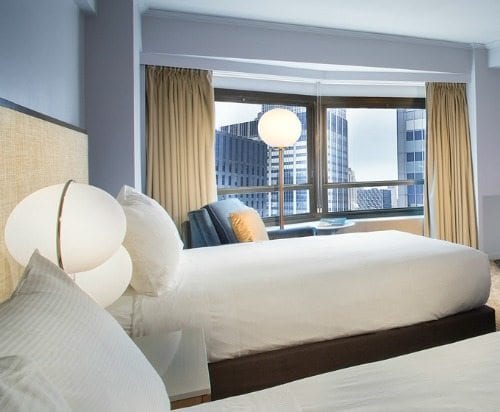 The massive New York Hilton Midtown offers 1,981 air-conditioned rooms featuring MP3 docking stations and LCD televisions; as well as an 8,000 sq. ft. fitness center with strength, cardio and resistance equipment. Their "cool" Minus5 Ice Bar lets you touch, feel, and explore handcrafted ice sculptures and ice architecture made from Canadian ice.
Recent Traveler Tips: "Don't shop or eat in the hotel: walk down 6th to CVS Drugstore for notions, snacks and bottles of water. Walk west to 7th Avenue for bistros, delis and bars. Walk to the southern end of Rockefeller Center to Morrell's for whiskey & wine."
Top of Hotels Near Rockefeller Center
---
3 West Club Hotel NYC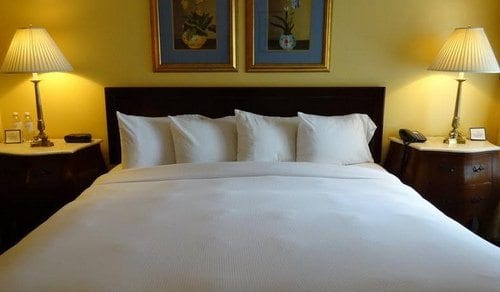 Consistently attracting excellent reviews, especially the location and value for the price. The rooms are somewhat dated, but clean and neat, and the hotel service is excellent. Considered a hidden little gem in NYC, at half the price of other similar brand-name hotels in the heart of Manhattan.
Top of Hotels Near Rockefeller Center
---
Club Quarters Rockefeller Center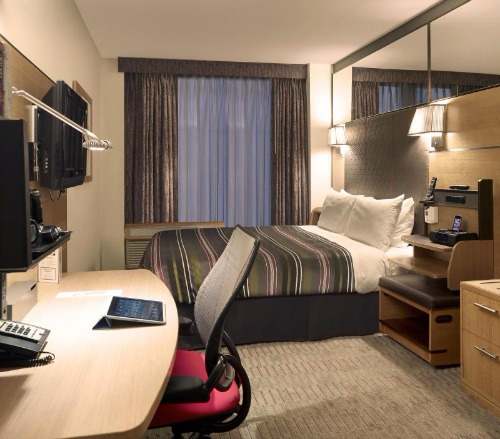 Club Quarters offers many complimentary services including WiFi, bottled water, fitness center and access to the Terrace Club, an indoor/outdoor restaurant overlooking Rockefeller Center Plaza. Members are given preference and lower rates, but great rates and available to the public on weekends.
Top of Hotels Near Rockefeller Center
---
The Jewel Facing Rockefeller Center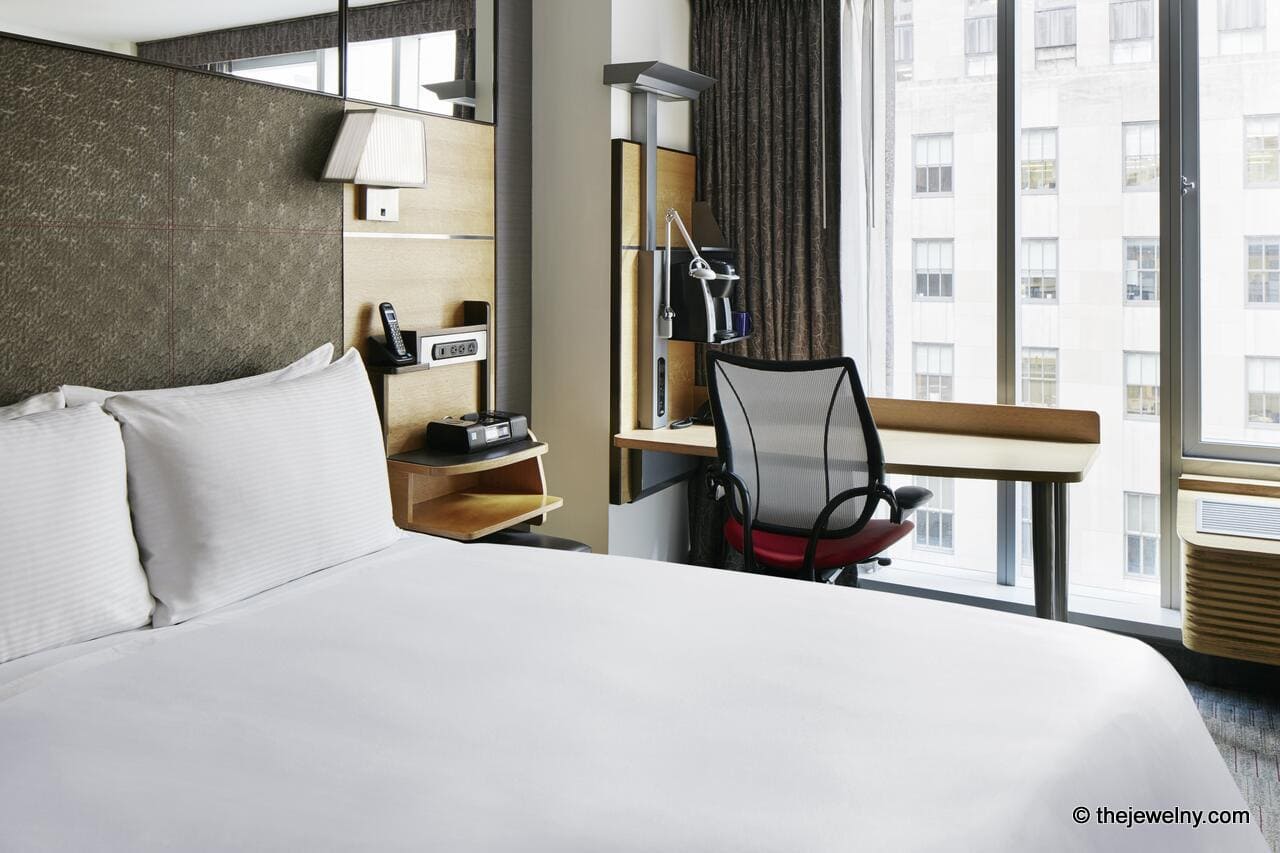 With compact, fresh and modern rooms, the Jewel is a great value hotel in a prime NYC location. Free wi-fi, fitness center and a second floor 'living room' with coffee, newspapers, comfortable chairs and access top computers for personal and business purposes. Most of the "view rooms" (by request only) have floor-to-ceiling outer glass with views of Rockefeller Center or St. Patrick's Cathedral. The Two Room Suites with kitchenettes and two bathrooms are a steal when 4 people are sharing a room.
Top of Hotels Near Rockefeller Center
---
Lotte New York Palace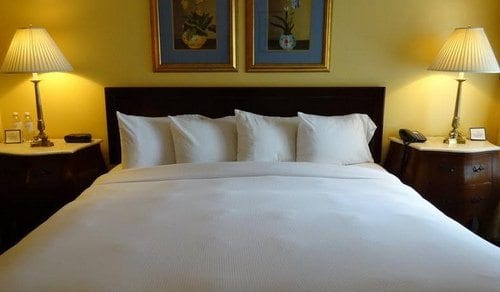 With 909, recently renovated spacious rooms and suites, the Lotte is consistently rated as "Glamorous, Luxurious and Fabulous." The Lotte NY Palace is located on the lower floors of the hotel, and the first Towers are the top 14 floors with huge suites (much like apartments) and glass floor to ceiling windows and amazing skyline views. Note: No restaurant in the hotel or coffee makers in the rooms.
Top of Hotels Near Rockefeller Center
---
The London NYC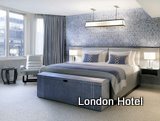 Sophisticated urban luxury in the heart of midtown Manhattan, the award-winning London NYC sets a new standard for New York luxury hotels. Named to several "Best Of" and "Top 10 lists", you'll find detailed design, attentive service and the acclaimed Gordon Ramsay restaurant.
Top of Hotels Near Rockefeller Center
---
Omni Berkshire Place NYC
Great family hotel! If you're visiting NYC with teens, then be sure to check out their special Teen Concierge program, run by local teenagers. Younger children get a cookies and milk on their first night, plus a free backpack filled with a 31 page folded map and guide with Omni-centric Discovery games, crayons, a Frisbee and more!
While the Omni Berkshire is a NYC favorite hotel throughout the year, make sure to check their seasonal family specials, such as the "American Girl® Dream Package," which includes all the standard Sensational Kids gifts, along with breakfast at the Fireside restaurant, one American Girl® specialty bed and entry into a quarterly American Girl giveaway. Their "Camp Omni" package includes a special upgraded "kids bag" and a NYC scavenger hunt culminating with a special dessert in their Fireside Restaurant.
Top of Hotels Near Rockefeller Center
---
Waldorf Astoria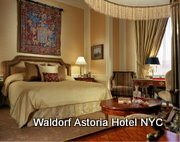 The Waldorf Astoria and Waldorf Towers, where every U.S. President as well as hundreds of other diplomats, stays, offer 1,413 guest rooms and select suites, each featuring upscale amenities, services, and furnishings.
Occupying the upper floors of The Waldorf Astoria, The Waldorf Towers is the Luxury hotel, home to celebrities, corporate executives, royalty and every American president since Herbert Hoover. The Waldorf Towers features 181 room accommodations, including 123 configurable suites.
A discreet separate entrance located at the corner of Park Avenue, on 50th Street, enhances privacy. The luxury experience includes complimentary Continental breakfast at the Astoria Lounge.
Favorites: Presidential History, Secret Tunnels, Private Subway
Top of Hotels Near Rockefeller Center
---
More Hotels Near Rockefeller Center
---
More Info Rockefeller Center
---
How to Save on Hotels in New York City
Check out all our tips and dozens of promo codes to help save on NYC Hotels. Whether you are visiting NYC on a budget, or just looking to save a little on luxury, we share all our insight on How to Save on Hotels in New York City.
Best Value Hotels
Enter Dates, Check 'Value Deal' Box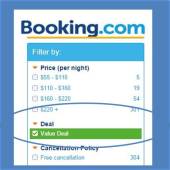 Trip Advisor NYC
Straight to All NYC Deals Page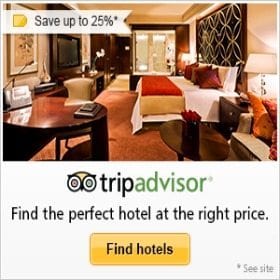 NYC Insider Guide
Hotel Tips Promo Coupon Codes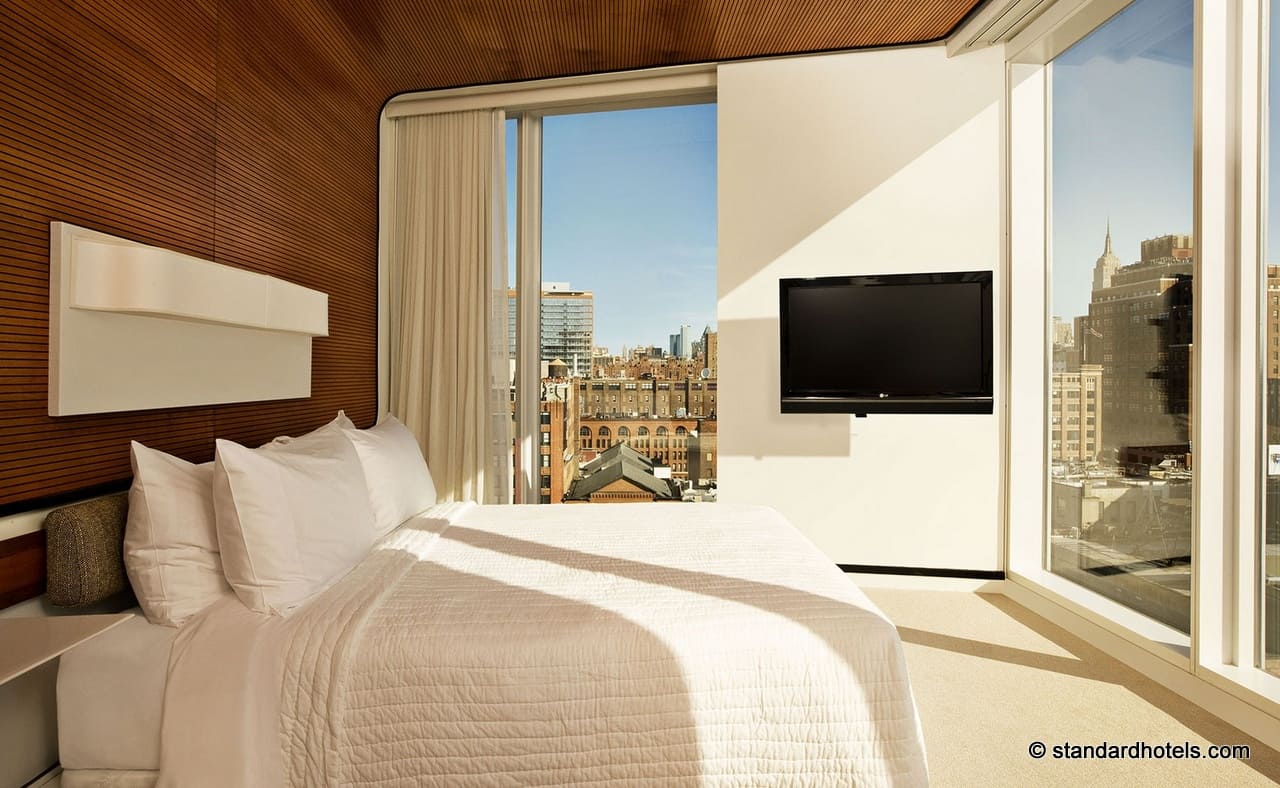 ---
Rockefeller Center Hotels Quick Links
Click for current rates and reviews. Read on for hotel details.
Top of Hotels Near Rockefeller Center
---
---